How to Uninstall REFOG Keylogger Without Knowing Master Password
We've had a few requests from users in the forum recently asking how to uninstall or remove the REFOG Keylogger from their computer. REFOG Keylogger logs all key presses on your PC and saves any text pasted from the clipboard. It even does periodic screen captures to give an illustrated usage history of the PC. REFOG can also decode chat conversations in many instant messengers, track Web sites and resources visited and log all applications launched. In short, it monitors everything you do on your computer. REFOG isn't the only tool that can do this and there are many keyloggers that can do a similar or even better job at logging your actions.
Uninstalling a keylogger on your computer is not really that easy because it naturally doesn't want to be found. It's totally hidden from task manager and if you try to uninstall it using the official uninstaller, you need to enter the Master Password otherwise it won't proceed. Most antivirus or antispyware software is able to detect keyloggers but there are times when these security tools won't be able to fully remove it and ends up making the PC unstable.
Well, the good news is we've analyzed how REFOG Keylogger saves the master password and we'll show you how easy it is to remove it so you can uninstall this keylogger. It even works for other products by REFOG such as Personal Monitor and Employee Monitor. If you have this or any other keylogger on your computer and you didn't install it, one way to help defeat them in future is by
using keystroke encryption software
which masks your real keystrokes so the keylogger can't see what you're typing.
Section A: Checking if REFOG Keylogger is installed on your computer
On earlier versions of REFOG Keylogger, detecting its presence on your computer was easy by typing runrefog at the Run window or pressing the hotkey Ctrl+Shift+K because it was hard coded into the program. However the current version allows you to change the launch command and hotkeys to prevent easy detection. By default REFOG products are installed in:
C:\Windows\System32\MPK\ – For 32-bit Windows (x86)
C:\Windows\SysWOW64\MPK\ – For 64-bit Windows (x64)
You cannot solely rely on checking this folder though because it can be changed to something else during installation. What we found to be most accurate way to determine if REFOG Keylogger is installed on your computer, is by checking the existence of the program's logs and settings folder which doesn't change.
First, bring up the Run window by simultaneously pressing WIN+R key.
For Windows XP users type the following and press enter:
%allusersprofile%\Application Data\MPK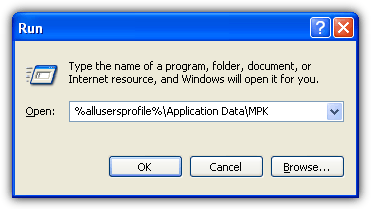 For Windows Vista and Windows 7/8 users type this and press enter:
%allusersprofile%\MPK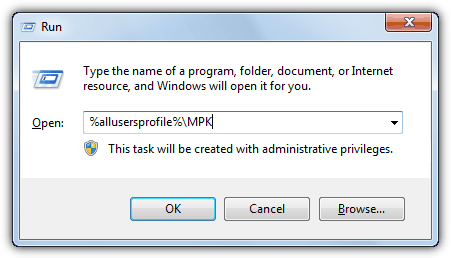 If you get the error message saying that Windows cannot find the folder, then you're safe from REFOG Keylogger. However if a folder opens and list a few files such as M0000, REFOG Keylogger folder and a shortcut, then it is very likely that your computer is being monitored by someone else.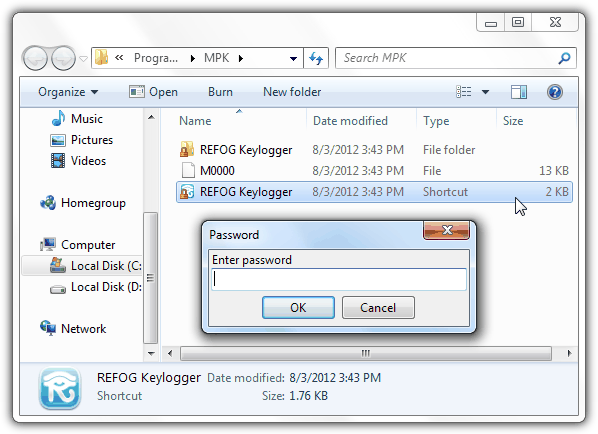 Normally Refog Keylogger will create a shortcut in the All Users profile (%allusersprofile%) directory for you to run the program but not for Refog Personal Monitor. If you can't find the shortcut, your next option is to search for MPKView.exe on your computer using the Windows search and run it. If you're being asked to input a password, leave the Explorer window open and continue reading section B, if not, you can jump straight to section C, both of which are on the next page.