Virtual KVM Software: Best for 2023 [Out of 15 Tested]
It's common for PC owners to have a laptop or a second PC. However, it's not practical to use multiple computers with different displays,  keyboards, and mice or touchpads simultaneously.
To simplify things, you can purchase a KVM hardware switch (Keyboard, Video, Mouse), which allows you to operate all computers with one keyboard, mouse, and monitor. This uses a physical switch to connect different devices.
However, hardware KVM switches have long been replaced by software-based KVMs. Here, no hardware is required, and switching is automatic via the installed utility. The switch works through the local network so all the computers must be connected to your LAN.
Software KVM switches normally don't have display switching and only work for the keyboard and mouse. To start, just install the software on each computer, and you'll have seamless control of computers by simply moving the cursor off the edge of the desktop.
Best Virtual KVM Switch Software
Here are the top KVM switch programs that can be used to share your keyboard and mouse to control multiple PCs.
1. ShareMouse – Best virtual KVM switch software overall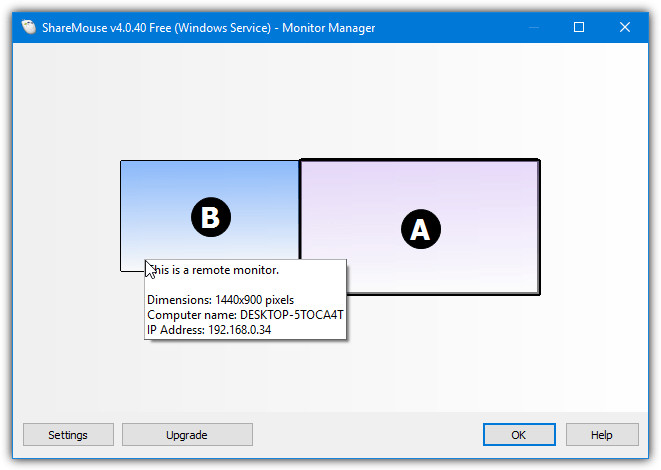 Operating System: Windows and MacOS
Pricing: Freemium
Developer: Bartels Media GmbH
ShareMouse has a paid version and a freeware version for non-commercial use. The best features like remote locking, drag and drop, switching prevention, and password protection are reserved for the paid version.
The software gives you the option to use a full installer or a portable version designed for USB flash drives. The installer version is best if you have UAC enabled because ShareMouse can install as a service which helps get around permission issues.
Once installed, Sharemouse will detect computers and connect them. If there's no connection, go to Settings > Network and click the "Find free port" buttons for both TCP and UDP, then try again. When the computers are connected, enter the Monitor Manager and move the monitors around to suit your needs.
Most of the features are disabled in the free ShareMouse but there are a few that work and you can change. For instance, clipboard sync seems to work using copy and paste or Ctrl+V even though the website says it's a paid feature.
Press Escape XX times to cancel the remote control, quick jump hotkey, dim inactive monitors, scroll speed translation, and scroll direction can all be altered. You can use the free ShareMouse without issue for as long as you like.
The program enters Demo mode if you enable a paid [Demo] feature or connect more than two computers. This allows using the paid features for up to 30 minutes before ShareMouse disconnects.
Pros
ShareMouse comes with an installer and portable versions
All traffic is password-protected and AES encrypted
There's no hardware required to switch between monitors
Move the mouse to the monitor you want to control
Cons
Most features are restricted to premium users
2. Synergy – Best for sharing one mouse and keyboard across devices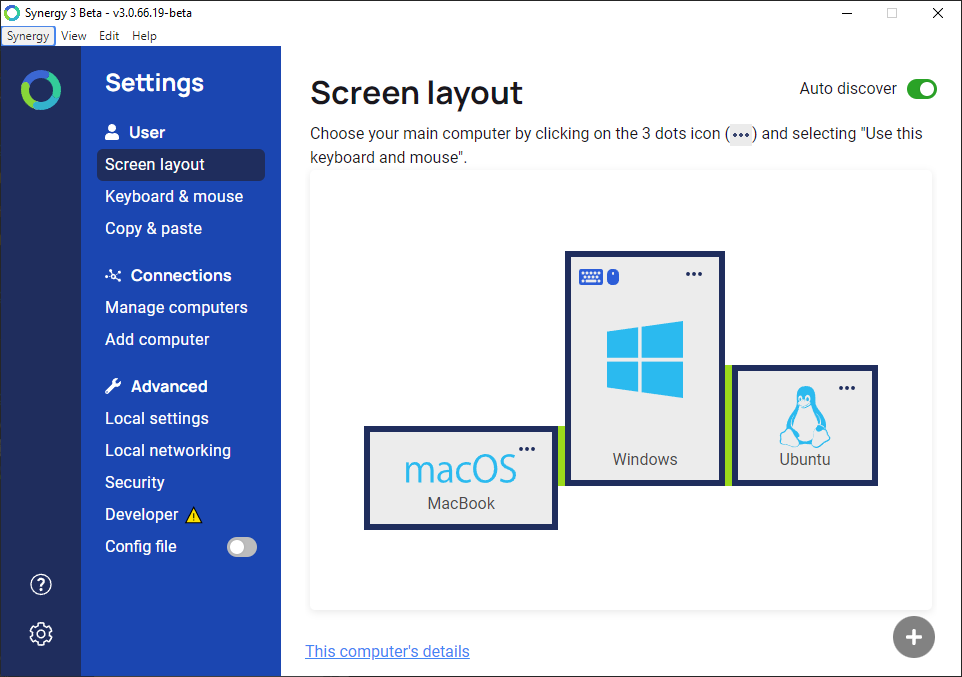 Operating System: Windows, macOS, Linux, and Raspberry Pi
Pricing: Premium
Developer: Symless
Synergy is a renowned keyboard and mouse-sharing software. It helps users increase productivity by seamlessly switching between monitors and copying files from one computer to another.
Once set up on two machines, you can start the server. On the client machine, you only have to enter the IP address of the server into the "Server IP" box and press Start. A security window prompts if you trust the fingerprint which should be the same as the fingerprint shown in the server window. ClickYes and the machines will connect.
The last step to start sharing the mouse and keyboard is by pressing "Configure server" and adding the client computer to the grid. Click on the monitor icon top right, drag it onto the grid then double-click on it.
For the Screen name, you need to add the client's computer name which is found in the client window above the server IP box. Click OK, other options here can be configured later. Click Reload in the main window.
Synergy has other configuration options, such as dead corners, hotkeys, switching, SSL, elevation, logging, modifier keys, drag and drop, and clipboard sharing. If you have setup issues, you can install Bonjour to help with connecting if you check the Auto config box.
Pros
Copy and paste text from one computer to another
Move your mouse between computers to switch its use
Swap control keys between Mac and Windows as you swap between OSs
Synergy does not connect to the internet
Cons
It does not offer a free version to try features
3. Across – Excellent for sharing folders with partner computers

Operating System: Windows, Mac, iOS, Android, and Linux
Pricing: Freemium
Developer: fastspring.com
Across is a blazing-fast fileserver and virtual KVM switch for integrating all your devices to control them as if they were one. These include your PC, tablets, and mobile devices. It makes your Bluetooth-equipped PC work as a Bluetooth keyboard and mouse. 
The software works across your Wireless, Bluetooth, and wired networks. It supports high-resolution mouse gestures, multimedia control, and clipboard setup. It comes with the main software and a helper running on client computers.
Since the toolkit is adopted inside your native OS GUI, it looks natural within your OS and is comfortable for most users. You can pair with up to six devices, controlling up to four devices simultaneously.
Pros
Across does not affect your Bluetooth gadgets
The software uses negligible computer resources
Looks natural with your computer's OS
The software supports a multi-monitor system
Cons
Most features are available on the premium version
4. Mouse Without Borders – Great for controlling up to 4 computers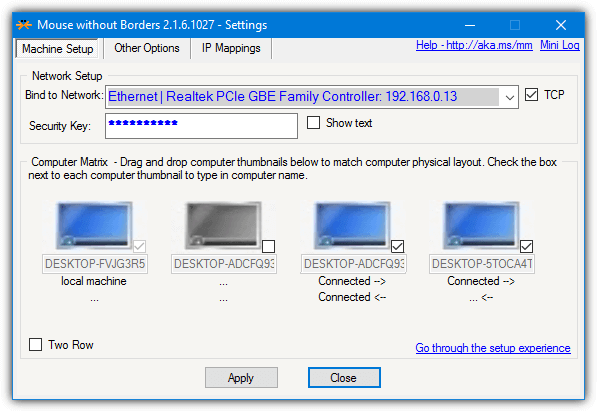 Operating System: Windows
Pricing: Free
Developer: Microsoft
Microsoft Garage's Mouse without Borders is a software KVM for Windows that can control up to four computers with one mouse and keyboard. The specific computers can be enabled or disabled using the checkboxes in the main window.
Drag the computer's left or right so you can move the mouse off the left or right edge of the desktop. Check the Two Row box for a 2D layout where up to four computers will make a square grid. For instance, the bottom left computer in the grid will be able to move the mouse up or to the right onto other desktops.
Mouse Without Borders supports drag and drop and clipboard functions but with some limitations. You cannot transfer folders, only files, so a folder will have to be archived before sending it. Also, only one file can be transferred at a time. It will be sent directly to a default folder on the desktop called "MouseWithoutBorders", no other locations are allowed for file transfer.
There are several options to configure. They include editing keyboard shortcuts, wrapping the mouse, blocking the screen corners, blocking the screensaver, sharing the clipboard, and disabling Easy Mouse. The IP Mappings tab can help if the program has trouble finding other computers on the network.
Pros
Click and drag anywhere on your computer without using any controls
The software supports a variety of DPI levels for greater precision
Detect all hardware devices automatically
Great for using your old computer or a replaced one
Cons
It has some limitations regarding features
Download Mouse without Borders 
5. Input Director – Best for controlling Windows PCs with one keyboard and mouse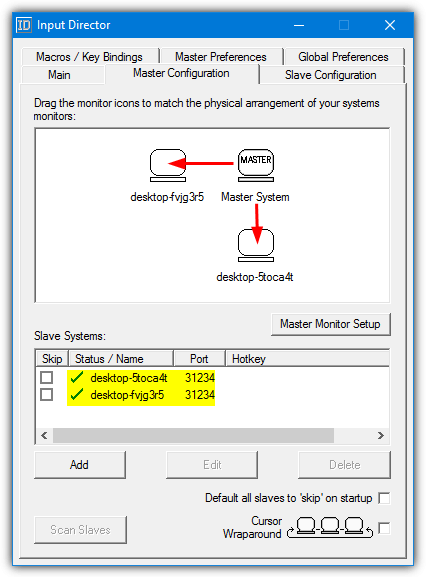 Operating System: Windows
Pricing: Free
Developer: www.inputdirector.com
Input Director is a free software for controlling multiple Windows computers. On the face of it, the software looks more complicated to set up and use than the other software, but in reality, it's really easy. There are many options for power users but most people will probably not need to touch those settings.
Install the program on the secondary and primary computers but configure the secondary first. When the interface opens, press "Enable as Slave" and go to the Slave Configuration tab.
For ease of use, you can enable the "Allow any computer to take control" option to get things running or click Add and manually enter the hostname of the primary computer. The hostname will be on the Main tab on the Primary computer.
Go to the primary computer with the mouse and keyboard and press "Enable as Master" in the Input Director window. Enter the Master Configuration tab, click Add and enter the hostname of the secondary slave computer. Then press OK. Use the monitor box to drag around the icons and position the second monitor in relation to the master system's screen.
Input Director has a number of useful features, including multi-monitor support, custom macros and key bindings, transition options, a desktop information window, shutdown/screensaver/lock sync, sync system mouse and keyboard settings, and mirror input. Input Director also works as a service so UAC doesn't cause a problem.
Pros
Easy-to-follow installation and usage guides
Reflect a computer's real location and size
Copy and paste between computers using normal commands
The mouse remains visible and functional even when disconnected
Cons
Comes with limited functionalities compared to other tools
6. Multiplicity – Best for copying and pasting between PCs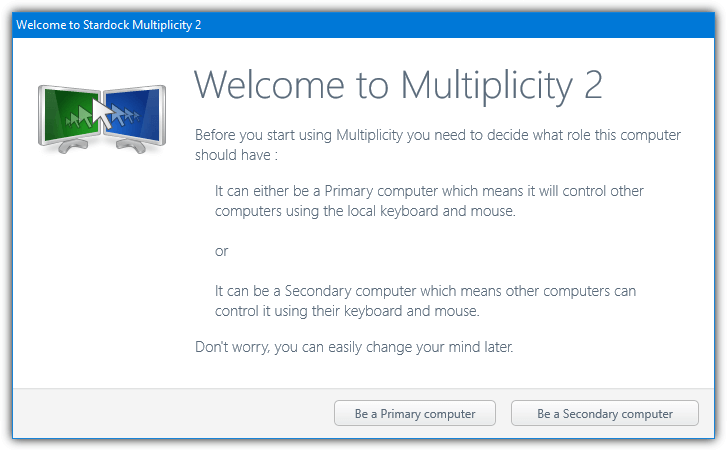 Operating System: Windows
Pricing: Premium
Developer: Stardock
Multiplicity is an easy-to-set-up tool for controlling multiple PCs with one keyboard and mouse. It has some interesting features like audio sharing and shared unlocking, and the full KVM mode. Limitations of the software include no drag-and-drop or clipboard support, no encryption, and no shared locking.
After installation, you will see the welcome screen which asks whether the PC is a primary or secondary computer. The primary is the PC with the mouse and keyboard. If you select Secondary, a window will open with the computer name and passcode which needs to be added to the Primary computer.
If you have a second computer waiting to be connected it should appear in a list of computers to select from. Simply click on it, press Add, enter the passcode, and press Save. The second computer will be displayed on the grid where you can drag it around to the preferred position when moving the mouse off the desktop.
There are some configuration options available, including hotkey switching, showing a status window, darkening the inactive screen, and preventing num lock sync. The switching based on mouse movement option window has useful settings like disabling switching in the screen corners, disabling when a full-screen application is running, or wrapping the mouse around the grid.
Pros
Free up your workspace by removing cables and other hardware
Connect with several devices securely via a network or VPN
You can mix all types of monitors and resolutions between PCs
Control up to 9 PCs with one mouse and keyboard
Cons
It's quite expensive for beginners
7. Win2VNC – Best for using two screens and computers as if they were one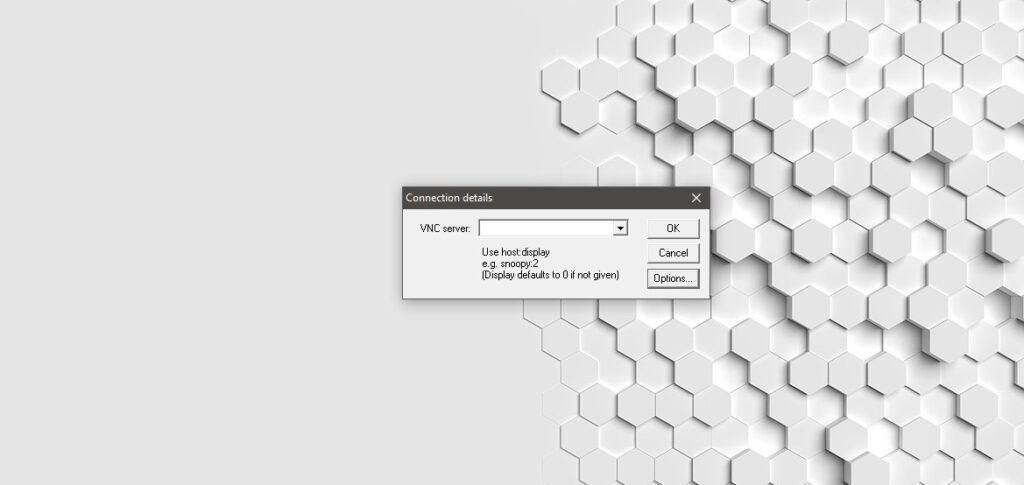 Operating System: Windows
Pricing: Free
Developer: Fredrik Hubinette
Win2VNC is a virtual KVM software that lets you use two different computer screens as if they were connected to the same computer. The software works seamlessly even if the computers run on different operating systems. 
To use the displays, simply move the mouse beyond your computer screen, and you can start controlling the other computer. It's great for people who need to run different programs on computers with different graphics cards.
Win2VNC runs by opening a small one-pixel-sized window on the edge of your screen. Moving your mouse towards the screen will send movements through RFB protocol to a VNC server on another computer.
Pros
The software is free and open-sources to use
You can manage the software from the system tray
The program runs well on old Windows versions
The software connects well with other OSs
Cons
The software hasn't been updated lately
| | | | |
| --- | --- | --- | --- |
| Software | Top Features | Installer/portable | Encryption |
| ShareMouse | Detect and connect to computers | Installer and portable version | ASL encryption |
| Synergy | Start a server and connect to a client | Installer | TLS/SSL encryption |
| Across | Start a server across wireless, wired, and Bluetooth networks | Installer | TLS encryption |
| Mouse Without Borders | Control up to four PCs with one mouse and keyboard | Installer | SSL encryption |
| Input Director | Accurately represent a physical monitor on a map | Installer | SSL encryption |
| Multiplicity | Manage computers with different OS | Installer | AES-256 encryption |
| Win2VNC | Audio sharing and shared unlocking | Installer/Source code | SSL encryption |
Conclusion
Although it's not practical to use multiple computers simultaneously, it's common to have different monitors to display different items. You can use a VNC to control different monitors with one mouse and keyboard.
The challenge, however, is finding the best VNC tool. In this guide, we've discussed top selects for you to try based on customer feedback and performance.
What do you think about the list? Do you have any recommendations you'd like us to try and compare? Share your thoughts in the comment section below.