How to use Wake-on-LAN Commands for Turning PC Remotely
Wake-on-LAN (WOL) is an Ethernet networking standard that allows a shut down computer to be turned on remotely. Most recent motherboards that have an integrated Ethernet controller support this feature. You can enable the Wake-on-LAN feature in the Power Management section of the motherboard's BIOS. Wake-on-LAN can turn on a computer on the same local area network or at another location via the internet.
This is how Wake-on-LAN works; the target computer is shut down with enough power reserved only for the network adapter to function. It listens for a small piece of incoming data called the "magic packet". When the network adapter receives a valid magic packet, the computer starts up. This packet of data is 102 bytes consisting of "FF FF FF FF FF FF" followed by 16 repetitions of the listening network device's MAC address.
Wake-on-LAN starts the computer from its "off" state and is like pressing the power button to turn it on and boot up as normal. It's not to be confused with
waking the computer up from standby or sleep
. Here are several ways you can turn on a computer using Wake-on-LAN from within your local network or remotely over the internet.
Wake-on-LAN over the Local Area Network
These tools will allow you to send the magic packet and start another computer in your local network.
1. Nirsoft WakeMeOnLan
WakeMeOnLan is another useful and portable utility from NirSoft that displays a list of computers on the network and allows you to switch one or all of them on with the click of a button. Scan the network by pressing F5 and it will display all connected computers. For a computer you want to send the magic packet to, either make sure it's on before scanning or add it manually from the File menu (Ctrl+N).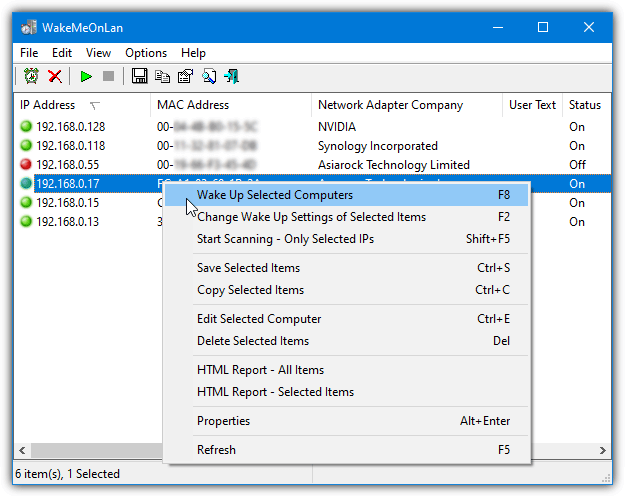 Select the computer to start and click the Wake button (F8). The list of computers is saved and will be loaded the next time you start the program. Options like changing the port, sending the magic packet xx times, and the broadcast address can be changed in the settings. WakeMeOnLan has command line options and a computer can be started by either its IP address, name, MAC address or even the predefined text description you give it.
---
2. WakeOnLANx
WakeonLANx is a compact and portable tool that can perform a number of tasks in addition to Wake-on-LAN. These include pinging target computers, remote reboot/shutdown, retrieving last boot time, getting drive space usage or service status, starting a remote desktop connection, and creating a schedule for remote startups and shutdowns.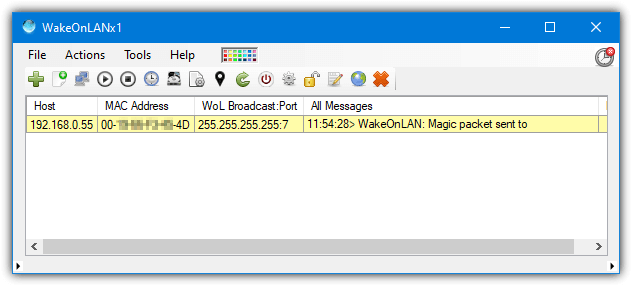 Adding a remote computer is not automatic and you have to do it manually. Click the Add button and supply either a MAC address only or IP address and then MAC address on the same line. Make sure to put a hash (#) before any MAC. For example, "#00-24-75-41-4F-9A" or "192.168.0.10#00-24-75-41-4F-9A" will work. The broadcast address and port can be changed by right clicking on any of the entries.
---
3. MiniWOL v2
MiniWOL is from the well known developer Tweaking4all and it's perhaps more geared towards when you have a number of hosts to wake quite often. It works mainly from the system tray where you can wake a target computer from the tray icon menu. MiniWOL has a portable version that auto detects if you don't install it to "Program Files (x86)".
To start, right click on the tray menu > Settings. Click Add and give the profile an alias (tray menu name), enter the IPv4 and the MAC addresses. The port and broadcast address are optional and can stay at the defaults unless you need to change them. The ARP list button can help populate both the IPv4 and MAC address boxes. Alternatively, press Detect to get the MAC address from the entered IP address.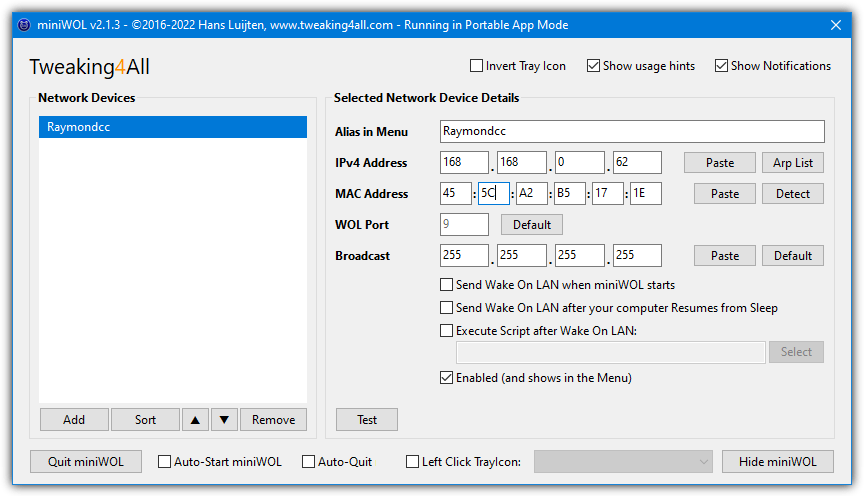 Most of the checkboxes in the window are for cosmetic changes and relate to how and when wake-up data is sent. The execute a script after waking option could be very handy for some users. MiniWOL becomes more valuable when you add more computers as they can all be woken quickly from the tray menu.
A couple of other useful desktop GUI tools worth looking at are Aquilatech WakeOnLAN and WOL (not to be confused with a tool below tool with the same name).
Wake-on-LAN over the Internet (Wake-on-WAN)
Make sure to configure your router to forward the required UDP port to the computer that you want to boot up or it will not work. Using a port such as 9 or 7 is recommended although you can use almost any port you wish. Refer to PortForward.com on how to configure port forwarding for your router.
4. Depicus Wake on Lan
Depicus Wake on Lan is a small and portable tool that is able to boot up a computer using Wake-on-LAN over the internet or over the local network.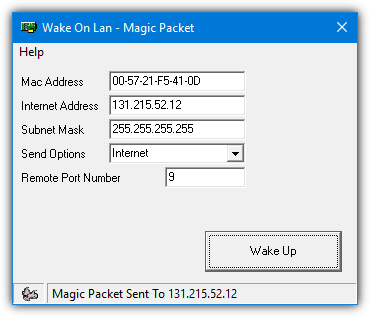 Simply select Internet or Local subnet from the dropdown and enter the MAC address, IP address or hostname, subnet mask (usually 255.255.255.255), and the port. If you are using Wake-on-LAN locally, the internet address box doesn't need to be filled.
---
5. SoftPerfect Network Scanner
Sadly, Network Scanner went full shareware back in 2016 but the previous freeware version still works fine. This tool can perform a number of tasks such as scanning, pinging and getting detailed information about remote computers, discovering shared folders, and remote standby/shutdown. WOL is done via the Wake-on-LAN Manager, which you can get to from the toolbar or the Options menu.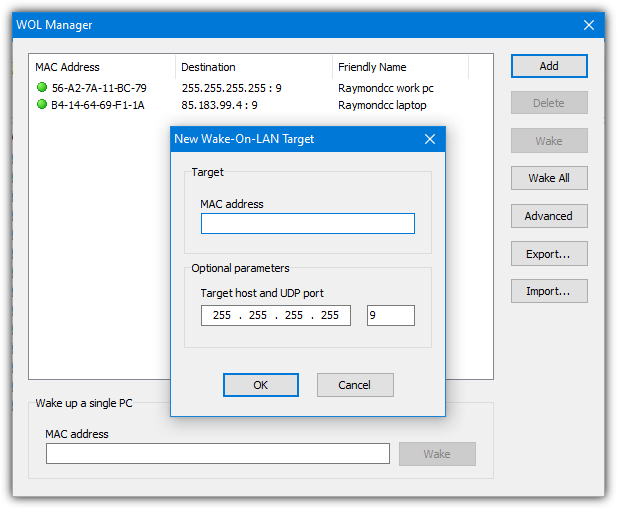 To Wake-on-LAN via the internet, click Add and choose IPv4, enter the MAC address of the target computer, its external IP address, and the port. Enter a hostname instead of an IP address if you chose that option. To start a local computer you only have to add the MAC address and port, the target host can be left alone. You can also wake up a single computer with just its MAC address from the bottom of the WOL Manager.
Download SoftPerfect Network Scanner (Freeware version)
Online Wake-on-LAN Services
There used to be several of these websites on the internet but sadly they have dwindled away over the years and don't work or have gone completely. Note that Wake-on-LAN over the internet is probably the least reliable method so it's by no means guaranteed to work.
6. Depicus Wake on LAN over the Internet
In addition to the Windows tools from Depicus, they also have a page on their website that can send the magic packet over the internet to your computer.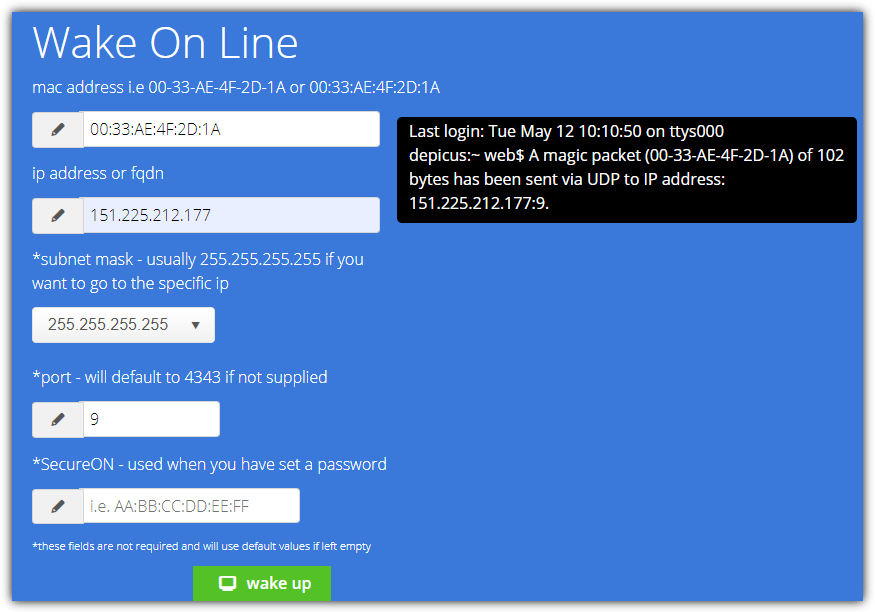 The external IP Address and MAC Address of your computer is required. The subnet mask and password boxes can be left alone if you have no specific need to change them. The page also says the port can be left at the default of 4343. Ports 9, 7, 4343, 40000, or anything more specific if you wish is fine. Remember, the port you use has to be forwarded in your router.
Visit Depicus Wake on LAN over the Internet
If you're unable to remotely turn on your computer using any of the tools listed above, you need to make sure that your computer is Wake-On-LAN ready by checking your system settings. There are also more ways to remotely turn on a computer with Wake-on-LAN. Find out more on page 2.
Here are more Wake onLAN options…
Wake-on-LAN from the Command Line
Using the command Prompt or PowerShell to send Wake-on-LAN packets to another computer can be quite useful for business, and professional users, in batch scripts, and to make desktop shortcuts.
7. WakeUp
In terms of ease of use, a command line tool won't come much simpler than this. WakeUp is very simple to use and only requires the MAC address of the remote computer as an argument. The MAC address has to be in the format of colon separators or no separators at all (e.g. aa:bb:11:55:a1 or aabb1155a1).
WakeUp MAC address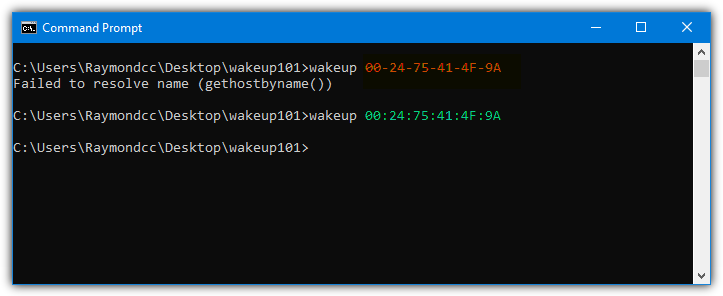 The tool or its website does not mention the actual port WakeUp uses, but we found that it was using port 40000.
---
8. Wake On Lan Command Line (WolCmd)
This tool is another entry in our list by Depicus and is a simple command line tool to send the Wake-on-LAN signal. The syntax is quite simple.
WolCmd [MAC address] [IP address] [Subnet mask] [Port]
An example would look like this:
wolcmd 26-63-A4-79-B8-12 192.168.0.40 255.255.255.0 9
The MAC address, IP address, and subnet are required but the port will default to 7 if you don't supply one. A version is also available for Mac OS.
Download Wake On Lan Command Line (WolCmd)
---
9. Gammadyne WOL
WOL is another relatively easy tool to use and it only requires supplying the MAC address of the target computer although more arguments can be supplied if required.
WOL MAC address [IP address] [port] [/pwd password] [/d subnet]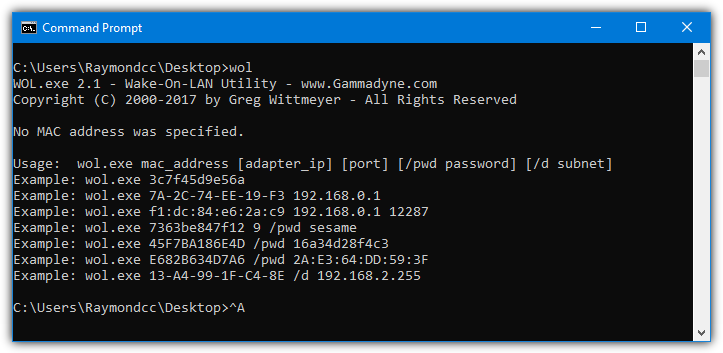 The IP address, port, and subnet are optional but may be required in some situations. Port 12287 will be used by default if nothing is added to the command. A password option is also available but you will have needed to set things up to accept a password.
Use Wake-on-LAN to Start a Computer From your Smartphone
If you are unable to send the magic packet to your PC from another computer, an alternative option is sending it from another device like a smartphone or tablet. There are loads of apps around and the Android app we'll look at is free, popular, and does the job quite nicely.
10. Wake On Lan for Android
This app is quite easy to use because if the computer to start up remotely is switched on and available on the local network, you can find it automatically. Just press the add button and select the device from the list. Its IP and MAC addresses will be added so you don't have to do anything else. If you are connecting from outside the LAN, replace the local IP with the external IP or add a new connection manually.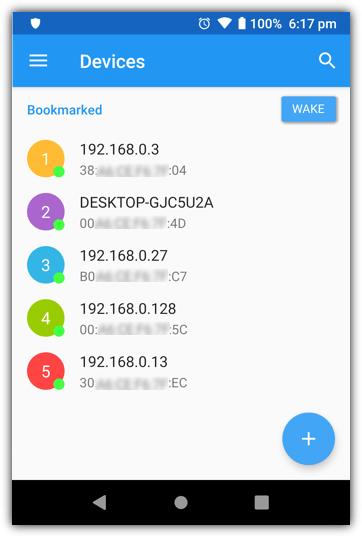 All you have to do is press one of the devices in the bookmarks list to start the computer remotely. A handy function is the ability to add a widget to your home screen that can send the packet data to a selected device just by pressing the icon. By default the magic packet is sent three times, it can be changed up or down in the app settings.
Download Wake On Lan for Android
Test Wake-on-LAN is Working in Windows
If Wake-on-LAN isn't working or you just want to test to see if the remote computer is receiving the necessary magic packet data, try using one of the tools below.
Wake-on-LAN Sniffer
Wake-on-LAN Sniffer is a very simple to use and portable tool that will give you various bits of information about magic packet data being sent to the target computer. All you have to do is launch the program on the computer that will receive the Wake-on-LAN signal and it will watch all ports for the incoming data.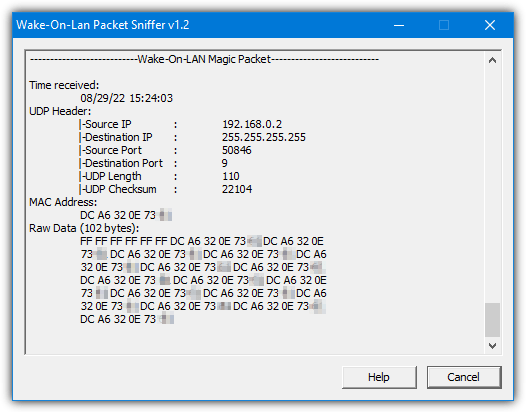 When valid data is received, details will be displayed for time, source/destination IP, source/destination port, UDP length and checksum, MAC address, and the magic packet data. You may have to manually add an exception for Wake-on-LAN Sniffer through your firewall if nothing is displayed.
---
Wake On Lan Monitor
Wake on Lan Monitor is another tool from Depicus software and it can be used to test if the magic packet is reaching the target computer. Launch the tool on the computer you want to send the WOL signal to, set the required port, and press Start.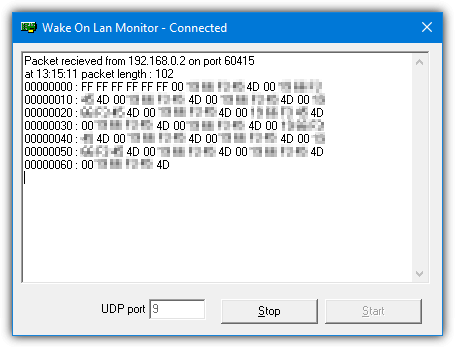 Note that different programs default to different ports when sending the magic packet. For instance, FUSION WakeUp on Lan and WakeMeOnLan default to port 40000 while WakeOnLANx defaults to port 7. The command line tools also default to different ports from each other. If you are not required to set a port in the program, make sure you know what its default is during testing.
Make Sure Your Computer is Wake-on-LAN Ready
To enable the Wake-on-LAN feature, it first needs to be enabled in the BIOS. The option is usually quite obvious and should be easy to spot whether you have a more modern UEFI or a traditional BIOS.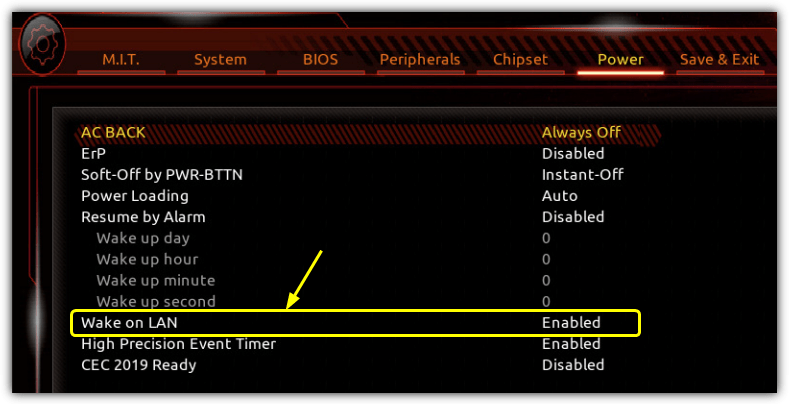 In addition to this, you may have to enable another option to get WOL working. It's called "PCI Devices power on" or "Power On By PCI-E" in the ACPI/APM configuration or power management settings. Some motherboards may have a similar option called "Resume by PCI-E Device/Intel Onboard LAN". If you are not sure, turn all related options on and work backward when turning them off.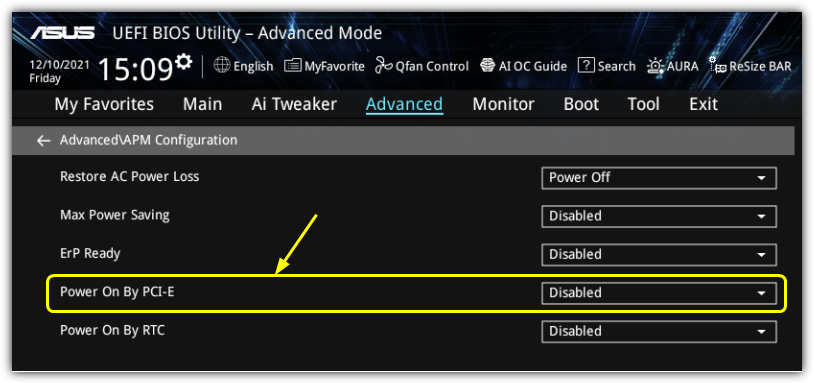 You also need to make sure the LAN driver in Windows has the WOL feature enabled. Right click on (My) Computer > Manage > Device Manager > Network adapters. Double click on your Ethernet controller and look in the Advanced tab for "Wake on LAN", "Wake from shutdown", "Wake on Magic Packet" or similar.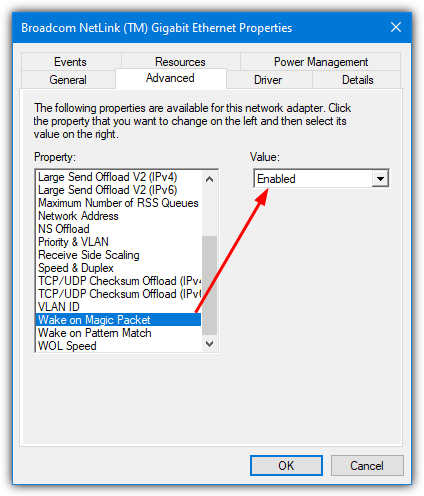 Make sure it's enabled. Also, go into the Power Management tab and check "Allow the computer to turn off this device to save power", "Allow this device to wake the computer", and optionally "Only allow magic packets to wake the computer".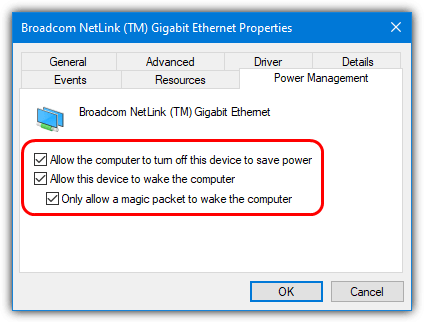 While the system is switched off, make sure power is still getting to the network adapter by checking to see if the light is on near the connector on the motherboard or card. If not there is no power going to it then other settings may need adjusting.
Disabling Windows Fast Start-up
In addition to the BIOS and network adapter settings above, there is another option in Windows 8/10/11 that can stop Wake-on-LAN from working. And this can happen even if Wake on LAN Monitor has confirmed magic packets are being sent and received correctly.
The option is called "Fast start-up" by Windows which is like a modified hibernate. While it can speed up boot times from power down, the computer doesn't listen for incoming magic packets in this mode. To get Wake-on-LAN to work, the option needs to be disabled.
Disable Fast Start-up From Control Panel
1. Open Control Panel and go to Power Options. On the left side of the window, click the blue "Choose what the power buttons do" link.
2. In the Shutdown settings section, you will see the "Turn on fast start-up (recommended)" option. If this is already unchecked, then it's not causing a problem with your Wake-on-LAN. Simply uncheck the box and click Save changes.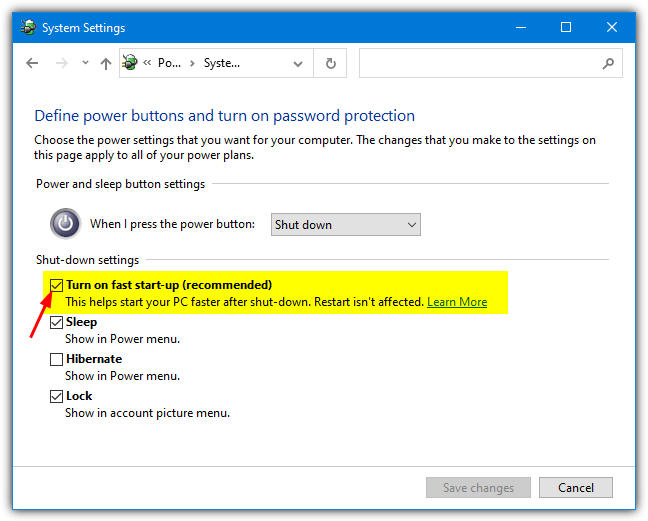 3. The option may be enabled but greyed out if you are not an administrator or have UAC turned on. If you find this is the case, simply click the "Change settings that are currently unavailable" link near the top. You can now turn off fast start-up.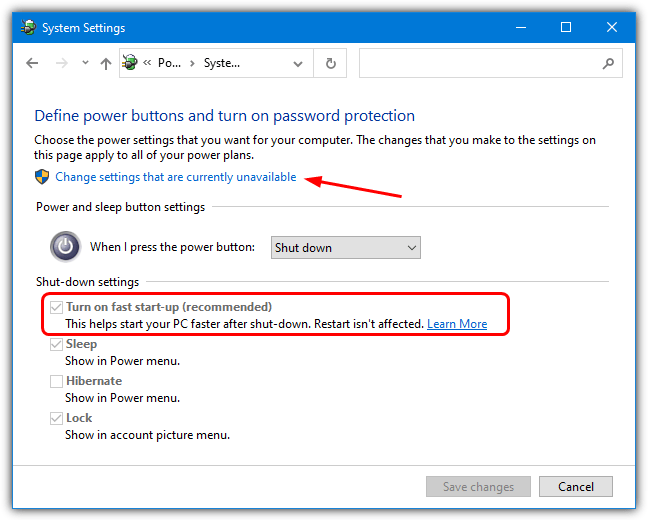 Disable Fast Start-up From Command Prompt
This option will completely disable hibernation and therefore hybrid boot on your system and the fast start-up option will disappear from Control Panel's power options.
Powercfg -h off
Open an administrator Command Prompt and enter the above command. If you tried the Control Panel option first and found the check box was not there, this is probably why. Changing off to on will obviously bring the option back.
Disable Fast Start-up From The Registry
This last method simply unchecks the fast start-up box in Power Options as if you went into Control Panel and unchecked it yourself. The only difference is you don't need to open Command Prompt or Control Panel to do it. Simply download and double click on the Hiberboot_off.reg file to import the data.
Download Fast Start-up Registry Files
Another .REG file is included in the Zip archive to enable the option again should you wish to do so.