6 Free Tools to Recover Deleted Photos from Memory Cards and Mass Storage Devices
There are few things more frustrating in the world of digital photography than losing photos on which you place a great deal of importance. Finding your holiday snaps have been accidentally deleted from the memory card, or pictures of a special occasion ruined because the USB flash drive's file system has become corrupted can be quite upsetting. They're one of a kind and nearly always something you can't duplicate. Thankfully, all is not lost and it's still entirely possible to get some or maybe even all of the images back, although there's never a 100% guarantee.
Searching Google for a phrase like "recover photos from memory card" will display a huge amount of software that claims to recover lost images and sadly most of it is shareware. We know photos can be very precious which is why software developers realise that people are more willing to pay a fee for software that can help them recover their deleted photos. Don't worry though as we've put together a list of six free programs that can help recover your valuable photos. In addition to these programs, we also have a similar list of 10 more general tools that can recover data from most storage devices.
Note: It's always good practice to take out the memory card from your digital camera so there's no chance of taking any more photos which will ruin your chances of recovering the photo. Likewise, not using any device which contains the pictures again until after you've attempted recovery is the best solution. If the files are overwritten by newer files, they're gone forever and irretrievable.
1.
PC Inspector Smart Recovery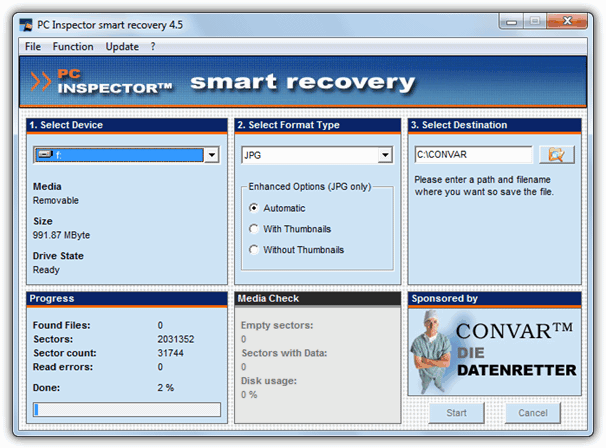 PC Inspector Smart Recovery is a program designed specifically for the recovery of digital images from a number of different hardware devices including memory cards, flash drives, hard drives, micro drives and also directly from a number digital cameras. Most of the common image formats can be recovered as well as a few video file formats like MP4 and MOV. There's also the ability to recover more special types from Fuji, Ricoh, Olympus, Minolta and Nikon cameras. Fast or slower Intensive modes are available so you can more quickly scan a larger device first with the fast mode, and use the more thorough mode if your images still aren't recovered. Smart Recovery is a similar program to Convars other tool, PC Inspector File Recovery.
Although it's listed on the Convar website as only being compatible up to Windows XP, it also works fine on Vista, 7 and 8.
Download PC Inspector Smart Recovery
---
2. Zero Assumption Digital Image Recovery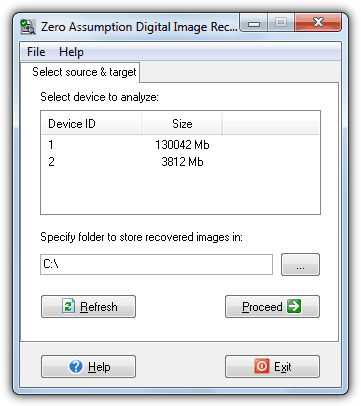 Zero Assumption Recovery is an extremely thorough tool and as a consequence, it's very slow and could take several hours to scan a sizeable memory card or flash drive. The plus side is that it will likely find images that most other undelete or recovery programs can't, so the longer scan time could well be worth it if the missing photos mean a lot to you. TIFF, JPG, CRW, WAV, MOV and GIF file formats are supported. The program is easy to use, just select your drive/card, choose the folder to save the files to, press the button and wait for it to finish.
Download Zero Assumption Digital Image Recovery
The Digital Image Recovery program is a few years old now but the demo version of the newer full shareware Zero Assumption Recovery can recover a number of image formats from storage devices, partitions and directly from several makes of digital camera for free, and is a bit faster. You also get a graphical volume map and real time options for handling bad sectors. Size and date selection filters are available which you can configure once a scan is complete.
---
3. AnyFound Photo Recovery Free Edition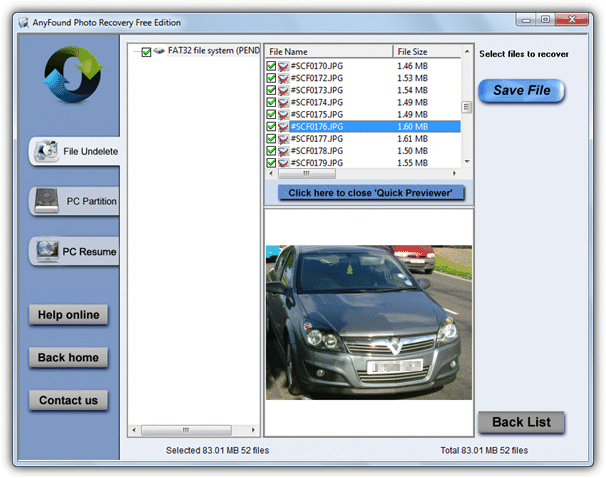 Although the Anyfound website and developer seem to have disappeared, the software is obviously still fully functional, and it's quite a useful tool. As well as being able to quickly recover most digital image formats including BMP, JPG, GIF, PNG, PSD, TIFF, WMF, EMF, PSP and ICO, it also has a PC Partition mode which scans the whole device more thoroughly for lost files from corrupted or formatted partitions. Another useful feature is a Resume mode where you can carry on where you left off from a previous recovery session if it was a large or corrupted memory card or drive you're trying to get images from.
AnyFound Photo Recovery works on windows XP and above, the program requires installation but can be extracted with Universal Extractor to make it portable.
Download AnyFound Photo Recovery Free
---
4. PhotoRecover.NET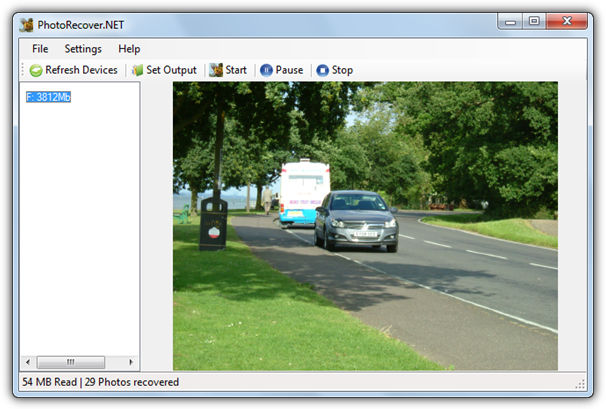 PhotoRecover.NET's author is a photographer who developed this tool because he was unhappy there are so many expensive shareware offerings around to perform the task. The program is designed specifically for removable storage devices like memory cards, cameras and USB flash drives etc, and will try to recover only JPEG photos. Simply select your inserted device, choose the output folder and start the process. The recovery method is quite slow which is simply because it's thorough and can recover images from deleted, formatted or damaged devices. Photos will be previewed as they are recovered.
Works on windows XP and above and also requires the .NET Framework to run.
---
5. PhotoRec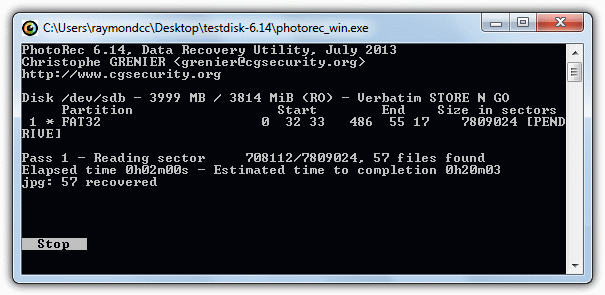 PhotoRec is bundled with the corrupted drive/partition recovery tool TestDisk, and between them make a powerful combination of recovery tools, although the DOS interface might put some less experienced users off. The program menu system is quite intuitive though and it will guide you through recovering images and other data from FAT, NTFS, exFAT, Linux ext2/3/4 or HFS+ formatted devices. Do note that PhotoRec will recover ALL files from the free space or whole device unless you search for exact file extensions (like JPG) using the list in the File Opts menu.
PhotoRec and Testdisk are portable and cross platform with separate versions for Windows, DOS/Win 9x, Linux and Mac OS X.
---
6. MjM Free Photo Recovery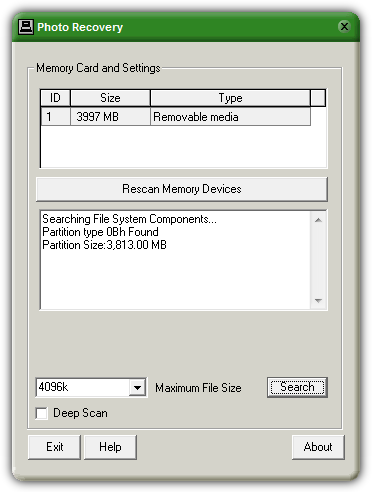 MjM Free Photo Recovery is quite an old tool that the company decided to release to the public for free, but it's a useful tool that can recover your photos (JPG only) from media storage such as memory cards and flash drives. They can be formatted or corrupted, it doesn't really matter, just as long as the device is detected by Windows. The scanning is quite slow so will take a matter of hours on larger memory cards, the Deep Scan mode available will take even longer. A useful Max File Size drop down menu can be used to ignore larger files if you're only searching for images under a few Megabytes, for example.
Download MjM Free Photo Recovery
Special Note: As mentioned earlier, there is a large amount of shareware out there which can cost big bucks and sometimes performs worse than the free software above. Some of them though, are also good and very effective. Lexar Image Rescue 3 is a program that normally costs $30, but we have written an article on how you can get it for Free! Sony Memory Card File Rescue is program which is usually only available to owners of certain Sony storage products and not to the general public, but you can download Sony Memory Card File Rescue Software for Free by following our guide.