How to Manually Preview Video or Audio from Rapidgator Links
Other than BitTorrent, one click file hosting websites, also known as cyberlockers, remain one of the main sources to download movies and songs and both methods have their own pros and cons. The files on BitTorrent are always available as long as there are seeders but some ISPs block or throttle the download speed, making it very slow or impossible to download without using a VPN to bypass the restriction.
As for one click file host websites, the files doesn't stay online for very long because a simple DMCA report will cause the files to be removed from the user's account. A useful feature found in some BitTorrent client software is the ability to preview the video by streaming or playing while the download is in progress. This can quickly give you a good idea if the quality of the video and audio is acceptable and whether to continue or terminate the download, saving both time and bandwidth.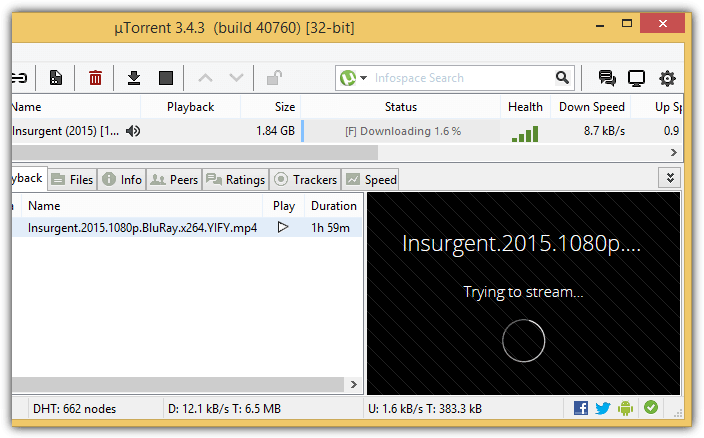 Third party software or download managers that have the ability to preview video or audio files hosted on one click file hosting websites used to exist but have long been discontinued due to lack of interest and dealing with the complexity in real time streaming while downloading multiple compressed parts. Fortunately there is a manual way to preview video or audio files from one click file host websites without the need to fully download all parts.
There are a couple of software tools that you need in order to preview files from links such as Rapidgator and Uploaded. You will need a web browser preferably Mozilla Firefox, non alpha or beta version of 7-Zip archiver, and a good media player such as SMPlayer or MPC-HC.
The first step is to use Firefox web browser to download a file partially (around 30MB should be enough), then right click and pause the download. We mentioned earlier that Firefox is preferred because the partially downloaded file which is being paused can be extracted. This is however not possible in Chrome or Opera because 7-Zip will complain that the file is being used by another process and doesn't allow you to extract.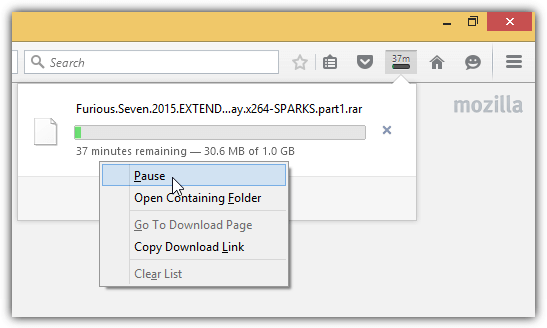 The second step is to use the stable version of 7-Zip 9.20 to extract the partially downloaded file. Open the folder where the file is being saved to, right click, go to 7-Zip and select Extract Here. We had problems extracting using the beta version of 7-Zip v9.38 and v15.05. If you also experience problems in extracting with the 7-Zip beta, use the stable version 9.20 instead.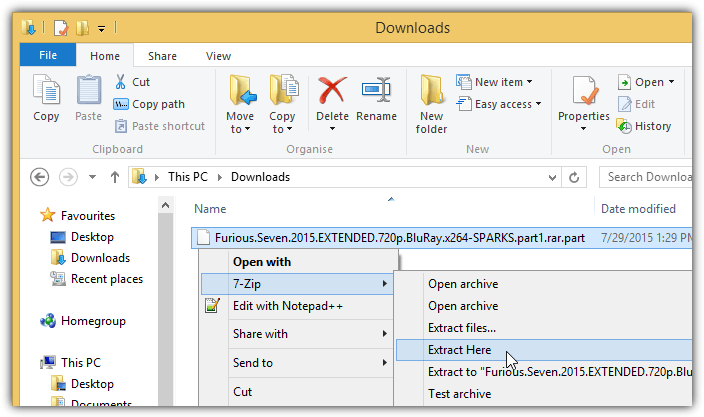 7-Zip will start extracting and report an unexpected end of archive, CRC failed and the file is broken. You can ignore the error messages and click the Close button to close the the 7-Zip window.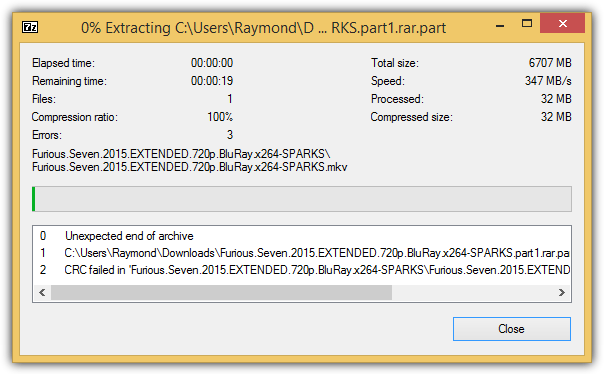 You will find a new folder being created. Access the folder and you should see the video file. If you already have a codec pack such as the excellent Shark007 installed, then you can probably open the file using the built-in Windows Media Player in the Windows operating system. However, we recommend using a more powerful and superior media player SMPlayer or MPC-HC that supports playing partial or incomplete video files. Although VLC media player is also well known to play corrupted video files, we got better results with SMPlayer and MPC-HC.
Download the portable version of SMPlayer or MPC-HC (download the 7z or ZIP package), extract and run the program. Then open the partially downloaded video file using the suggested media players and it should be allowed to play long enough for you to preview and determine the quality of the video and audio.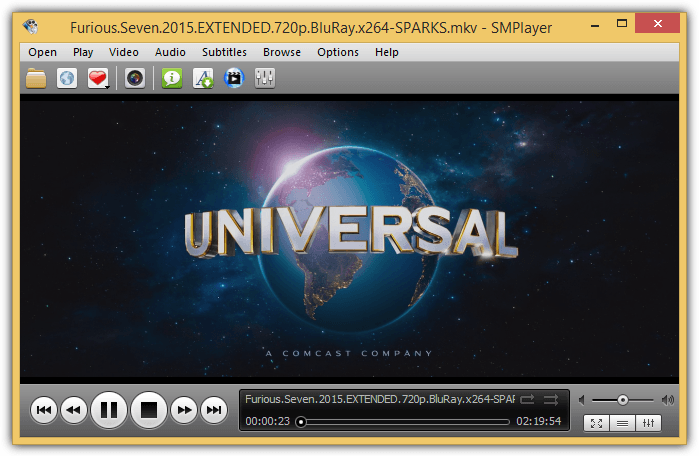 Final Notes: This method will definitely work as long as the video file is compressed only once. There are some releases that are double packed whereby they take a scene release and compress it again. This is why sometimes you'll find that after extracting from multiple parts, you get another set of multiple compressed parts that requires another extraction process to finally get the video file.