Windows USB Installation Tool: Best to Use in 2023
Not too many years ago, before the USB stick came along, if you wanted to clean install Windows, it had to be done using the CD or DVD and an optical drive. Thankfully, things have moved on and users with a sufficient amount of knowhow have been able to get their copy of Windows onto a USB flash drive and install from it for a little while now. With the introduction of Windows 8 you can now even choose to install it using a USB flash drive from within the Microsoft Upgrade Assistant.
Installing Windows from USB has some advantages such as not having to worry about scratching or damaging the Windows installation disc, and it's more convenient to carry around a tiny USB flash drive than optical media. They are also a necessity for netbooks, small laptops and the increasing amount smaller form factor PC's that no longer use ROM drives. And to add to that, a reasonable speed USB stick can complete a Windows install a good bit quicker than an optical drive thanks to the much faster access times.
Here we list 10 ways to enable you to get your Windows install files onto USB flash drive taking advantage of the benefits it has to offer. For ease of use, we have listed which versions of Windows are supported for putting onto USB according to each tool's author. The tools themselves should run on Windows XP to Windows 8. Make sure you have at least a 4GB USB flash drive to hand before trying to perform a Windows to USB, portable versions of the software were used where possible. If you don't have one, you can directly download a Windows 7 ISO from Microsoft's Official Distributer.
1.
WinToFlash
USB install support for: Windows XP, 2003, Vista, 2008, 7 and 8.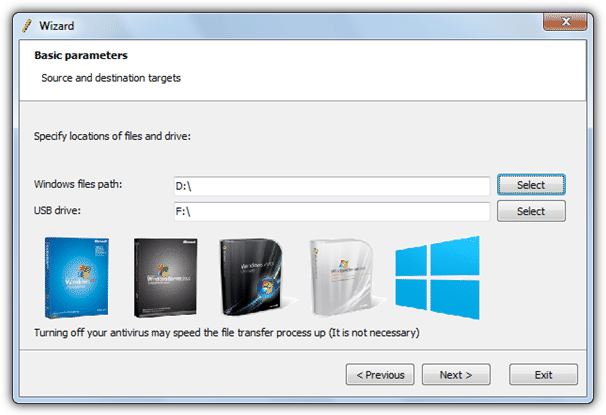 The WinToFlash utility has quite a lot of options and support for installing from XP right up to windows 8 using a USB flash drive. In addition to Windows, there are also some other related functions such as creating an XP/2003 recovery console and error checking. The program has 2 different modes which can be used depending on your experience level, a Wizard mode which offers to get you going in a few easy steps, or an Advanced mode which gives a wealth of options and more control over the whole process. The program requires you select a drive or folder as the source, not an ISO image. Sadly the setup installer includes the BetterInstaller adware and even the portable version contains adware on 1st run and also uses inline ads.
---
2. WiNToBootic
USB install support for: Windows Vista, 2008, 7 and 8.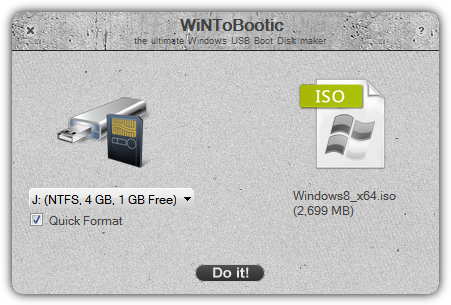 WiNToBootic is designed solely to be a small and completely portable standalone executable that can get the Windows Vista, 7 and 8 install files onto USB flash drive with the minimum of fuss. A useful feature not immediately apparent is you can click on the source arrow to locate an ISO file to be converted, or you can alternatively drag and drop an ISO, a folder containing the Windows files or even an install CD/DVD from My Computer. Simply make sure your USB drive is selected if not already, choose whether to format or not and press the Do it! button.
WiNToBootic is one of the quicker programs at completing the process and also one of the easiest to use. The .NET Framework v2.0 is required.
---
3. Rufus
USB install support for: Windows XP SP2+, 2003, Vista, 7 and 8.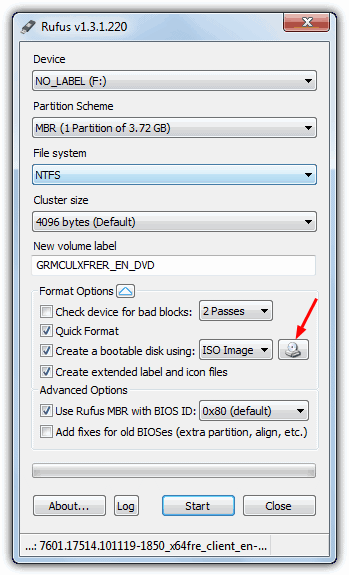 We're quite big fans of Rufus because apart from being a great little tool to format USB drives and also check them for errors and bad blocks, there is also direct USB support to install MS-DOS and FreeDOS which is good for BIOS flashing, various Linux images and you can install Windows from XP SP2 up to 8. Rufus is also very reliable and one of the fastest tools around at getting the Windows install files onto the USB drive while still being easy to use. Simply click on the select ISO icon and find your Windows ISO image, then click Start and wait for the process to complete. Nothing else needs to be touched as the program will select the best file system and name for you. Rufus is a completely portable executable and is less than 500KB.
---
4. WinUSB Maker
USB install support for: Windows XP, Vista, Server 2003/2008, 7 and 8.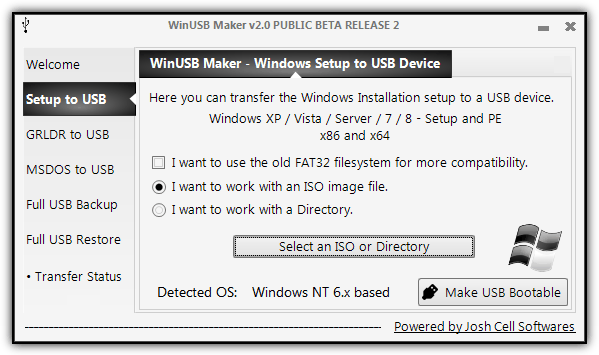 Josh Cell Softwares make some other nice tools such as Advanced Tokens Manager and WinAIO Maker, while WinUSB Maker is a smart tool that can install just about any version of the Windows install CD/DVD from XP to 8 onto USB. It can also install a Linux Grub loader or MS-DOS if you wish, and includes a nice addition of a full USB backup and restore function to make a copy of the flash drive before putting Windows onto it. Another thing some users might find useful is the ability to work with and install using either an ISO image file or a directory with the extracted files if you have been slipstreaming or editing the Windows distro. WinUSB Maker is a standalone executable and requires the .NET Framework v4.0 to run.
---
5. Windows 7 USB/DVD download tool
USB install support for: Officially Windows 7, also worked for us with Vista / 8.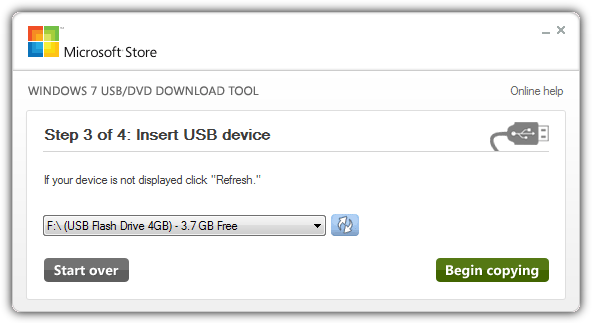 This is Microsoft's official tool for putting the Windows 7 setup onto a USB stick and has a disadvantage over most other tools of this type by requiring installation before creating an install USB drive. Microsoft says it only supports Windows 7 ISO images, but we also successfully booted and installed both Vista and Win 8 from USB using this tool. The program is a breeze to use and can easily put the image onto USB or burn it out to DVD if you want. Just follow the 4 easy steps and the Windows install USB will be created, although the speed at which the program creates the USB is known to be a bit slower than most other USB installer tools. Requires the .NET Framework v2.0 or higher.
Download Windows 7 USB/DVD download tool
We have another 5 tools to put the Windows install files onto USB on page 2.
6. Universal USB Installer / YUMI
USB install support for: Windows Vista, 7 and 8.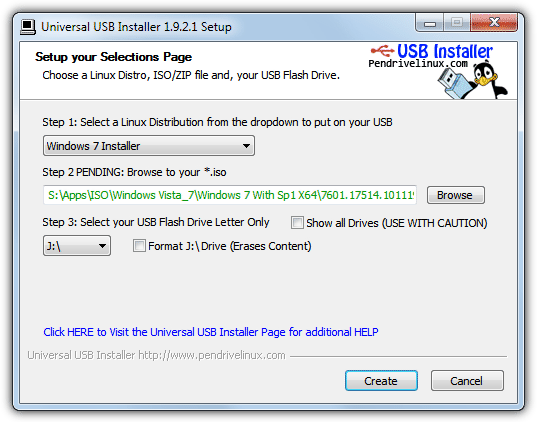 Universal USB Installer and YUMI are similar programs from Pendrivelinux.com, looking and working in a similar way. The main difference is YUMI has support for installing multiple ISO images onto a USB flash drive and Universal USB Installer can install one ISO image at a time. They both have options to install and also download a number of Linux operating system images and repair CD's along with direct USB installer support for Vista, 7 and 8. These two tools are one of the few that is able to install Kon-Boot onto a USB. All you have to do is select which Windows to install from the Step 1 drop down (near the bottom), locate the ISO and choose the USB drive to install to. Formatting is optional. The YUMI interface is slightly more complicated due to the multiboot options. Both tools are entirely portable.
Download Universal USB Installer | Download YUMI

---
7. UNetbootin
USB install support for: None officially, Windows Vista, 7 and 8 worked for us.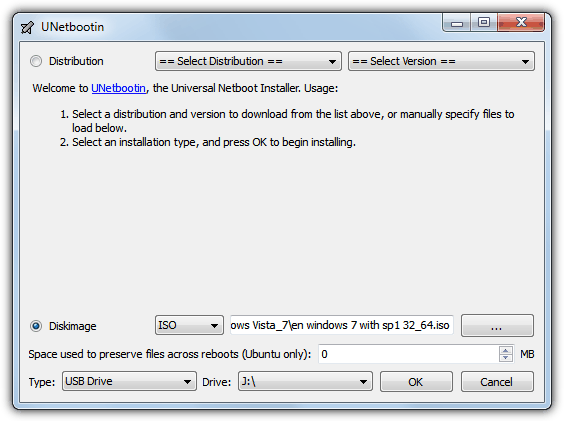 UNetbootin is a very popular tool for downloading and installing Linux distro's onto USB. Although a lot of people try to use it for installing the Windows setup onto USB, the program doesn't officially support this and it seems a look around the internet reveals there are as many failures as successes. We ran quick tests to install Windows Vista, 7 and 8 ISO's to USB using UNetbootin and it seemed to work IF you format the flash drive to NTFS beforehand. Just select Diskimage and browse for the ISO file, then choose your USB drive. Because the other tools here are designed to work with Windows by their developers, it's recommended to try them before UNetbootin.
---
8. RMPrepUSB
USB install support for: Windows XP, Vista, 2008, 7 and 8.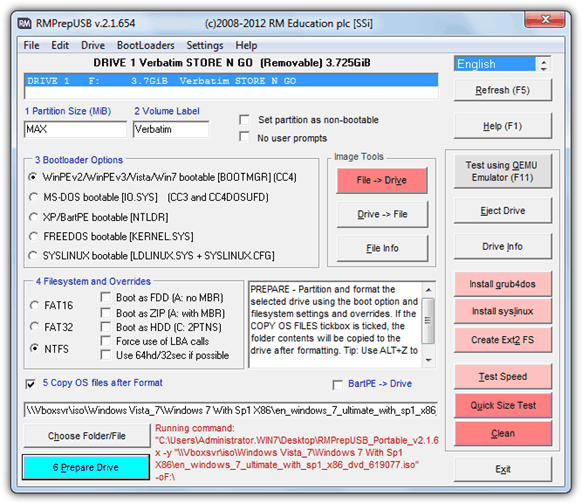 RMPrepUSB is quite a comprehensive tool and can look a bit complicated to use compared to most other USB installers. Unfortunately, although the website can be a great resource for tutorials on various ways to put windows setup files onto a USB drive, it also can be quite difficult to find your way around. If you're confident or experienced enough, there are a number of useful features such as multiple bootloader options, several fixes and tweaks to help with compatibility, a backup and restore function, a speed tester and also a size tester which can help detect fake sized USB flash drives. RMPrepUSB runs you through a series of 6 steps to create the install Windows USB, the small help window will offer tips on the best options for your particular operating system. Installer and portable versions are available.
---
9. Koala
USB install support for: Windows Vista, Server 2008, 7 and 8.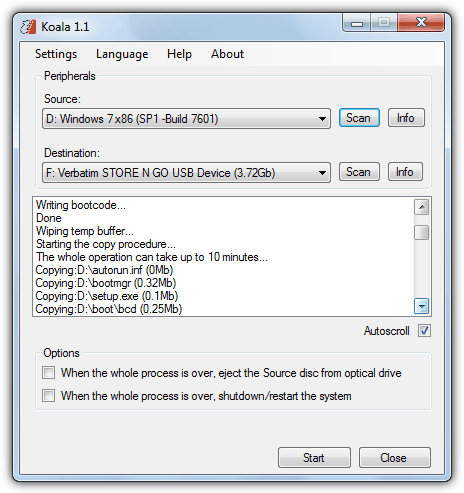 Koala is a small and portable utility that can get Windows Vista, 7 and 8 setup files onto USB stick, but does have a limitation which is only support for copying the files from drives and not ISO images or folders. You can however mount an ISO using virtual drive software such as Daemon Tools and do it that way. Simply make sure you have Windows inserted into some form of drive, plug in the USB flash drive and press the Scan buttons for both Source and Destination which should find your devices and populate the boxes. Then press Start to begin the process and wait for your USB Windows installer to be created. Koala needs the .NET Framework v2.0.
---
10. The Manual Way Using DiskPart
USB install support for: Windows Vista, 7 and 8.
This last method is for the Command Prompt lovers out there and uses the Diskpart tool built into Windows to prepare the USB flash drive for the files. This should be used with care because you could easily wipe the wrong drive and lose data if not selecting the drives correctly. This method was tested and confirmed working on Windows Vista, 7 and 8. You obviously need to press Enter after typing in each command.
1. Insert your USB flash drive.
2. Press Win key+R, type cmd.
3. Type diskpart.
4. Type list disk, then identify the disk number for your USB flash drive. You MUST be very sure to find the correct number or you'll end up formatting the wrong drive later on. If you have only one hard drive, then normally your USB flash drive will be disk 1.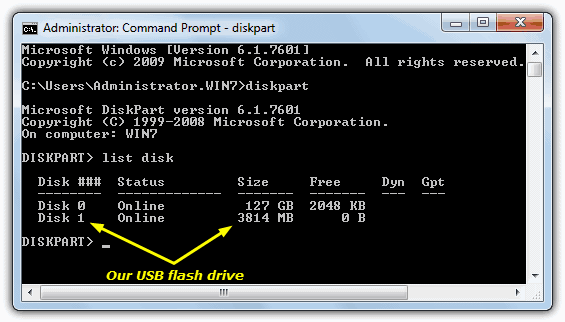 5. Type select disk [disk#].
6. Type clean.
7. Type create partition primary.
8. Type select partition [disk#].
9. Type active.
10. Type format fs=ntfs quick.
11. Type assign.
12. Type exit.
DiskPart Steps 5 -12 in Command Prompt: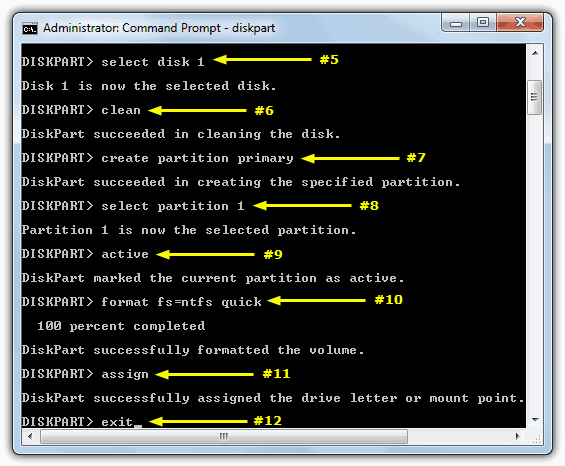 13. Insert the Windows installation DVD disc, mount the ISO or open it with 7-Zip, or locate a folder containing the Windows files, and copy everything from there onto your USB flash drive.
Boot up your computer with the USB flash drive. As with all these tools, you will need to go into your BIOS and make sure it is set to boot from USB devices, or press a key such as F11 or F6 etc while the BIOS screen is visible to select the boot device. If you got it right, you should now be able to load and install Windows from your USB flash drive.