4 Ways to Edit Windows Registry Offline [Without Regedit]
Method Three
Using a recovery CD by Lazesoft will also enable us to edit the registry from the bootable rescue disc. This has a nice bonus of including all the other tools from the Lazesoft Recovery Suite Home Edition such as disk backup and cloning, Windows product key recovery/user password reset and file undelete/recovery, so it's a very useful disc to have around.
1. Download Lazesoft Recovery Suite Home and install the program.
2. Run the Recovery Suite and click the button that offers to create a CD or USB bootable media. You will then have the opportunity to burn to CD, write directly to a USB flash drive or save the ISO file for later writing.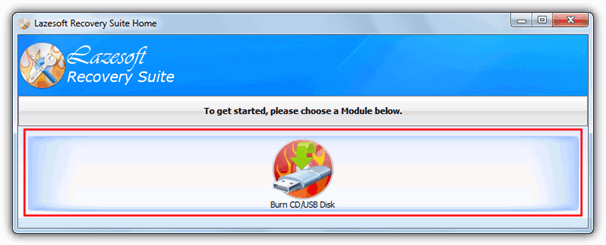 3. Boot the computer with your CD/USB media and when the Home window opens, select Windows Recovery then choose your operating system to load the registry from. This will obviously range from 1 entry to several for a multiboot system.
4. In the main recovery screen click either the LoadingCrash or RepairTools tab -> Registry Editor, and click on the Registry Editor button. You will notice that Lazesoft Recovery Suite can only edit HKEY_LOCAL_MACHINE although this should be more than enough for the majority of tasks because the Microsoft subkeys are usually where most major system issues such as logon and startups are found.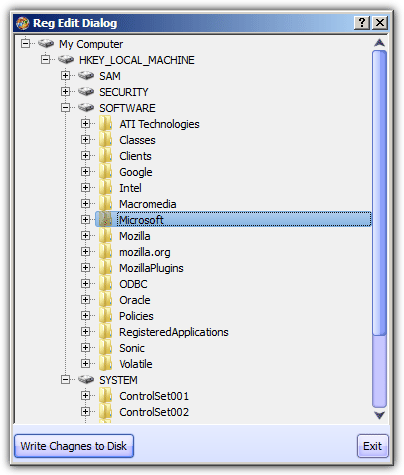 5. Navigate to SOFTWARE -> Microsoft -> Windows NT -> CurrentVersion -> Winlogon and find the Usetinit value name in the right pane. Double click it and you can change the value data to "C:\Windows\System32\Userinit.exe,".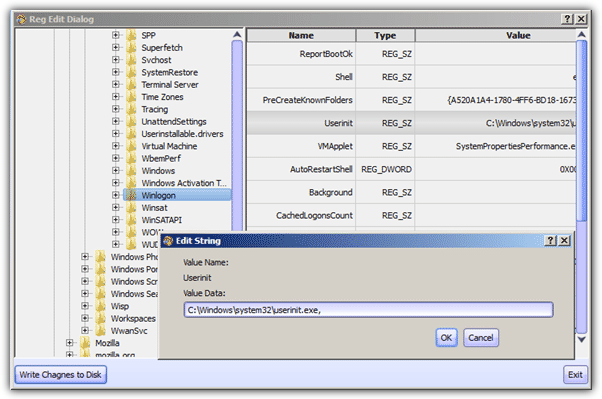 6. Once editing is complete click on "Write Changes to Disk".
There does seem to be a slight bug on some systems where the main 4 keys in the editor (SAM, SECURITY, SOFTWARE, SYSTEM) will be empty, although there is a simple solution to get around this. Close the editor and also the Windows Recovery window so you're back at the Recovery Suite Home screen, then just click on the Windows Recovery button, select the operating system again and then go back into the registry editor. This worked every time.
Method Four
This will explain the tougher method on how to access registry without booting in to Windows using UBCD4Win. We've previously written a guide on how to create a UBCD4Win CD. Once you have the CD created, just follow the few simple steps below.
1. Boot up computer with UBCD4Win.
2. Once Ultimate Boot CD 4 Windows is fully loaded, click Start -> Programs -> Registry Tools -> RegEdit.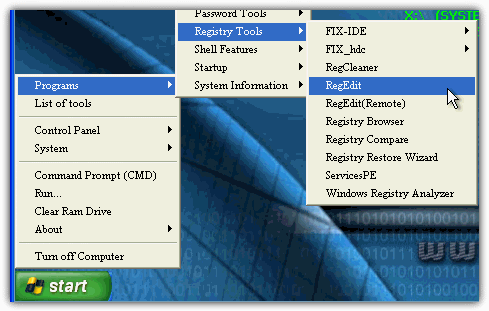 3. Select the HKEY_USERS key.
4. Click File from menu bar and select Load Hive.
5. Browse to C:\Windows\System32\Config\ and select SOFTWARE. Make sure that it is C:\ and not X:\ drive, otherwise you'll be loading the CD's registry.
6. Enter the Key Name as NEWHIVE.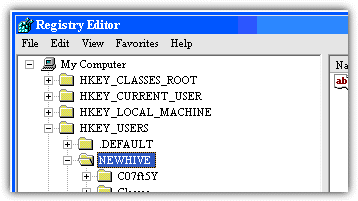 7. Expand HKEY_USERS and you'll see a newly created NEWHIVE in the list. Expand the NEWHIVE and locate the following location. HKEY_USERS -> NEWHIVE -> Microsoft -> Windows NT -> CurrentVersion -> Winlogon
8. Double-click Userinit and set it to the correct value. Make sure you include the comma at the end after Userinit.exe if that's what you're editing.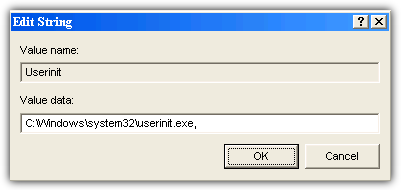 9. Go back to HKEY_USERS and select NEWHIVE.
10. Click File from menu bar and select Unload Hive. Click Yes when asked if you are sure you want to unload the current key and all of its subkeys.
If you already have UBCD4Win created, the whole process is much faster. However, I understand that not everyone has a Windows XP install disc on hand.