8 Ways to Hide Drive Letters: Step-by-Step Guide
These days most computers come with at least 2 partitions on the hard drive although it's quite common for you not to be able to see all of them because they have been hidden for various reasons. Windows normally creates a hidden boot partition of a few hundred Megabytes. OEM manufacturers will often install a recovery partition of a few Gigabytes which again is often hidden away so you don't play with it.
If you are letting someone temporarily use your PC for a short period of time and would rather they didn't have access to any of your personal files, one of the easy and quick ways to do it is to hide the drive or drive letter so it cannot be accessed from My Computer or Windows Explorer by the average user.
It's also the case that sometimes the inexperienced user will poke around on other partitions and perhaps delete files without actually knowing what they're for. One of the favorites is created backups from the Windows Vista and 7 backup function for example, which would obviously go on another partition or drive and an ordinary user might not realize what it is.
Hiding a chosen partition by removing the drive letter from it completely or simply hiding the drive letter from Windows Explorer but still making it accessible is easy to do and there is a variety of different ways to achieve it. Here's a selection of 8 different ways to hide drive letters or partitions.
1. Drive Manager
Drive Manager is a useful tool to perform several drive related functions, including getting drive information, checking drives, benchmarking, and ejecting/removing drives. One of its other features is being able to hide a selected drive from My Computer and Explorer for the current user. The program is also portable with an installer version available. Sadly, Drive Manager hasn't been updated since 2012.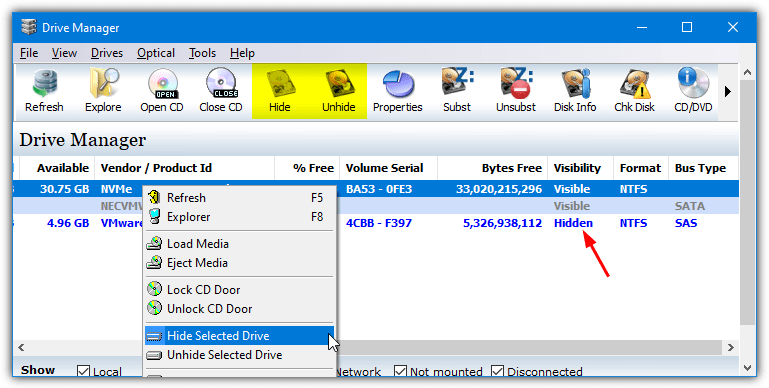 Run the program, click on the drive or partition to hide, and select Hide from the toolbar. Alternatively, right click and choose Hide Selected Drive from the context menu. After rebooting or logging off, the drive will be hidden but still accessible. Obviously, use the Unhide options to make the drive visible again. Make sure to right click and run Drive Manager as Administrator or the function won't work.
---
2. NoDrives Manager
NoDrives Manager works in pretty much all versions of Windows dating back to XP and also comes with a couple of useful functions. Firstly, it hides the drives for all users and not just the currently logged on user, which is useful for hiding the drive from everybody. Secondly, it's available either as a portable or setup installer program.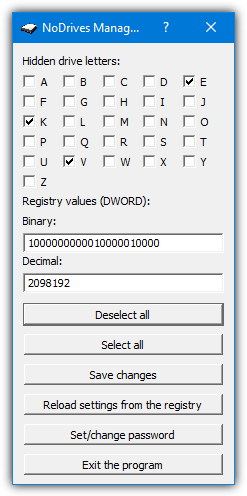 The program is pretty simple to operate, just check the relevant boxes for any drives you wish to hide. Uncheck an already checked box to unhide a currently hidden drive. Then press Save Changes. The password option asks for a password when you run the NoDrives Manager program which is enough to deter average users from enabling the drives again. Advanced users won't have too much trouble bypassing it though as the password is simply stored as a value in the registry.
Once you have logged off and come back into Windows, the drive letter will be gone from My Computer and Explorer but still accessible from the address bar, Command Prompt, or the Run dialog, etc.
Note: Some other websites list editing the registry manually as an option for hiding drive letters. It involves adding drive letter code numbers together to add into the registry. In fact, it's exactly the same as this tool but NoDrives Manager takes the hassle out of editing the registry, which could result in issues if you enter the wrong numbers. Editing the registry yourself is still viable, but this will do it easier and more safely.
---
3. Hide Drives
Hide Drives can do two separate things to a drive. It can disable access to the drive meaning you will see the drive letter in Explorer but cannot access the drive. Hide Drives also has an option to hide the drive letter in Explorer but still make it accessible if you type the drive letter into the Explorer address bar or Command Prompt, etc.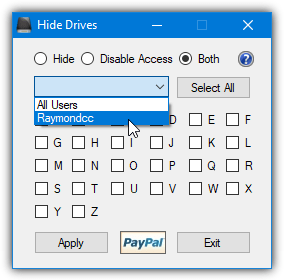 Both options can be used together meaning you cannot see or access the drive at all. Upon starting the program, select whether to use the hide option, disable option, or both together, and then select whether to apply it to all users or a specific user from the drop down menu. Finally, check the corresponding box of any drives that you want to process and press Apply. A logoff/restart will be required for the changes to take effect.
Note that if you run Hide Drives again it will offer to restore any hide/disable options you have supplied previously. Use this if you go wrong or just wish to reset all drive options back to defaults.
---
4. Simple Run Blocker
The main goal of Sordum's Simple Run Blocker is actually to block specific programs or applications from being launched. However, it does also have built in options to hide a drive letter from Explorer or deny access to a drive so it cannot be used at all. The "Hide Or Lock Drives" function is not found in the main user interface but in the Options menu (Purple cog icon).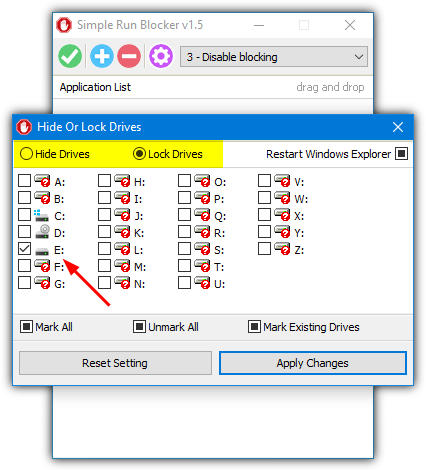 All you have to do is select either the lock or hide option, check which drives to apply the action to, then click Apply Changes. The Restart Windows Explorer button at the top right does away with the need to reboot or log out for the changes to take effect. You can't perform both lock and hide in one action so simply go through the process again using the other lock/hide option to do both. Simple Run Blocker is portable.