7 Free Online Services To Easily Convert Files to PDF
Something you might need to do now and again is convert a document or a type of text file to the Portable Document Format (PDF). Although there are several tools that can handle this task including freeware, quite often they need to install some sort of driver files and set themselves up as printer devices which might not be something you really want to add to your computer if you're only going to use it once in a while.
An obvious solution is to turn to the internet because there is a wealth of options available for you to upload your file, get it converted, and then download it. This means you don't have to install a piece of software or any of the drivers or devices they keeping your computer clean from unneeded extra's. Here's a selection of 7 free online services that will let you convert a multitude of different formats to PDF quickly and easily.
1.
7-PDF Web Portal
The 7-PDF online service has one of the the most impressive lists of supported formats which can be converted into PDF, currently over 80. This includes most Open Office and Microsoft Office formats, text based formats (txt, rtf, html, xml etc) and image / graphic formats (dxf, psd, pcx etc). Assuming this is the same as their application, you can find the full list here.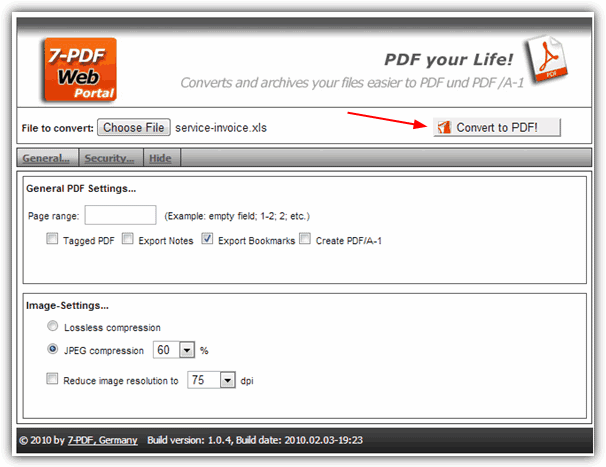 Sadly you can only select 1 file for conversion at once, but the options that are available for converting are quite extensive. Page ranges, tags and bookmarks can be selected as well as altering the type of compression and image resolution for images. An Encryption tab offers the ability to include a password along with the permissions that accompany it, and also the allowable resolution for printing.
Simply click Convert to PDF when ready and the file will convert and download automatically which was almost instantly when we tried it. 7-PDF Maker is the full installer application if you want to do more conversions which is free, but we were quite disappointed to find the portable edition is actually shareware and inserts a watermark on your created PDF's.
---
2. PDF2x
The PDF2x set of online conversion tools from SciWeavers.org is part of quite an extensive library of useful productivity tools. In addition to the x2PDF component, there is also PDF2x which does the opposite and can convert from PDF in various ways, an Optical Character Recognition tool and a basic image converter as well as a few others some may find useful.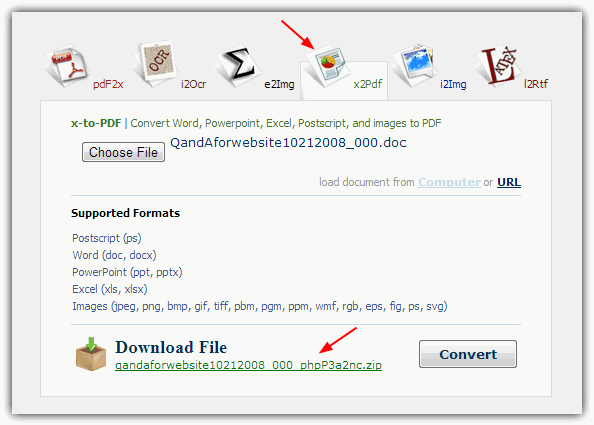 To convert to a PDF, simply press the x2PDF button and choose a file from your computer or from a URL by clicking the option. It can't grab web pages through the URL option but can get things like Office docs direct from Dropbox etc. The list of formats is not as big compared to some other tools, but major MS Office and image formats are supported. Something which some users might like is the converted PDF gets compressed into a zip file on the server which can reduce the download file size in some situations. A Google Chrome browser extension is available at the bottom of the page.
---
3. PDF24 Online PDF Converter
This PDF converter can accept the input of several different types of file format including HTML, images, Microsoft Office documents, Open Office documents, Postscript files and standard text files. It can also grab webpages direct from URL addresses although when tested, it did seem to pull the pages down as mobile size pages and not full width. Another useful function is the option to enter or paste text or HTML into the input box which can then be directly converted, useful if you want to read a large block of text off a webpage for later on etc.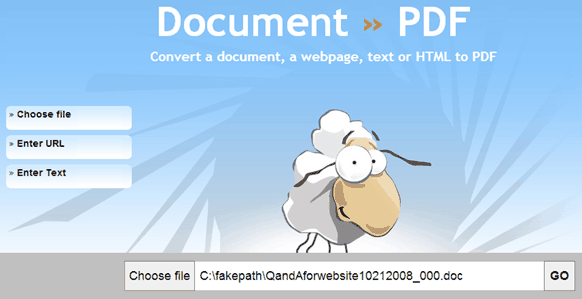 Usage is quite simple, click on whether you want to input a file, URL or text / HTML and then paste or type it in and click GO. A small new window is opened for the conversion so if you don't see one, your popup blocker may have blocked it. When completed you have the options of downloading the file to your computer, entering an email address to have it mailed, or possibly a unique feature which is to fax the document (which requires registration). There are no options to control the output of the PDF at all, for that you'll probably need their freeware utility PDF24 Creator.
Visit PDF24 Online PDF Converter
---
4. Cometdocs
Cometdocs is another online service that doesn't just handle converting files to PDF, it can also handle several other tasks such as convert PDF to several different formats, convert XPS files to different formats, HTML to RSS, XLS to CSV etc. Something a few users might not like is the fact you can only have the finished conversion sent to an email address which isn't ideal if you need it right away. They do make a point though of telling you that your email will not be given to any 3rd parties or used by Cometdocs unless you opt in to the updates list while creating a free account. The free account option might be useful to more frequent users as you get delivery priority over non registered users and a file manager that stores all previous conversions.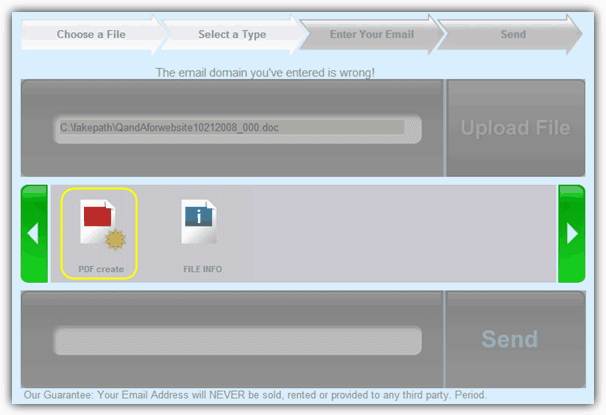 Several office document, HTML and image / graphic types are supported and the converter is like a wizard driven series of 3 steps. Click the button to upload your file, select PDF Create, put your email in the box and click Send. And then wait for your email to arrive, in testing ours took just over 10 minutes. The full list of supported formats is in the FAQ.
---
5. Conv2pdf
Conv2pdf can convert to more than 80 different types of file including Star Office, Open Office, WordPerfect, Microsoft Office and image files. You can also modify the rights on the document and supply a password for protection. The size of file you can upload is 6MB which is fine for most people, but if you need a bit more, placing the single file in a zip archive and then uploading might give you the extra Megabyte or so. Multiple files either in a zip or directly aren't supported.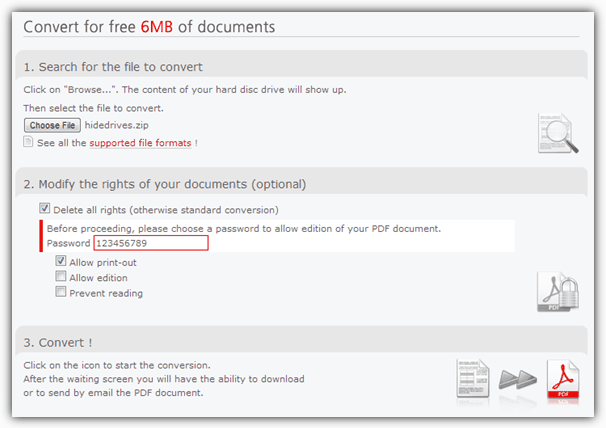 Conversion time is quite fast and only took a few seconds after our few hundred KB file was uploaded. Upon completion there is the option to download it directly to your computer and also send via email to a single or several recipients at once.
---
6. Neevia Document Converter
Neevia is able to handle the converting of several different file formats including text files, multiple types of office file and several graphic formats and output them to PDF, PDF/A, Postscript, EPS and a few images. There are also some other tabs on the webpage which can compress various types of PDF, merge up to 20 PDF documents together and resize the in document page sizes.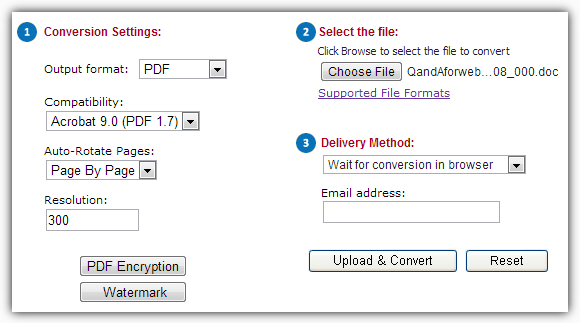 The file size is limited to 2MB for each file to convert which could be too small for some users, although there are several options to change the compatibility settings, page rotation and output DPI. A PDF encryption window allows you to set a number of security settings such as passwords and permissions, and also a quite comprehensive window to place watermarks on the document. The delivery method will let you wait for the conversion to complete and save in the browser or email to the address provided in the box.
Visit Neevia Document Converter
---
7. Free File Converter
Free File Converter is more of a general online conversion service that can convert a huge number of different formats including audio, video, archives, and more importantly for this article, several office document, ebook and image formats to PDF. The full list can be found here.

Simply select your input file to upload and choose PDF as the output format from the drop down. No PDF option means the upload file type isn't supported. The speed of the conversion process wasn't the quickest around and took well over a minute to do a small document. The download option when the conversion has finished gives the choice of a straight PDF file download or the file zipped into an archive which could be noticeably smaller. The download links remain active for a maximum of 12 hours. The URL tab also offers conversions from online video services such as Ted.com and Vimeo.com.
---
Editor's Note: As you might expect, there are many online PDF conversion tools around. A few didn't make the list for various reasons such as Kinati 2PDF Converter has a rather confusing FAQ which states there is a watermark on the finished PDF which didn't seem to be on our downloaded PDF, and an upload size limitation which lists 2 different sizes. JPG to PDF Converter can obviously only handle JPG files but has some useful options if that's all you want to convert, and FreePDFConvert.com worked fine but we had to wait in a queue nearly 15 minutes to convert the file!