10 Best Online Torrent Downloader Clients in 2023
BitTorrent peer-to-peer file sharing is still strong after all these years. This is even after attempts by several countries to ban tracker sites like The Pirate Bay and others at the ISP level.
Even though torrents are mostly associated with downloading pirated and copyright-infringing files, the peer-to-peer (P2P) distribution method still has many legitimate uses.
For instance, lots of free software are offered for download over torrent P2P or cloud torrent services. In the past, game developers have used it to distribute game patches and updates. You can even download drivers for utilities like Snappy Driver Installer using P2P.
Sadly several organizations block the use of torrent software as it causes a huge drain on the network by connecting to many users simultaneously. Your ISP could throttle torrents and slow them to a crawl of only a few KB/s for the same reason.
To get around the restriction on using dedicated torrent clients or ISP-imposed speed throttling, there are a few tools you can try to continue using torrents.
Best Online Torrent Downloader Clients
1. qBittorrent – Best online torrent downloader overall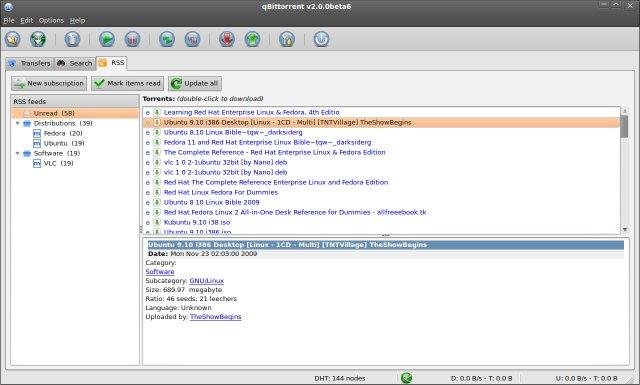 Operating System: FreeBSD, Linux, macOS, OS/2, Windows
Pricing: Free
Developers: The qBittorrent project
qBittorrent is a cross-platform, open-source designed to help you find and download torrents. It aims to meet the needs of most torrent downloaders while using as little RAM and CPU as possible.
The platform is renowned for its ability to download multiple torrents simultaneously, search for torrents, torrent queueing, and integrated RSS feed readers and downloaders.
The developers are funded by donations, so they don't run Ads or add solicited content. You can search for torrents based on categories like movies, books, and software.
The software is easy-to-use and understand. You can set the level of anonymity for a specific network interface. In addition, it has an in-built web browser, interface, and remote control capability.
Pros
It's free and open-source forever, plus it doesn't run Ads
Has many users so it's easy to find solutions to problems
The software comes with an integrated search engine
You can download several items simultaneously
Cons
Some users complained about the software's speed
2. Webtor – Best peer-to-peer streaming torrent file downloader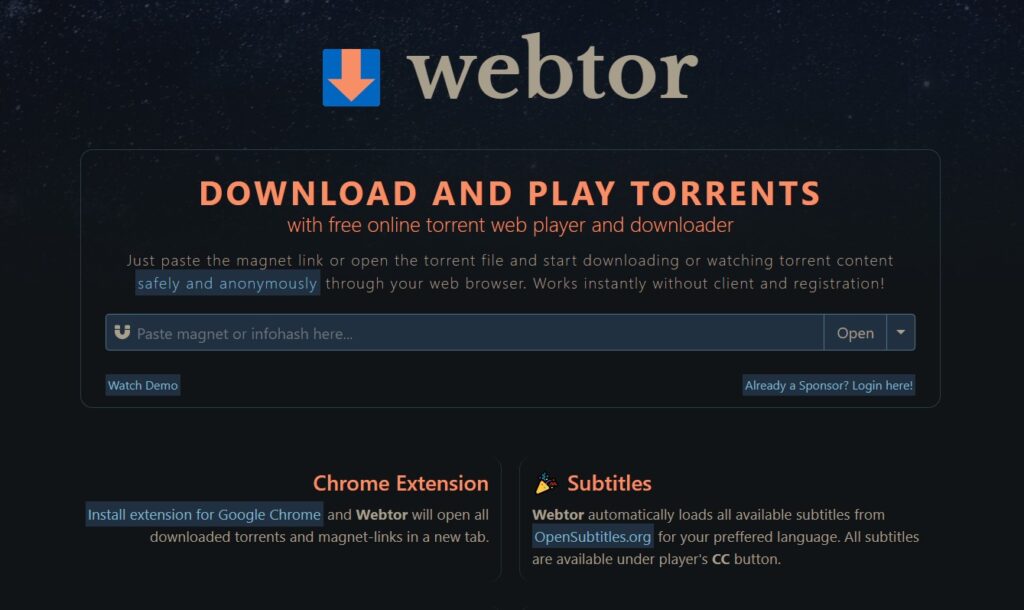 Operating System: Web-based, Chrome
Pricing: Free
Developers: Webtor.io
Webtor is a web-based peer-to-peer torrent client written in Javascript. It's designed to help you download and stream torrent files via your web browser for free.
To get started, you just paste a magnet link to the website and start downloading. It's fully automated, so once you paste the link, the software will immediately start seeding the content, making it possible to stream the content and hastening the speed.
The software doesn't change the content during the download process, but it stores content in the cache for a while. You can use the software without registering.
Webtor comes with a Chrome extension for viewing your downloads faster. It converts audio and video content into suitable formats for your browser. To preserve the original structure, it stores everything in a ZIP-archive file.
Pros
Webtor has a free extension for Google Chrome to oversee your downloads
It converts all audio and video files to allow easier streaming
You can start streaming instantly without waiting for the whole file to load
Download everything as a ZIP archive to enhance security
Cons
It lacks advanced features on most torrent clients
3. Zbigz – Best torrent downloader for unlocking your ISP blocking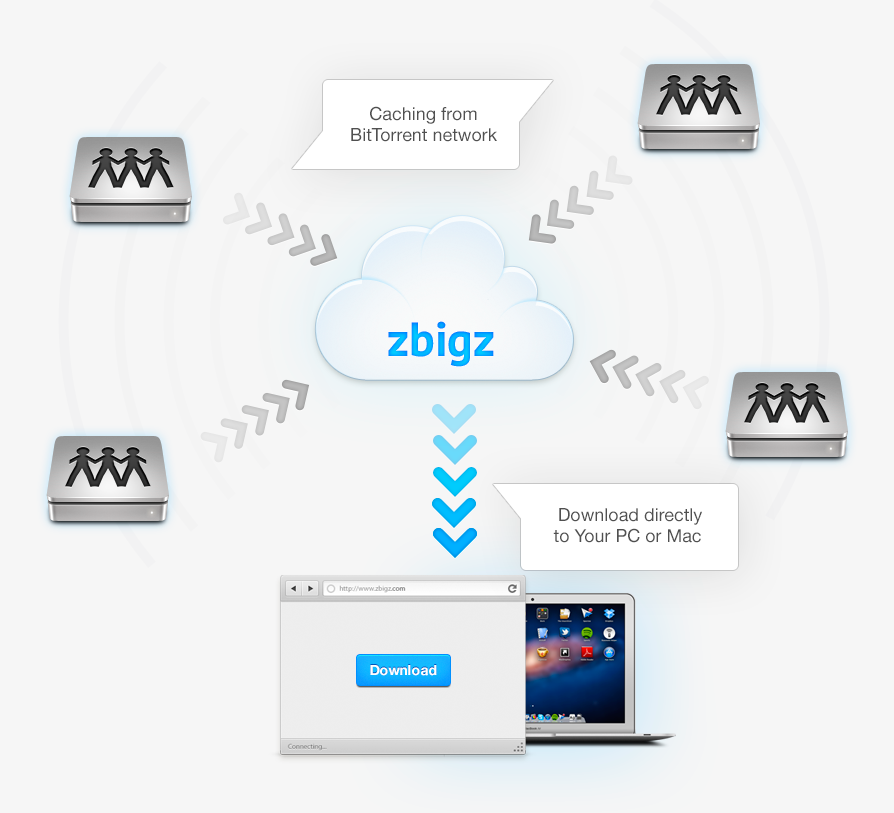 Operating System: Web-based
Pricing: Freemium
Developers: Zbigz team
Zbigz is a web-based cloud-storage provider and torrent downloader. It's designed to help you bypass your ISP blockage on your PC or laptop by downloading torrents anonymously.
You can use the software to search for torrents on the web app. Since the website downloads torrents for you, nobody can know your IP address. Once the downloads are ready, they appear on the platform.
You can download small files without an account, up to 1GB of files with a free account, and unlimited file sizes with a premium account. Once you paste your link, it'll look for peers then start seeding.
Pros
You can torrent even with your PC turned off
The software can also stream audio and video files as you download
It's easy to start, you just paste the magnet link and press go to start downloading
You can download torrents anonymously
Cons
The software can take some time to download files
4. Seedr – Excellent for downloading torrents at maximum speed

Operating System: Web browser
Pricing: Freemium
Developers: Seedr
We are looking at Seedr because it's one of the more generous free services. Seedr doesn't restrict the download speed of completed files from its servers.
The file limit is 2GB, both the overall storage capacity and the maximum size of a single torrent download. This can be increased to 6GB by accomplishing tasks such as inviting friends, tweeting a review, or pinning a Seedr image on your Pinterest.
Seedr accepts local torrent files, magnet links, or a URL of a remote torrent file. You can only transfer one torrent at a time to the Seedr servers but can download multiple completed torrents simultaneously.
We found the download speed satisfactory, and our files downloaded at a good rate. There's also a Seedr Chrome extension for directly adding links. Another service currently with a 2GB file limit and unlimited bandwidth is Transfercloud.
Other services, like Filestream, Bitport, and ZBigZ, are available but have low file size limits or slow download speeds. They work but are too limited to be of any great use.
Pros
Seed and download high-quality files
Stream files as you download them
Excellent customer service, responding to queries immediately
User-friendly interfaces with advanced features
Cons
You can only transfer one torrent at a time to Seedr servers
5. BitTorrent – Best for peer-to-peer file sharing and distributing files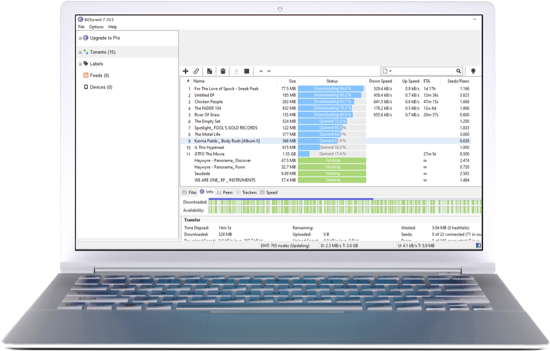 Operating System: Windows, Mac, Android, iOS, Web-based
Pricing: Freemium
Developers: Rainberry
BitTorrent is a peer-to-peer file-sharing platform for downloading torrents and distributing data via the Internet. Users connect to each other using a BitTorrent client and share files on their Internet-connected computers.
The software is lightweight and easy to use. It supports bulk downloading of torrents so you can leave your downloads to take place overnight while you're not using your computer. You might need a tool to stop your computer from going to sleep for that.
If you have many downloads, you can assign priority to some torrents for faster downloading. The software also sets up download limits to prevent you from overusing your internet.
Pros
Assign priority to some torrents for faster downloads
Download dozens of torrents simultaneously
Use remote downloading on your Android to download torrents at home
Schedule torrents when it's convenient to download them
Cons
It requires a paid subscription to start downloading
6. Instant.io – Best for downloading torrents via your browser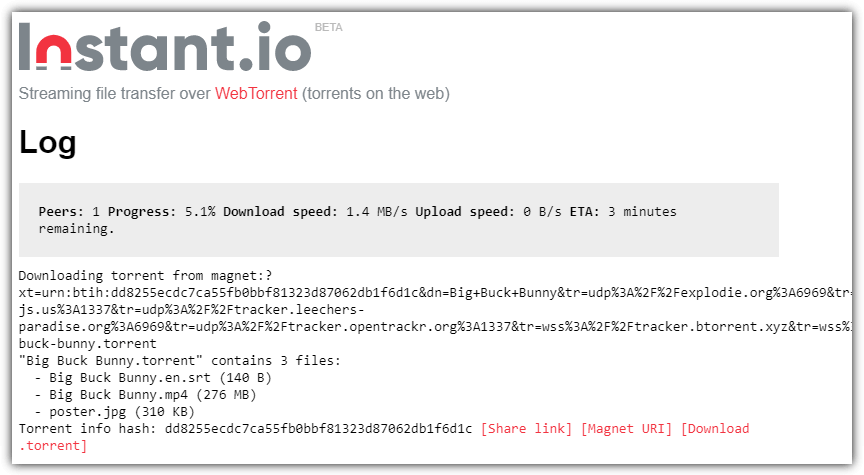 Operating System: Web browser
Pricing: Free
Developers: WebTorrent
This website is very easy to use and allows you to share a torrent with others or download it from your favorite repository.
Simply paste a magnet link or info hash for the torrent into the lower box and press Download or browse for a local torrent file with the Choose Files button.
If the file being downloaded is video or audio it can be streamed while downloading and played directly from the page using a player that appears.
Any accompanying files like images, subtitles, or text can also be viewed and downloaded separately. If the torrent contains several separate files there will be a download all as zip link to download the files as a single archive.
Note that Instant.io doesn't always work, sometimes it will just sit there showing zero peers or do nothing at all, even after several minutes. The next option seems to be more reliable.
Pros
Drag and drop files to start seeding
Drop a magnet link on the website to start downloading
It comes in many versions so you can use the fastest alternative
You can integrate it into any website
Cons
You cannot download several items simultaneously
7. Citrio – Best for downloading torrents anonymously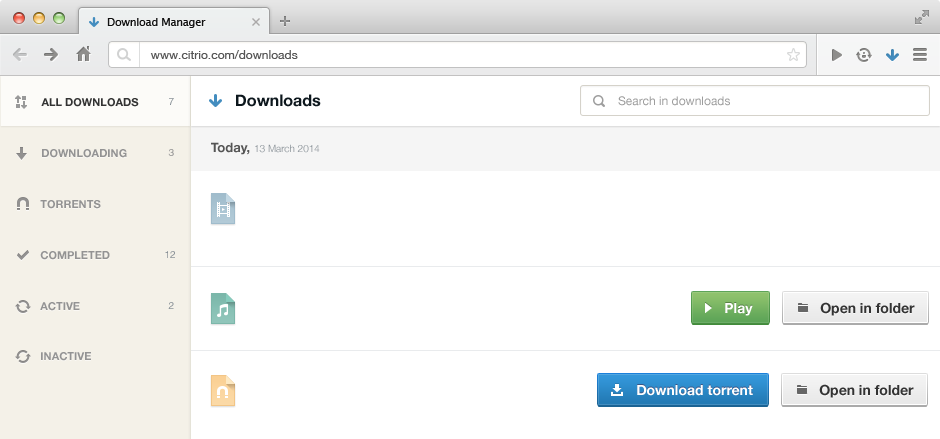 Operating System: Windows and Mac
Pricing: Free
Developers: Cirtio
Cirtio is a free and fast browser for smooth surfing. Although it's not one of the most popular browsers, it has an in-built torrent client.
You can use the software to download torrents and magnet links while browsing the internet. On the downloads tab, you can manage your downloads using normal controls.
Citrio's proxy widget promises anonymity by switching your proxy and increasing privacy. It doesn't matter if torrent sites are banned in your country; you can access them anonymously.
However, some users claim it shows intrusive Ads, making your experience uncomfortable. It's best to add an Adblocker to make your experience smoother.
Pros
It's lightweight, fast, and free to use
You can manage downloads and torrent files on the same window
Cirtio comes with proxy tools to secure your internet activity
Cons
It's not popular, so finding solutions to problems can be hard
8. Bitport.io – Best for storing your files on the cloud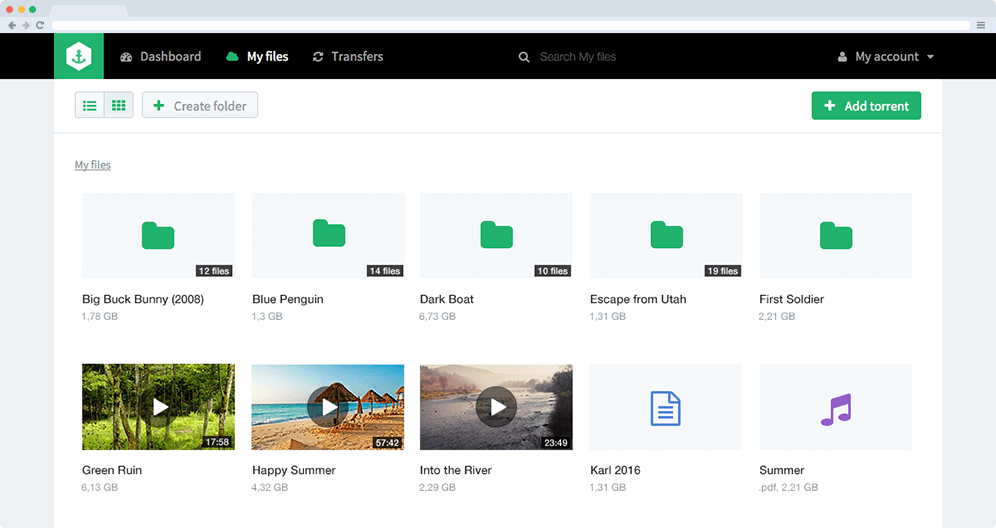 Operating System: Web browser
Pricing: Freemium
Developers: Bitport
Bitport.io lets you download files securely to your cloud storage without a private internet connection. The download speeds don't rely on your ISP speeds.
Once you click on a link, leeching and seeding will occur on the server. This means you don't download torrents on your computer but rather a direct link to a file on your cloud storage server.
Although Bitport.io works on the cloud, it provides various features in most torrent clients. These include scheduling downloads, adding torrents to a queue, and setting download limits.
However, the greatest advantage is the security and privacy afforded by the software. It has a strict service that ensures your data is kept safe without downloading the file.
Pros
Bitport.io is based on a regulation-free zone, giving you maximum privacy
It supports up to 20 simultaneous downloads
You can store your files on the cloud as long as you want
SSL encryption on downloads
Cons
The most expensive tier only offers 250 GB of storage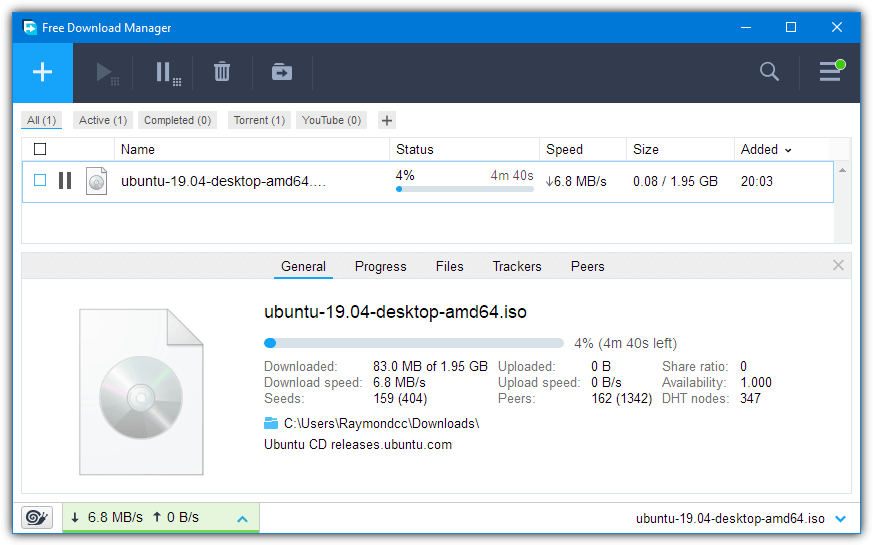 Operating System: Windows, MacOS, Android, and Linux
Pricing: Free
Developers: Free Download Manager.ORG
Free Download Manager (FDM) will offer to associate itself with .torrent files and magnet links during installation. It's best to leave the setting as is to make things easier.
When the program launches, drop a .torrent file onto the window, press the menu button top right to manually search for a torrent file, or press the paste button to paste in a remote torrent or magnet URL.
To control speeds, Free Download Manager has Low, Medium, or High-speed limit modes and a Snail Mode which will concede bandwidth to other traffic.
Traffic limit speeds, connections, and torrent-specific options like DHT, used ports, and port forwarding can be controlled via the Settings window.
Right-click on the torrent download to set its priority, whether to seed, set up scheduling or force a recheck/reannounce.
Pros
Free Download Manager doesn't run Ads, and it's completely free
You can download the same file from multiple sources
It comes with handy bandwidth management tools
Download torrents in one click
Cons
Some users don't trust the software integrity
Download Free Download Manager
10. Torch Browser – Great for downloading torrents within your browser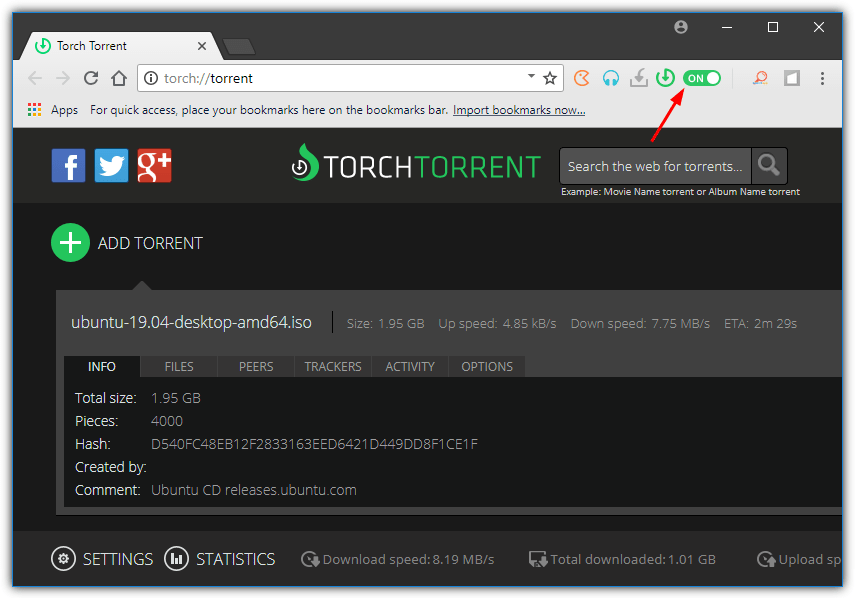 Operating System: Chromium OS
Pricing: Free
Developers: Exlorads Ltd
Torch Browser is a renowned tool with a download accelerator, social sharing button, games portal, music portal, media player, and a media grabber that downloads on-page audio and video.
After installation, simply press the slider and the green button in the Torch toolbar to turn on torrenting and open the torrent client window.
It's possible to drop a torrent file onto the window, or you can open the Add Torrent dialog to search for a file or paste a magnet link into the box. Choose the save to location and which files inside the torrent to download, then press OK to start.
The torrent Settings window allows for adjusting several common options in torrent clients.
These include randomizing or changing the listening port, using DHT/PEX/LPD, adjusting the number of connections and active torrents, speed limits, seeding limits, and video streaming playback options. You'll want to right-click and remove the Torch Offers advertising extension.
Pros
You can integrate it on your Chromebook
Manage torrent files with advanced settings
It only takes a few minutes to install
Comes with in-built players, games, and file readers
Cons
It might slow your computer
The platform runs Ads
Overview of best online torrent downloaders
| | | Will I remain anonymous? | Can I download multiple files? | Can I stream files? |
| --- | --- | --- | --- | --- |
| 1. | qBittorrent | Yes | Yes | No |
| 2. | Webtor | No | No | Yes |
| 3. | Zbigz | Yes | Yes | Yes |
| 4. | Seedr | Yes | No | Yes |
| 5. | BitTorrent | Yes | Yes | Yes |
| 6. | Instant.io | No | No | Yes |
| 7. | Citrio | Yes | Yes | No |
| 8. | Bitport.io | Yes | Yes | Yes |
| 9. | Free Download Manager | No | Yes | No |
| 10. | Torch Browser | Yes | Yes | No |
Final Words
Depending on the file you want to download, you might need a versatile online torrent to handle speedy downloads without affecting your internet speed.
You might need an online torrent client that doesn't store your private information. Try the above tools and tell us if they meet your requirements.
Do you know about any useful online torrent services we should look at? Share your thoughts in the comment section below.