Image Comparison Tool to Compare Two Images: 8 Best Tested
Photo hunt is a popular spot in the different types of games where two nearly matching images are given and you are required to find the differences between two identical-looking images before the time runs out. Even if the photos are placed next to each other, sometimes it is nearly impossible to find all the differences in a given time.
A way to have a better chance of winning is to get more people to play together with you so that the chances of spotting the difference are much higher. However, you might find it really difficult especially when you are playing it alone.
An easy way to automatically find the difference between two images is by using computer software to do it for you. Software such as Adobe Photoshop has the ability to analyze an image to accurately find the difference but it is unsuitable for users not involved in graphic design since Photoshop is expensive and not so user-friendly.
Here we have 8 free tools that can compare and find the differences between two nearly identical-looking images.
To use any of the image comparison programs below on the Photo Hunt game, you should first save the two images as different files either using a screenshot-capturing software or by pressing the Print Screen button and pasting it to Paint. Then use the crop function to cut out areas that are out of the photo.
Best image comparison software
1. Adobe Lightroom – Best image comparison software overall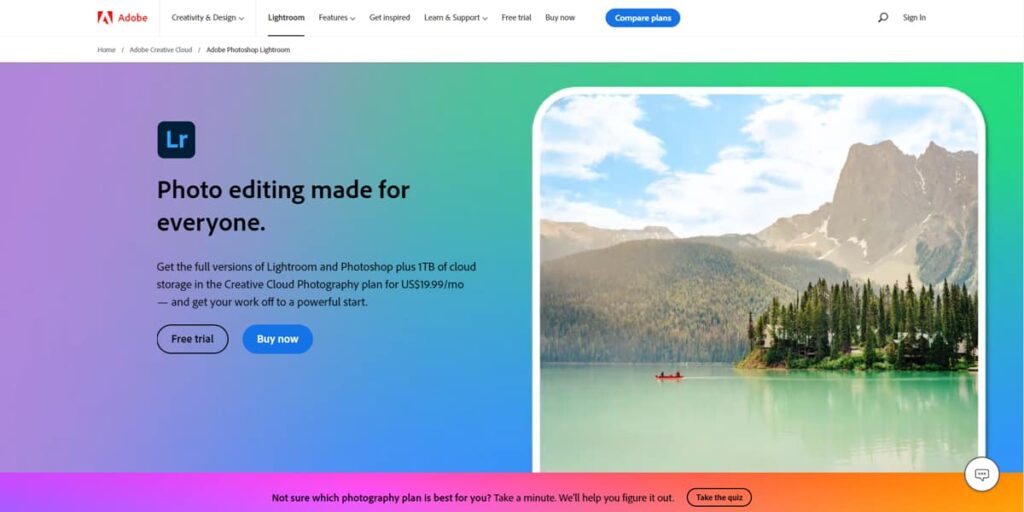 Operating System: Windows, Mac, Ubuntu, Android, and iOS
Pricing: Premium
Developer: Adobe Systems Incorporated
Adobe Lightroom is designed for all operating systems with all the advanced photo editing features. If you need a bulk image converter or photo resizing tool, Adobe Lightroom has all the solutions. The top advantage is you can run one account for every device. Whether you're using Windows, macOS, or Android phone, you only need to launch the Lightroom application from your specific OS and sign in with the Adobe account.
Once you launch the application, you can quickly discover the differences between identical-looking images. Simply import images from your PC or Mac, and create a collection of the images you want to compare. Give the collection of images a folder name by right-clicking on empty space.
Now, shift to Grid View from the library module and select the image you want to compare. Then press on Cltrl Key for Windows and Command Key on Mac to select other images. You can also select multiple images to compare if you want.
After selecting the images, click on Compare button and navigate to Compare View. Now, you can see images side by side and get the comparing view on the same identical images. There are also other features available in Adobe such as Loupe, Zoom, Survey View, and more to enhance experiments to find differences between two pictures.
Pros:
Its development module offers versatile adjustments and customizations.
Allows non-destructive editing.
Provides presets style for flexible speedy editing.
Cons:
No free trial period is available.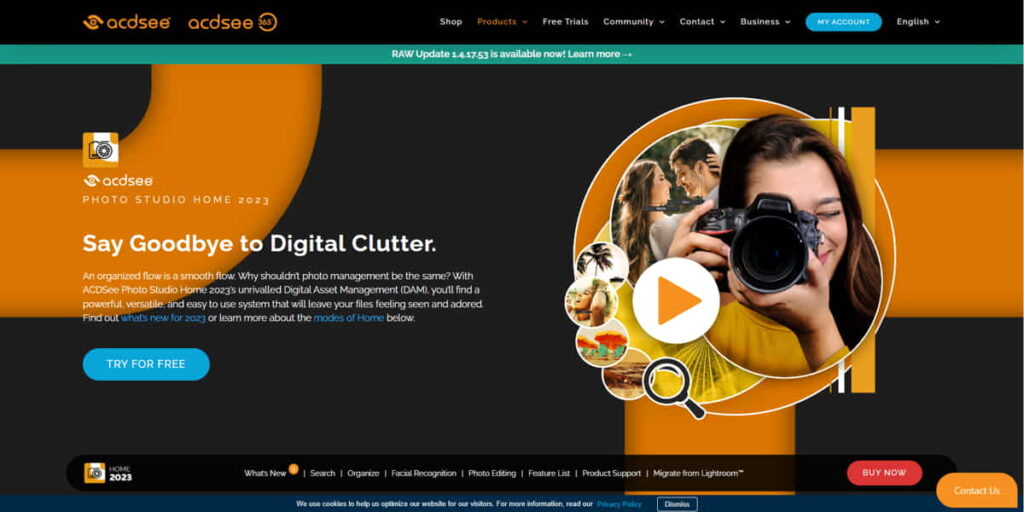 Operating System: Windows, Mac, Android, and iOS.
Pricing: Premium
Developer: ACD Systems International Inc.
ACDSee Photo Studio Home is an excellent image comparison tool. It offer varieties of features such as RAW image editing, photo customization with keywords, meta tags, ratings, and resizing images without losing actual image quality. Install the ACDSee program on your Windows or Mac from their official website and run it.
Import the images or use the drag-and-drop feature to import images into the library. Now, select the images that need a comparison. Then click on Compare Move/View and you will have side by side view highlighted identical comparison.
Pros:
Comes with facial recognition and face detection features.
Users can create cinematographic videos and slideshows.
Allows direct social media sharing.
Cons:
Doesn't have professional advanced-level editing capabilities like Adobe Lightroom.
Download ACDSee Photo Studio Home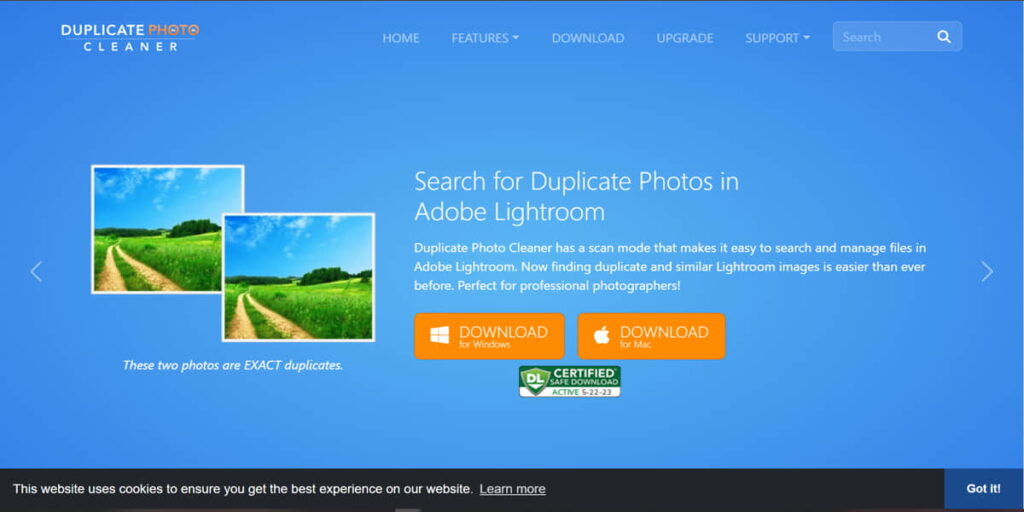 Operating System: Windows, Mac, Linux, Android, and iOS.
Pricing: Premium
Developer: WebMinds, Inc.
If you're looking for a dedicated image difference finder tool, you should opt for Duplicate Photo Cleaner. This app is solely designed for identifying similar-looking images. Just install the Duplicate Photo Cleaner on your system, and add folders of photos or photos that you want to check for duplicacy.
Then simply click on "Start Scan" option and let the software do its work for finding duplicate images for you. There are also some handy customization options available. You can also try customization features to find similarities for file names, content, meta tag, keyword, etc. Once the scan is over, it will show you the result.
Pros:
Time-efficient and smooth-running software.
Easy to use.
User-friendly interface.
Cons:
Limited file formats supported.
Download Duplicate Photo Cleaner
4. ImageMagick – Best professional image comparison software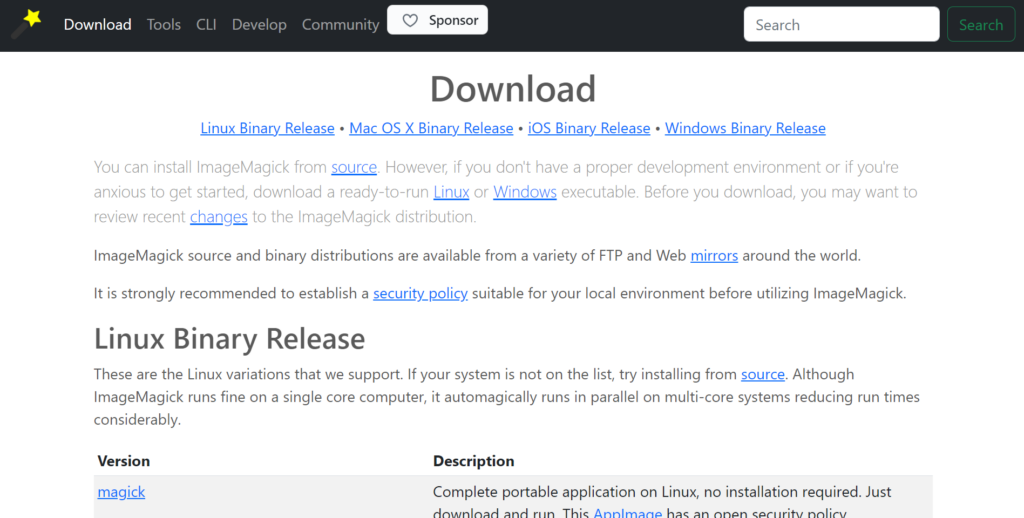 Operating System: Windows, Mac, Linux, and iOS.
Pricing: Premium
Developer: ImageMagick Studio LLC
ImageMagick comes with a few command line utilities to manipulate images. Although the utilities are command-line based, the Windows binary package is currently over 75MB in size and you only need the single compare.exe tool that is found in the ImageMagick archive.
The command line below will use ImageMagick's compare.exe tool to compare the firstimage.png and secondimage.png file, and the difference will be saved to a new file called outputdifference.png.
compare.exe firstimage.png secondimage.png outputdifference.png
The difference is highlighted in red color.
Pros:
Offers versatile features such as resizing, cropping, optimization, and more.
Performs complex image modification.
Offers flexibility with script integration.
Cons:
Regular users can face difficulty operating without GUI.
5. PerceptualDiff – Best computational image comparison software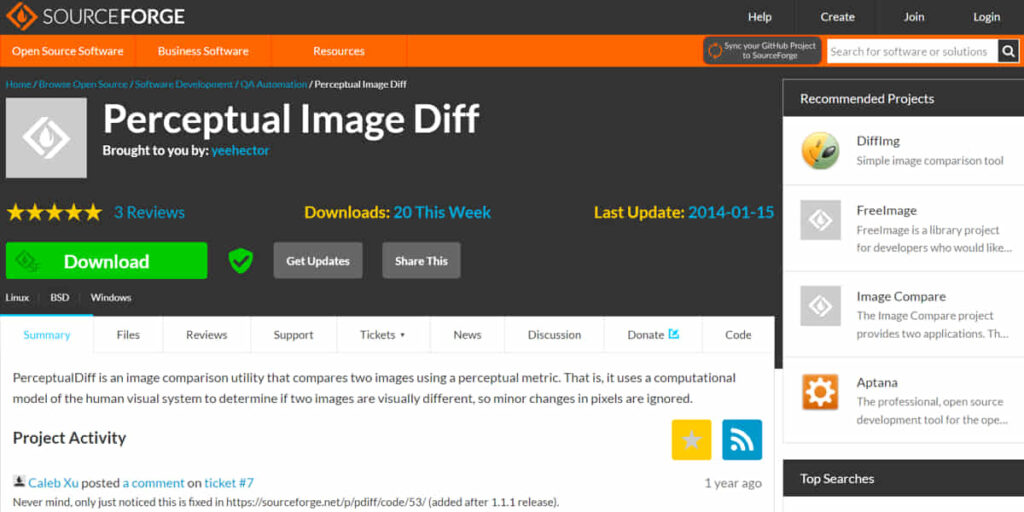 Operating System: Windows and Linux.
Pricing: Free (Open source platform)
Developer: Sourceforge
PerceptualDiff is an open-source command line free image comparison tool hosted on SourceForge. It is only 20KB in file size and supports a very limited number of image formats, which are TIFF and PNG. This is not really a problem because the image format can be easily converted through online web services or even Microsoft Paint which is built into the Windows operating system.
The command line is to compare between images is quite similar to the ImageMagick's compare tool except you need to include the -output option.
perceptualdiff.exe firstimage.png secondimage.png -output outputdifference.png
The default options for the output file will only show a black background with the difference highlighted in blue.
Pros:
Script-oriented advanced features.
Flexible customization.
Speedy operations.
Cons:
6. Image Comparer – Best user-friendly image comparison software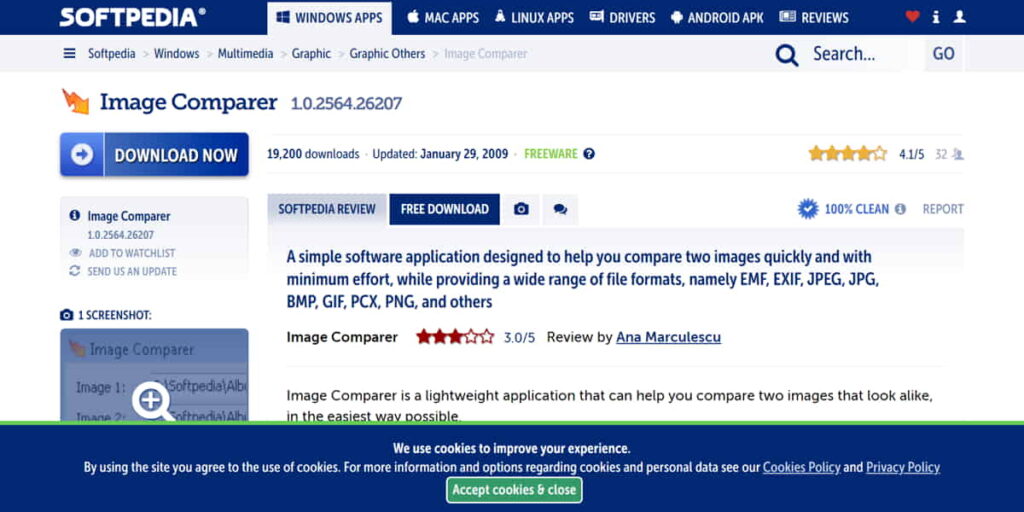 Operating System: Windows
Pricing: Free
Developer: Bolide Software
If you prefer an easier-to-use graphical user interface-based program to compare images, you can give Image Comparer a try. Image Comparer is a single portable executable file, so just run it and browse the first and second images, then click the Compare button.
If you see "False" in the "Is Same?" box, click on the View Differences link and go to the Differences tab to see the highlighted location of the differences.
Do take note that Image Comparer requires .NET Framework 3.5 to run.
Pros:
Supports multiple image formats.
User-intuitive interface.
Allows batch processing.
Cons:
Not available for Mac users.
7. imageDiff – Best command line-based image comparison software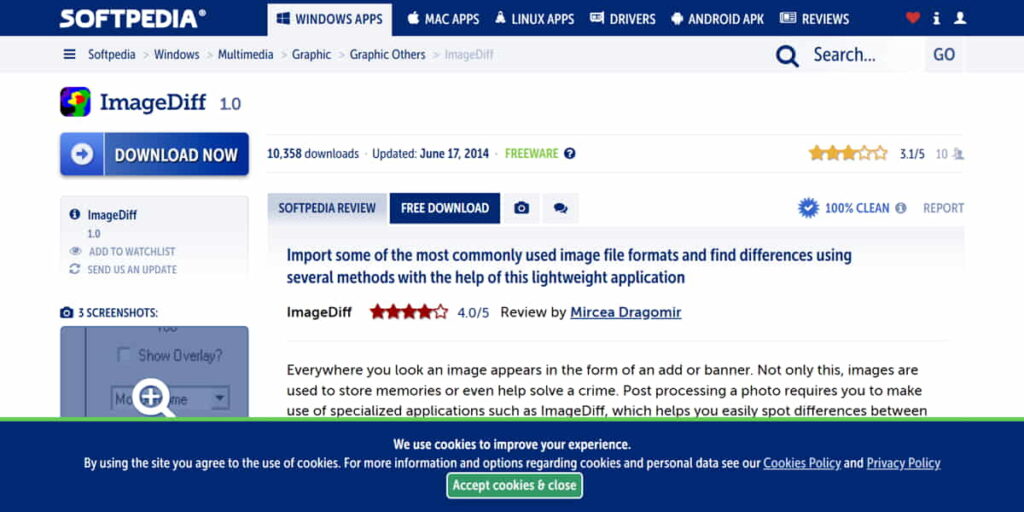 Operating System: Windows and Mac
Pricing: Free
Developer: ionForge
imageDiff is another GUI-based image comparison freeware tool that is easy to use. After installation, run the program, click on the "Left" button to select the first image followed by clicking on the "Right" button to select the second image. Optionally, you can increase the threshold level if the images contain a lot of small differences which you'd like imageDiff to ignore. Click the Compare button and the differences can be shown in 4 different modes (Monochrome, X-Ray, Predator, Thermal).
imageDiff requires MSVCR71.dll which is a Microsoft Visual C Runtime library to run. The DLL file is not included in the installer but can be easily downloaded from the Internet.
Pros:
Visualize the image differences through highlighting.
Offers multiple customizations.
Fast and lightweight design.
Cons:
Limited advanced editing features.
8. Resemble.js – Best automation-based image comparison software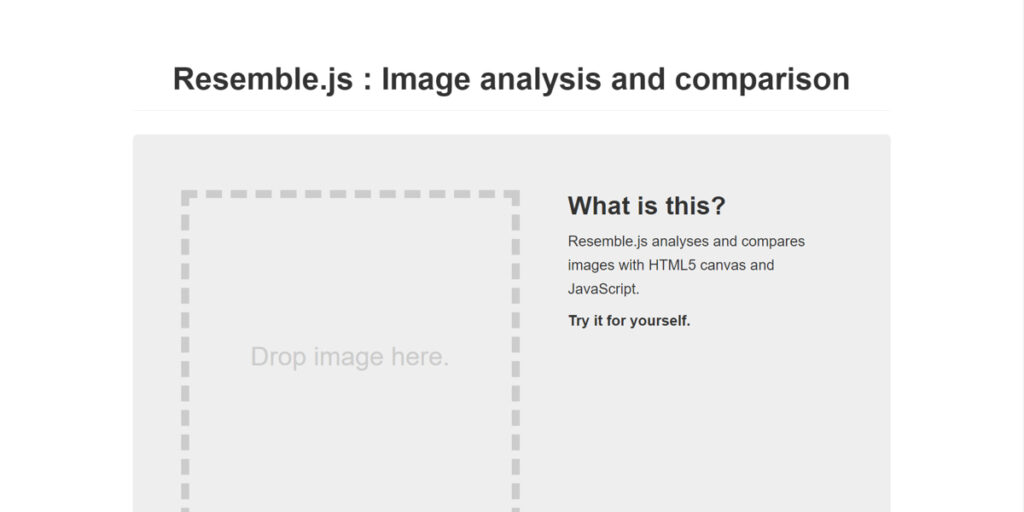 Operating System: Windows
Pricing: Free
Developer: James Cryer and the Huddle development team
Resemble.js is a web-based image analysis and comparison tool that uses HTML5 canvas and Javascript to compare 2 images and show the areas that are mismatched. All you need to do is drag the 2 different photos into the boxes and the diff image will instantly show up on the right-hand side. You have the options to ignore colors and antialiasing, change the diff color from pink to yellow, and display the background as opaque or transparent.
There is a small problem with Resemble.js where the images to be compared must be a square shape. If the images are rectangular, the lower part will be automatically cut off which means you won't get a full comparison between the pictures.
Pros:
Comes with a pixel-matching algorithm.
Flexible optimization.
Offers multi-comparison for separate parts of images.
Cons:
No customer support by its developer.
Overview of best image comparison software
How to choose the best image comparison software?
Easy-to-Use Interface:
An interface is crucial in every software, including photo comparing software. Many photo editing software are command-based, and users spend more time learning the curve. So, look for software that has easy to understand interface.
Accuracy:
Not all software can do their tasks with perfection. Only some of the software have the excellency of identifying differences in images. Not all of them can help you get accurate results while detecting variations in similar images. So, choose software that can provide you with precise and accurate output.
Multiple Image Formats:
Photos have different types of formats, and you have to get software that supports all the possible image formats available. An ideal software will support Vector, JPEG, PNG, TIFF, GIF, SVG, APNG, and more.
Automation:
Without automation, you can't smoothly compare a large number of images. Along with automation, batch processing is an inevitable feature to look for. Look for software with an automation feature to save time and increase work efficiency.
Customization:
Customization has many fields, including parameter setting, filtering, color contrast, resizing flexibilities, add-on components, and more. So, look for software with the most customization and image optimization features.
Conclusion:
All of our selected image comparison software is excellent for finding differences in identical-looking images, but they're all different from each other. Some have advanced editing tools for other purposes and cloud storage management. At the same time, other comes with open-source compatibility. So, select which one has the best potential to fit your requirements.