How to Bypass Blocked Sites in Malaysia: Step-by-Step
Malaysia is one of those countries that implements Internet censorship by forcing all Malaysian Internet Service Providers to block access to certain websites containing pornographic, politics, file sharing and malicious content. Thousands of websites have been blocked since this practice started and surely the numbers will only continue to grow. Accessing any of the blocked websites will report that "This page can't be displayed".
There are a couple of ways for an ISP to block access to websites and Malaysian ISPs often block DNS resolution queries by null routing to localhost. If you ping or run a dig or nslookup on the blocked website, you will see that the domain name resolves to 127.0.0.1 and the website won't load because that address points back to your own computer.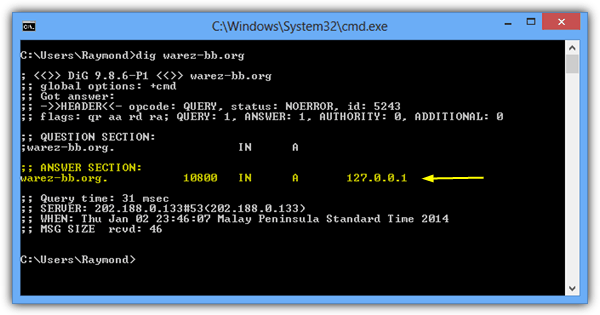 It doesn't matter which country you are from or which ISP you are using, we're confident that at least one of the seven methods we've shared below will help you access blocked websites.

1. Install a VPN
A VPN is similar to a proxy except it routes all system traffic through the VPN server. Nearly all fully featured VPNs are commercial services but you can find a few that offer free usage with some limitations such as reduced speed, bandwidth usage or restricted locations.
ExpressVPN
ExpressVPN is one of the top VPN providers in the market. This free software has servres in over 90 countries, making it possible for the user to enjoy superior speeds anywhere in the world, particularly in Malaysia. The VPN also protects the user's data by using encryption to prevent writing any data on the hard drive. Moreover, you can use ExpressVPN simultaneously on up to five different devices. That way, you never have to remain disconnected from the internet.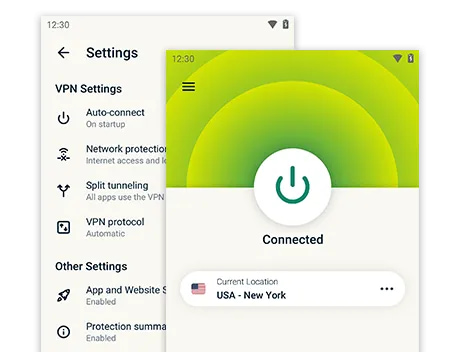 OkayFreedom VPN
If you want your VPN to connect to something other than US based servers, OkayFreedom is another service that offers some free bandwidth. There is some confusion over how much traffic allowance you actually get with the free version. The website says you get 2GB per month but after installation, the software told us we had 9.8GB per month for nearly 6 months.
OkayFreedom offers a connection to 23 countries, all of which are available in the free version. There is mention of OkayFreedom being ad supported but we didn't notice anything during testing. That's not to say ads won't show up at some point though. There are often promotions on giveaway sites for OkayFreedom to increase the bandwidth limits, which is something to keep an eye out for.
---
2. Change Your DNS
Normally your router is configured to use the DNS from your ISP to translate hostnames to IP addresses. If the ISP is using DNS based filtering it will effectively block all intended websites. Bypassing it is as easy as changing to a different public DNS offered by Google, OpenDNS, Cloudflare and etc.
DNS Jumper
A free tool called DNS Jumper is able to change your DNS to something else in a few clicks. All you need to do is download the program, run it, choose a DNS server from the list and click the Apply DNS button. You might want to click on the Flush DNS button and also restart your web browser to clear any DNS caching.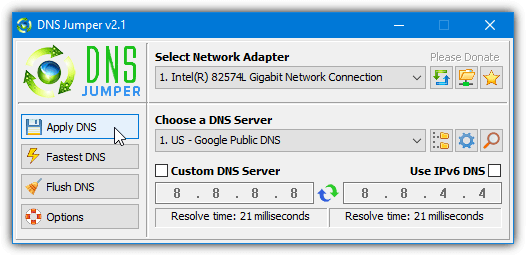 Another advantage in using DNS Jumper is it automatically backs up the original DNS server address so you can easily roll back the DNS changes by selecting "Restore" from the DNS server list.
NirSoft QuickSetDNS
If you want to use something else instead of DNS Jumper, there is another portable tool called QuickSetDNS by NirSoft where you can easily configure your network adapter to use another DNS service.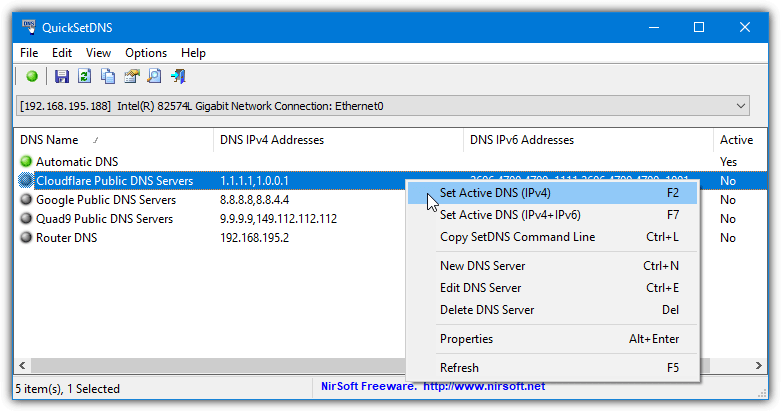 QuickSetDNS only has three custom DNS services in its list by default, but they are well known, reliable and will unblock restricted websites if your ISP uses DNS filtering. All you have to do is right click on the Cloudflare, Google or Quad9 DNS entry and select Set Active DNS.
---
3. Browse Via Web Proxy
A web proxy is a convenient method to access blocked websites without installing software or changing system settings. A web proxy effectively behaves as if someone else on the internet fetches the requested webpage and you view what they have received in your browser. As long as the web proxy websites themselves are not blocked by your ISP, this method will work.
All you need to do is launch your web browser and visit a web proxy website, then enter the blocked URL that you would like to access. The web proxy sometimes has options to enable or disable cookies, scripts and encrypt the URL, make sure they are turned off if the page does not load correctly.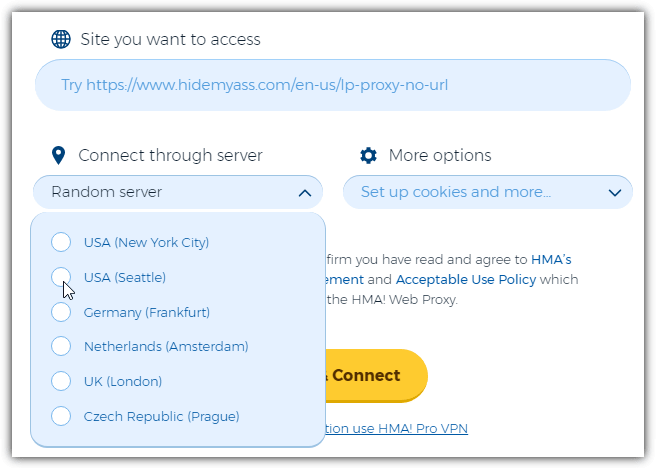 One of the better services is HidemyAss! Web Proxy which is reliable, easy to use and includes proxy locations for the USA, Germany, the Netherlands, the UK, and the Czech Republic. There were a few ad popups on the starting page but we didn't get anything while browsing the proxied websites. An ad blocker is recommended while using any web proxy services as some might show a lot of ads or intrusive ads.
There are many web proxy services around, a few others we tried were ProxySite, a number of different proxies at Free Proxy List that can also help get around Youtube blocking, and UnblockVideos that can help you get to video streaming/hosting sites.
---
4. Tor Browser
Tor Browser is an open source project based around Mozilla Firefox and is considered one of the most secure ways to browse the internet without being tracked by online entities. It works by routing your Internet traffic through a number of random servers in the Tor network which means ISPs and other organizations don't know where your traffic is going. Effectively, you should be able to browse any website unrestricted.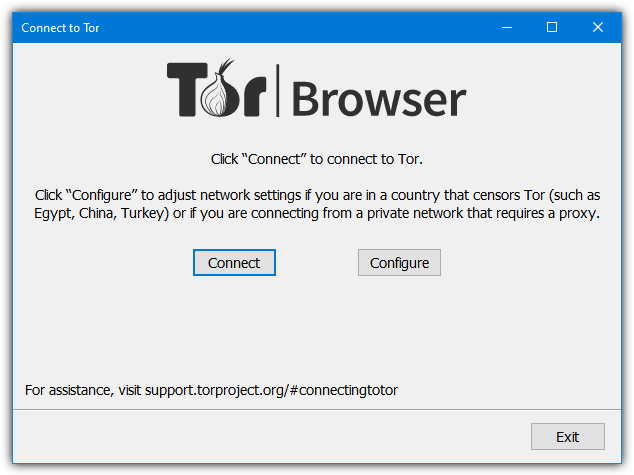 If you're unlucky enough that your country or ISP blocks Tor, there is an option built in to help get around the problem. It does this by using unlisted relays (servers) that help obfuscate Tor traffic to make it harder to detect. Do not torrent over the Tor network as that is not what it's designed for. It is also not recommended to install other Firefox browser extensions and you should just use Tor Browser as it is.
On page 2 we'll show several more options to bypass internet filtering, whether it's from Streamyx or any other ISP.