Hide or Remove "Safely Remove Hardware" Tray Icon
Do you notice that whenever you plug in a USB device such as USB flash drive or an external hard disk, a USB flash drive icon with a check mark will appear at the notification area? The purpose of the icon is for you to safely eject your hardware. Even though USB is hot-pluggable which means it can be inserted and removed when Windows is running, it is advisable to eject the device before removing it to prevent data loss because you might still have a locked file that's still in use and forcefully pulling the device out will cause the file to get corrupted.
If you want to hide the "Safely Remove Hardware and Eject Media" icon from the notification area, it may seem impossible because the most you can do is set it to "Hide icon and notifications". Setting this option will hide the icon from desktop but still can be accessed by clicking from the arrow icon pointing upwards to show the hidden icons.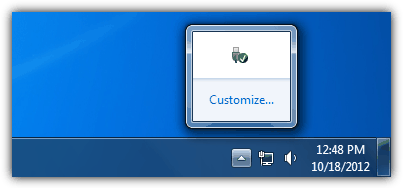 Fortunately we've managed to figure out how permanently hide the Safely Remove Hardware icon from the system tray even if there is a removable USB device connected to the computer.
The easiest way is to download a freeware program called
Icon Remover
where you can easily show or remove the Safely Remove Hardware icon with a click of a button. It used to be a shareware that cost $10 for personal license, $195 for educational license and $395 for commercial organizations but has turned into a freeware.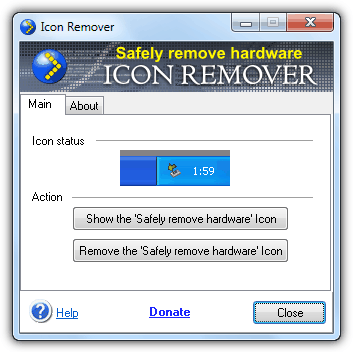 After installation, run the program and click the action button that you want. The changes takes effect instantly without restarting the computer. If you wonder how to safely eject the USB drive without the icon, you can just right click on the drive letter at My Computer and select "Eject".
Do take note that Icon Remover must be installed in order to hide the Safely Remove Hardware icon. It means that even if you click the "Remove the 'Safely remove Hardware' Icon" and then uninstall the program, you will notice that the icon will be restored when you restart the computer. After an extensive research and testing, we found that changing a registry value and running the systray.exe file to refresh the setting can hide the Safely Remove Hardware icon but then the registry value will be automatically reverted back to the default when you restart. So what Icon Remover does is it sets the registry value and run systray when Windows is booted up.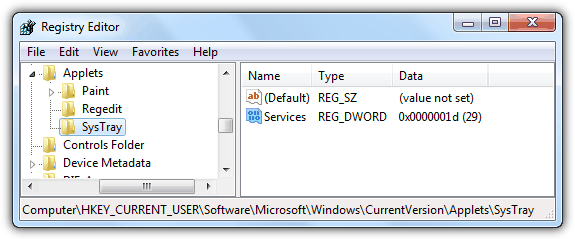 If you think it is unnecessary to install a third party program just to hide the safely remove hardware tray icon, you can just download the batch file below and put it at Startup folder which actually does the same thing as Icon Remover. This batch file and Icon Remover program will work on XP, Vista and 7 without UAC elevation.