Gmail Keeps Marking Email as Spam: How to Stop it for Good
Everyone seems to love Google's Gmail and it has been hailed as one of the best free web-mail services by many tech people. It can considered as one of the most secure email service that is free which allows you to enable 2-step verification to prevent from your Gmail account from being hacked. I personally love to use Gmail because it supports POP3 and IMAP for free and the email space available has grown up to a huge 10GB!
I've configured my email client The Bat to download Gmail inbox emails ever since I registered for a Gmail account. Many times I signed up in forums, social networking sites etc but never received any welcome emails to active my account. One day, just out of curiosity, I logged in to Gmail.com to check my emails and saw a huge amount of spams in the Spam folder.
I was quite surprised to find so many legitimate emails being identified as spam which were automatically moved straight into spam folder. The problem with using regular or portable email clients to download POP3 emails from Gmail is they don't download emails from the spam folder. I logged in to Gmail again and tried to look for any spam settings but couldn't find any. It looks like Gmail doesn't allow us to configure the sensitivity of their spam filter.
After many months of testing, my Gmail spam filter is now perfect because it is possible to train Gmail spam filter.
Did you notice that there is a "
Not Spam
" button when you view and you tick on any mails in the Spam folder?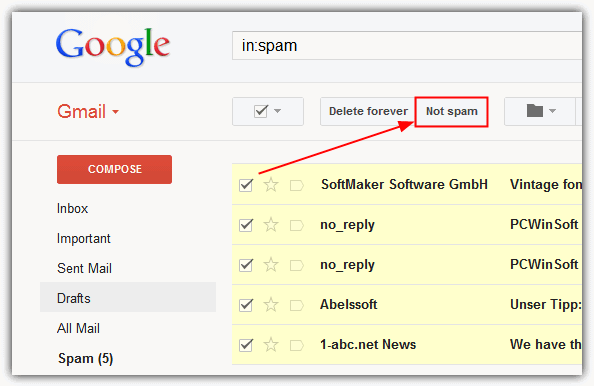 At first I thought that it is only used to move wrongly identified legitimate emails to the inbox, but I was wrong. When you mark an email as "Not Spam", you're actually training the Gmail spam filter. The more spam you mark, the better the Gmail spam system will get at weeding out those annoying messages. If you've accidentally marked a good message as spam, remember to set the email as "Not Spam" so that it future similar emails won't go to your spam folder.
Even after months of manually marking legitimate emails as not spam, and you still find that some senders' messages are consistently being mislabeled as spam, you can prevent this by adding their email addresses to your Contacts list. Gmail will always deliver messages from members of your Contacts list to your inbox.
I've read a few articles on the web complaining that Gmail's spam filter is rubbish just because one day they woke up and suddenly found thousands of spam emails got into their inbox. This only happened once in a while when spammers found a way to bypass Gmail's spam filter. When this happens, check for legitimate emails from inbox, move them to another folder such as DRAFT, then select all and use the REPORT SPAM button. Once all spam emails has been moved to spam folder, go back to DRAFT and move them back to your inbox. If you're being mailbombed, it is actually quite easy to clean up your inbox from the web based mail.
Remember, the Gmail spam filter is not really that good when you first start using it. After a little effort and spending some time manually training the filter, I assure you that Gmail's spam filter will be near perfect.
If you're not using Google Gmail yet, you can get your free Gmail account here.