5 Best FTP Monitoring Software & Tools in 2023 (Free & Paid)
FTP stands for file transfer protocol. It allows the data to move between the network of devices or servers. To put it simply, you can upload, delete or download data across the internet with FTP.
FTP servers in the file-sharing architecture are responsible to make the data available to the client. To effectively manage these servers, FTP monitoring software and server monitoring tools have been integrated into the businesses.
So, whether you want to adopt a new monitoring tool or replace the one you are using, with the best, continue reading the post.
But before decoding the list of best FTP monitoring software, let's look at what the software does and why we need these tools.
What are FTP server monitoring tools?
As the collaborative work environment is in demand due to advancements in file-sharing options, the need to manage the transfer protocols and deliver the best experience to the users has never been higher.
When working with file transfers in FTP, it's important to secure the availability and consistency of the FTP server. This is where FTP monitoring software shines. FTP monitoring software ensures that file transfer servers are optimal at uptime, availability, speed, and security.
FTP monitoring tools typically automate the process of tracking server performance and maximize efficiency. With these tools, you can easily identify bottlenecks behind a data loss, low transfer rates, or corrupted files in FTP servers.
Emerging businesses have started using FTP monitoring tools to achieve real-time server monitoring at an affordable budget. These tools alert businesses instantly when the FTP server needs some fixes or the performance is not optimal.
Best FTP monitoring tools:
Software
Best for
Top Features


SolarWinds FTP Voyager


Server availability and responsiveness
No extra configuration
Agent-based monitoring
Thumbnail view of remote images
Multiple concurrent file transfers

ManageEngine OpManager

Unique for IT servers monitoring
Cisco monitoring
NCM capabilities
VoIP monitoring
Network mapping

Filezilla


Feature-rich free tool
Tabbed user interface
Available in many languages
Supports large file transfers
Network configuration wizard


Wing FTP server


Permissions and activity logs
Handles multiple servers
Share data through web links
Audit and report generation
Virtual directories


Titan FTP server


Secure file transfers
Easy to setup new accounts
Permission management
Automated tasks for batch files and scripts
Backup and maintenance support
1. SolarWinds FTP Voyager – Best tool to monitor server availability and responsiveness.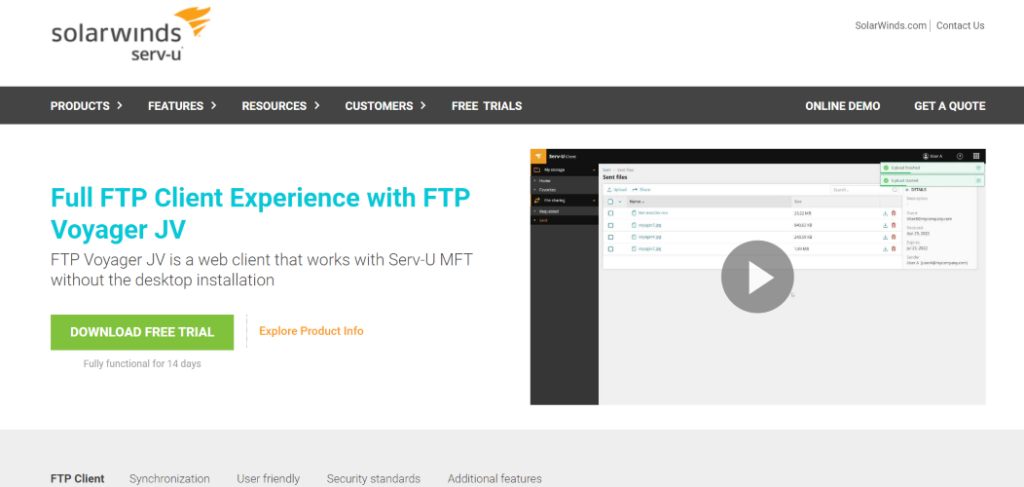 Supported OS: Windows.
Developer: SolarWinds.
License: Paid after trial period of 14 days.
A popular monitoring tool from SolarWinds that allows you to transfer files between a network of devices or servers seamlessly. It tracks the FTP server activities and monitors the server in real-time with automation.
To use it, you don't need a room or any software installation in your local drive. The tool can be directly integrated into web browsers to continue functioning.
Using SolarWinds FTP Voyager guarantees you a secured file transfer platform as it supports SSL/TLS encryption.
SolarWinds FTP Voyager can automate your file transfer activities too! You can schedule the time stamps or intervals to transfer or make files available.
With the auto-resume option in this tool, any interrupted file will continue the process automatically which eliminates the need to resume it manually.
Key features:
No extra configuration is required for any operating system.
Supports folder synchronization via web
Drag-and-drop works for individual files to the entire folder structure.
Can be deployed directly either on web browsers or native Serv-u web clients.
Includes protocols such as FTPS (FTP over SSL/TLS), SFTP (FTP over SSH2), HTTP, and HTTPS (HTTP over SSL) to deliver securely across IP4 and IP6 networks.
The tool is accessible on any portable device.
You can start a fully functional free trial for 14 days from today.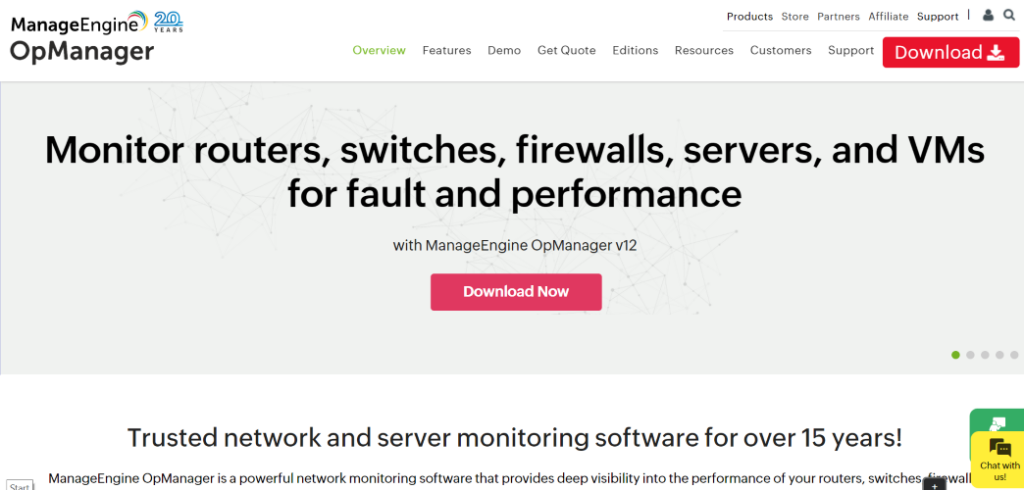 Supported OS: Windows, Linux
Developer: ManageEngine
License: Paid
ManageEngine OpManager is a robust FTP monitoring software for your businesses because of its exceptional features in file sharing.
When the server is down or unable to process the request, OpManager instantly alerts you so that the team can resolve it immediately to avoid an outage.
The tool is highly versatile and can easily integrate with other in-demand technologies. This feature allows you to leverage machine learning techniques in analyzing the FTP server traffic and forecast potential issues before they show up.
With OpManager, you can effortlessly inspect the data transfer status, server availability, performance, and threshold all in one place.
Key features:
Network path analysis to monitor the route pattern and identify delays.
It employs machine learning to dynamically decide the optimal threshold values for each monitor.
Agent-based monitoring.
With OpManager's plus, you can now receive alerts on slack.
Customized dashboard.
Able to generate automatic reports and insights on server performance.
3. Filezilla – Feature rich free tool for FTP monitoring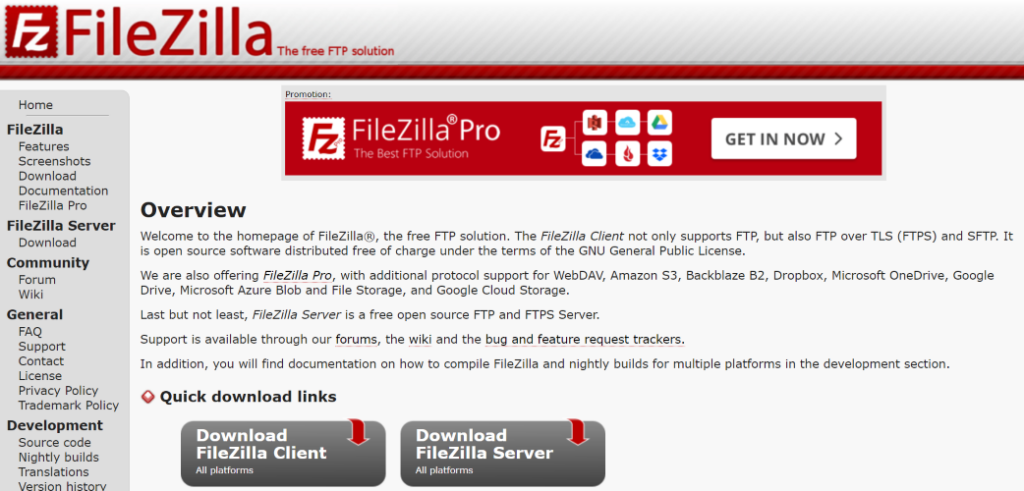 Supported OS: Windows, Linux, macOS
Developer: Tim Kosse
License: Open-source
Filezilla is a powerful cross-platform tool that runs on multiple popular operating systems, including Windows, MacOS, and Linux.
It is an open-source FTP monitoring software that allows you to transfer large files of size up to 4 GB across networks. The tool supports additional protocols such as FTP over TLS (FTPS) and SFTP for secured transfers. The best part is, Filezilla is easy to install and maintain.
For customized support and advanced features, you can go with the extended version of Filezilla called Filezilla Pro, which requires a paid subscription license. The paid version comes with enhanced features such as cloud services, advanced scheduling, and additional security options.
Key features:
Easy to use
User-friendly interface with drag-and-drop support.
Adjustable transfer speed limits.
Supports FTP, FTP over SSL/TLS (FTPS), and SSH File Transfer Protocol.
Resume interrupted transfers.
Synchronized directory browsing.
4. Wing FTP Server – Secure FTP monitoring tool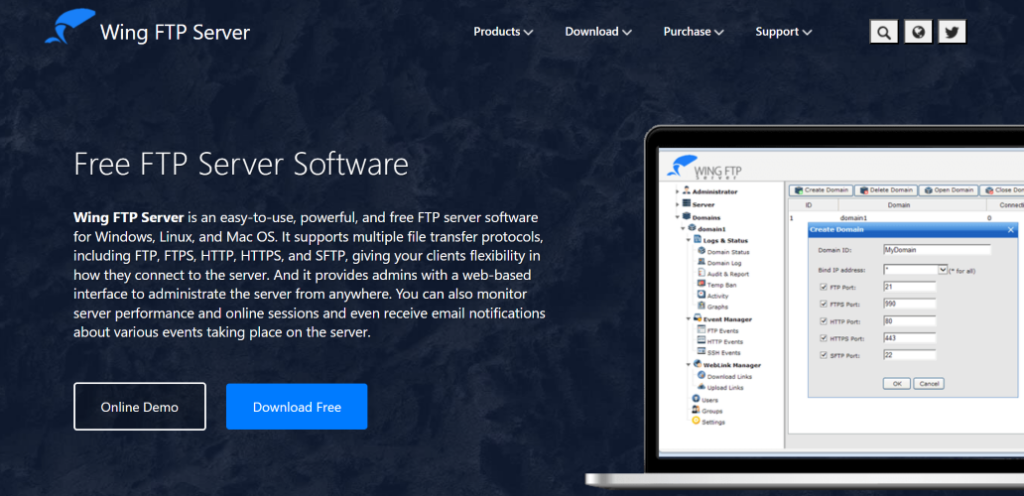 Supported OS: Windows, Linux, macOS
Developer: Wing FTP Software Company
License: Paid, Free trial for 30 days.
Most of the work in any project involves file sharing, so if you want to organize and monitor your data transfer activities, the Wing FTP server is the ideal one.
With its robust security features, this tool allows the administrator to control the entire server access. The tool is capable of scheduling when users can access the server. Also, its two-factor authentication adds an extra layer of security for client accounts.
A tool like Wing FTP server can block access to the FTP servers based on IP configurations. Its online text editor, picture viewer, and video player is an add-on feature that allows clients to edit and view the data on the web interface.
Key features:
Compatible with Android and iOS app.
Email alerts about various server events.
Can share and access files just with web links.
Runs multiple servers on multiple domains.
FTP activities can be captured and stored to analyze in real time.
The tool is available in 15 worldwide languages.
5. Titan FTP Server – Powerful FTP monitoring software especially for Windows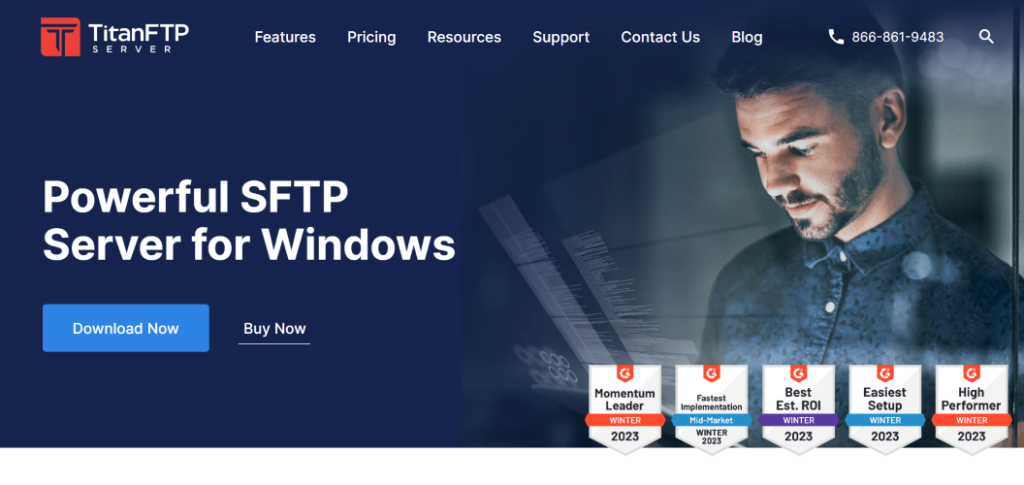 Supported OS: Windows, Linux, macOS
Developer: South River Technologies, Inc.,
License: Paid, Free for first 20 days.
When it comes to sharing your files quickly and accurately the Titan FTP server turns out to be the best. The customizable alert system of the Titan FTP Server sets it apart from other tools. You can fix the threshold values for different server activities so that you get notified when they are crossed.
The software comes as a 64-bit application by default to support resource-intensive tasks. So, if you are still on a 32-bit architecture, it's not something you can benefit from.
The pricing starts at USD 899.95 per year however you can download a free trial for 20 days to watch its performance in your environment.
The tool comes with exceptional features to monitor regular server activities and enhance performance. A few of them are:
Supports several industry-standard protocols.
Offers granular directory access restrictions to enhance security.
Eliminates downtime from hardware or OS issues.
Uses host key authentication method for secure data transfers.
Works on major modern web browsers.
Conclusion
These are our top picks for the best FTP monitoring software for your file transfer options. These important tools can keep your process of file sharing seamless and secure. I hope you get to choose the right one for your needs from this exclusive list.