Lexar Image Rescue Free Download
Previously I've introduced PC INSPECTOR Smart Recovery which is a data recovery program from CONVAR for Flash Card, Smart Media, SONY Memory Stick, IBM Micro Drive, Multimedia Card, Secure Digital Card or any other data carrier for digital cameras. Other than that, I've also posted 10 more free data recovery software programs that work on PC and removable drives.
The above mentioned software are the free ones and there are also paid data recovery software which we will be reviewing shortly. Some shareware are cheap while some are ridiculously expensive. As a general rule, most of the shareware are better than freeware because it comes with support directly from the developers themselves to make sure that you're not having problems in using the software that they created. When trying to recover deleted images from a memory card or removable USB flash drive, it is important to use a trusted and reliable software or else the photos that you accidentally deleted are gone forever. Good news is I discovered that it is possible to use a recovery software called Lexar Image Rescue 3 that normally cost $29.99 for free! The best part is it works on both Windows and Mac OS.
Lexar is a well known brand for memory cards and USB flash drive. Other than producing hardware, they also have their own home brand data recovery software called Lexar Image Rescue. The Lexar Image Rescue software is a fast and easy to use program to get back images, photos, videos and audios that was either accidentally or purposely deleted. Even media files that are removed from a formatted memory card that seems to appear blank when connected to a computer can also be recovered.
Lexar Image Rescue 3 makes it easy for anyone to recover deleted image, thanks to the step by step instructions on the program. Before running Image Rescue 3, plug in your USB flash drive or the memory card that you want to recover first. Then run Image Rescue 3, select the device that is listed on the program and click the Continue button.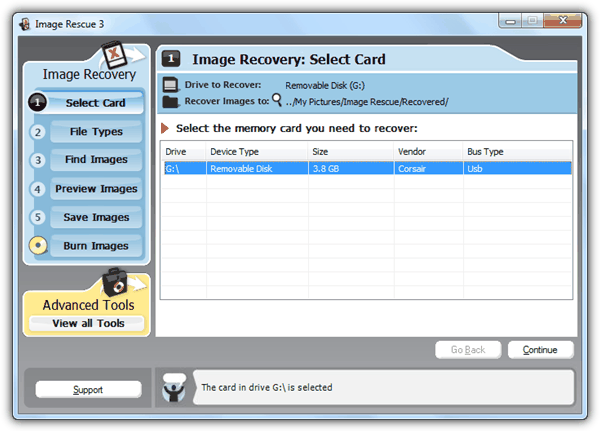 The next step is to select the brand of the camera which the memory card was attached to or you can simply select Generic where all common media types will be scanned.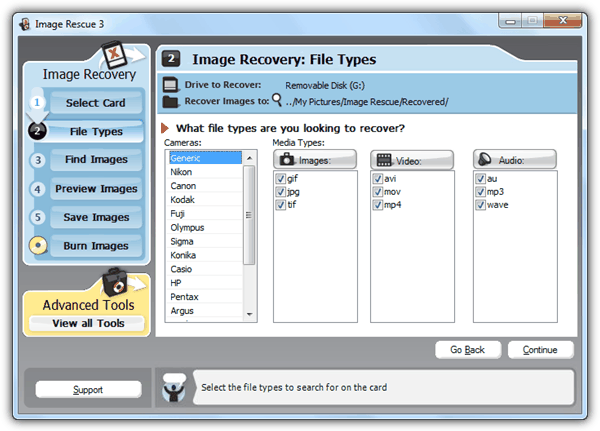 At step 3, click on the Start button to scan. When any recoverable image(s) are found, click the Continue button and the next step allows you to preview the images so you can select only the images that you would like to recover. Double click on the preview image to toggle between keep and ignore. You can click on the magnifying glass icon to zoom in the image.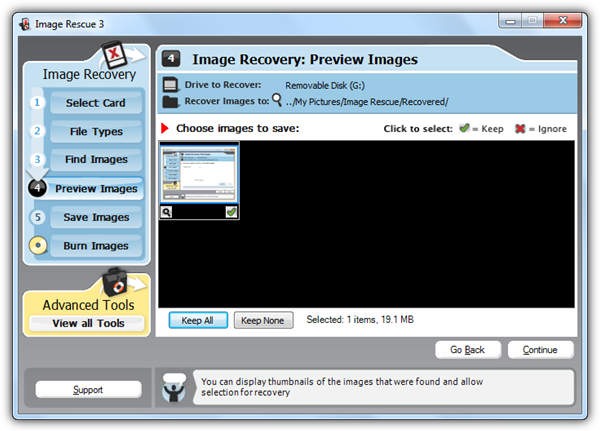 The final step 5 is to select the location that you want to save the recovered image. You can change the location and click on the Save button to save the images to the specified path. There is an additional bonus step where you can burn a backup copy of the restored images to CD/DVD via the built-in burn to disc feature in Windows 7. You can ignore this feature if you fine with just saving the recovered image to your hard drive.
Image Rescue 3 also comes with a few advanced tools that can be accessed by clicking on the View all Tools button. Test Card will perform a series of tests to detect any read errors or problems on the boot record and file system. This ensures that you're always using a good and working memory card in your camera to avoid images being corrupted when taken with the camera.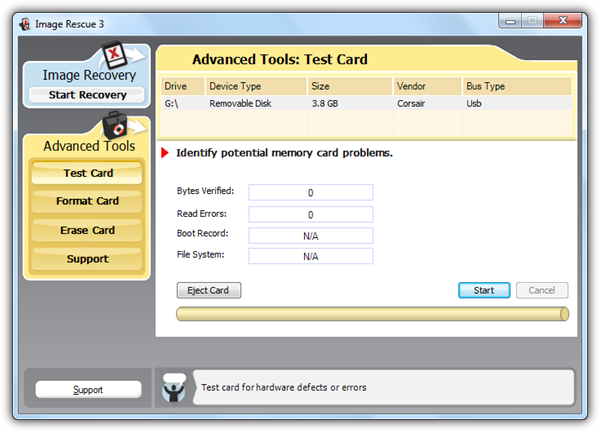 As for the Format Card, everything in the card will be deleted. Erase Card is similar to what is called as secure wiping where the recoverable images on the card are permanently deleted and prevented from future recovery.
To get your free full version of Lexar Image Rescue 3 software, simply click on the download links below according to your operating system. To install, extract imagerescue3.zip and run setup.exe to start the installation. No serial key code required. Although the version 4 of Lexar Image Rescue has been released with a higher price tag, we found that the version 3 is good enough to recover deleted photos from memory cards.
Download Lexar Image Rescue 3 for Windows XP/Vista/7
Download Lexar Image Rescue 3 for Mac OS