Free Backup4all Registration License Key for Everyone
At some point many computer users will end up losing valuable data such as photos, videos, documents etc. This could be by mistake or even bad luck if the hard drive fails. Although there are methods to help recover lost data on working hard drives, it's incredibly costly to have your files professionally recovered from a broken hard drive or memory card. The phrase "Better safe than sorry" comes to mind and backing up your important files at least once a week will reduce the chances of losing what you most want to keep.
The simple question is, how many of us actually implement a good automated backup strategy? If we're honest, many of us do not and even experienced users sometimes tend to rely on their recovery skills more than preventative backups. Things like precious photos or videos can never be re-created and are lost forever unless you get lucky and can salvage something using software. It's at this point you will be glad adequate backups were made if you made them.
If you're looking for a good backup software to help you automate backing up files, you should give Backup4all a try because we are going to share with you how to get a license registration code for free which can be used on the latest version 4 of Backup4all.
Backup4all is a backup software for Windows that's been around for quite a while. It is not an imaging solution like the
Windows 7 system image tool
or programs like Acronis, but is a file backup application which backs up chosen files and folders. This can be done automatically on a daily, weekly or monthly schedule so you don't have to remember to run the backup task yourself. Password protecting and compressing to save storage space is also possible. Using Backup4all Lite you can easily backup to any local or network drive or other removable media (such as USB HDD or flash drives).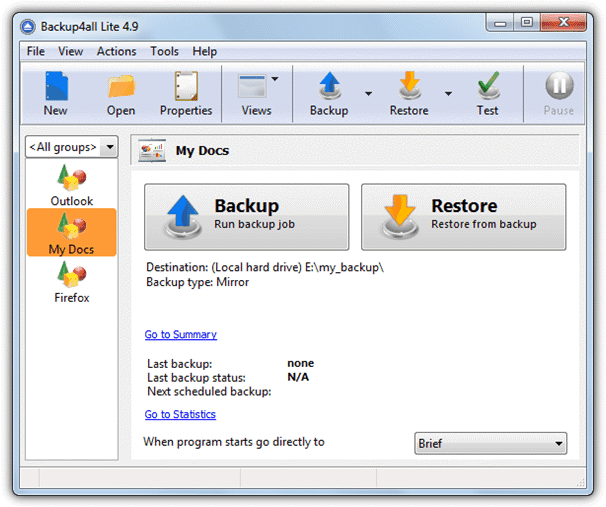 Backup4all comes in three editions: Professional, Standard and Lite. The free license is for the Lite edition which normally $19.95. Although this version has limited functionality and lacks options such as backing up to FTP or DVD/BDR or creating only mirror backups, it is good enough to backup your files and most of us can live without these extra features. You can check the Backup4all features comparison.
One of the really useful features in Backup4all is the free backup plugins. A backup plugin is an XML file that contains information about the specific application it was created for. This allows Backup4all to recognize exactly what to back up from your computer in order to have that application's configuration files and other data backed up. To use the plugins, visit the Backup4all plugin page and download the required plugin. Then in Backup4all, go to the Tools menu -> Plugins, click Add to locate the XML file and import it into the program.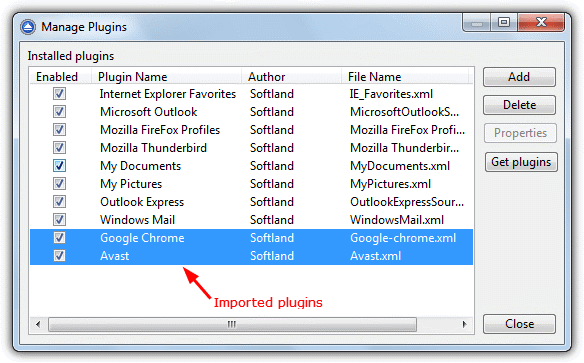 Here is how to get the free license for Backup4all Lite and save $19.95.
1. Visit the Backup4all giveaway blog page, enter your full name and your email address twice, then click the "Get Free Key" button. This is an official giveaway license page from Softland's blog.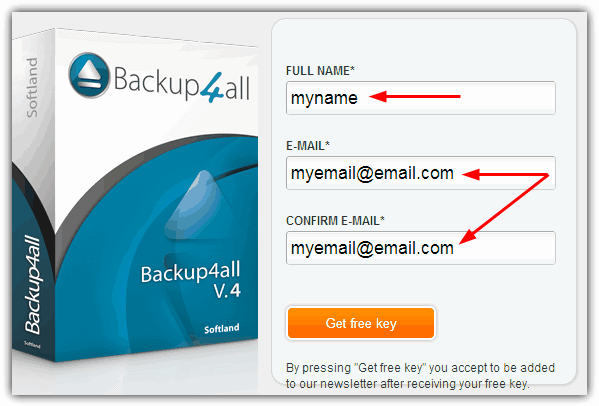 2. Check your email for the address entered in step #1 and open the email from [email protected] with the subject "Backup4all Lite Registration Key". Note down the registration name (which should be Backup4all) and the registration key.
3. Download the latest 4.x Backup4all Lite setup installer and install the program. After you apply for the license, you'll be directed to a webpage that says you need to download a special 4.8 version from the blog page, this isn't the case and you can simply use the latest version 4.x installer from the official download page.
4. During first run you'll see the "Getting Started" screen, click on the Register link.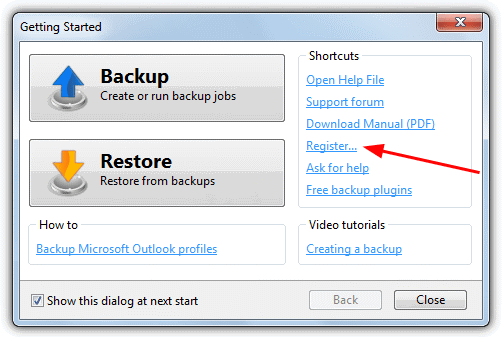 5. Enter the name (Backup4all) from the email and the registration key then click Register. If all has gone well, you will now have a fully licensed Backup4all Lite commercial software for free!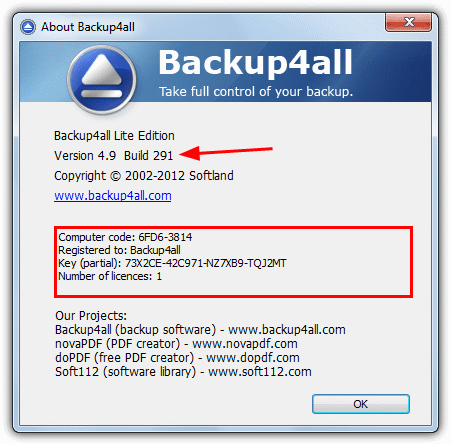 If you prefer to use the extra features found in the Standard or Professional versions such as backing up to FTP or optical media, you should also be able to upgrade at a cheaper price than buying the full version. This license key will work on any future version of Backup4all Lite v4 but will not work on v5 if and when there is a update.