Free Antivirus for Business: 8 Best to Use in 2023
Antivirus companies require a lot of manpower, time and resources for their software to keep up with the latest malware created by the bad guys who are always trying to be a step ahead. This is why a large proportion of antivirus software packages are subscription based that require an annual renewal payment in order to continue downloading the latest definition and engine updates. Fortunately there are quite a number of reputable and popular antivirus companies such as AVG, Avast, Avira, Ad-Aware, ZoneAlarm etc, that offers a freeware version of their antivirus software for computer users to install and protect their computer from malware.
Although the free antivirus products are absolutely free to use, most of the time there is a catch where you will most likely find some features that provide additional protection being disabled. Other than that, the word "free" does not necessarily mean without limitations or restrictions. If you read the long and boring End User License Agreement (EULA) that is displayed during installation which most of us ignore and blindly click on the Agree button to continue the installation, it contains very important information to where you can install and use their free antivirus software. Most of the time a free antivirus is intended only for non-commercial, personal home use while academic institutions, business, commercial, corporate or government use is prohibited. You or your company can be heavily fined if it's discovered you're breaking the license agreement.
For your convenience, we've reviewed all of the free antivirus license agreements and compiled a list of those that can be used without restrictions. The URL to the official agreement and screenshot is also included as a proof to this research.
List of Free Antivirus Allowed for Commercial Use
1. Comodo Antivirus / Internet Security
Both Comodo Antivirus and Internet Security can be used for commercial and personal use. This license agreement is stated very clearly in their EULA document that can be downloaded from Comodo's official website. Visit the link below, click on Comodo Security Solutions, Inc. tab and finally click on Comodo Internet Security or Comodo Antivirus EULA PDF document. Refer to point number 2.1 in the second page of the PDF file. Take note that they have specific license agreement for every version number. So make sure you check that the terms of use remains the same when you've upgraded to a newer version.
View Comodo EULA | Download Comodo Antivirus
2. Immunet
The free version of Immunet antivirus doesn't have any restriction in usage at all. You can use it for both personal and commercial purposes at any place including office, servers, education facilities and etc. You can find this statement on ClamAV's FAQ webpage question number 4. Both ClamAV and Immunet have been acquired by SourceFire which is why you're seeing Immunet's FAQ posted on ClamAV's website.

View Immunet FAQ | Download Immunet
3. NANO Antivirus
NANO Antivirus can be used without any restrictions and this information is posted at their website in License Agreement page.

View NANO Antivirus License Agreement | Download NANO Antivirus
4. Microsoft Security Essentials (Partial)
Many people would have thought that Microsoft Security Essentials is free to use without any limitations as long as the Windows operating system is genuinely licensed but unfortunately their licensing terms say differently. According to the first point in the Microsoft Security Essentials license terms page that is posted on their website, you are only allowed to use the software on up to 10 computers if you operate a small business. MSE usage in Government or academic institutions is restricted.

View MSE License Terms | Download MSE
5. UnThreat Antivirus
UnThreat Antivirus EULA didn't contain very clear terms of usage stating that their free antivirus can be used on commercial. We've contacted them using their official contact form asking them if their free antivirus can be used used for corporate, commercial or educational facilities. 5 days later we received a reply from them confirming that the "free version of UnThreat, may be used without any licensing fees". Please see screenshot below for proof.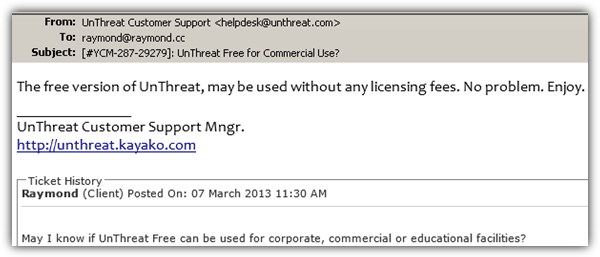 View UnThreat EULA | Download UnThreat Free Antivirus
---
List of Free Antivirus Allowed for Non-Profit Organizations
1. Avast!
Avast! free antivirus is strictly prohibited for commercial use but it is allowed for certain non-profit educational institution or non-commercial public library in the U.S.A. Check their EULA PDF file point number 2.

View Avast! EULA | Download Avast! Free
2. Panda Cloud Antivirus
The legal notice page only said that the free version cannot be used for commercial purposes or in corporate environments. However, if you go to the "For Business" page, you can see clearly that the Panda Cloud antivirus free edition is only free for home users and "non-profit organizations".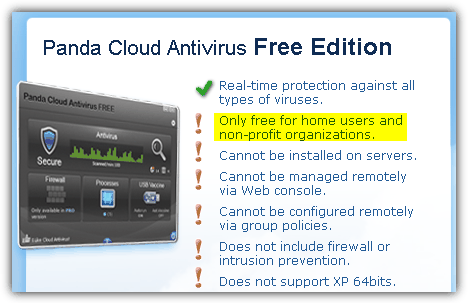 Visit Panda Cloud Website | Download Panda Cloud
3. ZoneAlarm Free Antivirus + Firewall
Any free version of ZoneAlarm products can be used for a not-for-profit charitable entity excluding government and educational institutions. You can find this information on their official end user license agreement page point number 2.1.

View ZoneAlarm EULA | Download ZoneAlarm Free AV
---
Unknown usage restrictions
---
We've also checked the end user license agreement for the free antivirus of Ad-Aware, AVG, Avira, Bitdefender, Clearsight, Digital Defender, Kingsoft, Outpost Security Suite, PC Tools, Preventon, Returnil System Safe, UtilTool, Zillya! and they are all strictly for personal non-commercial home use only.