Keylogger Software: 11 Best Free to Use in 2023
A keylogger captures keystrokes typed on a computer's keyboard. Software keyloggers run in the background, so users may need to rely on security software like anti-keyloggers or antivirus packages to detect their presence on the system.
While keyloggers can be used for unethical purposes, such as stealing passwords and reading private data, they also have legitimate uses, such as monitoring children or employees.
There are many software keyloggers available, including freeware and paid options. Free keyloggers are often more limited in functionality and stealthiness. After testing several free keyloggers, we've identified the best software and sorted a list.
In addition to keylogging features, we've also considered the ability of the keylogger to remain hidden from the average user to prevent detection or tampering.
Best keystroke recorder software
Below is the list of the best keylogger software; they were tested on Windows 10 64-bit.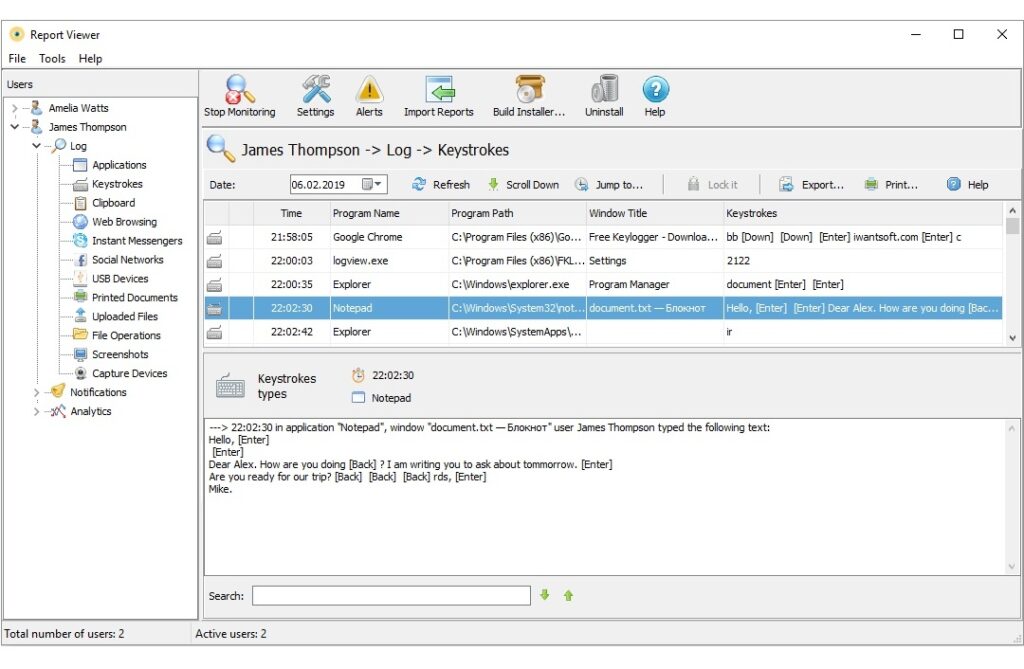 Operating system: Windows
Pricing: Free
Developer: Iwantsoft, Inc.
Iwantsoft Free Keylogger is a full monitoring software. It lets you record almost all user activities on the computer. The tool saves all recorded information to encrypted reports, and you can view it using a special report viewer.
The software remains hidden from computer users at all times. Only the owner can enter a secret hotkey combination to make it visible, modify changes, and view reports.
Iwantsoft Free Keylogger is perfect for use at home and work. At home, parents that want to discover possible threats to their kids can use it, while employers can also use the software to monitor the activities of their employees.
Its key features include monitoring tools, remote control, multi-language support, and blacklist applications and websites.
Pros
Simple and intuitive interface
It uses the best encryption technology to protect the information it collects
It doesn't take up much space on the hard disk
Offers four methods of report delivery
Cons
The free version has a limited number of features
Download Iwantsoft free keylogger
2. Myspy – Excellent for monitoring user activity anonymously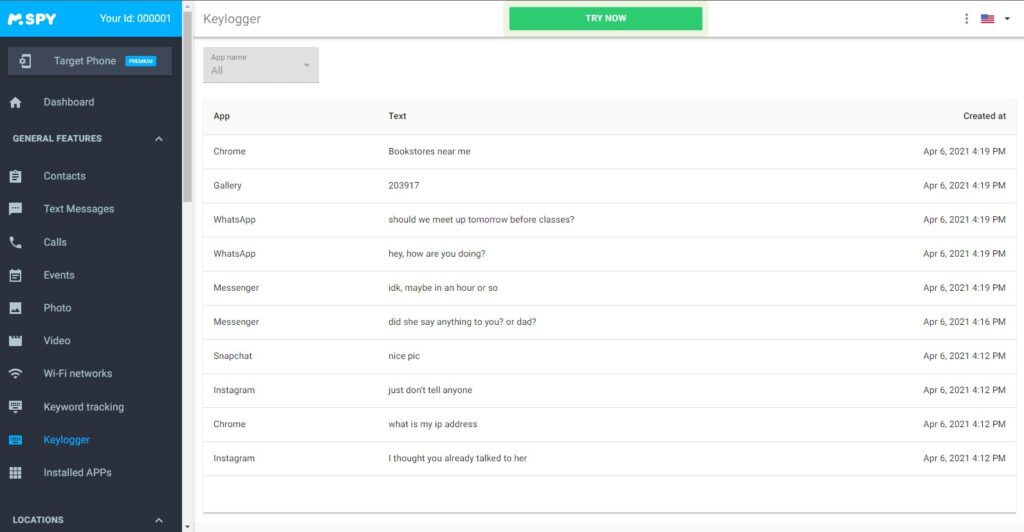 Operating system: iOS
Pricing: Free and paid
Developer: IPL GROUP PTY LTD
Myspy is a powerful mobile monitoring app that allows you to keep tabs on the activities of a phone remotely. The application gives information such as social media activity, phone calls, locations, and instant messaging tracking.
One great thing about the app is that it runs in the background in an incognito mode. This means that the targets won't know that they're being tracked, making it an ideal solution for concerned parents or employers who want to monitor their children's or employees' activities.
Myspy app is a trusted company that has been in operation for over one decade. The data collected from your target person is encrypted, and the app's privacy policy states that it will only be shared with a third party to offer Myspy services or comply with legal obligations.
The Myspy app is easy to use. All you need to do is to download and install the app on the target person's phone and start monitoring. This monitoring application works on Android and iOS. Although Myspy supports Android 4.0 and iOS 7, it works well on newer versions.
Pros
Offers 30% off all purchases when the free trial is unavailable
24/7 customer support in multiple languages
Works worldwide, including countries like China and UAE
Internet use and app control functionalities
Cons
It does not support BlackBerry and Nokia Symbian phones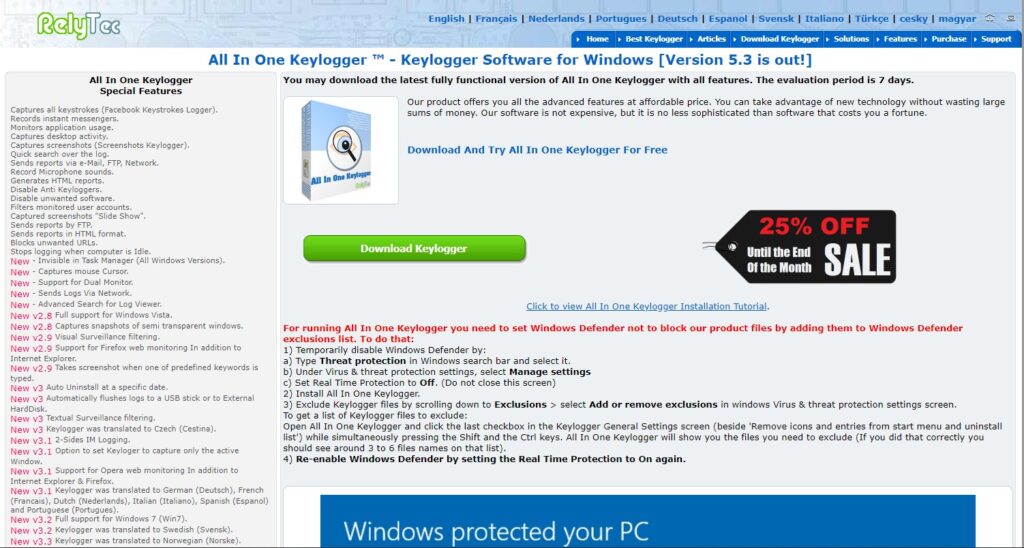 Operating system: Windows
Pricing: Free
Developer: Relytec
All-in-one Keylogger is a software that records computer users' keypresses. It's perfect for securing home computers, team members monitoring, and parental control.
You don't need an in-depth knowledge of monitoring software to use it. Its control panel lists the available configuration options, with the information for each option displayed in a large panel.
Although the control panel was a bit clustered, we found our way around it after exploring it. It is compatible with all modern operating systems, including 64-bit and 32-bit editions.
What we liked about the software is that both its configuration window and the log viewer have their own hotkey combinations. This made the testing of the keystroke tracker and using it very comfortable.
The software was able to monitor URLs in the browsers listed in our testing, intercept Skype messages, and have the option to take screenshots of active windows alone.
Pros
Configurable self-removal
Multi-OS support
Multi-language interface
Ability to copy log files to a portable device
Cons
Lots of steps to follow during the pre-installation
4. Spyrix – Excellent tool for recording and monitoring keystrokes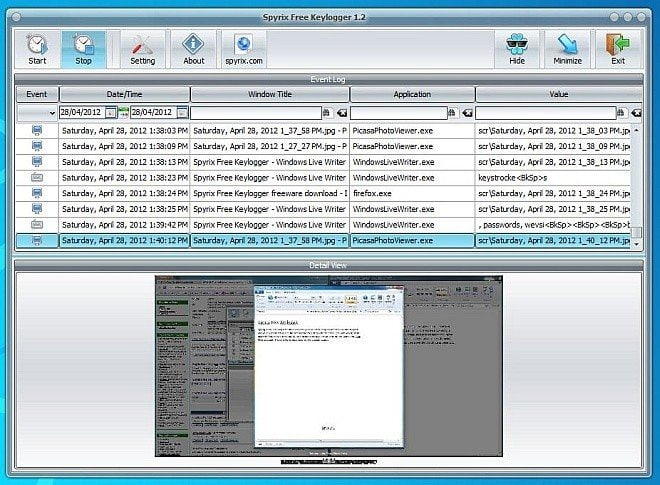 Operating system: Windows
Pricing: Free and paid plan
Developer: Spyrix Inc
Spyrix Keylogger is a free keylogging software that permits the recording and monitoring of keystrokes.
With Spyrix Keylogger, you can monitor your target person's messages, GPS location, web activities, and social media accounts, including your employees, husband/wife, or kids.
The tool offers remote monitoring, meaning you can view the data anywhere in the world with your mobile phone or computer.
Its key features include Instant Messaging Apps monitoring, keylogger, Keywords alert, Whatsapp chat view, and live screen and webcam viewing. Spyrix Keylogger is easy to install on the target person's phone and use.
Pros
Multi-lingual
Easy to use
Effective keylogging
Great free plan features
Cons
Download Spyrix Free Keylogger
5. Clevguard – Great tool for tracking computers, tablets, and phones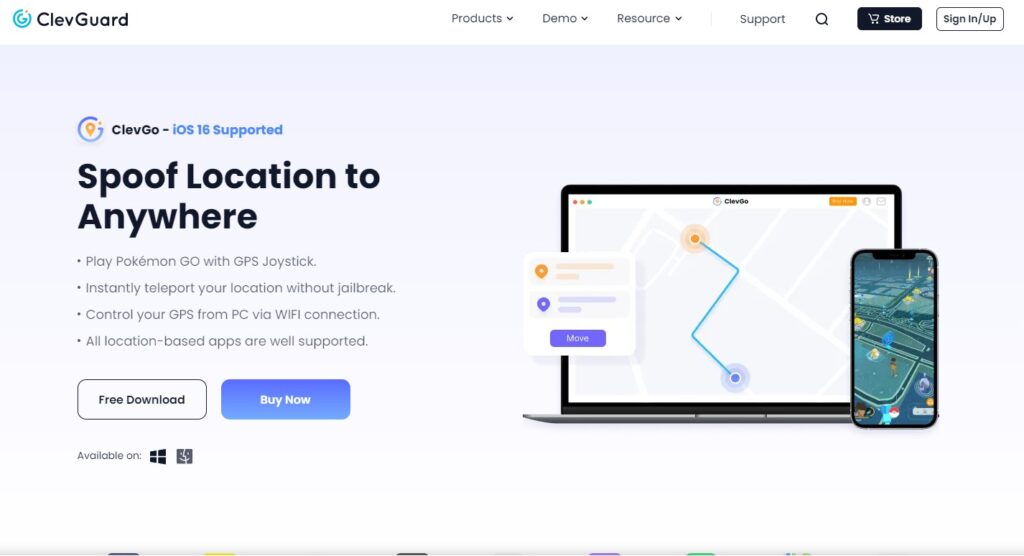 Operating system: Android and iOS
Pricing: Free and Paid
Developer: Clevguard INC
Clevguard can help you track any compatible computer, tablet, or phone. The tracking app works on iOS and Android and is easy to install and use. All that's required is to install the app on the target person's phone.
It doesn't take more than five minutes to install, and you have all the instructions on the screen. Once the Clevguard app is up and running, it becomes invisible to the device user. The same thing will happen if you install it on a computer or tablet.
It's compatible with the Android 4.0 version or higher. Clevguard is perfect for parents and people who want to track their workers' or spouses' online activities. It is also compatible with iOS versions of between 9.0 and 13.
Once you install Clevguard on the target person's phone, you'll get all the information you need to see on your Clevguard assistant. Clevguard's key features include a GPS tracker, screenshot capture, and keylogger.
Pros
100% security and privacy
Remote control functions
Tracks locations and browsing history
100% Virus free
Cons
Cannot monitor multiple devices at a time
6. Elite Free Keylogger – Best for recording what the user types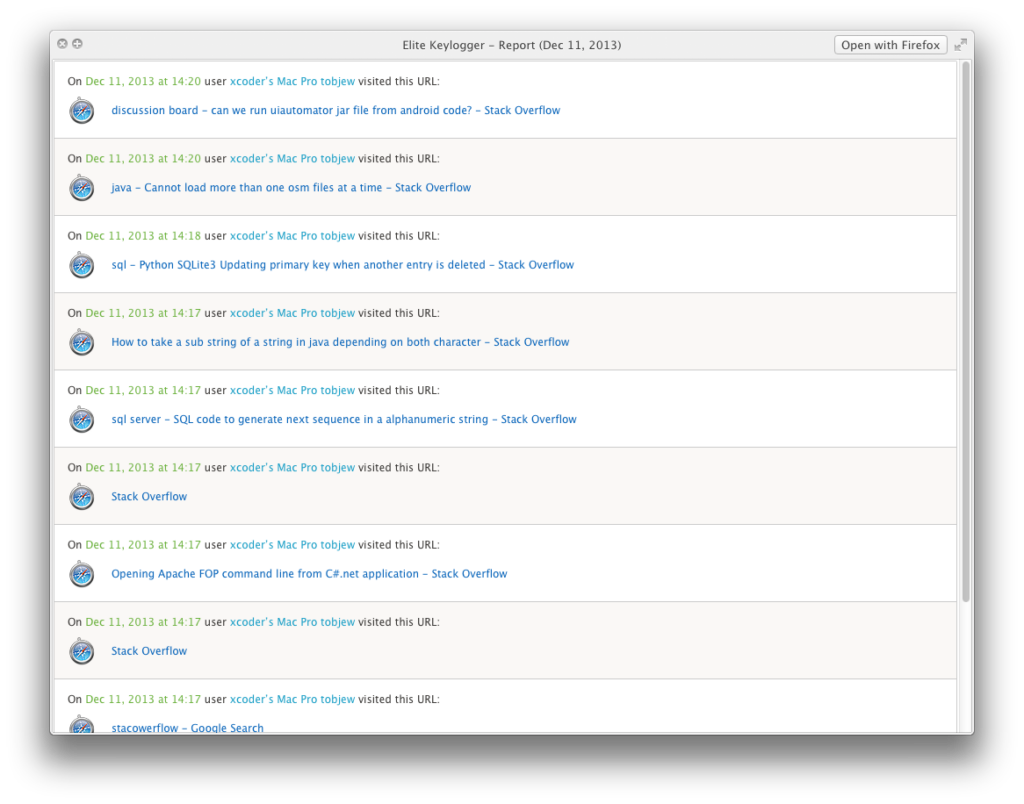 Operating system: Windows and Mac
Pricing: Free and Paid
Developer: Elite INC
Elite Free keylogger is a monitoring software that records everything a user types on the monitored computer, whether an email, a document, or a web form. It can secretly deliver the information to your email address.
It has a nice interface and great features, including keystroke monitoring, collection recording of emails and chats, and URL interception. Elite free keylogger operates invisible mode, but it cannot track passwords.
Once you set it up, the software automatically monitors web activities, keystrokes, and clipboard information on the computer that it's installed on. It also takes screenshots at a predetermined interval, offering you a textual and virtual log.
The free version is useful for parents worried about their children's web activities. But if you want a password-tracking feature, you will need to go for the pro version.
Pros
Plenty of log-delivery options
Nice interface
Great interception of visited URLs
Available in multiple languages
Cons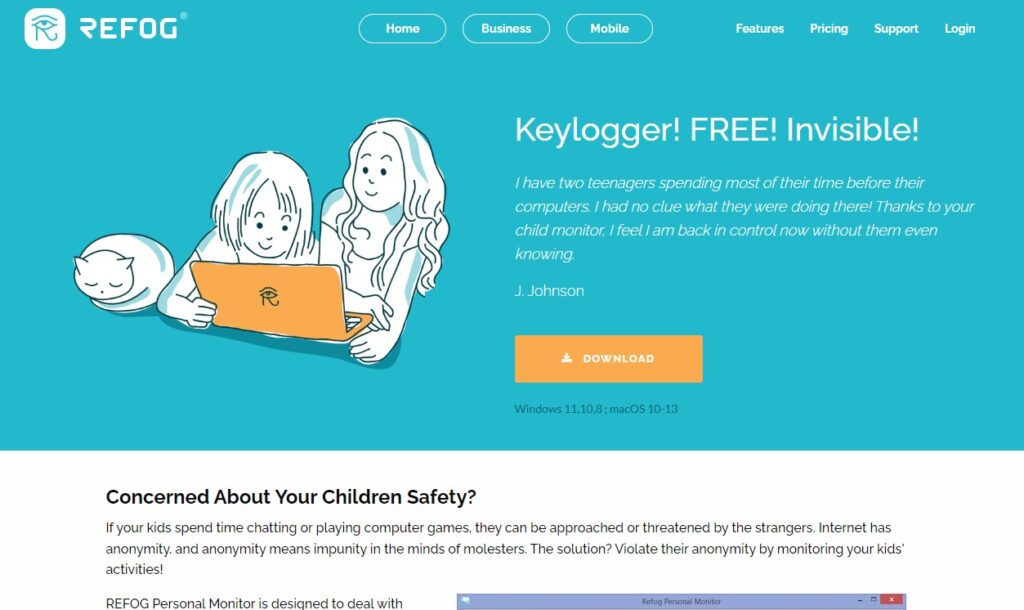 Operating system: Windows
Pricing: Free and paid
Developer: Actualsoft
Actual Free keylogger is software that monitors the activity on your computer so you can track other users' activities when you're not around. It keeps track of websites visited, programs run or closed, keystrokes pressed, and texts copied to the clipboard.
The actual keylogger is compatible with both Mac OS and Windows. With this software, parents can easily monitor and control what their children do in their free time.
What we love about the software is that it has a stealth mood so the computer users don't get to know that you're tracking them. Furthermore, Actual Keylogger is not detected by antivirus software.
Pros
Hidden after the files are installed
Messaging apps monitoring
System inactivity time
White List of URLs
Cons
Doesn't record mouse clicks
Download Actual Free Keylolgger
8. Ardamax Keylogger – Excellent for recording all keystrokes and clipboards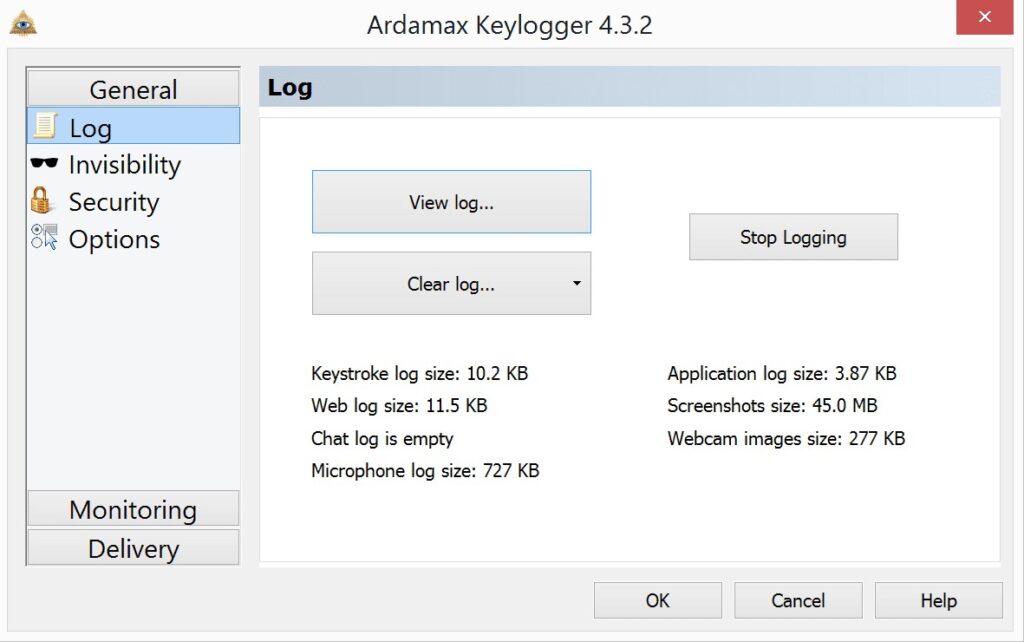 Operating system: Windows
Pricing: Free and Paid
Developer: Ardamax Software
Ardamax Keylogger is a monitoring software that records all keystrokes and clipboards. It also records websites visited and apps used. But it doesn't track emails received via web-based email and client email, attachments, or downloaded files' names.
The software's reporting area includes a filter function to search quickly within saved logs in hidden mode. Ardamax Keylogger is completely invisible, and antivirus cannot detect it.
The keylogger can send reports via email, upload them to an FTP account or save it on a location from the network. You can set Ardamax Keylogger to send reports at a predetermined interval and choose what to include – websites, keystrokes, etc. While running in hidden mode, Ardamax Keylogger wasn't detected by our antivirus software (full scan and real-time protection enabled).
Pros
It's user-friendly and easy to use
It uses the best encryption technology to protect gathered information
Available in different languages
100% Virus free
Cons
Lacks advanced integrated reports
9. KidLogger – Best for recording what the user types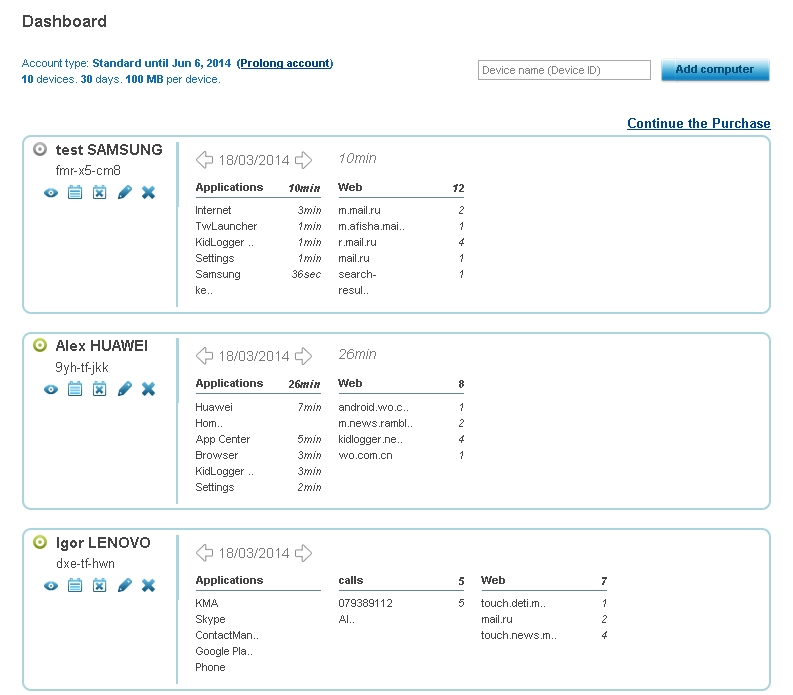 Operating system: Android & iOS
Pricing: Free and paid
Developer: SafeJKA S.R.L.
KidLogger is a parental control software that's compatible with most operating systems, including Android, Mac, and Windows. With Kidlogger, you can get all information about the activity of your PC, mobile, or tablet of your kids.
It monitors internet usage and logs all visited websites. KidLogger works with Chrome, Internet Explorer, Safari, Opera, and Firefox. It tells you the exact time your children spend working on mobile phones or PCs.
But unlike some full-fledged monitoring suites, KidLogger can block some web pages or programs. KidLogger worked perfectly well during our tests, but we discovered that it could not be password-protected. Hence, we were able to uninstall it through the Start Menu, and we suspect several savvier children would figure that out too. If you have very young kids but don't have much money, KidLogger is a perfect option.
Pros
Effective monitoring
Intuitive user interface
Affordable
Free version available
Cons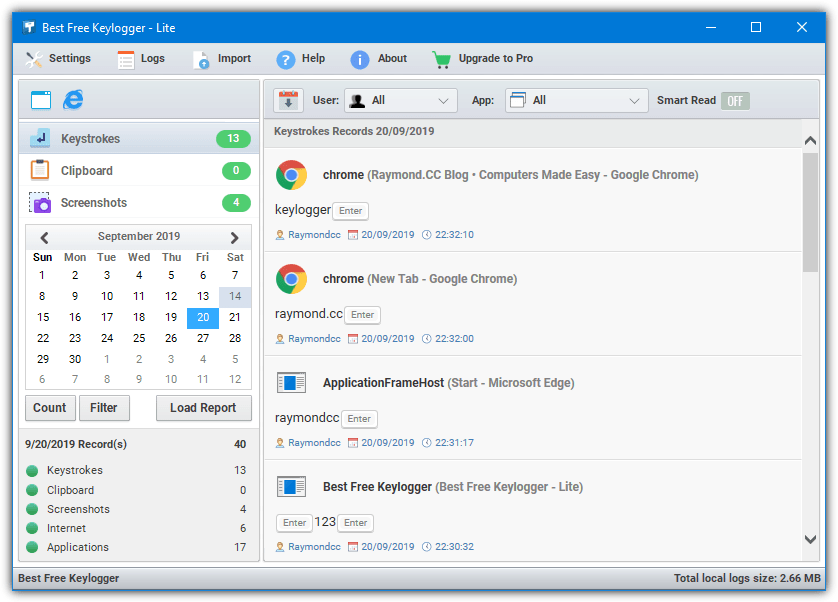 Operating system: Windows
Pricing: Free
Developer: Bestxsoftware
Best Free Keylogger Lite allows you to view what's happening on your computer when you're away from it. The installation process is pretty easy and fast, and its interface presents a minimal design. It consists of a navigation panel, a few buttons, and a dashboard where you can easily access the gathered information.
Furthermore, Best Free Keylogger Lite has well-drawn and comprehensive help materials, allowing novice and experienced users to easily find their way around the software. The software requires you to enter a master password so only authorized users can view the logged information or change settings.
It enables you to monitor all keystrokes and can process all the information copied to the clipboard. It's also possible to schedule the logging process by simply entering the hours between which you want to track an individual's activity. From the tool's setting panel, users can change passwords, select snapshot quality, and modify the time to capture the pictures.
Pros
Works seamlessly across browsers
Its 'smart read' feature is great
It is just a plug-and-play type of software, which makes it easy to use
100% secure
Cons
It would be helpful to have a mobile version as well
11. Real Free Keylogger – Best for monitoring keystrokes and app usage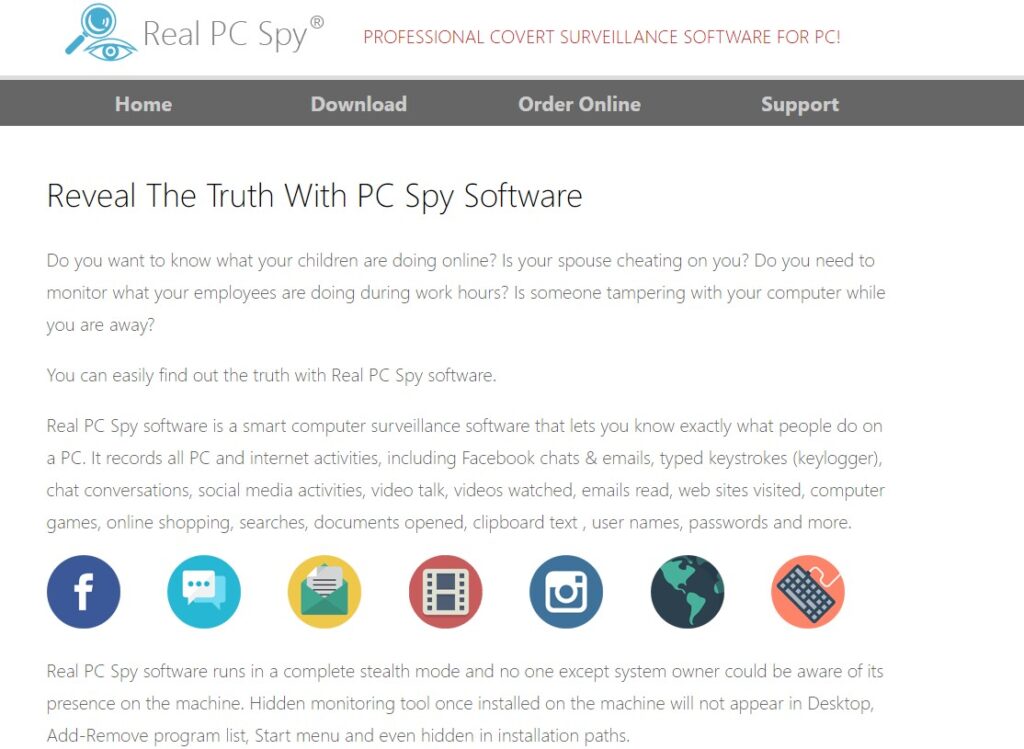 Operating system: Windows 8/7/Vista/XP
Pricing: Free
Developer: RealSpySoftware
Real Free Keylogger is an easy-to-use software that monitors keystrokes and app usage. It provides basic functions such as password-protected access to the interface, starting and stopping monitoring, and viewing reports.
The reports generated by Real Free Keylogger display detailed information such as the time and keystrokes entered, as well as the window's name and the application's path.
It gives you the option to view the logged information on the software's interface or export logs to an HTML file. In addition, Real Free Keylogger supports password protection and a hotkey to be revealed or hidden.
The only downside is that the full stealth mode is available in a pro version. However, the app is not visible in the computer's menu and folders and hasn't been detected by any antivirus.
Pro
logs all keystrokes
Very easy to install and set up
Auto uninstall (silent mode)
Log file encryption
Cons
Disabling Windows Defender and Adding an Exclusion
A keylogger will likely get flagged and deleted by your antivirus while downloading, during installation, or when it starts monitoring. The easiest solution is to disable the antivirus before you download the keylogger, install and add an exclusion before finally re-enabling the antivirus.
But since antiviruses are different, we can't provide instructions for every antivirus. However, Windows Defender is integrated into Windows 10, so we'll show you how to disable and add an exclusion to Defender.
Click the Windows Security icon in the tray notification area or type Security into the Start Menu/search box.
Click on "Virus & threat protection," then click the blue "Manage Settings" text under "Virus & threat protection settings."
Switch the "Real-time protection" option to Off and leave the window open.
Download and install the keylogger software, it should tell you the path it's being installed to which you can make a note of or copy from the installer window.
In the window where you turned off real-time protection, scroll down and click on "Add or remove exclusions", click "Add an exclusion" > Folder and browse for the location of the keylogger software.
Go back to the Windows Security window and turn the real-time protection option back on. Windows Defender should now not interfere with the keylogger.
Are keyloggers illegal?
Using keyloggers and other software to access other people's private information is illegal as it breaches their privacy.
Plus, any unauthorized access to a person's information on a computer is a criminal offense under US federal law.
However, you can use the software to monitor the work progress on your workers' workplace computers or monitor your children's online activity using the software.
Bottom Line
The best keylogger software options in 2023 offer valuable insights into users' computer behavior, making them suitable for various use cases. However, the use of keylogger software must be done ethically and responsibly, in accordance with applicable laws and regulations.
These tools remain valuable tools for monitoring computer activity, and the top options reviewed in this article offer some of the best features and capabilities on the market in 2023.