Download Trend Micro Antivirus+ 10 with Free 6 Months License
Any person who has started using a computer since Windows 95 would have at least heard of an antivirus software called PC-cillin. It was one of the very few pieces of antivirus software available for the Windows computer because back then there weren't many computer viruses and the available ones weren't that advanced if compared to the current malware that uses rootkit technology to stay undetected.
PC-cillin is now known as Trend Micro and just like any other antivirus company, they too offer several different paid subscription products such as basic antivirus, Internet security with firewall, and maximum/premium security with additional privacy protection, mobile device protection, and even system optimization modules.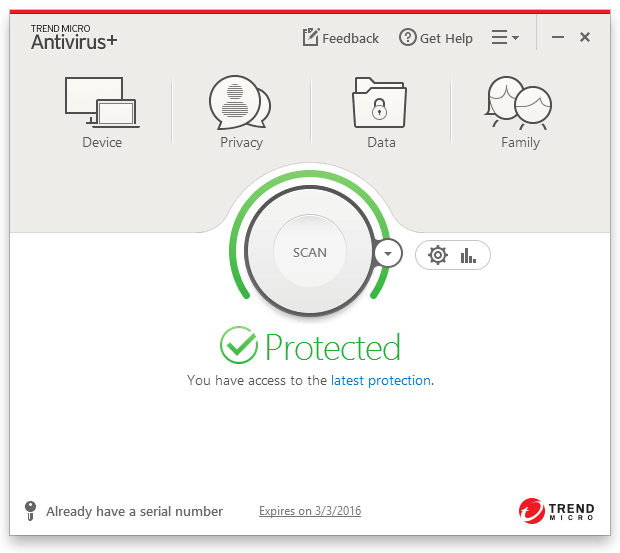 The current 2016 version of Trend Micro Antivirus is at version 10 and it is known as Trend Micro Antivirus+ 10. If you haven't noticed, their product title no longer carries the word "Titanium". As far as we know, Trend Micro started adding the word "Titanium" to their product names when their cloud-based global threat intelligence was integrated into the software and advertised as a fully cloud based antivirus without relying on offline virus patterns.
Trend Micro seems to do very well in the most recent
(July 2015) real world protection test
performed by AV-Comparatives by blocking 99.7% of computer threats, taking the third place together with Kaspersky and Avira. However, Trend Micro has the 2nd most number of false positives that wrongly blocked clean domains or files and that caused the automatic downgrade to the Advanced award level, or else they'd have easily achieved the highest Advanced+ award.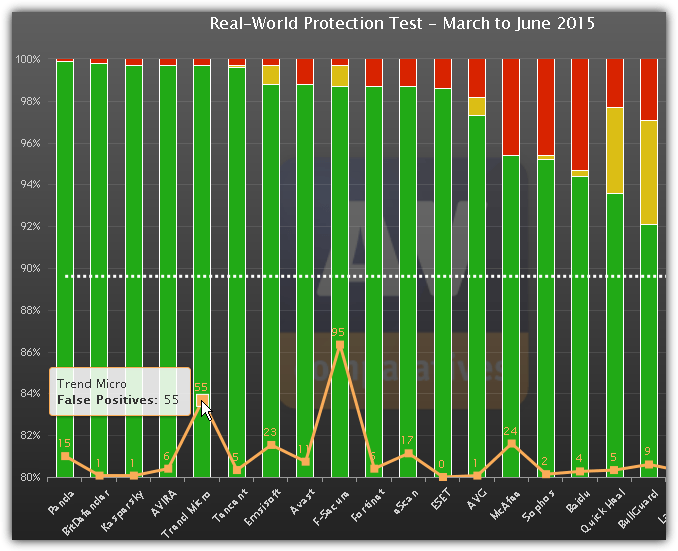 Other than expecting an antivirus to effectively protecting a computer from malicious software and websites, it is also equally important that an antivirus software does not cause the computer to slow down to a crawl. Fortunately you can find Trend Micro's performance benchmarks from PassMark reports which actually reveals quite disappointing results for the previous version of Trend Micro. As you can see from the screenshot below, Trend Micro has the lowest score for Antivirus, Internet Security and Total Security.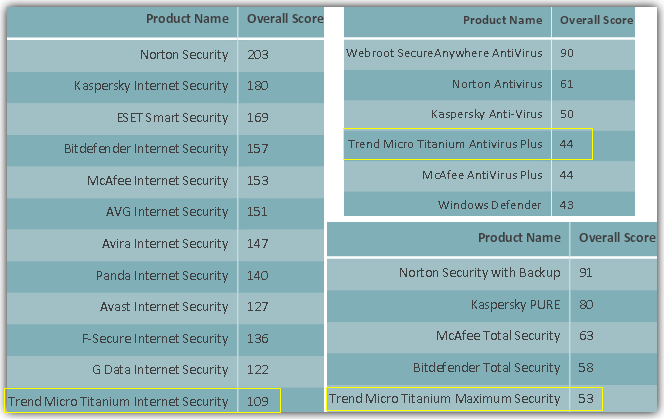 The numbers above are for the previous versions of Trend Micro. If you'd like to test the latest version of Trend Micro yourself, you can download and activate a 30 day trial for free from their official website. If 30 days is not long enough for you to evaluate an antivirus software, there are normally OEM versions that offer longer trial periods. An example is Trend Micro offering 6 months of free trial to SanDisks users but unfortunately there are two restrictions.
Firstly the 6 months trial installs an older version of Antivirus+ 7.0 released in 2013 and attempting to upgrade to the latest version 10 will instantly revert the trial back to 30 days. Secondly, it is incompatible with Windows 10 and you'll get the error popup saying "This app can't run on this PC. Trend Micro Titanium 2014 doesn't work on this version of Windows. Learn more" upon running the setup file.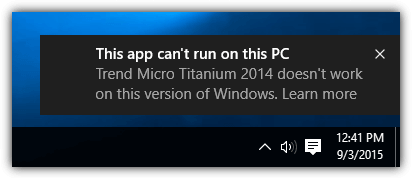 Even if you managed to run the installer after disabling the app compatibility checks in Windows 10, the installation will still fail. The good news is we've done the research and discovered that it is possible to activate the 6 months trial license on the latest Trend Micro Antivirus+ 10 with just a few simple steps.
1. Download 7-Zip and install. Alternatively you can also use other archiver software that can extract the Trend Micro installer file.
2. Download the full Trend Micro Antivirus+ 10 installer (TTi_10.0_EL_Full.exe). After it's finished downloading, right click on the TTi_10.0_EL_Full.exe file, go to 7-Zip and select Extract to "TTi_10.0_EL_Full\". After extracting, you will find a new folder called TTi_10.0_EL_Full in the same location as the installer file that you've downloaded earlier.
3. Download the Trend Micro installer (SanDisk-TTi_7.0_EL_Full.exe) with 6 months trial. After downloading, right click on the SanDisk-TTi_7.0_EL_Full.exe file, go to 7-Zip and select Extract to "SanDisk-TTi_7.0_EL_Full\". You will now see a new folder with the name SanDisk-TTi_7.0_EL_Full in the same location as the SanDisk-TTi_7.0_EL_Full.exe file.
4. Go to the \SanDisk-TTi_7.0_EL_Full\UCPlugin\c17t1707v0.0.0l1p1r1o1\ folder, right click on the Corridor.xen file and select Copy.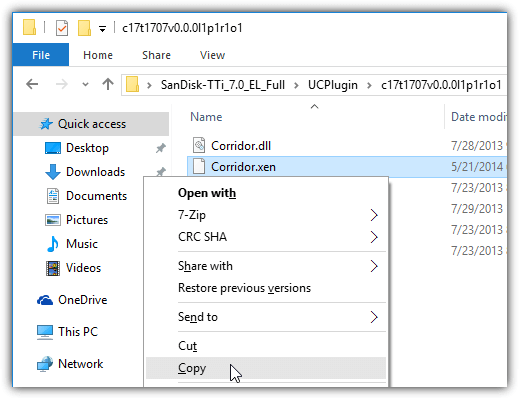 5. Go to the \TTi_10.0_EL_32bit\UCPlugin\c17t1707v0.0.0l1p1r1o1\ folder, right click in any empty space and select "Paste". Windows will prompt that the destination already has a file named Corridor.xen. Select the option to replace the file in the destination.
6. Go to \TTi_10.0_EL_32bit\ and run the setup.ini file which should open the file in a Notepad. Change PLID=TIT-STD-EL-0900 to PLID=TIT-STD-EL-0700 and save the file by clicking File in the menu bar and select "Save". If you take a closer look, the only character that needs to be changed is the 3rd last character from 9 to 7.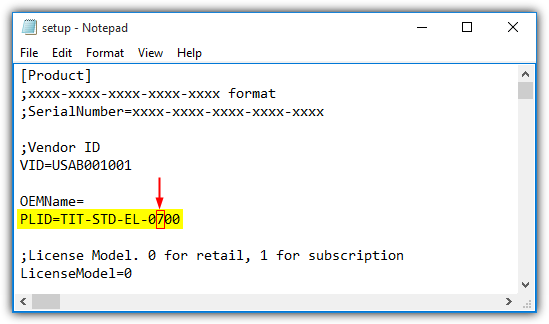 7. You can now run setup.exe from the \TTi_10.0_EL_32bit\ folder to start installing Trend Micro Antivirus+ 10. When you're asked to choose your version, select Trial version option and click next.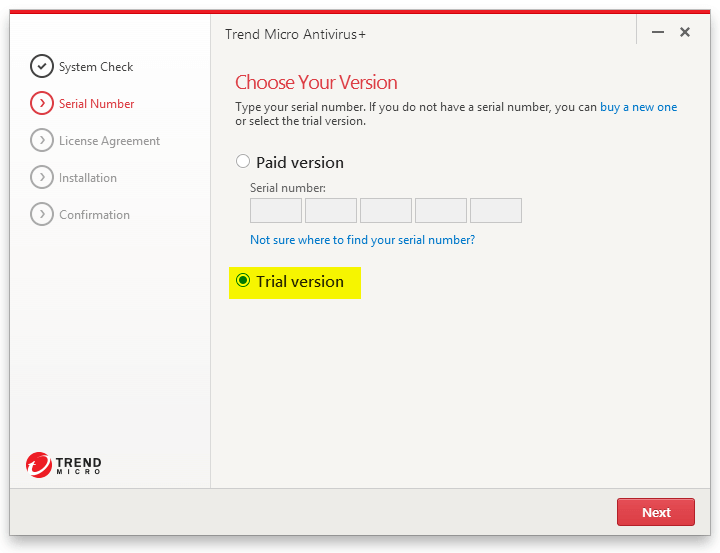 8. Follow the on-screen instructions to complete the installation. Once installed, you can verify the 6 months trial subscription either from the bottom of the program, or click the menu icon located at the top right, and select "About the Software".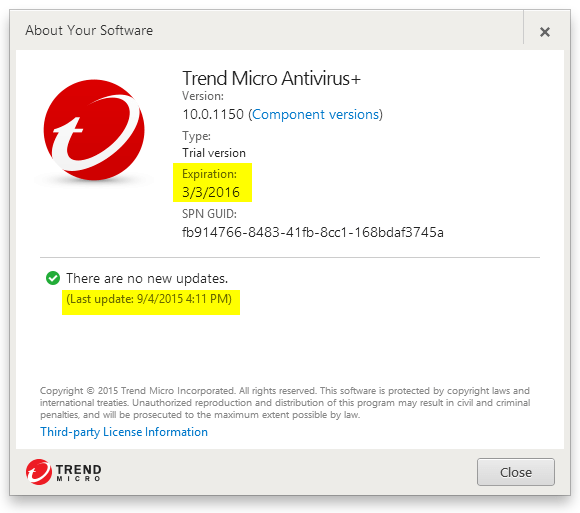 As you can see from the screenshot above, comparing the highlighted date of last update and expiration gives you a whole 6 months of free Trend Micro Antivirus+ 10 subscription.