Codec Cleaner & Fix Tools: 5 Best to Use in 2023
Although not quite as essential as they were a few years ago because of the popularity of multimedia players like VLC and MPC-Home Cinema, having the correct codecs installed on your system to play video files is still important if you use player software that doesn't have them built in, such as Windows Media Player. There are a lot of codecs around and the best way to make sure that you can watch many different types of video file is by installing a codec pack which is simply a collection of codecs brought together into one easy to use installer.
On occasion because there can be hundreds of codecs and DirectShow filters installed on a system, some can get corrupted or incorrectly installed which sometimes happens if you're updating a codec pack or switching from one pack to another. If a broken codec is needed to play the video file you're watching, the player might freeze or crash or you might not see or hear what's going on. Of course, you can re-install a single codec if you know exactly what it is such xVid, or a codec pack, but sometimes is not as easy as that because if may be a system filter or codec which is causing a problem.
If you have codec issues, here are 5 free and portable tools you can try to determine what the problem codecs are, and then help you fix them.
1. Filmerit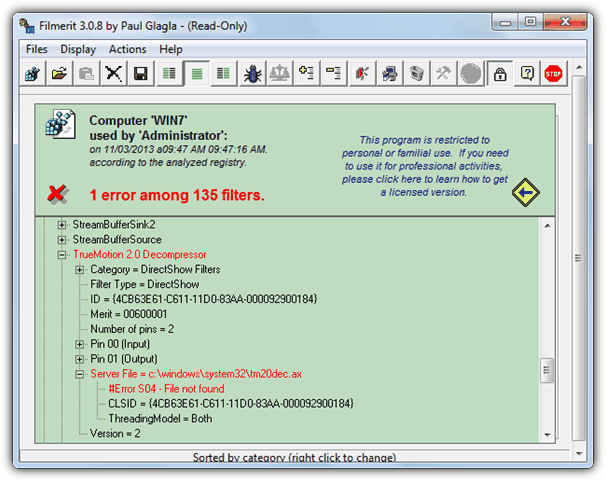 Filmerit is a tool designed for cleaning and managing the DirectShow filters and installed codecs on your system. As the program starts it will scan and notify you of any errors and you can show just them by clicking the spider button (Ctrl+E). A repair option is available or failing that you can just delete the broken entry from the registry. The program runs in Read Only mode until you click the padlock (Ctrl+L) to enable deleting or repairing the filters. Do be aware that the author states Filmerit was never tested on any o/s above Windows Vista, so Win 7 or 8 could work but it may be a bit of a risk.
---
2. Microsoft Fix it Codec Tool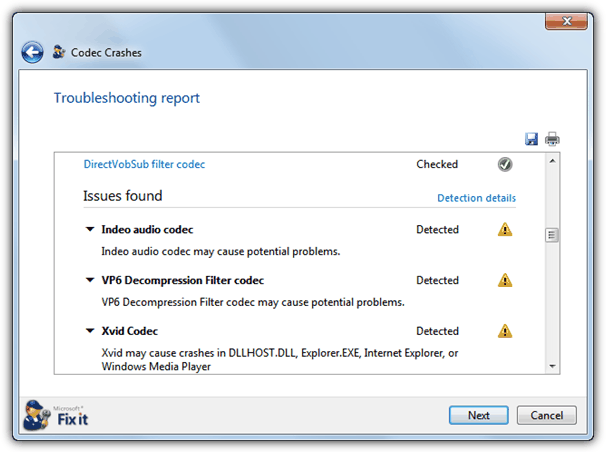 Microsoft themselves also have a small codec diagnosis utility which comes as part of the FixIt troubleshooting set of tools. It's simply titled "Playing video files crashes or freezes Internet Explorer" and helps to diagnose problems of crashing or freezing while playing video in Internet Explorer or any other media player. Just click Run Now on the webpage to download the tool and then run it to scan for problems. If it finds any potential problem codecs, the FixIt will recommend they be disabled. Do note that the marked codecs might not actually be broken and could just be what the tool thinks is a cause of crashing or freezing during your video playback.
Download Microsoft Fix it Codec Tool
---
3. Codec Tweak Tool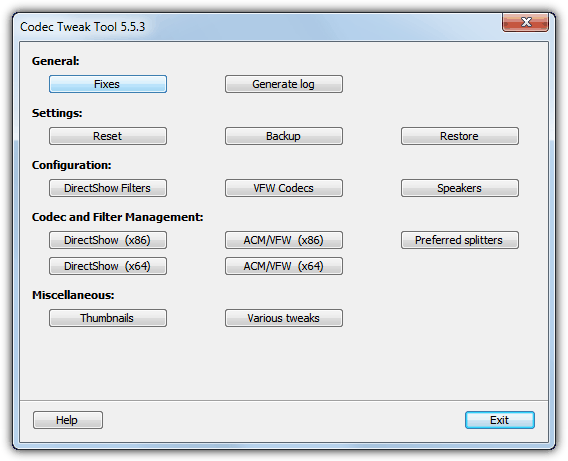 The Codec Tweak Tool is actually already included in the K-Lite Codec Pack and it can help you detect and remove broken codecs and filters in addition to applying a number of tweaks and settings to the installed components. In the General Fixes window the tool can detect and remove broken VFW/ACM codecs and DirectShow filters, or re-register the default DirectShow filters. In the Management section 32-bit and 64-bit codecs and filters can be individually enabled or disabled. It's recommended to make use of the backup function in the event something doesn't quite work as intended. The Codec Tweak Tool is constantly updated meaning it could be the most effective with the latest codecs on Window 7 and 8 including 64-bit.
---
4. InstalledCodec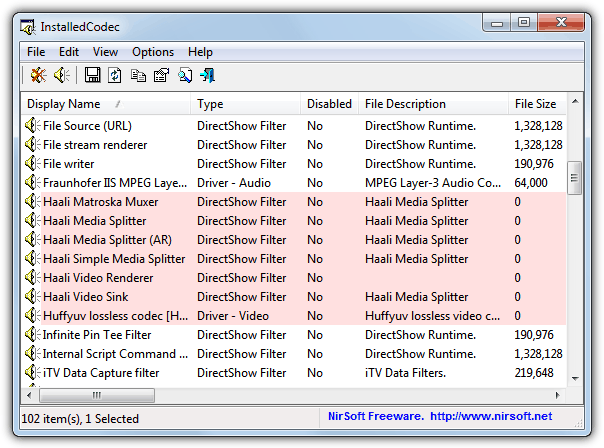 InstalledCodec is a small and portable tool from NirSoft that displays a whole host of useful information about the installed codecs and Directshow filters on the system. A function which is increasingly important these days is the ability to display 64-bit codecs, and you can do that here by going to the Options menu and selecting x64 Mode. Problem codecs/filters will show in pink and you can troubleshoot any playback problems by simply selecting and then disabling any colored entries and retesting the video. It can't deleted the entries but disabling them could be enough to solve the problems. Like most other Nirsoft tools, there is an option to export the list to a file and support for command line options.
---
5. Radlight Filter Manager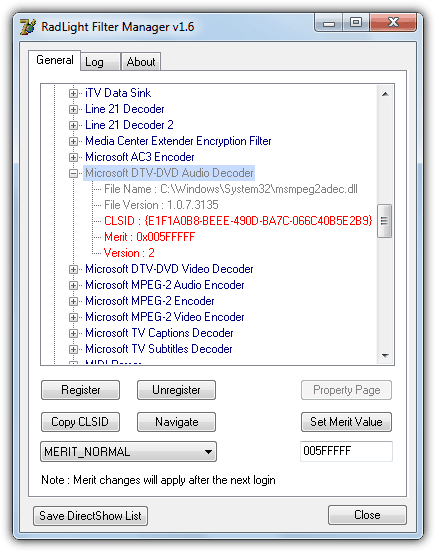 Filter Manager is quite a simple tool to understand and use and it will display a list of all the Directshow filters and codecs installed on the computer. It won't tell you automatically which codecs have a problem although those with a an issue will be grey in color, so you need to open the trees and manually find any. You can unregister the DLL for a currently installed codec or delete the entry if the file is missing, register a missing codec file if you have it to hand, or set the merit value which is essentially its priority over other codecs to play a video file.