Steam Needs to be Online to Update: How to Fix
Steam by Valve Corporation is a very successful software to distribute games that are purchased online. This system makes it so much easier because there is no need to wait for the arrival of the installation disc after purchase and the need to care for the CD/DVD which can be easily scratched and damaged. Whenever you need to reinstall the game, simply install the Steam software, log in to your Steam account and the game is available to download.
This would not be a problem since most home Internet connections are broadband with fast download speeds, and it is also possible to backup the game files for offline installation. The only possible problem that a user can face is when Steam itself cannot be updated or fully installed. In a situation of a new Steam installation, the user will be required to download SteamSetup.exe at only 1.4MB in size and install it on their computer. Running Steam the first time will require downloading the necessary files at around 113MB in size.
If you are experiencing problems in updating Steam, a fatal error window will appear with the message "Steam needs to be online to update. Please confirm your network connection and try again".

It is important that Steam is able to update and run without problems or else you won't be able to download or play the games that you've purchased. If you are experiencing problems in updating the Steam software, here we have some workarounds to fix the problem.
Steam used to have a huge amount of servers (some from Limelight CDN) located around the world and older versions of the software used an inefficient method to connect users to the servers. The solution to the problem was to edit the ClientRegistry.blob file located in the Steam folder using a program called
ClientRegistry Toolkit
and changing the CellId value to force the program to connect to a server at a different region.
Our latest research shows that Steam has made a big improvement on the game delivery system by using 3 different high performing CDN companies, Akamai, Highwinds and Level 3 all at the same time.
http://media.steampowered.com = Akamai
http://media2.steampowered.com = Highwinds
http://media3.steampowered.com = Level 3
http://media4.steampowered.com = Akamai
Running Steam will download a small steam_client_win32 file from http://client-download.steampowered.com/client/ containing a list of files with SHA-1 checksum and size in bytes to check if Steam is up to date.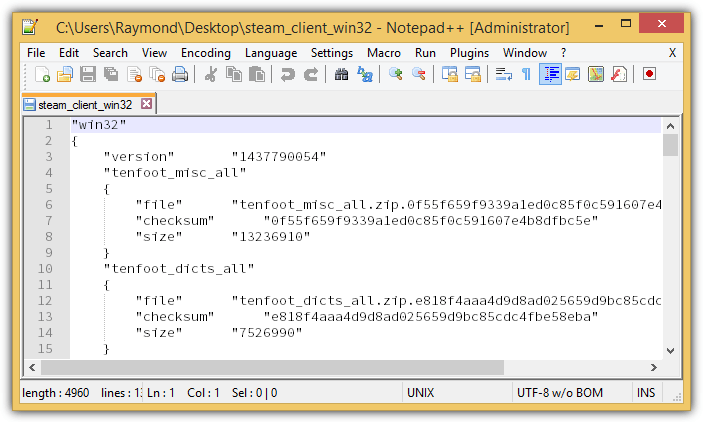 If Steam is outdated, it will need to download the updated files by randomly redirecting to one of their CDN hostname and the CDN's nearest point of presence will be used to serve the files. If for some reason Steam fails to download the updates, simply rerun it again and it will try attempt to connect to another CDN.
Since Steam randomly connects to a host, it is possible that it doesn't cycle through all four CDN hosts. Unfortunately there is no way to force connect to a particular CDN because there is no command line option to do that and Windows HOSTS file can only support mapping an IP to a hostname, but not mapping a hostname to another hostname. However, all hope is not lost because there is still 2 possible solutions.
Although you cannot choose which CDN to connect to, you can map all 4 hostnames to the IP address of the origin server. The origin server is where the CDN will pull the files from and serve to users. This would mean that the origin server is less busy since it is not used to serve files to millions of users but only serve once to the each CDN. The origin server has a hostname of cdn-01-origin.steampowered.com or cdn-01.steampowered.com, and pinging the hostname will resolve to an IP address 208.64.200.30.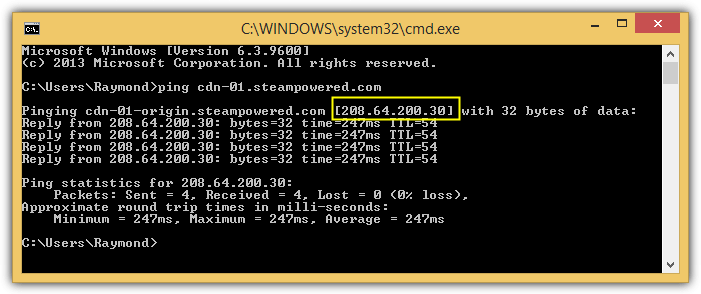 1. Now you will need to launch Notepad as administrator. Press the Start button, type Notepad, right click on it and select "Run as Administrator" followed by clicking the Yes button in the User Account Control window.
2. Click File from the menu bar and select Open.
3. Browse to C:\Windows\System32\Drivers\etc and click the "Text Documents (*.txt)" drop down menu located at the bottom right, and select "All Files (*.txt)".
4. Double click on the hosts file to open it in Notepad.
5. Add the following 4 lines at the end of the hosts file from Notepad.
208.64.200.30 media1.steampowered.com
208.64.200.30 media2.steampowered.com
208.64.200.30 media3.steampowered.com
208.64.200.30 media4.steampowered.com
6. Click on File in the menu bar and select Save. If a "Save As" window appears, that means you did not successfully run Notepad as administrator. Make sure the first step is done correctly.
By following the steps above, you will force Steam to permanently connect to the origin server at the IP address 208.64.200.30 regardless of which of the hostnames are being used. As you can see from the screenshot below, media3.steampowered.com is mapped to the IP of the origin server instead of Level 3 CDN.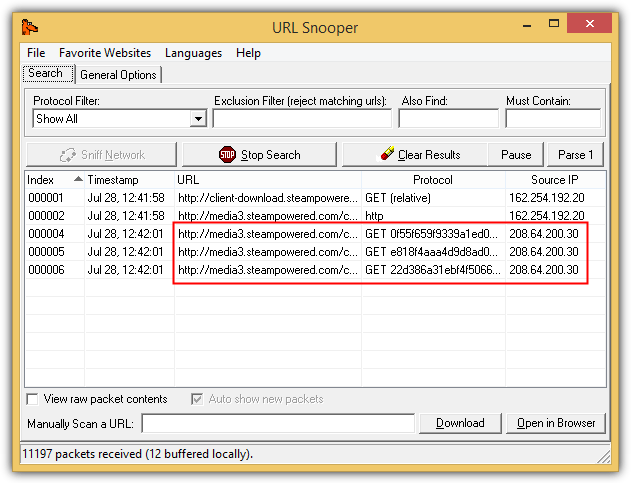 Do take note that the IP address of the origin server may change, so it is best to double check the accuracy by pinging the origin hostname.
---
If all else fails, you can perform a full offline Steam installation by manually downloading all the files that are listed in the steam_client_win32 and save it to the C:\Program Files\Steam\package folder.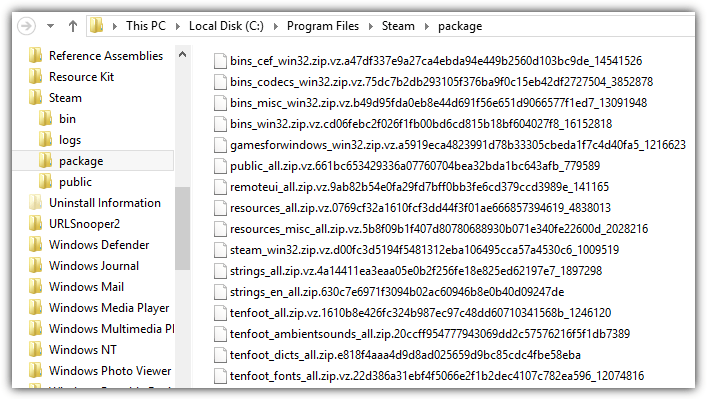 An example of the full hyperlink format to download the files are as follows:
http://CDN hostname + /client/ + filename
A real live hyperlink would be:
http://media.steampowered.com/client/tenfoot_misc_all.zip.0f55f659f9339a1ed0c85f0c591607e4b8dfbc5e
Another important note is if a "zipvz" value exists for a file in steam_client_win32, then you should append the zipvz filename at the end of the download URL instead of the filename. If you're unsure, having both zip and zipvz in the package folder will also work. Once all the required files are found in the package folder, running Steam will instantly extract and install without the need to download anything else.