Chrome.exe Application Error: How to Fix & Main Causes
Google Chrome is a web browser developed by Google. It is fast and supposed to be stable. Sulav came to live support yesterday reporting that Google Chrome stopped working. All he got was a popup saying "The application failed to initialize properly (0xc0000142). Click on OK to terminate the application." You might also get another error code which is (0xc0000005). Reinstalling the latest Google Chrome did not solve the problem.

Did a little research and found that there is a known problem caused by Symantec product but Sulav is using Avast Antivirus. Fortunately I've managed to find workarounds to stop Google Chrome from crashing whenever its being ran.
There are two workarounds to this Google Chrome crashing problem. You can either use the –no-sandbox or –in-process-plugins switch when launching Google Chrome. Both should fix the crashing problem but there is a huge difference between this 2 switches as each has its own pros and cons, so you should decide yourself which option is more important for you.
By default Google Chrome enables Sandbox security. It is designed to prevent malware from getting installed on the system. Using the –no-sandbox option leaves your computer more vulnerable to flaws or security exploits on those pages. This switch is more suitable for those tech savvy people who don't need to rely on antivirus program to keep their computer from being infected by computer viruses.
As for the –in-process-plugins, by default, Chrome runs plug-ins in separate processes from the browser itself. An advantage of doing this is if a plug-in crashes, it won't cause the entire browser to crash. So the –in-process-plugins switch tells Chrome to run plug-ins in the same process as the browser. This switch is more suitable for users who is not able to determine if the website they visiting is dangerous or not.
Now you understand which switch to use, here is how to run Google Chrome with these switches.
1. Make sure you close all running programs.
2. Right click on the Google Chrome icon at your desktop or Start Menu and select Properties.
3. Go to the Shortcut tab if you're not already there, add the switch at the end of the target. By default the last character is double quote, so you'll need to add a space then followed by –no-sandbox OR –in-process-plugins. Do take note that there is two dashes.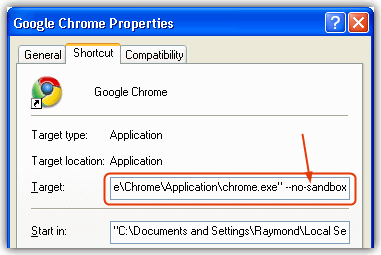 4. Now run Google Chrome as normal. You won't see the 0xc0000142 or 0xc0000005 crash popup anymore.
What really caused the 0xc0000142 crash on Google Chrome? I really have no idea because I couldn't find anything on it and I am a full time Firefox user.