Right Click Takes too Long on Windows: How to Fix & Causes
I've recently reformatted my laptop's hard drive and reinstalled Windows because it was getting a bit slow and also unstable. Well I normally install and test software on my desktop computer but sometimes I am too lazy to boot it up so I ended up installing it on my laptop. This time I am very careful on what I install because I do not want to slow it down and then had to reinstall windows and set it up all over again. It's not difficult, just time consuming…
Weirdly after using the laptop for a few weeks, a problem started to appear that is the computer sort of hangs for a while about 10 seconds whenever I right click on a file or folder. I checked Windows Task Manager and there isn't any process that shows any high CPU usage during that 10 seconds. I didn't think it was virus because I could not find any suspicious autostart entries.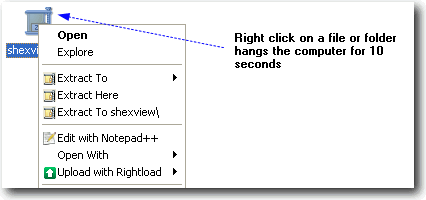 Then I figured perhaps it was some shell extensions that is causing the problem. For example, if you install WinZip on your computer, you'll see a special WinZip menu when you right-click on a Zip file. This menu is created by adding a shell extension to the system.
The only extra context menu I see when I right click on a file or folder is PowerArchiver, RightLoad, NotePad++ and SmartFTP. So I disabled the context menu from the software itself (most software has the options to disable right click context menu) for all 3 software. Now the right click is totally clean without any extra context menu but it is still slow.
Then I remembered NirSoft has a Shell Extension Manager for Windows called ShellExView, which perhaps I can use that to view any hidden context menu. I downloaded it, ran it and ShellExView instantly showed me more than 200 items on the list. It was easy to check because there is a column called "Type" in ShellExView which will group all the Context Menu together. Then there is another column called "Microsoft" which makes it even easier for you to determine which context-menu doesn't belong to Microsoft. Moreover by default the Non Microsoft context menu are marked for easier identification.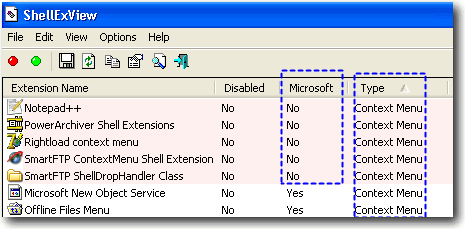 What I did was right click on the ShellExView and select "Disable Selected Items" to disable one of the Non Microsoft shell menu extension and then try to right click on a folder/file. I repeated the steps above until I found that the culprit was "PowerArchiver Shell Extensions". It is weird that even after I've disabled PowerArchiver's "Use Explorer Shell Extensions" from the program's configuration, the PASHLEXT.DLL file which is responsible for the context menu is actually still loaded, enabled and causing the right click to be very slow! ShellExView is definitely a keeper. Moreover it's portable, small and it's free.