No Auto Play Dialog Box Pop Up: How to Fix it
Whenever you plug a removable device such as a USB flash drive or hard drive into your computer, the default action in Windows will pop up a dialog box asking what you want to do with the newly inserted device. This is known as Autoplay and will give you options such as playing a music CD, watching a DVD, burning a blank disc or simply opening the drive in Windows Explorer to name a few things. There are many more options available and 3rd party applications can also add to this to give even more options.
By default Windows will allow the Autoplay feature to pop up on all drive types apart from those recognized as network drives or any which it can't correctly identify. This includes any removable drives (USB flash etc), fixed drives, RAM disks and CD-ROM (CD/DVD/DVD-RAM/BD-R) drives that are inserted. Sometimes though, this function might not show when you want it to because of a problem with Windows or a piece of 3rd party software has changed the settings without your knowledge.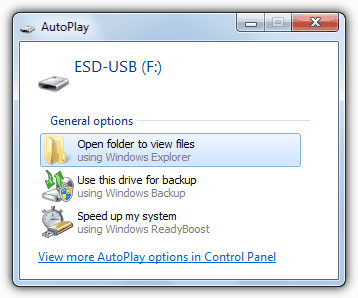 If you want to get this back when you plug in a device such as a USB stick, it can range from a simple fix to something a bit more difficult such as some wrong registry settings.
Here's a selection of ways to try and help you bring back Autoplay for your removable drives.
Reset the Standard Autoplay Settings
For XP: This is done on each drive letter itself and the Autoplay prompt may have been simply turned off for that drive.
1. Make sure the non Autoplaying device is plugged in, go to My Computer and right click on the drive letter that it uses -> Properties -> AutoPlay tab.
2. Select "Prompt me each time to choose an action" and click OK, or alternatively click the Restore Defaults button if available.
For Vista/7: The Autoplay options can be easily reset via the Control Panel.
1. Got Control Panel -> Hardware and Sound -> AutoPlay or just Autoplay if you're in classic view.
2. Make sure the "Use Autoplay for media and devices" option is ticked and also press the "Reset all defaults" button at the bottom, and click Save. You can set individual Autoplay options in here later on.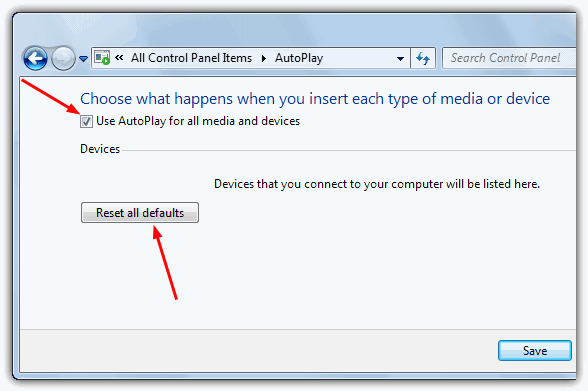 Then (re)insert in your device to see if it gets recognized by Autoplay.
Repairing Registry Settings
One of the ways the Autoplay function can get disabled is through an incorrect setting in the Windows registry. There is a a specific registry value called NoDriveTypeAutoRun that can be set to a number of different numeric values which controls how Windows handles Autorun and Autoplay on various devices. This can affect CD-ROM's, removable USB devices, network drives and RAM disks. Several pieces of software such as security applications and tweaking / virtual drive / burning / iso tools can also set this value to stop Autoplay from appearing.
To set it back to the default value follow the instructions below. This procedure is the same in XP, Vista and Window 7.
1. Press Win key+R, type regedit and press Enter.
2. Navigate to the following registry key.
HKCU\Software\Microsoft\Windows\CurrentVersion\Policies\Explorer
3. Check the value name NoDriveTypeAutoRun and make sure the data is set to 0x00000091 (145). If it isn't, double click the entry and enter a Value data of 91.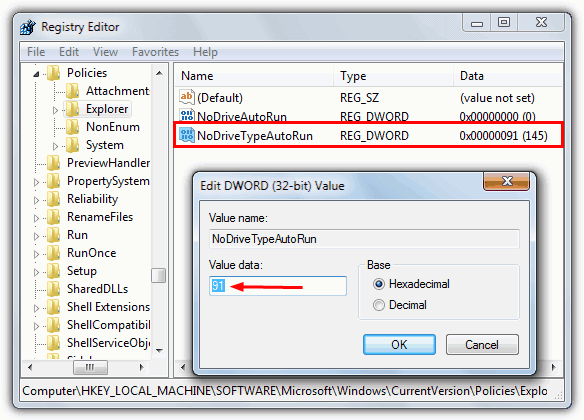 4. Navigate to the following registry key and repeat step 3 in checking and possibly editing the value of NoDriveTypeAutoRun.
HKLM\Software\Microsoft\Windows\CurrentVersion\Policies\Explorer
If you don't have one or either of these registry entries don't worry, they usually aren't created in Vista and 7 unless the value has already been changed by something and it's not necessary to add them in. The value of 0x00000091 (145) is the default for XP, Vista and 7 and disables Autoplay only on network drives and unknown drives leaving it enabled for CD-ROM's, removable drives, RAM disks and fixed drives. If this has been changed to any other value such as 0x000000B5 (181) or 0x000000F5 (245) etc, then it could be the cause of the Autoplay problem.
The above default registry values have been made into downloadable reg files so you can easily set them back to default without going into the registry yourself. Simply double click and import into the registry. The Local Machine setting will affect all users and overrides any Current User setting that is present. If you're the only user or want to affect all users simply change the Local Machine value only.
Set Default NoDriveTypeAutoRun for Current User
Set Default NoDriveTypeAutoRun for Local Machine
There is another value in the same location as steps 2 and 4 above called NoDriveAutoRun that can possibly affect Autoplay. Where NoDriveTypeAutoRun affects a whole class of drives such as removable devices, this other value will affect only drive letters directly such as D: or J: etc. If you find this value present and it ISN'T set to 0, double click and set it to 0 or delete it. Alternatively download and run the below registry files which will reset the value for User and Local Machine.
Disable NoDriveAutoRun for Current User
Disable NoDriveAutoRun for Local Machine

Reboot the computer after applying any registry settings.
There several more Autoplay not appearing fixes available on page 2.