7 Free File Hosting Sites With Direct Download Link Upload
If you want to upload a file so that it can be distributed to others, there are hundreds of different services to perform that task. File hosting comes in different categories, and a popular type is cloud hosting, where you can use services like Google Drive, Microsoft OneDrive, DropBox, and iCloud. These are more geared towards personal storage and sharing files with friends, family, and work colleagues.
Other file hosting options include services more suited to posting the links anywhere so that anyone can download the file. Sites like Rapidgator, MEGA, and ZippyShare (now defunct) are better for this purpose. However, unless you pay a subscription fee, many of them have hosting limitations that place restrictions on what and how others can download the file you've uploaded.
Just a few of the annoyances are; a dedicated page to download the file with advertisements (sometimes containing fake download buttons), the requirement to solve a Captcha, waiting several seconds or minutes before the download can start, and often the file download speed is restricted.
To get around most of these problems, we list the top free file hosting services where files can be downloaded via direct links. This removes the need for users to visit download pages first and the nuisances associated with them.
Best File Hosting Sites With Direct Download Link Upload
1. Box.com – best file hosting site with direct download links overall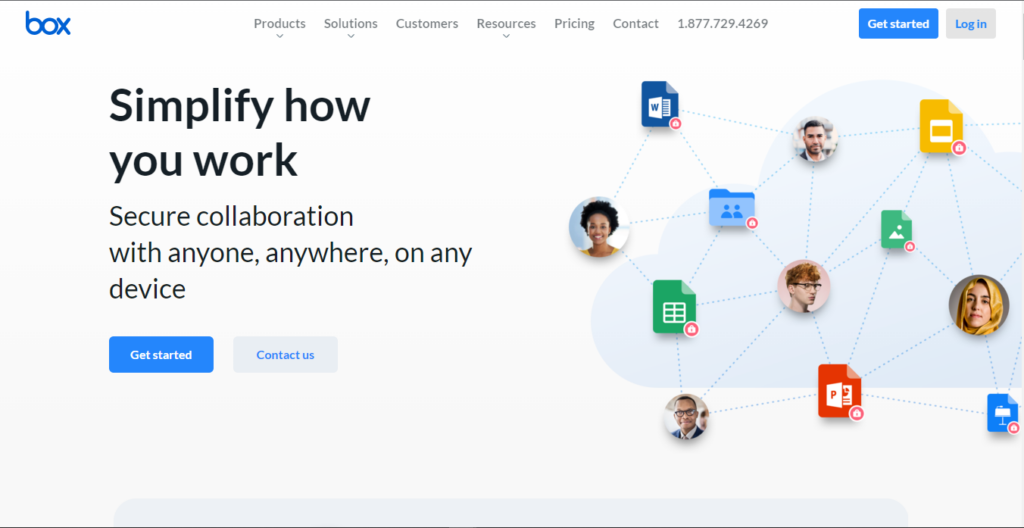 Operating System: Windows, Mac, Android, iOS.
Pricing: Freemium
Developer: Box, Inc.
Box.com is a popular collaboration platform that offers powerful file-hosting features for securely storing and sharing files on the cloud.
This is primarily a productivity tool that offers robust collaboration capabilities. Files you upload to the site are available to everyone you share them with, allowing multiple users to work on the same document at the same time.
Unlike Google Drive and Microsoft OneDrive, Box prioritizes data security and protection. It employs advanced encryption techniques to safeguard files, ensuring that sensitive information remains confidential. Additionally, it offers granular access controls, allowing users to determine who can view, edit, and download their files, thereby maintaining strict privacy and control over shared content.
Moreover, Box.com provides robust mobile applications, allowing users to access their files on the go. With mobile apps, you can effortlessly edit, view, and share files from your smartphones and tablets.
2. MegaUpload– best for online storage and file delivery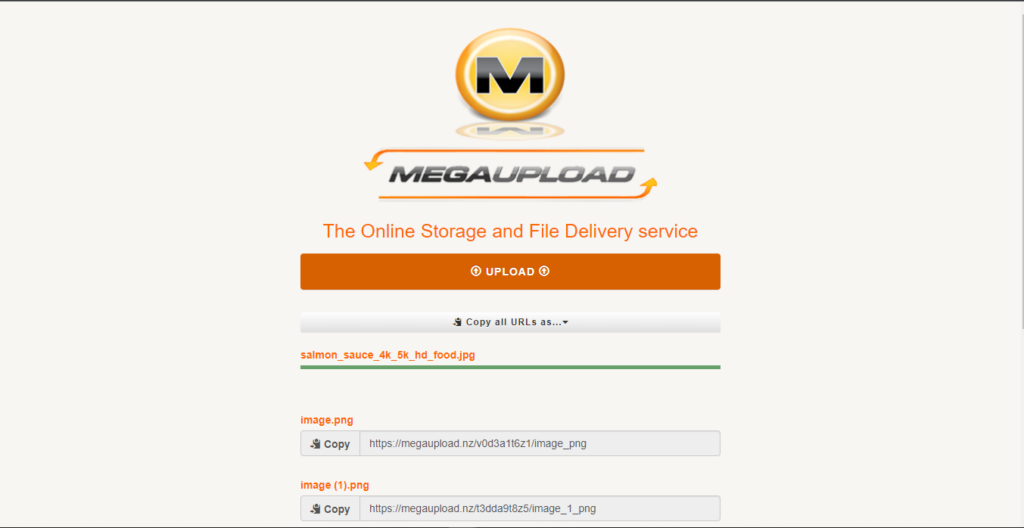 Operating System: Windows, Mac, Android, iOS.
Pricing: Free
Developer: MegaUpload
Anonfile is a simple service offering a generous 20GB maximum upload per file. The maximum that can be uploaded daily is 5,000 files or 100GB in total. Those restrictions should be more than enough for most users.
To upload a file, just click the Upload button and select a file (select multiple files with Shift or Ctrl + click). The file will upload and show the download link once finished. Click the Copy button to copy the link, then paste it into your browser to visit the download page. Right-click the Download button and copy the link to get the real URL to download the file directly.
Files can potentially be left on the server and available for download permanently but will be deleted if certain conditions are met. Uploads that violate the terms of service can obviously be removed, along with files that are over three months old and have never been downloaded or are over six years old but have not been downloaded for over five years.
There is an option to create an account that keeps a record of what files you have uploaded. Another advantage of an account is download links and files can be removed; just press the X button next to the link. Only a username and password are required to create the account, so don't forget those credentials. Emails are not used at all, meaning there is no password recovery option.
3. FileSend – best for transferring large files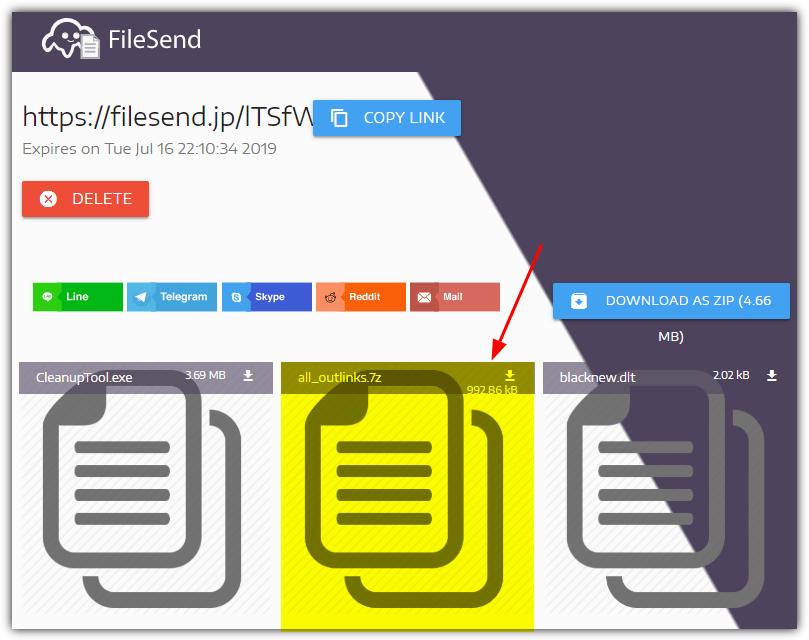 Operating System: Windows, Mac, Android, iOS.
Pricing: Free
Developer: Tristan Technologies
The Filesend service is very easy to use and doesn't have any extra functions to speak of. Simply upload a file and get the link. Files will be uploaded with a time limit that will expire the link and automatically delete the file. Those time limits are 7 days, 14 days, 21 days, and 30 days. Note that AtOnline Drive listed on the right, is a different cloud storage service that requires registration.
The website accepts drag and drops onto the page, clicking a button, and selecting through a file requester. You can drop or select multiple files with Ctrl or Shift + click. When the file has been uploaded, do not click on Copy Link. Instead, right-click on the generic icon where the file name and size are, then copy the link. You can also copy the Download button link for a single file but not multiple files.
There is no mention of a maximum file size limit or any other possible limits like bandwidth. It's great if there are no restrictions like that or very high limits, but it would be nice to know. A 55GB file was accepted and began uploading. But we don't know if it would have been completed successfully (our connection isn't fast enough to upload it completely).
4. FileTransfer – best for secure file sharing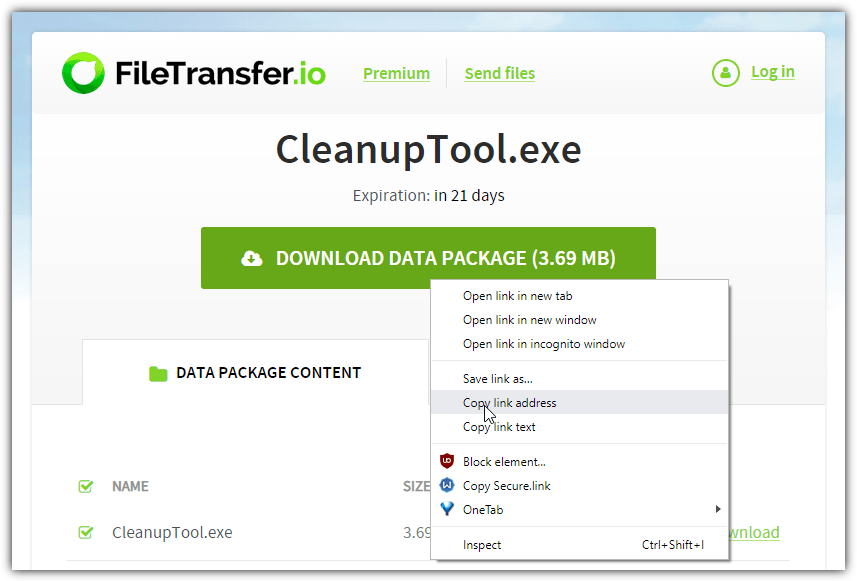 Operating System: Windows, Mac, Android, iOS.
Pricing: Free
Developer: Palo Alto HiTec Solutions
A good thing about FileTransfer is it's transparent about what the free upload service offers because the limitations are displayed on its homepage. You can upload files of up to 6GB in size; they will be available to download for 21 days and can be downloaded a total of 50 times. A paid premium account lifts some limitations but free and unregistered should be enough for most users.
To get direct download links with FileTransfer, click Send Files and drag and drop a file onto the browser window or select manually via a file requester. Do note that if you select multiple files for upload at once, they will be zipped into a single package when it comes to a direct download. If you want one download link for one file, upload the files individually. Click "Files chosen, continue" to upload the file.
When the upload process is complete, click the Copy Link tab and then the Copy Link button. With the link in the clipboard, you can get the direct link one of two ways. Append "?do=download" to the URL or paste the copied link into the browser, right-click the "Download Data Package" button and copy the link address. It ends up being the same URL either way.
In addition to a paid account, a free account can also be created. There isn't much extra you get, but if you want a history of uploads and downloads or the option to add comments to files (not relevant for direct links), then it may be worth signing up for.
5. File.io – best for temporary file hosting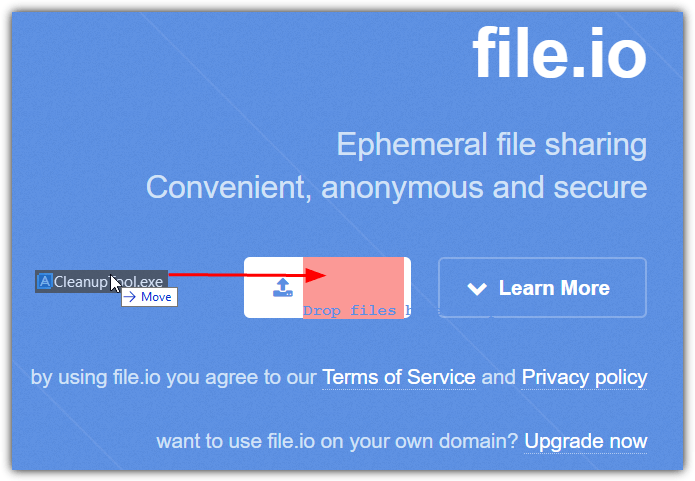 Operating System: Windows, Mac, Android, iOS.
Pricing: Freemium
Developer: Mr Cowboy LLC
In terms of simplicity and ease of use, File.io has no frills and will simply provide you with a direct download link once the file has been uploaded. The maximum file size is 5GB per upload, and you are allowed up to 100 uploads per day. There are paid plans, but the prices are steep and designed more for professional users and websites.
You can drag one or more files onto a small red drop target on the main page or add them manually via the Upload button. Each file will upload with its unique direct link, so it's probably best to only upload a few files at any one time. Simply press the Copy Link button to put the direct link for the file into the Clipboard.
Each file can only be downloaded once, and then it is deleted, so we recommend not testing the download yourself. There is a manual option to set a time limit so the file gets deleted even if it doesn't get downloaded. Information on how to do it is at the bottom of the main page, but the process will be tricky for many users. Downloading the file yourself when you want to exhaust the limit will have the same end result and is much easier.
6. Anonym File – best for easy and anonymous file sharing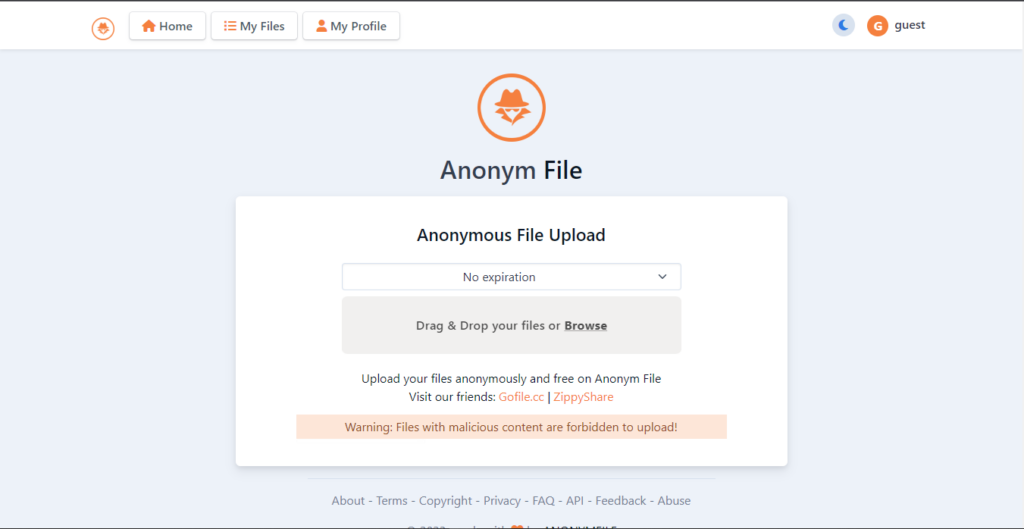 Operating System: Windows, Mac, Android, iOS.
Pricing: Free
Developer: ANONYMFILE
AnonymFiles lists on its homepage a number of things that it does or does not do to better look after your privacy. It promises not to store or log any data, not to monitor or share your files, and that its servers are based outside of the EU or US. The service currently has a 5GB maximum file upload size.
To upload to AnonymFiles, drop a file into the box on the web page or click in the box to choose a file manually. Once the file has been uploaded, don't click Copy URL. Instead, click on the URL itself to open the download window in another browser tab. Right-click the Click to Download button and copy the link to get the direct download link.
If you open the Options window from the main page, a box is available where you can enter an expiry date. This can be from 1 hour up to 6 months in the form of 1-24h, 1-7d, 1-4w, and 1-6m. The numbers can't be mixed and matched, so 1w3d, for example (10 days), wouldn't work.
7. MediaFire – best for cloud storage and media sharing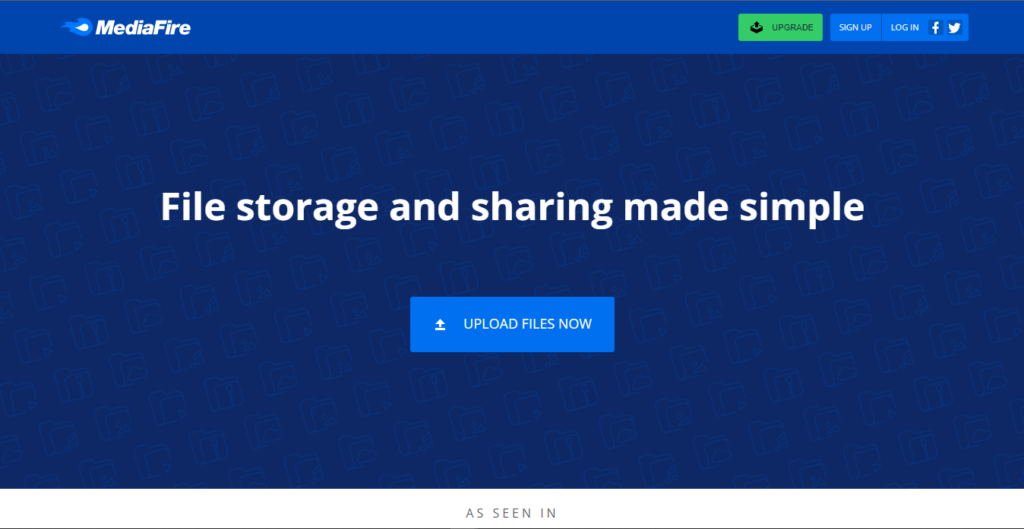 Operating System: Windows, Mac, Android, iOS.
Pricing: Free
Developer: MediaFire
MediaFire is a popular cloud-based file hosting and sharing service that allows users to upload, share, and store files on demand.
The platform offers both free and paid plans. On the free plan, you can upload and share up to 50GB of free space with unlimited bandwidth and downloads, making it an enticing option for most users. You can easily share the files through email, on your website, social media, messenger, or anywhere with a link.
Paid plans offer even more storage limits and additional features like password protection, direct download links, and ad-free storage options. The tool also offers file management features, like renaming and deleting files, folder organization, etc., to manage your uploaded files.
MediaFire also has dedicated applications for most platforms, including Windows, macOS, Android, iOS, Blackberry, and iPad.
Final Thought
Although you can use any cloud storage service as a file hosting platform, there are several caveats in the process. For starters, hosting files on your own account storage is a privacy concern. Anyone with the link can easily bypass the security guidelines. Moreover, since these storage services are not intended for file hosting, your account can be outright banned if you are deemed to be abusing the service. 
We'd recommend you avoid posting those links on public forums, blogs, and social media and use them for personal sharing only. If you need to share your files publicly, use the free file hosting sites with direct download links mentioned above instead.