Enable WPA2 Encryption for Streamyx Free WiFi Riger DB108-WL Modem
I recently upgraded my broadband connection from 1Mbps to 4Mbps because my new house is within 5KM range from TM exchange. I would say that the Blockbuster Deal 4Mbps package is really worth it because I get to call nationwide for free and also I am able to download 4 times faster than before. The package also comes with a free cordless deck phone and a free WiFi modem. Even though I already have a Belkin router that can support more than 4Mbps but I just took the WiFi modem since it is free and I can use it as a backup in case my Belkin router goes faulty.
The free WiFi modem given by Streamyx is RIGER DB108-WL and honestly, the router looks cheap with very low quality casing. I connected the router to my laptop for first time configuration. The only manual I found is a piece of paper from Riger Corporation Sdn Bhd for Smart Configure. The instruction asks to open http://192.168.1.1 in Internet Explorer browser and type in both the username and password as tmuser. The WiFi modem configuration page is very simple and requires only a few basic information to get connected. From there, it seems that this RIGER DB108-WL wifi modem only supports WEP encryption which can be cracked by anyone who knows how to run a few commands in BackTrack.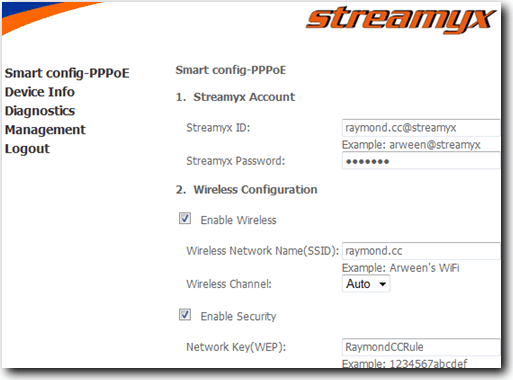 Fortunately I found that it is possible to set the wireless encryption to WPA2 which offers better wireless security than WEP.
First, fill up everything that is on the Smart config-PPPoE page and click on the Save/Reboot button. Then click the Logout link from the left pane and then login again with the username & password
tmadmin
. You will notice that the configuration page now shows more options. I got to know about the tmadmin login through the full
RIGER manual
that is uploaded to Scribd.
Now click on Wireless > Security. At the Network Authentication drop down box, select from Open to WPA2-PSK. Enter a password at the WPA Pre-Shared Key box. The best password to use is to make sure you set one that is not even a word consisting of both letters and numbers with at least 8 characters. Dictionary attack on WPA2 would definitely fail to crack. Leave the WPA Group Rekey Interval (0) and WPA Encryption (AES) as default. Finally click the Save/Apply button. You now have a much safer wireless network. Do note that if you go back to the Smart config-PPPoE page after enabling WPA2, you will see that Enable Security checkbox is unchecked. You can simply ignore that.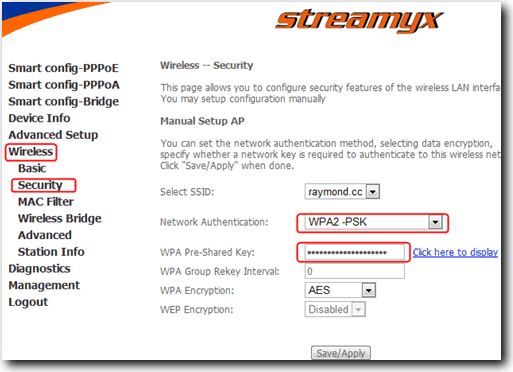 Another tip is to enable UPnP so that software such as uTorrent is able to automatically forward ports. You can enable UPnP for RIGER DB108-WL wifi modem at Advanced Setup > LAN and check the Enable UPnP checkbox.
By default the DNS that is set to the RIGER DB108-WL modem is TM Net's DNS 202.188.0.133 and 202.188.1.5. If you normally visit websites that are blocked by Streamyx, you can easily bypass that by changing the it to Google DNS 8.8.8.8 and 8.8.4.4. The Smart-Config PPPoE page is very useful and easy but then they should at least encourage the usage of WPA2 instead of WEP. It is just WRONG to still use WEP today.