Easily Switch Between 5 Different IP Changing Proxy Surfing Software
There are quite a number of ways to change your IP address probably to protect your privacy by preventing scripts from tracking your surfing behavior, accessing blocked websites such as video streaming sites or even online promotions that are only available for visitors from certain countries. It is also well known that these proxy software can bypass blocked sites in universities and corporate networks. Although you can find a lot of websites publishing new and fresh proxy lists daily, most of the time, half or more proxies from the list are no longer working plus you need to manually scan using a proxy scanning tool to identify the good and bad ones. This is very time consuming and requires an advanced knowledge of computers.
An easier method is to use VPN which will work out of the box after installing the software (OpenVPN) or using the Windows supported PPTP protocol. VPN is considerably more stable than the public open proxy but most of them are paid services where some providers offer free VPN trial accounts with limitations. Back to proxy, there are a few organizations that maintain a pool of working proxy servers for free and all you need to do is download their portable program, run it and configure your web browser to connect to the program. The portability makes it convenient to save it to a USB flash drive so you can use it on the go.
1.
UltraSurf
UltraSurf started more than 10 years ago, originally to help users from China to bypass the heavily censored Internet usage for free. They are one of the few that is still standing today while some of the alternatives such as GPass and GTunnel has been abandoned. There are 3 servers available to select and UltraSurf will automatically select the server with the fastest speed.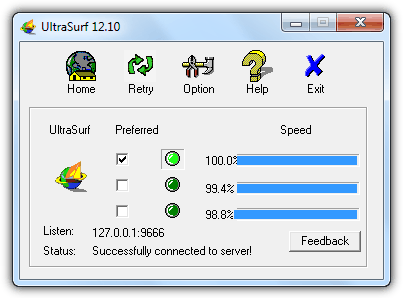 UltraSurf is portable, so all you need is download the program, extract it and run the executable file. By default your Internet Explorer will automatically launch with the required proxy settings automatically pre-configured. You can either instantly use it or configure your preferred web browser's proxy settings to use the port listed below.
UltraSurf default Port: 9666
---
2. Freegate
Freegate was also founded around the same time as UltraSurf and the features are also very similar. The program is a single portable executable file that can be run on a Windows computer without UAC elevation. There were 4 servers available with 2 encrypted tunnel modes (A and F) which you can try switching around if the website you're trying to access is still blocked by the filter.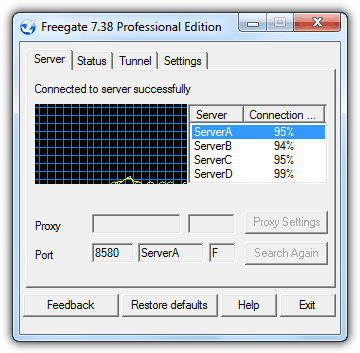 Freegate uses the proxy mode by default where the proxy information is automatically set in Internet Explorer and ran. If you prefer to manually configure your favorite web browser, select the Classic Mode from the Tunnel tab instead.
Freegate Default Port: 8580
---
3. Psiphon 3
Psiphon 3 is a small (863KB) and portable program that comes with 3 technologies to help you maximize the chances of bypassing censorship. It has multiple servers and automatically selects the most suitable server to use. The program is very simple with only a few options to select which is the proxy mode (SSH+/VPN/SSH) and prevent the proxy from being used for locally hosted websites.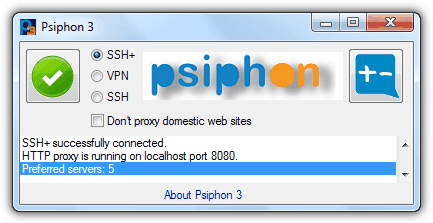 You may need to manually configure your web browser or other internet application to use the port if the program fails to automatically set it.
Psiphon 3 Default HTTP/HTTPS Port: 8080
Psiphon 3 Default SOCKS Port: 1080
---
4. JAP/JonDo
JonDo, formerly known as JAP is a free program to change your IP address with a few selections of servers from different countries. The free and limited version of JonDo has speed and server restrictions.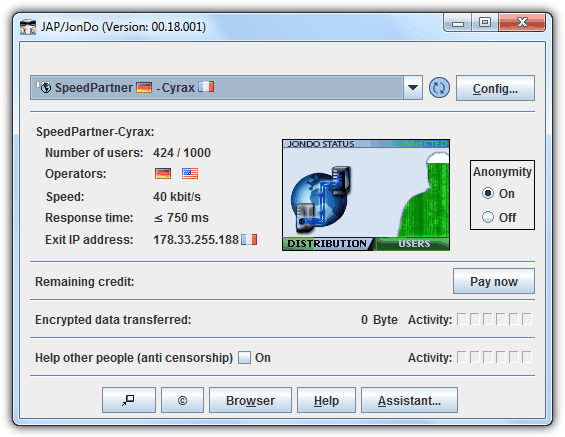 JonDo supports multiple platforms from Windows to Linux and even Android devices because it runs on Java. The good thing about the Windows version of JonDo is it comes with a portable Java so you can run it even if the system does not have Java installed.
JAP/JonDo Default Port: 4001
---
5. Tor Browser Bundle
When Tor was new, it wasn't that user friendly because a few applications required to be installed and configured. However Tor is now so much easier to use, thanks to the official Tor Browser where everything is packed into one. All you need to do is simply run the Tor Browser (which is actually the portable version of Firefox ESR) and you can start to browse the Internet anonymously.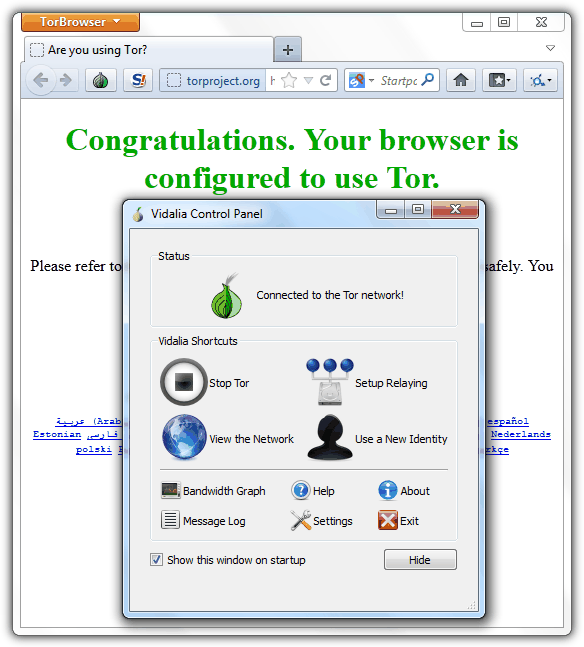 Tor Browser Bundle doesn't require any configuration at all which makes it very easy to use compared to the ones mentioned above. However, do take note that sometimes the connection can be quite slow because of the way Tor works which is by jumping around many different Tor clients.
---
Additional Tips: The first four proxy surfing software mentioned above requires changing of the proxy settings for your web browser which can be quite troublesome if you forgot to restore the settings or intend to randomly use the programs. One easy way to help you automatically set the proxy is by using an extension or plugin available for Firefox and Chrome that changes the proxy settings with 1 click.
GProxy Tool for Firefox
GProxy Tool is an extension for Firefox that adds a toolbar with a selection of proxy settings to choose from a drop down menu. Freegate and UltraSurf is already in the list while you can manually add Psiphon 3 and JonDo to the list from the "Manage Proxies" button.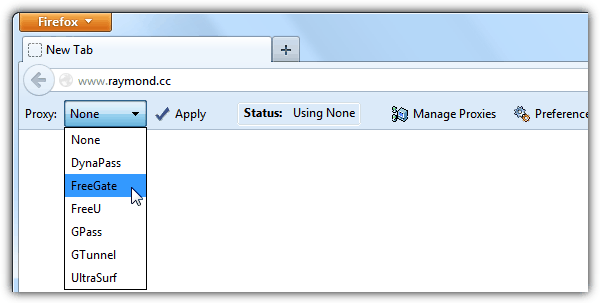 We prefer GProxy Tool over other extensions because it is very easy to use and configure. If you require advanced features such as being able to automatically choose the proxy based on the loading URL, then you're better off with a more advanced proxy management extension such as FoxyProxy.
Download GProxy Tool for Firefox
Proxy Switchy! for Chrome
Proxy Switchy! is one of the best auto proxy switching extension for Chrome. First you need to go to the Options to create proxy profiles with the address and port with an optional ignore list. It also comes with a switch rules that auto switches to proxy when a URL pattern is detected.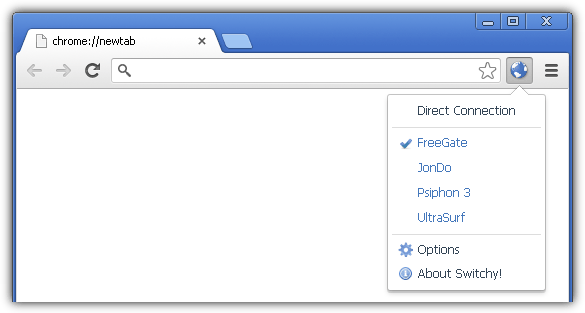 Once the proxy profiles has been created, you can easily switch to any proxy from the list by clicking on the globe icon.
Download Proxy Switchy! for Chrome
Additional Notes: The free proxy services are intended for browsing and accessing blocked websites, not for heavy downloading or bittorrent usage. Whether any of these tools can successfully bypass company or university restrictions to access blocked websites, that would highly depend on the configuration of the Internet filtering system. All of the mentioned programs are portable and don't require installation. To uninstall, simply delete the program's folder or executable file.