NZB Online Downloader for Free Usenet Files [Best Tool]
I have a few friends who are real hard core downloaders. Their computer is turned on 24 hours a day, 7 days a week, 365 days a year and they never stop downloading. Whether it is movies, TV episodes, music or software, they'll download it to their computer as long as it is downloadable. They actually have multiple bay hard drives which isn't cheap to store all of the downloaded data. Two of the common methods used by most downloaders today are either bittorrent or from file sharing sites (cyberlocker) such as Rapidshare. However, there is actually another method called Usenet which is a great source to download files.
You may have heard of Usenet, tried it and gave up due to the complexity of Usenet or probably most of the popular ones such as Giganews cost money for an account. Good news is recently I read from TorrentFreak that there is a website called UsenetStorm offering a very unique service where anyone can download from Usenet for free without a newsreader client. All you need to do is search for the files you want to download from Usenet search engine, download the NZB file and upload it to UsenetStorm. UsenetStorm servers will then grab the file for you and offer you to download once they've finished downloading the files to their servers.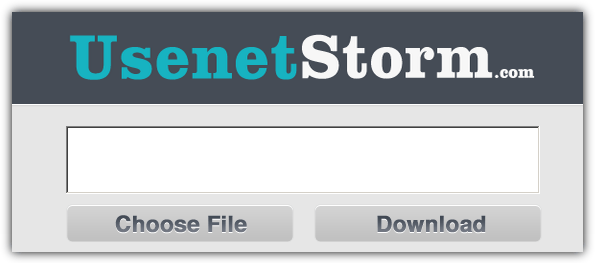 Although there are no limit for free users to use UsenetStorm, there are some restrictions such as the maximum NZB file size is limited to 500MB and download speeds up to 500KBps. During testing, I was able to achieve a maximum 300KBps per download thread. Free users are also limited to only 1 download thread which means you cannot use a download manager to increase the download speed by splitting it to multiple download threads.
Here are the simple steps to download files from Usenet using the web based UsenetStorm.
1. Search for files in Usenet search engines. Use any of the Usenet search engines listed below to look for the files you want to download.
2. Download the NZB file to your computer. The NZB is an XML-based file format that contains information and instructions for a newsreader client to download the files.
3. Go to UsenetStorm, click the Choose File button to browse the NZB file that you've just downloaded and click on the Download button.
4. Wait for UsenetStorm to finish processing your request and click on the Go to Download button when it is available.
5. Finally click the Download button to start downloading.
Do note that you have 24 hours to download the file because UsenetStorm only keeps the downloaded file for a day before automatically removing it from their servers. It is that easy and fast to download from Usenet without going through all the hassle of searching for a newsreader client that is free, installing, configuring and learning how to use it.
Check out the video demo on how to download from Usenet using the web based UsenetStorm.

If you managed to find a file that you urgently need to download that is only available in Usenet, I would say that UsenetStorm is the way to go that is if the file is not over 500MB in size. They do offer 3 different subscription packages for higher file size and download threads, faster download speed, and longer retention of the files requested by you.