5 Browser Extensions to Auto Fill Forms in Chrome and Firefox
There are a lot of things that we can do on the Internet and most of them these days involve filling in forms. It is common that when you want to register as a member of any website or forum, you are asked to provide some basic information about yourself such as first and last name, email address, gender, phone number and etc in the given registration form. Gladly, there are some handy extensions for auto fill forms to free yourself from the hassle of repetitive form fill up tasks.
Even for things like downloading freeware, you are sometimes required to fill in lengthy and quite personal details. Some online forms are not too annoying and only ask for a few items but others want to know almost everything about you. Whether you want to fill in a form with real or fake information, they are so common that it becomes a very tedious task. Filling in forms can be even more annoying than filling in CAPTCHAs.
Browsers like Chrome and Firefox do have some options to automatically fill in basic form data like name, address, email, phone number, and credit card, but they are a bit limiting. However, a browser extension can be far more advanced and save much more data for when forms require more than just standard information. Here we show top-rated browser extensions for filling in online forms with ease.
Best Autofill Extension for Chrome
1. Roboform – Best Auto FIll Forms Extension Overall

Operating System: Windows, Mac, iOS, Android, Linux, and Chrome OS
Pricing: Free
Developer: Siber Systems
Most people will know RoboForm as a password manager like LastPass or BitWarden. What makes RoboForm extra useful is its powerful form-filling feature which has fields for almost everything you can think of when filling in an online form. You can install the desktop application which offers a few extra features like auto-fill without asking and a browser context menu but installing just the extension works fine.
You will first need to create a Roboform account from the extension with an email and password. If you want to also use the password management features or have sensitive information in the form filling data, choose a strong password. Form data can be added to Roboform in a couple of ways; by manually filling in an Identity or saving a completed form for a specific website.
Completing the required fields in an Identity will allow you to automatically fill out a form for any website. Create a new Identity from the RoboForm Options menu, right-click on the identity, and select Edit. This opens a window with fields for dozens of form entries. There are tabs for Person, Business, Passport, Address, Credit Card, Bank Account, Car, and a Custom tab to add fields manually.
Once you have filled in all the required fields, visit a website with a form, click the RoboForm icon, and then on your Identity to fill it in. If there is a particular webpage where you want to save all the fields that you've entered, click on the RoboForm icon and click Save. The next time you visit the same page, the form will auto-fill and submit. An entry appears above the Identities which can be edited, deleted and etc.
RoboForm has desktop applications for Windows and Mac OSX as well as mobile apps for iOS, and Android. There used to be a limitation of only 10 stored logins in the free version of RoboForm but these days it's unlimited logins.
Pros:
One single click filling flexibility.
Enabled with AES-256 bit encryption with PBKDF2 SHA-256.
Provides access to all devices for one account.
Generates strong passwords.
24/7 customer support.
Cons:
The free version has limited advanced features.
2. Dashlane – Best for Securing Online Data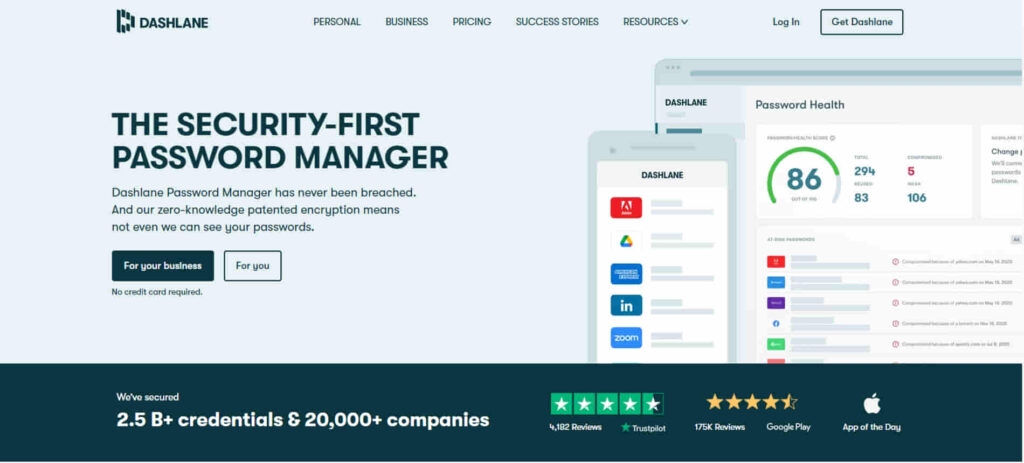 Operating System: Windows, Mac, iOS, and Android
Pricing: Paid, 30-day free trial
Developer: Dashlane, Inc.
Dashlane has very strong AES-256-bit encryption for online data protection. Whether you get it for password management or form fill-up portability, it will keep your data secured in every way. The developer has developed this extension with multi-factor authentication. The main goal of this extension is to give its users all the flexibility to store their passwords and private details without the risk of getting data leaked.
While you install Dashlane, you have to sign up for a new account if you don't have one. It asks for a master password configuration while you're signing up for the first time. You can enjoy a single account on your Windows, Mac, iOS, and Android devices. Dashlane doesn't limit the number of devices for one single account.
It has the most amazing importing feature that will allow you to import your data from one Dashlane account to another or you can also import your data if you're migrating from some other auto-fill applications. Suppose, you're now using RoboForm or LastPass but want to migrate to Dashlane, you can easily do that by following some simple importing steps.
The Dashlane browser extension works tremendously for filling out all the login pages for browsers. Else, the auto-log and auto-save features are active for all kinds of websites including social media, and e-commerce.
Pros:
Autofill across all the websites and apps.
Saves payment information too.
Amazon AWS hosted secure data management.
Provides real-time security alerts.
Offers one-click fastest login.
Cons:
Customer support isn't that much supportive.
3. Form Filler – Best for Versatility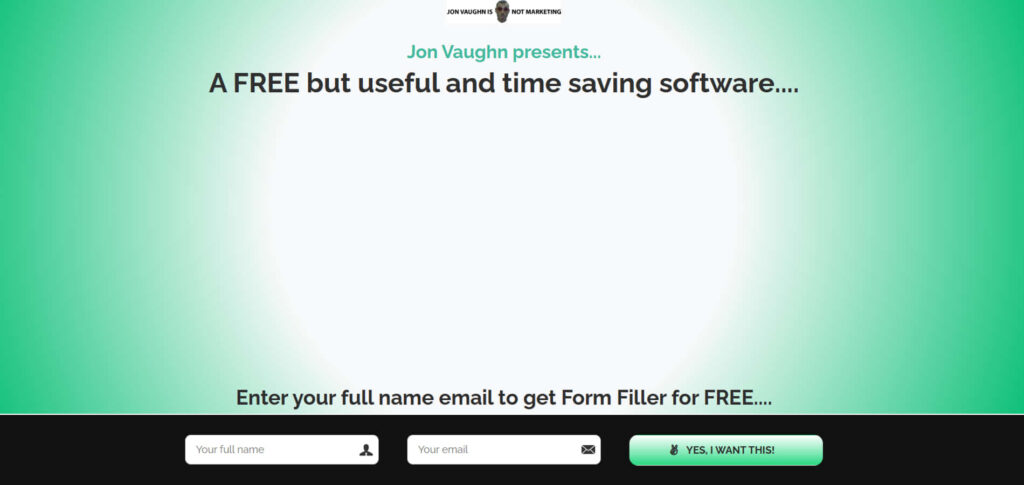 Operating System: Windows and Mac
Pricing: Free
Developer: Tier5
Form Filler is designed with developers in mind so they can quickly test their own online forms. It can also be very useful for one-time use forms that need to be filled in for things like downloading free software, ebooks, etc. The idea behind Form Filler is to automatically fill all fields in a form with random or dummy data which will be good enough to bypass the form and continue.
Because you don't have to enter any of your own credentials into the Form Filler extension, it's ready to go as soon as it's installed. All you have to do is visit an online form and click on the Form Filler toolbar icon. The fields in the form will immediately be filled with relevant but random data. Click the toolbar icon again to replace the current data with something else.
Despite the randomness of the entered data, some settings can be made more specific. For passwords, you can use a specific or a random string while emails can be set to a random or specific host (mailinator is the default) and user name. That's helpful if you need to receive a verification email but still want fake data in the rest of the form.
There is a custom fields section in Options but editing will require a bit of knowledge on how forms work. CAPTCHAs and hidden fields can be ignored while agreeing or TOS boxes can be automatically checked. The context menu allows for filling a single field if you don't want the whole form to be random data. Form Filler isn't perfect and gets fields wrong occasionally, but it's still very convenient for this kind of form filling.
Pros:
Saves data automatically.
Allows customization for saved information.
Has enhanced password protection security.
Supports saving data for multi-profiles in the same platform.
Cons:
Data security isn't that much stronger.
Download Form Filler for Chrome | Form Filler for Firefox
4. Autofill – Best Responsive Autofill Extension

Operating System: Windows, Mac, and Linux
Pricing: Free
Developer: Tohodo
Autofill is an extension that has the ability to fill a form completely on page load without any interaction from the user. This is a useful function if you visit a number of regular sites and know what data needs to be entered into the form fields. While Autofill is quite powerful, a number of its options will require some experience to get the most out of it. However, less experienced users can also get it to do an effective job.
Autofill supports profiles and they can be used for different purposes such as for specific websites or only filling in certain parts of forms. By default, there are no pre-configured profiles and Autofill doesn't come with a common list of fields waiting for the user to fill up. To get started, fill in an online form, click the Autofill icon, create a new profile from the drop down and then click the "Generate Autofill Rules" button.
You can leave it at that and the form will be filled when you visit the same webpage again, but it won't work on other forms. To make sure the data can be used on other forms, go to the Autofill options and delete the text at the bottom of the page in the Site box. That removes the trigger for Autofill to only input the data at that specific URL. Once you fill in a few forms, Autofill should have enough fields and input data to start working automatically.
The Exceptions tab allows you to exclude any web pages where you don't want Autofill to automatically fill the form. There's also a Text Clips tab which allows for entire blocks of text to be pasted onto the page and an Import/Export settings tab. Options like autofill delay, controlling sound effects, masking passwords, and manual mode are in the Other Stuff tab.
Pros:
Offers fastest form filling.
User-friendly interface.
Provides real-time synchronization.
Works seamlessly with every website.
Cons:
Users must have a bit of technical knowledge to get started with it.
Download Autofill for Chrome| Autofill for Firefox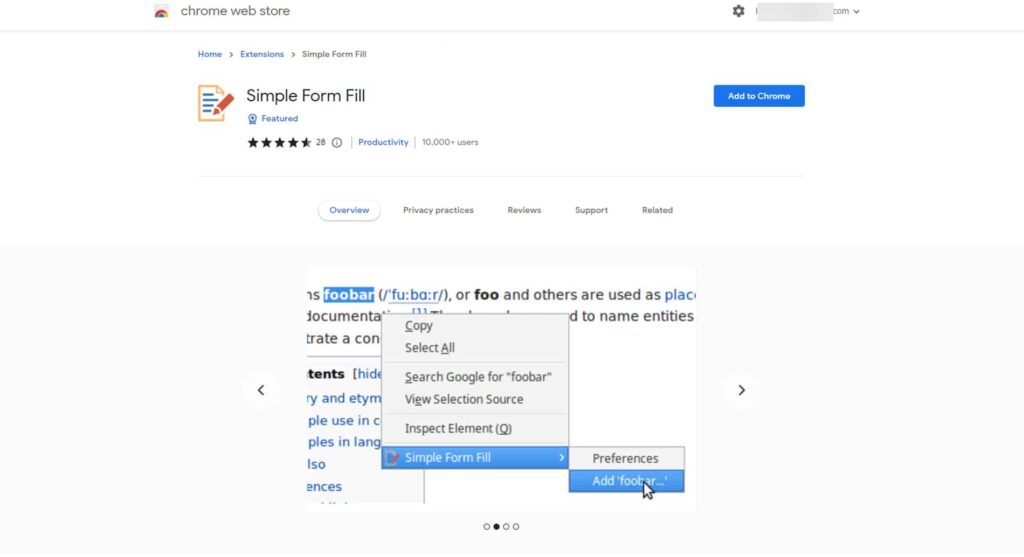 Operating System: Windows and Mac
Pricing: Free
Developer: Sebastian Blask
While Simple Form Fill might not be considered a proper autofill extension, it is very easy to use, which is why we think it's worth mentioning. The idea is pretty simple, you add a selection of words, numbers, or phrases into the extension that you think might be required by any forms you want to fill in. Then when you need to complete a form, simply select an input field, right click and choose something from the list.
As you are not limited by what kind of text can be entered, Simple Form Fill is quite useful for short forms and text boxes and can be used to complement other auto fill extensions. There's also an autocomplete option where typing in a few letters will pop up a selection box with matching entries from your list.
Adding to the items list can be done in a couple of ways. Firstly you can click on the extension's icon in the toolbar and simply type what you want into the Items box. Alternatively, type something into a form currently being filled in, and if it isn't in the list already, highlight it, right-click, and select Add from the context menu.
The autocomplete function is not enabled by default so if you want to use it, check the boxes in the options window. Upping the trigger characters to two or three will stop too many entries from appearing at once if you have a sizeable list. This type of form filling obviously works in text boxes only and not drop-down menus for country, dates, gender, etc.
Pros:
Simple setup.
Secure data storage.
Fills up forms in one single click.
Performs corrections for typos.
Cons:
Users may face security hazards.
Download Simple Form Fill for Chrome | Simple Form Fill for Firefox
Overview of Best Auto Fill Forms Extensions
How to Choose the Best Auto Fill Extension?
In today's words, more than 67% of the total population uses internet and 93% of internet users use social media. From signing up for every single social media portal to making e-commerce payments, we all need to fill out a lot of forms frequently. Since we all want to save time and prefer automation to make our life even simpler, switching to auto-fill extension rather than doing manual fill-up is a better move.
However, we all need an auto-fill extension. But how to know which one is the best? Let's look into the considerations to check before selecting an auto-fill browser extension.
Security:
Security is an essential feature for any auto-fill extension. Since you'll be storing all kinds of sensitive information such as MasterCard or credit card details, passwords, addresses, and more, so get an extension that will keep your personal and payment info safe.
Responsiveness:
Getting the auto-fill installed on your browser will reduce the time spent on filling forms but a slower and unresponsive extension can do the opposite. Look for a faster and one-click filling featured extension to spend lesser time on form fill up.
Compatibility:
While you're looking for an auto-fill-up extension, get something that has a compatible extension with Chrome, Firefox, Microsoft Edge, Safari, Brave, and more.
Customer Support:
Check user reviews and feedback if the extension developer solves every technical issue of their users. In the long run, customer support is the primary feature to look for.
Auto Fill Forms Using Integrated Browser Options
The form filling abilities of browsers like Chrome and Firefox have improved over the years but they are still quite basic when compared to third-party extensions. However, if your needs are fairly simple and you only require a few details like address, phone number, and email to be remembered, the integrated form filler may be all you need.
The Addresses and more windows in Chrome have boxes for several pieces of data. There are options for Name, Organization, Street Address, Town/City, Country, Phone number, and Email. Other filling options like state/province and zip/postal code will appear depending on the selected country.
Firefox is also slowly implementing some basic auto fill options. The Autofill Addresses option is in Privacy and Security and is pretty similar to Chrome. The only real difference from Chrome is Firefox has three boxes for first, middle, and last name instead of one box for full name.
Final Words:
A browser extension to auto fill forms must have a data protection feature because you are going to store all of your personal and payment details in their database. Therefore, get an add-on that has secure data encryption along with password storing capacity. You can look into the reviews of other users for the extension you're likely to select or go for the trial period before buying the premium subscription.