EaseUS ToDo Backup: Create ISO, Bootable USB & Disk
Creating a full backup of a partition or hard drive is essential for quick restoration whenever Windows starts acting up or slowing down over time. This saves you the trouble and time of having to manually install and configure Windows and third party applications. Other than that, you have to go through the hassle of re-activating Windows through telephone if the license key that is acquired via retail purchase has already been activated more than 5 times.
There's quite a number of third party disk imaging backup software applications such as Macrium Reflect, Aomei Backupper, Clonezilla and System Image Backup from Windows that are available for free, but we will be taking a look at EaseUS ToDo Backup Free which is currently ranked #9 in CNET's Download.com under backup software category. EaseUS is a company from China that is well known for its disk partitioning, data recovery, backup and transfer software.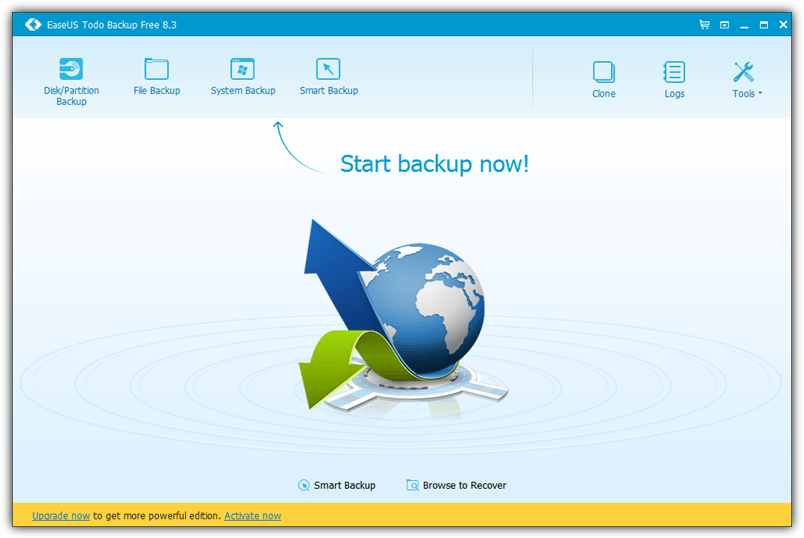 Different versions of EaseUS ToDo Backup such as Free, Home, Workstation, Advanced Server, and Technician with different pricing and features are available to cater to different markets. Obviously only the Free version of EaseUS ToDo Backup doesn't cost a dime and is meant for personal use. In simple terms, EaseUS ToDo Backup Free allows you to backup, restore and clone.
You can either backup the whole hard drive to an image file so that it can be used for restoration, or even selectively backup a partition and save the image to the same hard drive. Backing up of files and folders is also supported. As for cloning, you can either clone a hard drive to another hard drive or partition.
Backing up is as easy as clicking the Disk/Partition Backup button, select the disk/partition to backup, choose the destination where the backup image will be saved to and click the Proceed button.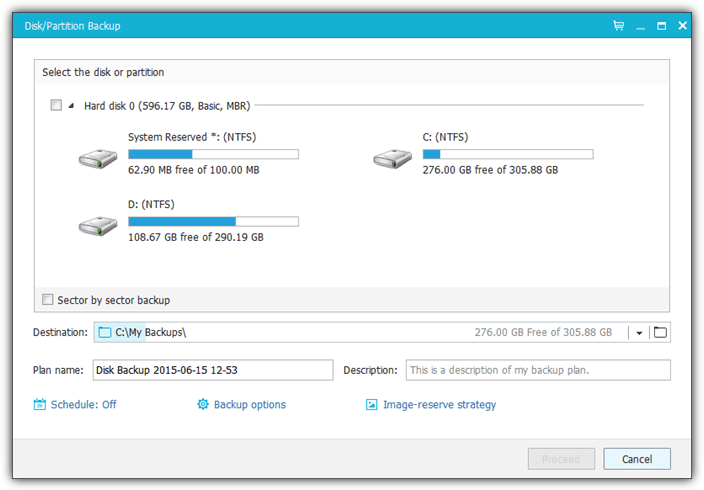 Additional options such as scheduling, image preservation strategy, backup compression, splitting, encryption, and performance by setting the priority and network transfer speed are available in backup. The same options can be found for File Backup and also System Backup. The System Backup option is just a simple two step option to quickly backup the partition where the current operating system resides in.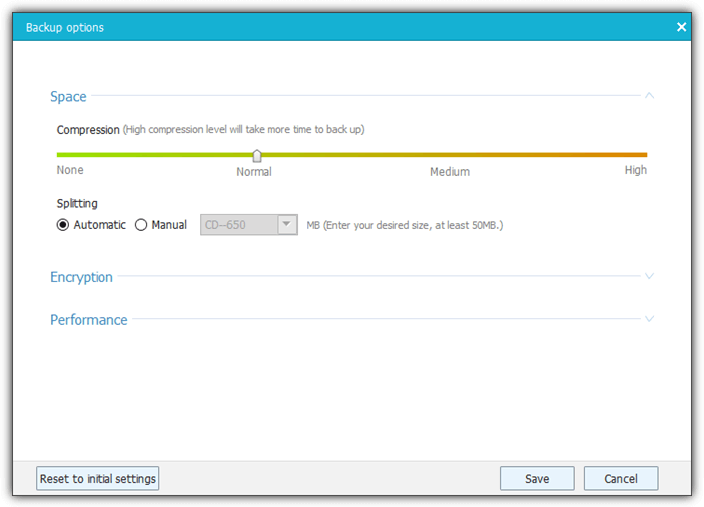 Smart Backup is a feature worth noting because it automatically creates a backup every 30 minutes when it detects changes to the monitored files or folders. This way you can sort of "protect" folders containing files that are frequently updated. Do take note that the 30 minutes interval is fixed and cannot be changed.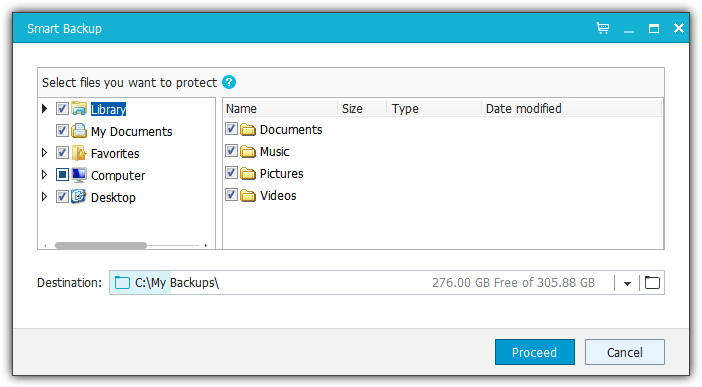 The Tools button offers a wide range of useful utilities. The most important tools that you should check it out are the Create Emergency Disk or Enable PreOS. Both of these features do the same thing which is allowing you to run EaseUS ToDo Backup Free without booting in to Windows. The Emergency Disk creates a CD/DVD/USB which can be used to boot up a system to run EaseUs ToDo Backup while the PreOS option adds an entry to the Windows boot menu to conveniently run EaseUS ToDo Backup without relying on an external bootable media.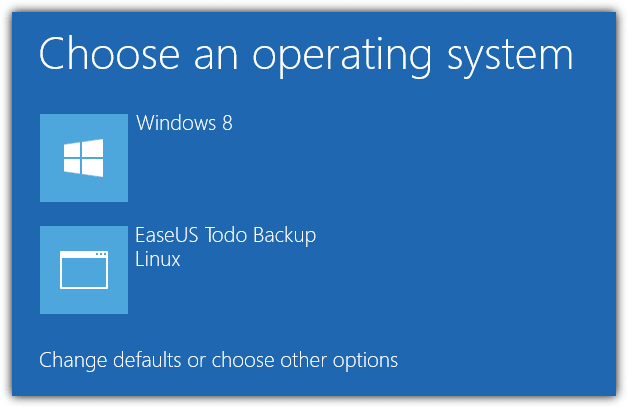 Although EaseUS ToDo Backup offers both a WinPE and Linux emergency disk, you should always use the WinPE version because the Linux version of ToDo Backup can only perform restoration and cloning. As for the WinPE version, it has better device driver support and nearly all the functions such as backup, wipe data, check image and etc are available. The Windows PE emergency disk ISO image file is 325MB in size while the Linux version is only 53MB.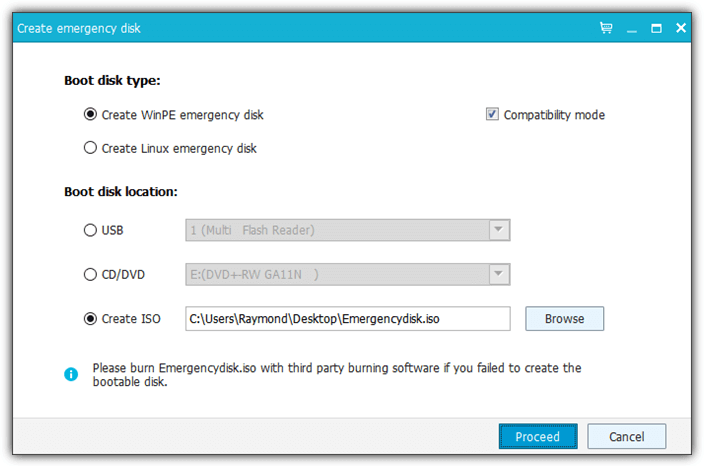 Additional features such as wiping data to prevent data recovery, image checking, mounting/unmounting a disk image, and initiating an iSCSI drive can be found in Tools. On the official EaseUS ToDo Backup download page, you will find a comparison table that shows the difference between the Free, Home and Workstation versions. It shows that the free version only achieves a "normal" backup and restore speed, while the paid Home and Workstation gets a "faster" speed.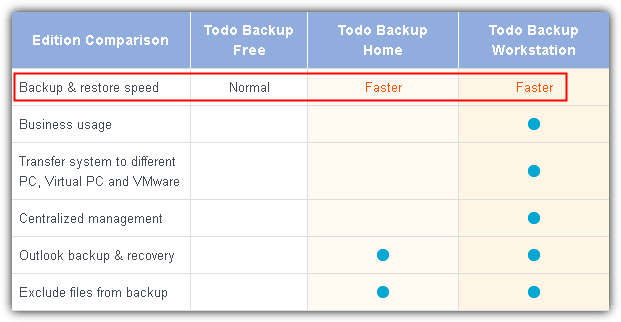 We would like to know if this statement is true whereby paid users gets a faster backup/restore speed or if it is just a marketing gimmick. So we've tested both Free and Home version of ToDo Backup by creating a backup image of a partition and comparing the backup speed.
The screenshot below shows that the Free version of EaseUS ToDo Backup takes 9 minutes and 36 seconds to complete a backup.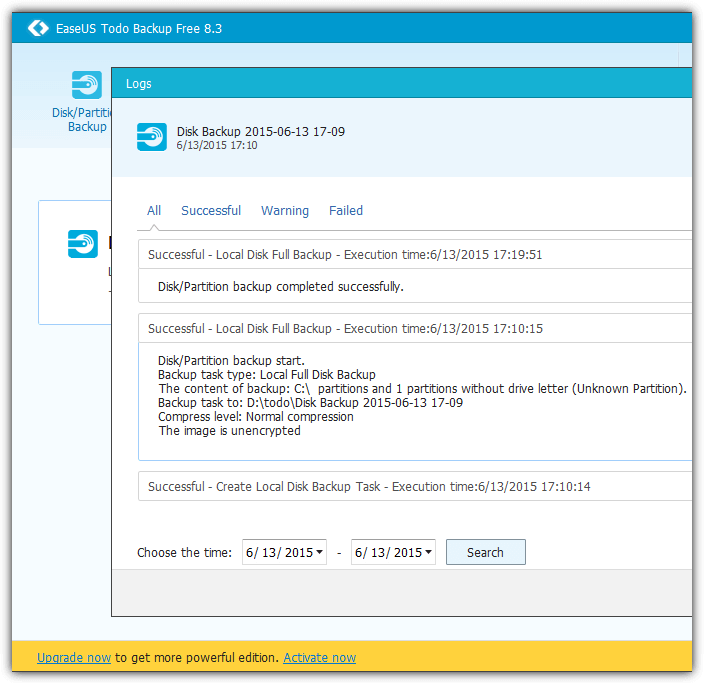 The Home version that cost $29 for a license took 10 minutes and 2 seconds to complete the same backup.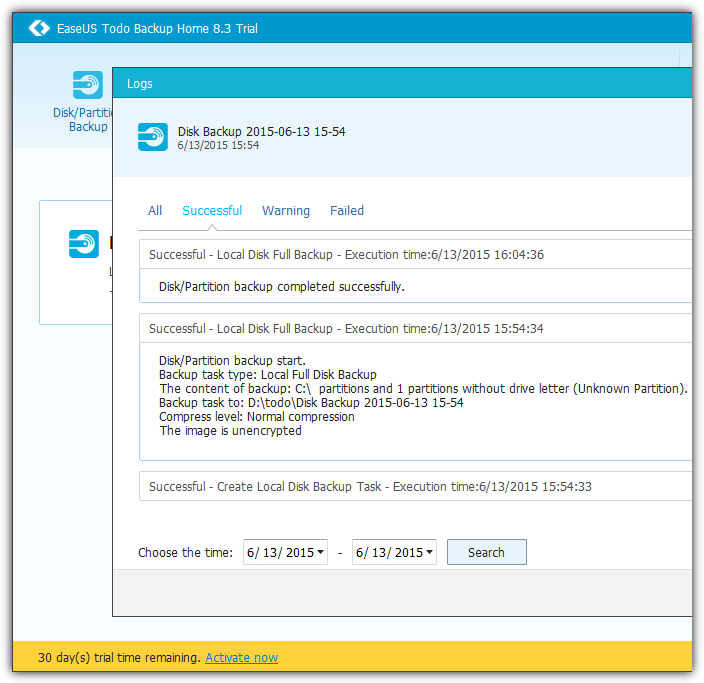 As you can see, the difference in backup speed between the Home and Paid version is merely 26 seconds. This clearly shows that they share the same backup engine that gives the same results. In terms of features, the paid version offers more benefits such as the ability to backup/restore Outlook emails, email notification, pre/post-command, offsite copy, event-based schedule backup, file exclusion, pre/post commands and technical support. Do note that the ability to restore an image to another different PC with dissimilar hardware is only available in the Workstation edition.
Closing Words: Despite the somewhat dubious advertising claims regarding the difference in backup and restore speeds, EaseUS ToDo Backup Free is very user friendly and anyone can use it to create a full backup of their PC. Moreover, the ability to create a bootable emergency disk based on the latest WinPE from the Free version of ToDo Backup increases the value of this program.