Filehost Downloader to use with Multi-Host Account [2023]
I have had a several different premium accounts for file sharing websites over the years such as FileSonic, FileServe, Hotfile and Uploading. I even used to have premium accounts for RapidShare, Megaupload and FileFactory as well but they are expired long ago and I didn't bother to renew them. The reason why I have or had so many different premium accounts is because of the type of files that I normally download kept changing host, thanks to the uploaders.
The uploaders normally don't stick to one file host forever due to their account being banned for copyright reasons or something else that is more common these days. And that is the host closing down or restricting downloads to the person who uploads the files only. So when they switch to a different file hosting service, we just have to tag along unless we can tolerate the slow and restricted downloading features of the free accounts.
FileSonic and Fileserve were very popular and big until they recently decided to disable file sharing when Megaupload got into trouble. This has caused many uploaders to upload files to different hosts and it can get quite costly if I were to subscribe to the premium accounts of current popular file host. And like a phoenix from flames, as one of the major hosts goes by the wayside, another 10 smaller ones take their place. There must be close to 150 or more if you counted them all up! The ultimate solution for this problem is to purchase one special multi-host downloader account which allows you to download from different file hosting websites without any restriction.
No, I am not talking about
premium link generators such as RapidLeech
where the files will first be downloaded to the server and then provides you with a link to download the file from their server to your computer. This method is a waste of time and also bandwidth. These multi-host downloader service has perfected it by "streaming" the premium links allowing you to immediately download the files without any wait time or restriction. Pair the multi host downloading service together with
JDownloader
, it makes it even easier because everything is automated.
Here are a few popular multi-host downloader that is supported by JDownloader nightly build. You need to check them out yourself to see which suits you better because some may not include the file host that you want to download from. They generally cost a few euros for a 30 days access which it is VERY cheap if compared to buying the premium accounts for every file host out there.
The only possible problem that you may face when using these multi-host downloaders are inconsistent/slow downloading speed, or a file host that has been temporarily disabled probably due to the premium account that they used being disabled/banned. Actually having an individual premium account doesn't necessarily mean you can achieve maximum full downloading speed all the time.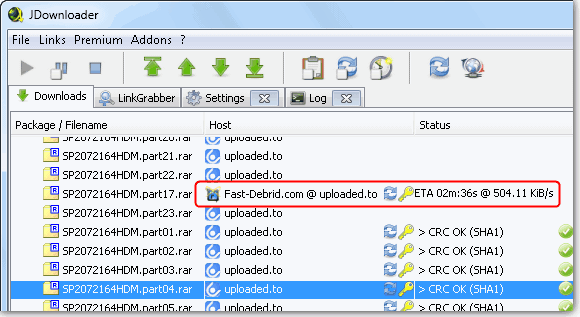 I am getting pretty decent download speed at over 500KBps on my 5Mbps internet connection
One of the Debrid services might be a good choice to get started and try out because they have 20 day accounts for 2 or 3 Euros which is enough time to see whether it's for you or not. The sad thing is of late, a lot of file hosters are constantly changing their pages and download methods meaning these multi host services are finding it increasingly difficult to alter their service to keep up. It is resulting in a large proportion of the claimed number of supported hosts not actually working for extended periods.
This is a very good reason NOT to commit to any of these services (or the original hosting service) for any extended length of time. The absolute maximum I would recommend you buy in one go is 3 months, I personally only buy a month at a time.