Windows 7 32 bit to 64 bit Converter Software Free Download
In the last few years, most computers have come preinstalled with at least 4GB of memory and one change that has to be made with that amount of RAM is you need to be running the right version of Windows to take advantage of it. By default, no version of Windows can make use of more than about 3GB of RAM unless it is the 64-bit edition of the operating system. There are third party hacks to force a 32-bit version of Windows to utilize more memory, but they are tricky to use and not completely reliable.
32-bit and 64-bit versions of Windows each have plus and minus points, 32-bit is better on memory usage, is less picky about unsigned drivers and also has better compatibility with older and certain types of software such as some security applications. A 64-bit Windows can use all the memory your computer has installed and also specific applications can further increase their speed under 64-bit via optimizations. There are valid reasons for you to want to upgrade your 32bit Windows 7 to 64-bit, and also downgrade from 64-bit down to 32-bit, it's mostly about how you want to use your computer.
Converting from one version to another is not difficult but it's also not quite as simple as popping in your Windows DVD and pressing a button because you will need to reinstall all your software etc. Before starting anything, it's a good idea to backup all important data. An easy way is to create a full Windows 7 image backup so that you can restore it in case anything goes wrong.
Alternatively there are plenty of quality alternatives such as
Macrium Reflect
. Also the Windows Easy Transfer tool can backup documents, emails, media files and favorites for quick restoration. Go to Start > All Programs > Accessories > System Tools to open Windows Easy Transfer and follow the instructions to create a backup.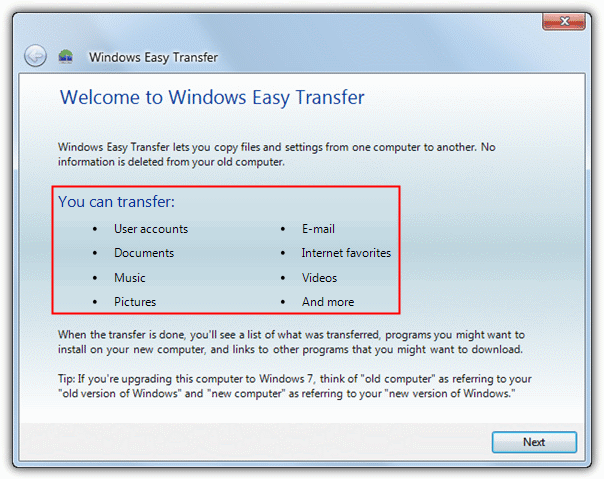 There are a couple of things you need to know about switching Windows versions between 32-bit and 64-bit. Firstly, you cannot reinstall a different edition of Windows to what you currently have installed. For example, if you are using Home Premium you need to reinstall Home Premium. Reinstalling to different hardware or another computer using this guide will deactivate Windows and you will need to reactivate manually from your COA sticker. Also, make sure your hardware has the appropriate drivers available, especially moving to 64-bit as there may be specific 64-bit drivers to download.
Unless you have a Windows 7 DVD from a retailer, you will need to either download and burn the correct edition ISO for your needs or remove the ei.cfg file from an ISO file you already have to create a universal edition of the Windows 7 installation disc. Fortunately we have covered how to download Windows 7 ISO images from an official source before. Once you have an ISO, it can be either burned to a DVD or written to a USB flash drive to make reinstall a bit quicker. For the more adventurous users and for sheer convenience there are also methods to create an all-in-one 32-bit and 64-bit install disc.
Here we will show you two different ways to reinstall your Windows 7 system. The first way works if you are going from a 64-bit Windows 7 to 32-bit because it can be done slightly differently. The second way is going from 32-bit to 64-bit.
Backing Up Windows Activation Data
Before migrating to a different architecture, backup your activation data so your system can be quickly reactivated without the needing the internet, a telephone or the product key from your COA sticker. There are two ways to do this:
Method #1
We have previously discussed a tool called ABR (Activation Backup and Restore) which is able to backup and restore the activation data from Windows Vista and Windows 7. This method can be used if you KNOW your Windows is pre-installed from the OEM manufacturer (like Dell, HP Asus) and has not been installed manually.
1. Download ABR Beta and run ABRbeta.exe, it will extract the files to a new ABR folder. Make sure now or after step #3 to copy the ABR folder to a USB flash drive or another partition so it's available after reinstallation.
2. Run activation_backup.exe from the ABR folder and it will create two new files, backup-cert.xrm-ms and backup-key.txt in the ABR folder. Hit Enter to close ABR. The backed up product key is not the same as the key on your Windows COA sticker and is Manufacturer specific, which is normal.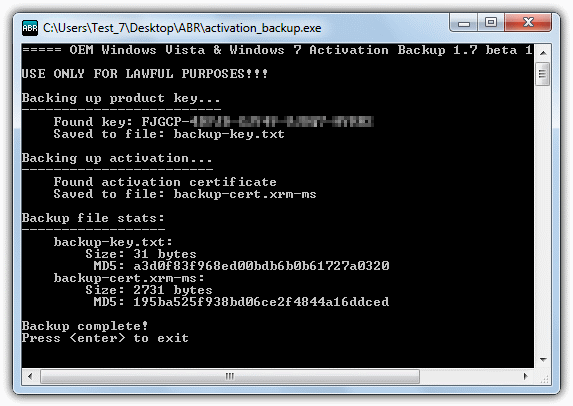 Method #2
This second activation backup method is more universal because it doesn't matter if you have an OEM pre-installed system, you activated over the internet or you had to use the telephone. There is also an added bonus that Office 2010/2013 activation data can be backed up as well. The tool is one we have talked about before and is called Advanced Tokens Manager.
1. Download Advanced Tokens Manager and extract the zip file. Make sure now or after step #3 to copy the extracted Advanced Tokens Manager folder to a USB flash drive or another hard drive so it's available later on.
2. Run Advanced Tokens Manager.exe, click Activation Backup then read and accept the warning.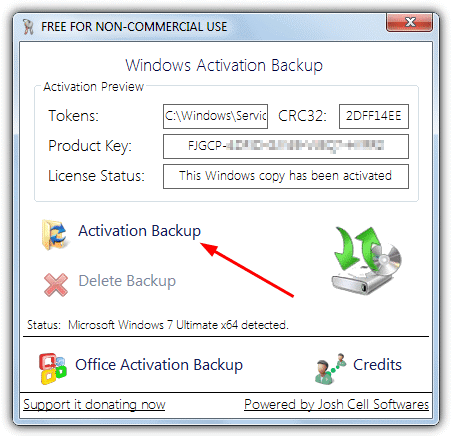 3. The window should now show that the backup was successful and is available to be restored. Two new files will have been created in a subfolder in the Advanced Tokens Manager folder called Config.ini and Tokens.Dat
On the next page we'll show you how to switch from a 64-bit Windows 7 to 32-bit and also from 32-bit to 64-bit.