10 Tools to Prevent Windows Computer from Sleeping
Windows OS has default power plan settings to help users save power; it can turn off the display or sleep if idle. These features are helpful, especially when you don't want others to access your computer during those long breaks.
Nevertheless, this is not always the case. Sometimes you want your computer to run even when you're not around. You can use the Control Panel and create or edit a power plan, or go to Settings in Windows 10 and simply change or disable the sleep timers for the current plan.
However, you may not want to change your computer settings if you want something temporary. A program can help you keep the display or computer on while inactive. It temporarily prevents the computer or screen from going to standby.
Best tools to prevent PC from sleeping
Here's a selection of free tools that can help; they were tested on Windows 10 64-bit.
1. Microsoft PowerToys – The best tool to prevent PC from sleeping overall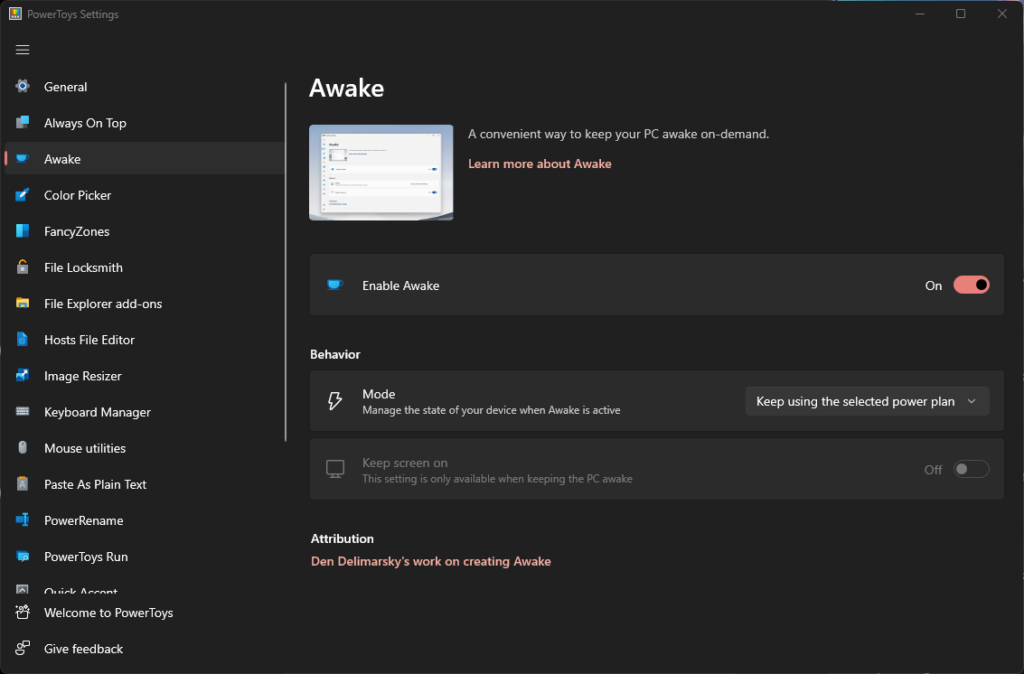 Operating System: Windows
Pricing: Free
Developer: Microsoft
Microsoft PowerToys is a collection of utilities to help you tune and streamline your Windows experience. It comes with tools like Always on Top, ColorPicker, and PowerToys.
PowerToys Awake can help keep your computer awake without the need to manage its power and sleep settings. You can run it directly from PowerToys' settings or as a standalone.
The software is great since it doesn't modify any power settings or create custom power plan configurations. Rather, it spawns background threads that inform Windows to remain in a specific state.
PowerToys Awake has four settings: keeping the select power plan settings, staying awake until you manually put the machine to sleep, staying awake for a specific amount of time, or staying awake until a certain time.
Pros
PowerToys Awake doesn't modify Windows Power Plan settings
It creates background processes that inform Windows to remain in a certain state
You can manage the app from the system tray
Users can keep the screen on for a short period or indefinitely
Cons
It resets the timer every time you change the settings
2. Mouse Jiggler – Great for simulating your mouse cursor movement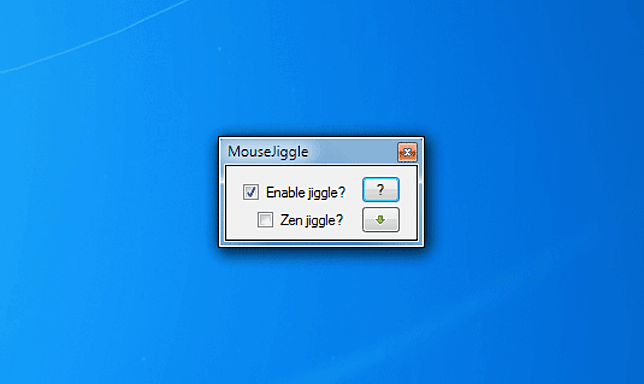 Operating System: Windows
Pricing: Free
Developer: Ellabi
Mouse Jiggler is a utility tool to help you simulate your cursor's movements. Its purpose is to prevent your screen from showing screen savers or going into hibernation.
The software is useful when viewing the screen, for example, when reading a document. It can show the cursor as it moves and hide it in the background in Zen mode.
When reading a document, you might not want the distractions of your cursor moving randomly around the screen, so we think Zen mode is more beneficial.
What's more appealing is that you don't need to install the software; you can download and run it from a USB drive or a folder on your computer.
Pros
Create fake mouse movements to prevent your computer from going to sleep
This prevents your screensaver from showing while you're actively viewing the screen
If you get paid to surf websites you'll find this tool quite handy
It doesn't require any configuration
Cons
Jiggle without Zen mode can be distracting, especially when you're reading
3. Caffeine – Best for keeping your PC awake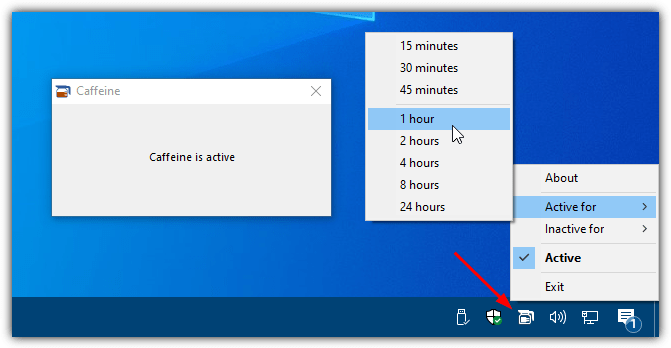 Operating System: Windows
Pricing: Free
Developer: Herbert Studio
Caffeine is a free Windows utility and browser extension for keeping your computer awake at all times. It prevents the screen from turning off, shutting down, or starting a screensaver.
The software simulates a keypress once every 59 seconds, so Windows thinks you're typing on your computer. The pretend keypress is the virtually unused F15 key, although you can change it to Shift or another key if there's a conflict with your applications.
Several options can be edited from the command line or placed in a desktop shortcut. They include the keypress interval, the use of the Shift key, or virtually any other key or mouse press.
You can also prevent sleep but allow the screensaver, watch for a specific desktop window, and enable or disable Caffeine. The tray menu has two timers for setting how long Caffeine can be activated or deactivated.
Pros
Prevents your screen saver from starting without having to disable it
The software is simply designed and does not overextend itself
It's hard to approve or disprove that the keystroke actually happen
Caffeine is regularly updated to fit all OS versions
Cons
Some users claim requires a 5-star rating to unlock features
4. Move Mouse – Best for simulating user activity on your PC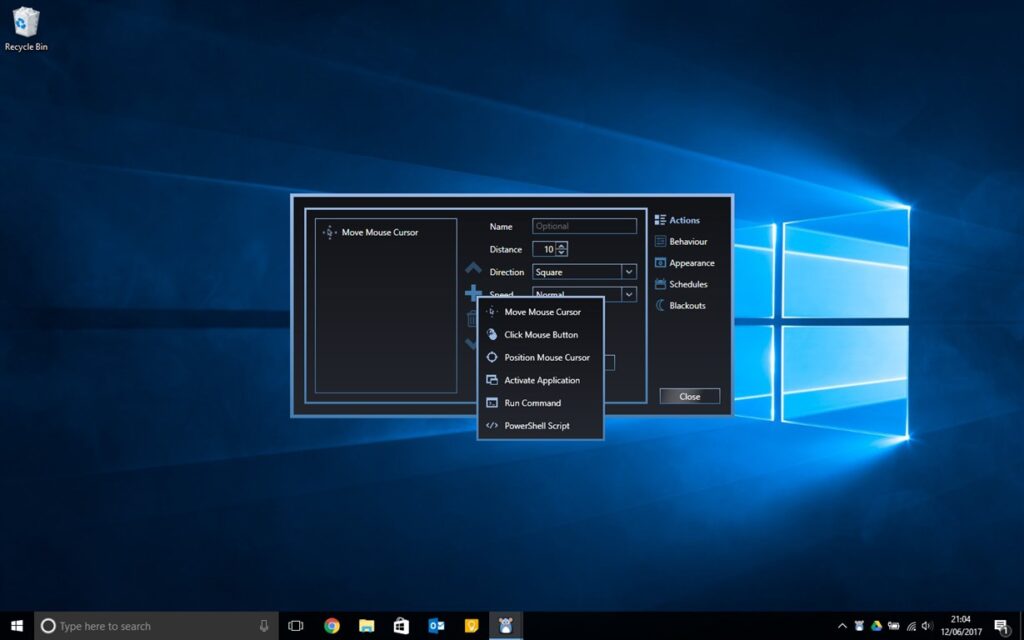 Operating System: Windows
Pricing: Free
Developer: Ellabi
Move Mouse is a simple utility designed to simulate user activity on your computer. It allows you to keep your computer active for long even when you're not using it.
You can use the app when showing presentations or keeping logged-in sessions active. Unlike other software, Move Mouse activates when it notices reduced user activity. When the user is active, the software fades in the background.
The program offers three ways to keep your computer awake: left-click your mouse, move the cursor, or send a keystroke. You can even combine the three options or create personalized configurations with scripts.
Pros
Create custom scripts to personalize your configurations with all Windows scripting languages
It registers your absence from the computer and starts running
Move Mouse might inform other users of your inactivity
The software features more configurations than average apps
Cons
It has a steeper learning curve
5. StayAwake – Great for ensuring your computer doesn't go into standby mode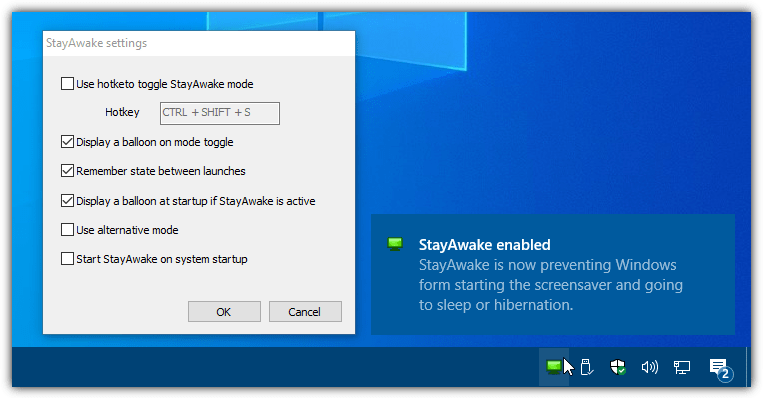 Operating System: Windows
Pricing: Free
Developer: Mlesniew
StayAwake is a tray-based app for Windows that prevents Windows from showing a screensaver or shutting down. You can install the app to run on your PC, but it doesn't start automatically.
It's relatively old — from 2012, but it worked just fine in the latest Windows 10 64-bit operating system. It can prevent the screensaver from starting and stop the screen or computer from being put to sleep.
StayAwake does this by fooling Windows and telling it the mouse cursor has moved zero pixels. Launch the portable executable and double-click the tray icon to enable or disable StayAwake's function.
Right-click the tray icon and go to Settings to enable a hotkey, display balloon notifications, or use an alternative mode. This is a fallback option if the normal mode doesn't work and moves the cursor a few pixels every second.
Pros
The software allows you to temporarily disable the screensaver or hibernation mode
It doesn't start automatically, so it won't interrupt your activity
You can run the app on your system tray
StayAwake can activate with a fullscreen window, allowing you to read smoothly
Cons
It has limited features compared to other apps
6. Insomniate – Best for keeping your computer awake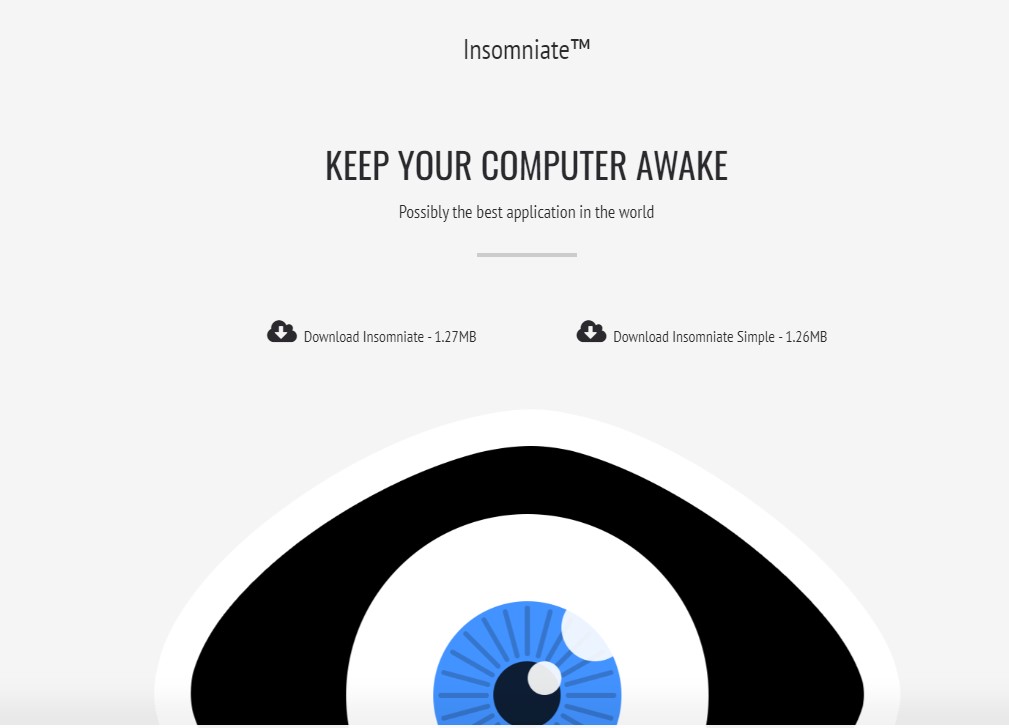 Operating System: Windows
Pricing: Free
Developer: Hyper Expert
Two variants of Insomniate are available; the standard version and the simple version. The only difference between them is the standard version has a user interface with a countdown timer where you can prevent sleep for a specific period. Both are portable executables.
Insomniate works for the screensaver, putting the screen and the computer to sleep. Just run the simple version and let it sit in the tray for it to work all the time.
To use the timer, run the standard version, set the countdown, and press the play button. There appears to be no information about how Insomniate prevents sleeping, but it works perfectly fine in Windows 10.
Pros
Insomniate is useful to users without access to computer power settings
It's portable, meaning you don't have to install anything on your PC
Both software versions run in the background
You can change how often you want it to interact with your computer
Cons
It was last updated in 2016, so it doesn't compete with other apps
7. Don't Sleep – Best for managing your computer sleep behavior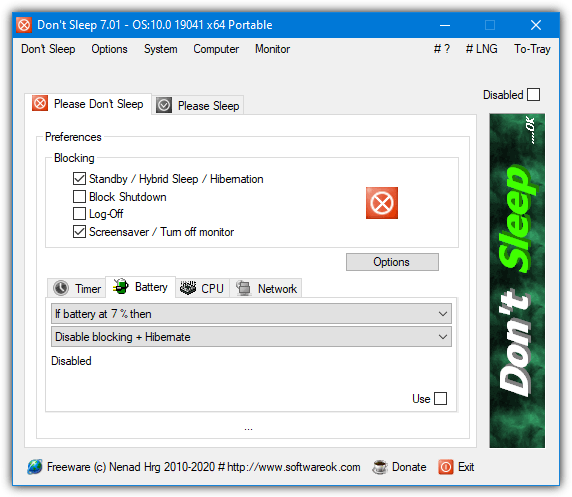 Operating System: Windows
Pricing: Free
Developer: Nenad Hrg
Don't Sleep is a small Windows utility tool for preventing system shutdown, restart, hibernate, standby, or sleep. It's essentially more advanced than other tools with some extra options.
In addition to the features in PreventTurnOff, this program can send the computer to sleep on a mouse/keyboard event, and it has more trigger-based events that can prevent sleep mode from being enabled.
Don't Sleep can also block sleep until the laptop battery is below xx%, disable sleep until CPU usage is below the threshold, and disable sleep until the network load is under a certain threshold.
PreventTurnOff and Don't Sleep are portable and have a useful Mini-HTTP feature that can configure the program remotely through a web browser.
Pros
You can block computer sleep below a certain percentage
The software can disable sleep until CPU usage is below a given threshold
Useful mini-HTTP feature to configure the program remotely
You can shut down the computer for a specific amount of time
Cons
It does not run on Windows tray icons
8. Amphetamine – Great for preventing the computer from restarting or shutting down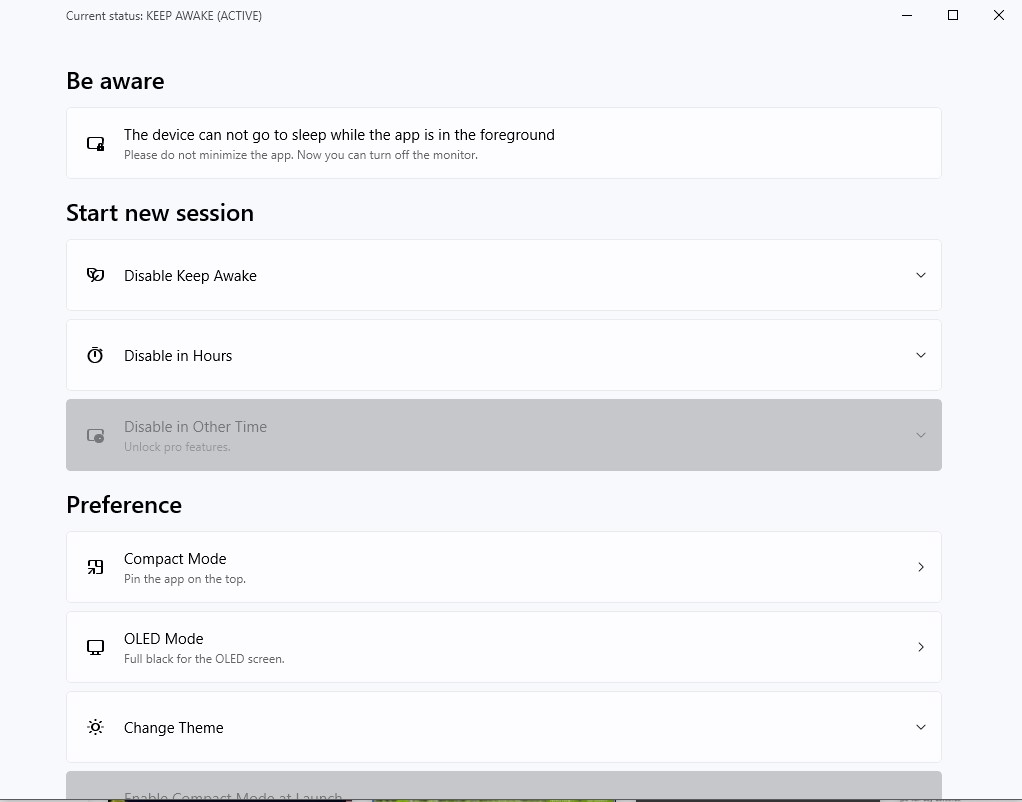 Operating System: Windows
Pricing: Free
Developer: JimmyRespawn
Amphetamine is a tool designed to prevent your computer from sleeping, showing screen-savers, shutting down, or restarting. It's fully portable, so you don't have to install anything on your computer.
It's mostly for techy users, but even inexperienced users can use it comfortably. You can add functionalities to prevent computer restarting/shutdown.
These include ensuring preconfigured services or programs are running, running a program or script, or sending an email to notify you of the prevention.
Pros
It's fully portable, so you don't have to install anything on your computer
You can get back your previous settings by simply closing the app
Receive an email when the prevention fails.
Cons
It has a steeper learning curve, but most users manage
9. PreventTurnOff – Best for preventing computer shutdown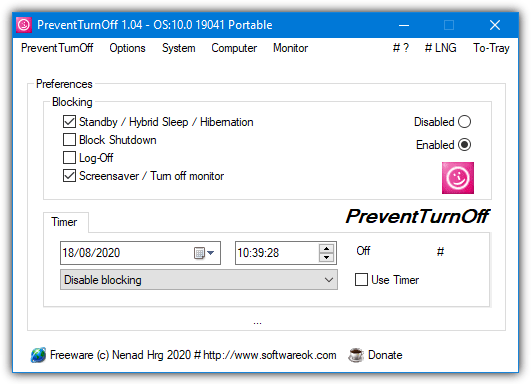 Operating System: Windows
Pricing: Free
Developer: Microsoft
PreventTurnOff is a small but powerful tool that can prevent system shutdown, standby, hibernate, log off, and also stop the screensaver or monitor from turning off. Every option is very straightforward.
If you want to prevent the computer from going to standby, just make sure that the Standby checkbox is checked, click the Enabled button, and press To-Tray so the program minimizes.
There is also a configurable timer function that you can set when to automatically disable the blocking or force the computer to shut down, log off, or sleep after time expires. The Options menu will allow you to set up a timer to block when the program starts, or the system resumes from standby.
Pros
Ensures that your PC and screen remain running
Shutdown the system at a specific time
You can access computer power options easily
The software informs Windows that it has a vital task running
Cons
PreventTurnOff runs consistently unlike other apps
10. Coffee FF – Best for managing trigger events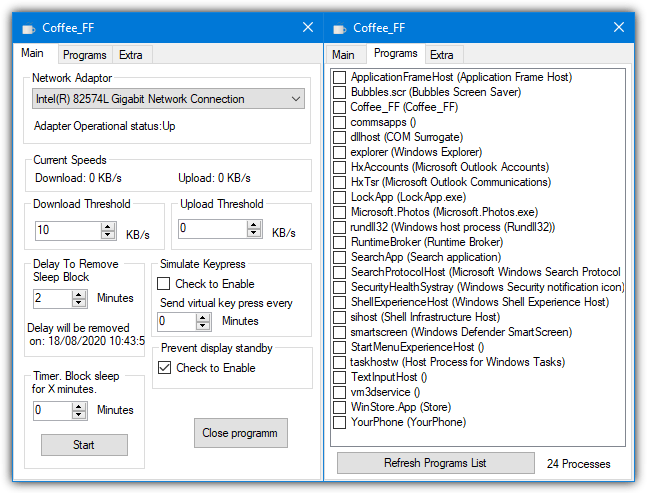 Operating System: Windows
Pricing: Free
Developer: Microsoft
Coffee is a little different from most other tools here because it can prevent the computer from going to sleep during certain trigger events.
The main trigger is network activity, and Coffee can prevent sleep while network speed is above a certain threshold. The other useful function is preventing sleep while a specific program is running. Once the program closes, the sleep timer will be enabled again.
If you want to disable the network trigger and use the process trigger, set the download/upload speeds to 0, go to the Programs tab, and select a running process from the list.
You can also block sleep mode for a specific number of minutes; you can set that in the bottom left of the main window. The software is subsequently updated by FireFly, hence the FF in the name. Portable and installer versions are available.
Pros
The software can keep the computer on while it detects an internet connection
It can also keep the computer awake while a program is active or when using DLNA
You can request to keep the computer on for a specific duration
It's free and open-source
The portable version allows you to run the app without installing anything on your PC
Cons
It has limited configuration options compared to other apps
Final Note
As we mentioned at the beginning, most video-playing software will prevent the computer from turning off the display or sleeping because, obviously, it's trying to show video content.
An alternative to these tools is simply loading a video into your favorite player, muting the audio, and minimizing the window. This doesn't work with the Windows 10 "Movies & TV" player, but Windows Media Player does work.