5 Ways to Remove Skype from Outlook
Skype is integrated into Outlook.com webmail and allows chatting with contacts without installing the Skype desktop client. Other than sending instant messages, files and photos, you can also make video or voice calls by installing the Skype web plugin for your web browser. To access Skype from Outlook.com, just click on the conversation icon at the top right of your browser screen. You'll be automatically signed in with your contacts shown in a few seconds. Clicking on your profile icon allows you to change your status from available to away, do not disturb, or invisible.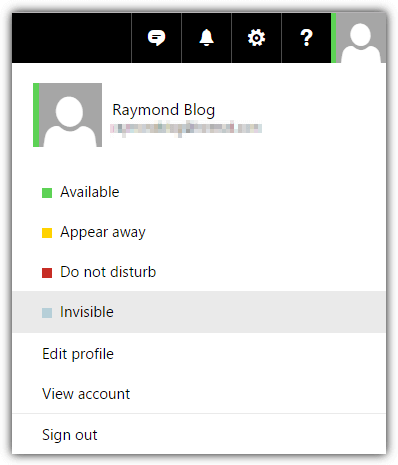 This feature is certainly useful for you to quickly get online in Skype, especially on a public computer that prevents installation of third party applications. It can also be annoying because every time you sign in to your Outlook.com webmail, you're also automatically logged in to your Skype account without even clicking on the Skype conversation icon. There are times when you just want to check your emails and don't want your contacts to know that you're online in Skype. Unfortunately, there is no option to disable Skype in Outlook.com.
From our research, we found that Outlook.com automatically connects to a number of Skype hostnames and obviously blocking all of them will prevent you from connecting to Skype in Outlook. We've narrowed it down to just 1 hostname and blocking that will effectively disable the web based Skype from connecting. The browser pulls a JavaScript file (SkypeBootstrap.min.js) from Skype's content delivery network (CDN) server (swx.cdn.skype.com). The JavaScript starts to perform authentication from one of two hosts, which are a.config.skype.com or b.config.skype.com.
Here we'll show you 5 different ways to prevent Skype from automatically signing in when you're logged in to your Outlook.com webmail.
1.
HOSTS File
The HOSTS file is a standard text file found on most of today's operating systems. Its purpose is to manually map a hostname (aka domain name) to an IP address. A common use is blocking a website from accessing the internet by mapping its hostname to a false IP, such as 0.0.0.0. This means HOSTS can act as a primitive firewall, a general IP blocker, and even an ad blocker.
We can, therefore, use HOSTS to block access to swx.cdn.skype.com and stop Skype from downloading the Javascript file. HOSTS works system wide so the block will be effective on all installed browsers.
Edit The HOSTS File Manually
The standard way of editing HOSTS is opening the file in Notepad and making changes. Advanced users can obviously use another text editor like Notepadd++.
1. To avoid administrator rights issues while editing HOSTS, it's preferable to right click on the Notepad shortcut located in the Start Menu and choosing "Run as administrator". Open Notepad normally if you know you have full admin rights.
2. Go to File > Open (Ctrl+O) and change the file extension filter from "Text Documents (*.txt)" to "All files (*.*)".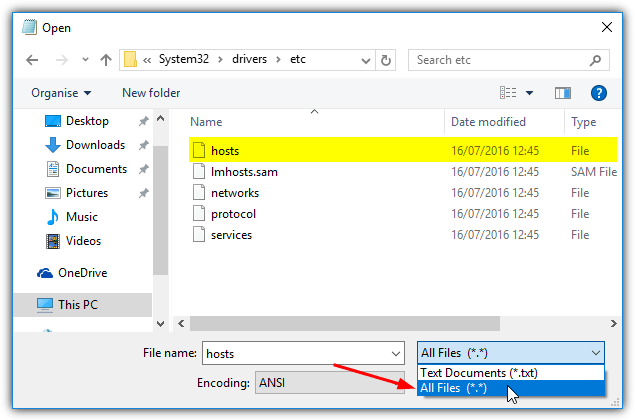 3. Browse for and open the Windows HOSTS file which is at the following location:
C:\Windows\System32\Drivers\etc
On a new line at the end of the file, add the following entry:
0.0.0.0 swx.cdn.skype.com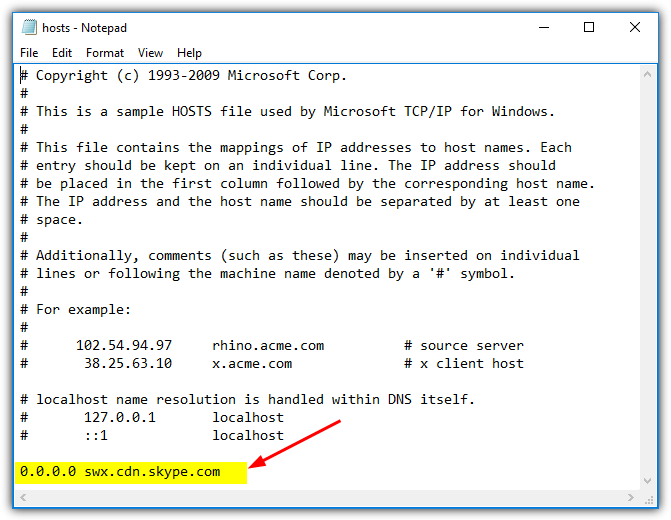 4. Go to File > Save or press Ctrl+S and close Notepad.
The new mapping starts immediately. You will probably need to clear your browser cache and close/reopen the browser to make sure the blocking comes into effect.
Edit HOSTS Using the Raymondcc Quick HOSTS Editor
There are a few dedicated HOSTS file editors around, such as HostsMan. We have created a simple tool that allows you to quickly remove or add a new entry to the Windows HOSTS file. It's not designed to edit multiple entries at once but instead is useful to quickly add or remove one or two entries with minimal effort.
Simply open Quick HOSTS Edit (administrator privileges are required), leave IP Address at the default value and add the following into the Host Name box:
swx.cdn.skype.com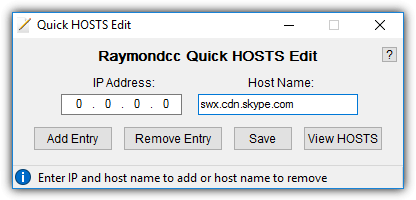 Press Add Entry, you can optionally use the View HOSTS button to check the entry has been added correctly to the end of the file. Press Save to commit the change to the system HOSTS file. Quick HOSTS Edit works on a temporary copy of the HOSTS file until you press the Save or close window buttons to write the changes to the real HOSTS file.
Download Raymondcc Quick HOSTS Edit
---
2. Antivirus Software
Another easy way of blocking access to a specific domain or website is through your security software. Most firewall and HIPS software allows you to set up a block list and some standalone antivirus software can also block individual addresses. Avast is the most popular free antivirus and it does have a site blocking feature, so we'll show you how to set it up.
1. Open the Avast main user interface and press Settings at the bottom left. Click Components and then press the Customize link for the Web Shield.
2. Press Site Blocking on the left and check the box to enable site blocking. In the enter address box, add the following:
https://swx.cdn.skype.com
An asterisk wildcard will be appended automatically. Click OK and close all open Avast windows.
The effect is instantaneous and skype.com will be blocked the next time you visit the Outlook website or refresh the page. If Skype still loads, clear the browser cache because a copy of SkypeBootstrap.min.js will likely be stored locally.
Because it is now owned and run by Avast software, AVG Free Antivirus also has the exact same Site Blocking feature which works in an identical way.
---
3. Web Browser Ad Blocker
One of our favorite and one of the most highly respected ad blockers, uBlock Origin, can also block domains and addresses. uBlock Origin is designed to be a general purpose blocker but is most widely known for advertising, tracker and malware domain blocking. Here's how to stop Skype from being loaded at outlook.com using uBlock Origin.
1. If you don't already have it, download and install uBlock Origin for your browser:
uBlock Origin for Chrome | uBlock Origin for Firefox | uBlock Origin for Edge (in Windows Store)
2. Click on the uBlock Origin icon in the browser and then click the black bar at the top of its window to open the dashboard. Check the "I am an advanced user" box.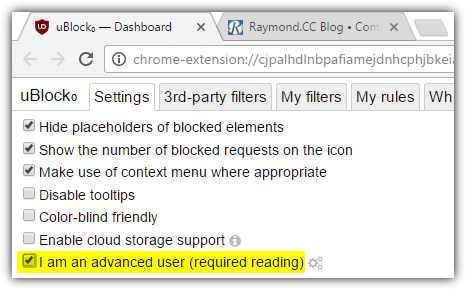 3. Visit Outlook.com webmail and click the uBlock Origin icon again. Now you will see all the on page connections and their associated rules in the window and whether they are allowed or blocked. Scroll down the list until you see skype.com, then press the red box in the right-hand column.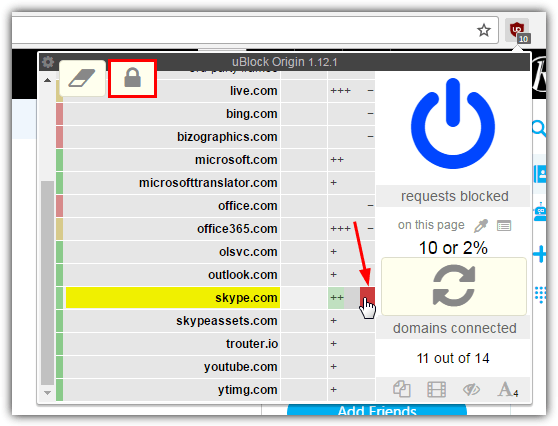 4. Click the padlock at the top left to commit the changes and refresh the page, Skype will no longer load.
The right hand column in uBlock Origin only blocks on the specific page while the left column blocks on all sites. Configuring for a single page means you can still use the Skype.com website and Skype for Web in your browser. This method is preferred if you want to disable Skype only on Outlook.com and nowhere else.
---
4. Router
Most modern broadband routers are equipped with a firewall and many also include a dedicated site blocking feature. Each router manufacturer and model that includes site blocking has its own implementation so it's not possible for us to cover everything. We have two ISP supplied routers and one site blocking function is found in the Firewall configuration settings under Domain Blocking.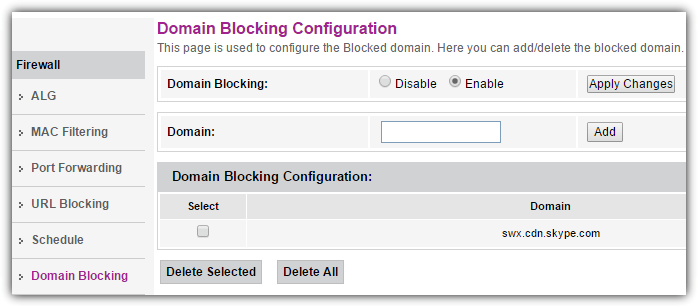 With our other router, the setting is called Block Sites in the Security section. This router's function also allows blocking of specific keywords, not just domain names.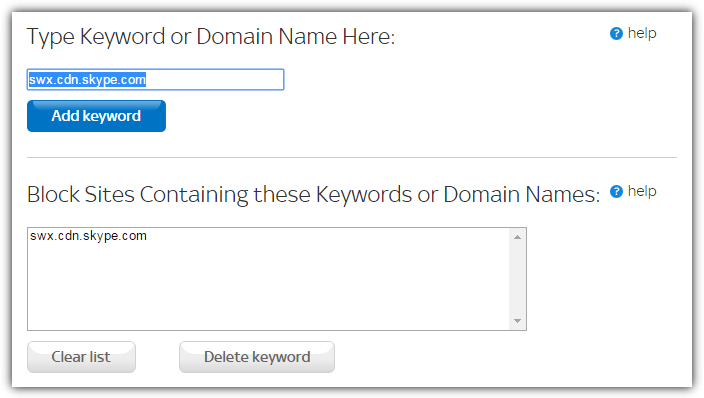 Your own site or domain blocking feature should be found in a similar location. Simply enable the option and add swx.cdn.skype.com as the address to block, then save or apply the settings. You may need to close and reopen your browser for the changes to take effect.
---
5. Domain Name System (DNS)
This fifth method to stop Skype from signing in at Outlook.com is to block at the DNS level. Most third party DNS services don't allow you to block custom domains and websites but OpenDNS does have that ability. OpenDNS is highly configurable and helps block malware and phishing domains while content filtering guards against content like adult and illegal material.
The problem with using OpenDNS is the process is more involved than the other methods. The advantage is you also get a good DNS service which should help make your internet a little bit faster and safer.
1. Signup for a free OpenDNS Home account, this is required to customize the DNS service for your network. Once you have created and verified the account, log in.
2. Go to the Settings tab in the OpenDNS Dashboard and click the ADD THIS NETWORK button. Give the new network a name, such as Home or MyInternet etc. Make sure the "Yes, it is dynamic" box is checked and then download the DNS Updater for Windows tool using the link provided here or on the page.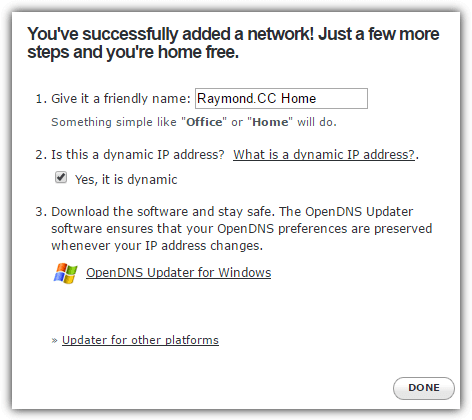 3. Your network will now be added to the list, click on the IP address for the network to manage its settings. On the Web Content Filtering page, there is a section called "Manage individual domains" at the bottom. Make sure the filtering method is "Always block" and add the Skype domain URL into the box:
swx.cdn.skype.com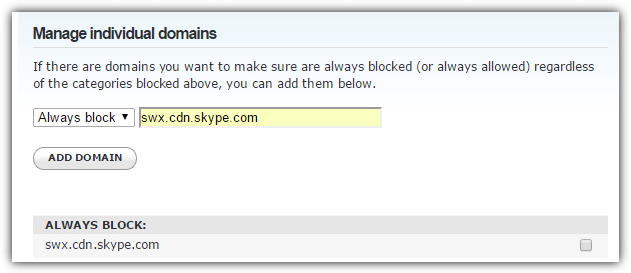 Press ADD DOMAIN and then Confirm to add the Skype entry to the block list.
4. Now you need to configure Windows to use the OpenDNS service. The OpenDNS website has manual DNS setup guides for just about every type of device and operating system. However, an easier method is to use a small portable tool to set the DNS service for you. Download Public DNS Server Tool, extract the zip and run the executable.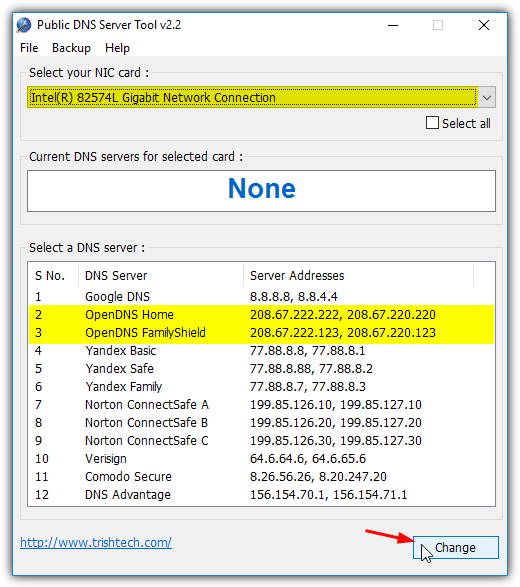 5. Firstly, go to the Backup > Backup menu and create a copy of the current DNS configuration. Then select the network adapter from the drop down (the default should be selected), choose OpenDNS Home or OpenDNS Family Shield from the list and finally press the Change button. To verify you are successfully set up with OpenDNS, close/reopen your browser then visit the OpenDNS Welcome page. It will give you a tick or cross to signify the DNS setup status.
6. This last step is optional and applies to those internet connections where the ISP assigns a different IP address every time your broadband reconnects. The OpenDNS Updater tool, which was offered for download in step 2, automatically changes the IP address on your OpenDNS account to the new address supplied by your ISP. If your IP address is dynamic and you don't update the account, the configured settings won't work.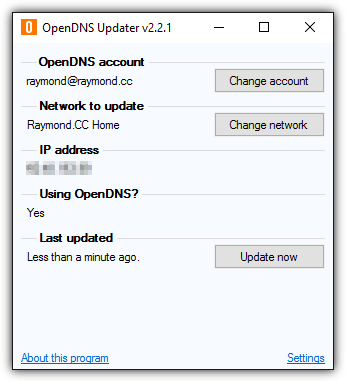 Install the OpenDNS Updater and on launch, log in with your OpenDNS account credentials. From now on, any change to your IP address will be automatically added to your OpenDNS account.
---
Final Note: To check whether any of these methods to block Skype from logging into Outlook webmail have worked, simply paste the swx.cdn.skype.com URL into your browser. Seeing a few lines of an XML file means it's not blocked. A failure to connect or a blocked message means it is working correctly. You won't be bothered by the Skype login anymore.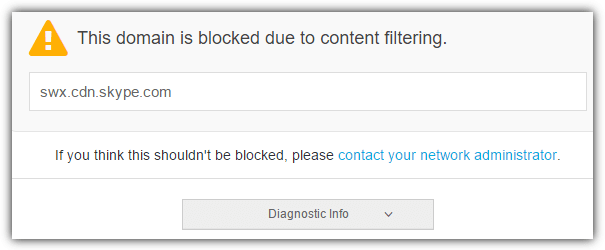 When you try to access the Skype tab in Outlook webmail and the URL has been blocked successfully, you will be presented with a simple waiting animation.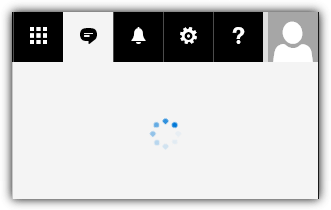 This doesn't change and the tab continuously sits there trying to load the blocked Javascript file. Skype won't log in while the block is active.