How to Prevent Files From Being Copied: Quick Guide
2. Stopper
Stopper is about as simple as it gets because there is no GUI interface, no options to configure and nothing to install. Simply run the portable executable and the program will just sit in the background and stop you clicking on the Paste context menu entry or the Ctrl+V shortcut to paste files, folders or blocks of text etc inside programs. Also Stopper will prevent files being deleted although they can still be renamed.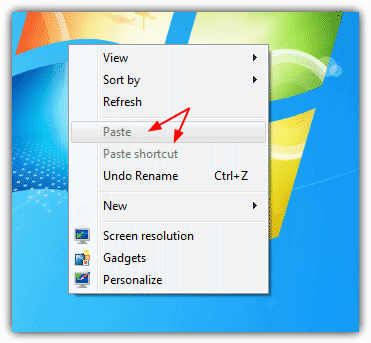 While running, the Stopper.exe process does not try to protect itself in any way and can simply be killed to bring back the paste and delete functions. Your best hope of stopping the average user doing this is perhaps to rename it to something a bit less conspicuous such as svchost.exe or userlogon.exe etc.
---
3. Prevent
Prevent is a small tool developed for TheWindowsClub and falls somewhere in between M File Anti-Copy and Stopper in terms of its functionality. The configuration options are limited only to setting up a shortcut key which can be used to exit the program and return the copy and delete functions to the system. Prevent is able to disable keyboard shortcuts and gray out the context menus/buttons for cut, copy, paste, delete and rename. Also, the Copy to, Move to and Send to functions are disabled as well.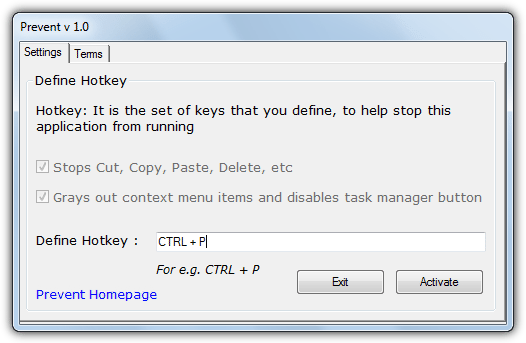 As a self protection measure, Prevent does a couple of things to the Windows Task Manager to stop anybody killing its process. Firstly the End Process button is removed and secondly the context menu is disabled when you right click on a process. This makes it almost impossible to kill Prevent within Windows Task Manager and you would have to use a third party task manager, the built in Windows Taskkill command line tool or the hotkey if you defined one.
Editor's Note: These tools aren't foolproof at stopping files from being copied or deleted and are never going to be. For instance, you can easily drag and drop files between Explorer windows or onto the recycle bin, copy via network shares or open a text file/document then save it out as another file. Resourceful or knowledgeable users can easily find ways to workaround or completely disable these tools. They are though, more aimed towards keeping the average or novice user and kids from copying or deleting files they shouldn't, and for that purpose, they are quite effective.