5 Best CRM for Xero (2023 Ranked and Reviewed)
Using the Xero accounting software, small businesses may issue quotations and invoices, pay bills, keep spending track, and process payments. Companies can synchronize sales data with the accounting system when integrating with CRM for Xero software.
By doing this, the data on both systems are kept current for invoices, forecasts, and customer payments. In the finest CRM for Xero, connections are inexpensive, allow for two-way data synchronization and communication, and provide additional software features.
One of the most well-liked options for company accounting software is Xero. With features like current transactions and adaptable reporting, it is simple to understand why.
Imagine if there was a way to enhance the functionality of your Xero processes and make it an all-encompassing solution for your company. Well, a Xero CRM system accomplishes that. A CRM is the most excellent approach to improve the features of your accounting software if you use Xero and want to do so.
Learn how Xero CRM software improves Xero's functionality and allows you to do more in this article.
Best Xero CRM Integrations
Software
Best for
Top Features
Pipedrive
Small companies seeking their first Xero CRM
– More than 300 tools may be integrated by third parties using this CRM for Xero.
– Direct invoice creation and transmission from your CRM are possible.
Zoho CRM
Creating site layouts and email campaigns
– With Canvas design studio, you may change the home page, tabs, and menu bar, for a better view.
– You may now also design flowcharts that use the response to decide what happens next in the customer journey.
HubSpot
Handling digital advertisements and email campaigns
– Through HubSpot Academy, you may access educational materials for Xero.
– A sizable app store where third-party integrations may also be found.
Freshsales
Optimal tracking invoices
– Offers almost infinite customizability and makes Xero better for use.
– It also offers a contact scoring system that is driven by AI.
Salesforce
Enhancing your marketing and sales procedures
– It offers a platform for developing apps using cutting-edge technology like blockchain and AI.
– Teams may now easily customize it to accommodate different currencies, workflows, and accounting procedures.
1. Pipedrive – Best for monitoring your leads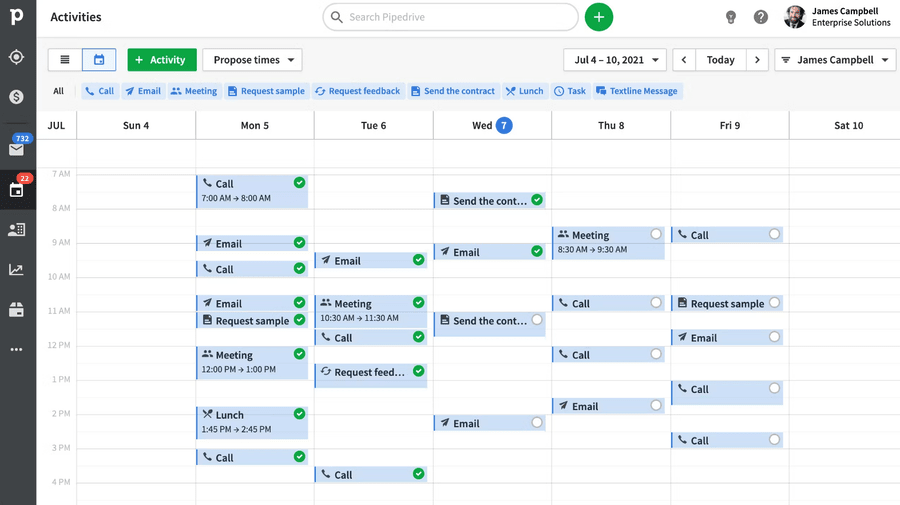 Supported OS: Android, iOS, Windows, Mac, and Linux
Developer: Pipedrive, Inc.
License: Free, Commercial license
One of the best Xero CRM software, Pipedrive streamlines sales-related work by obtaining leads around-the-clock and emphasizing the best opportunities so you can turn them into deals from the sales funnel. Pipedrive's adaptable and user-friendly design makes it easier for companies to switch to CRM tools, reducing the effort on the sales force.
Pros
The tracking of emails and other communications is pretty excellent.
Its drag-and-drop interface is straightforward and easy to use in this Xero CRM system.
It is quite simple to implement.
With tools for businesses like Slack, Gmail, and others, it offers third-party integrations.
The user can choose to integrate LeadBooster for personalized chatbots using Pipedrive CRM for Xero integration.
Cons
It makes no distinction between your contacts and leads.
2. Zoho CRM – Best CRM for Xero for the management of contacts, deals, and leads
Supported OS: Windows, Mac, iOS, Linux, and Android
Developer: Zoho Corporation Pvt. Ltd.
License: Free (trial version)
The powerful software Zoho CRM meets all your business needs, from completing deals and managing corporate data to working with co-workers. Being one of the most sought-after Xero CRM systems on the market, it offers CRM options based on the industry and size of your company for the best sales experience. One of the advantages of Zoho is that is it also one of the best CRM for sales, which comes in handy when combining it with Xero.
Pros
Excels in resolving complex business problems quickly and with impressive outcomes.
You may also increase the aesthetic background of your Xero CRM software and work more productively.
It streamlines interactions with inbound leads and unifies all your communication channels onto a single platform.
Consistently following the pre-entered commands improves insight into customer interactions and enhances your company portal.
Cons
Limited customization is offered.
3. HubSpot – Best Xero CRM Integration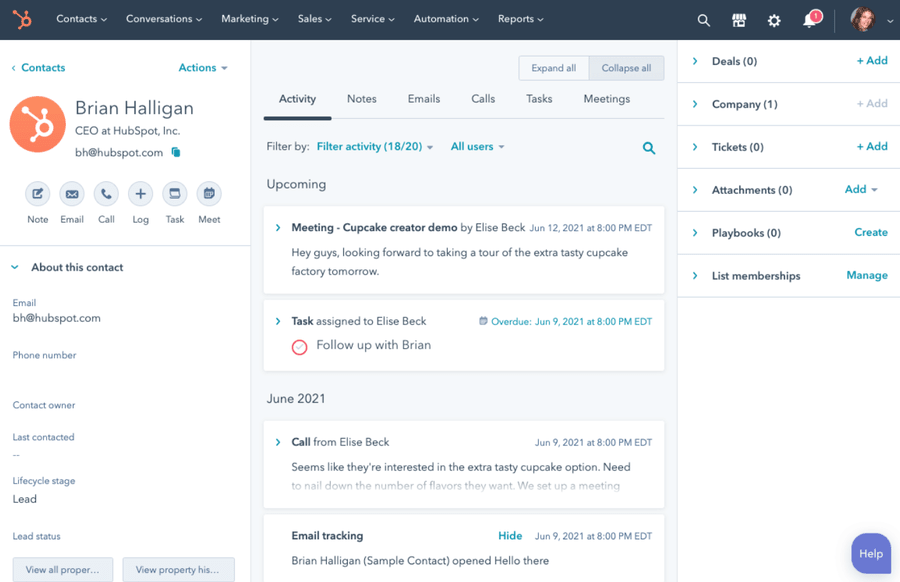 Supported OS: iOS, Windows, Mac, Linux, and Android
Developer: HubSpot, Inc.
License: Free, Commercial license
HubSpot is a CRM for Xero where connections stand out for its free contact data synchronization. Both systems will automatically update records that are produced or modified in one system. Furthermore, information from contact records, including contact information, activity, invoices, and product items changed in Xero, may be synchronized, and monitored in HubSpot.
Pros
It is straightforward to use this CRM with Xero integration for using its capabilities.
Contact details, invoices, and items are all included in the Xero data sync.
It eventually improves all parts of your small business by offering hubs that stand alone well but function best when used in tandem.
The content management system (CMS) it offers is an excellent benefit of this Xero CRM system.
Cons
Quote data is not included in the HubSpot and Xero two-way data sync.
4. Freshsales – Best for speeding up the closing of agreements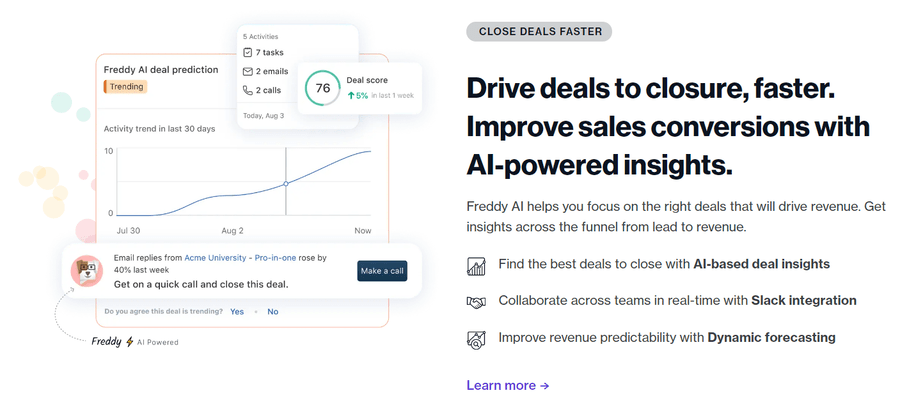 Supported OS: Windows, Mac, Linux, iOS, and Android
Developer: FreshSales, Inc.
License: Free, Commercial License
The Xero CRM software add-ons are excellent business-to-business (B2B) sales CRMs that can expand some account management functions for teams managing business accounts. Users may see invoices sent through Xero by synchronizing their accounts and then viewing them in their CRM contact or account records.
Pros
Three free user seats are part of their expansion strategy.
The connection allows users to view unpaid Xero invoice balances in Freshsales records.
This platform is straightforward to use, making it easier to integrate this CRM with Xero.
Because of Xero connectivity, lead, contract, and contact data in Freshsales can monitor invoices.
Cons
Only invoice and payment information are synced in both directions through integration.
5. Salesforce – Best for taking care of your clients, leads, and suppliers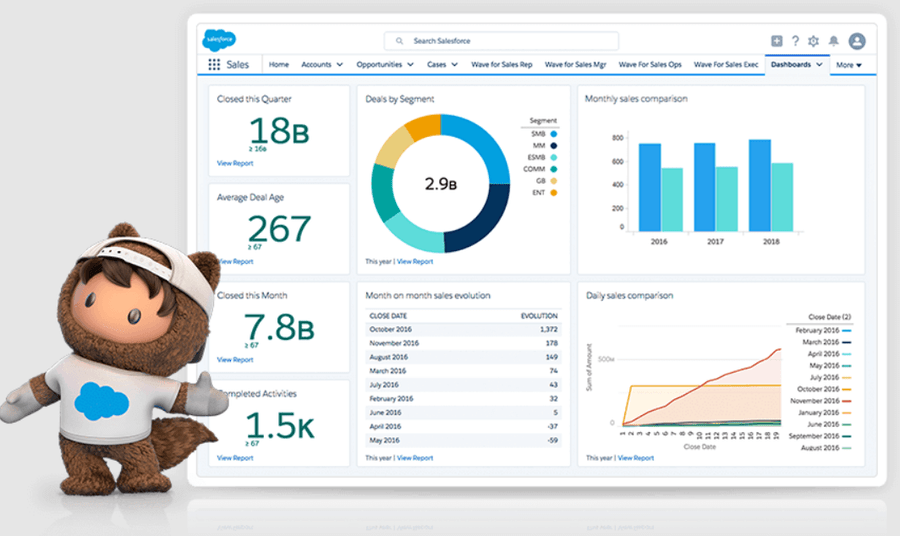 Supported OS: Windows, Mac, iOS, Linux, and Android
Developer: Salesforce, Inc.
License: Free, Commercial license
It is one of the best CRM for Xero in the world. Salesforce is a robust sales, marketing, and collaboration tool that enables users to carry out business activities and intelligently exchange ideas. Salesforce is one of the most sought-after CRM products that is used in domains such as private equity management or marketing, resulting from its relentless pursuit of innovation and its commitment to charitable causes.
Pros
Every business may profit from its extensive toolkit because of this Xero CRM's multi-feature platform.
With Salesforce Sustainability Cloud, you can create a thorough strategy to reduce carbon emissions.
It fosters communication between various company divisions and also brings them together.
By carefully regulating work hours, it monitors employee health and assures their well-being during the epidemic.
Cons
Integration necessitates the third-party Breadwinner app, which is an extra expense.
Does Xero have CRM functionality?
Yes, definitely, Xero has CRM functionality. You can also follow the progress of payments and produce invoices using integration with CRM using the data you already have in your CRM database. Managing client contact information is made easiest by CRM connection with Xero. Additionally, they are so much easier to use than a spreadsheet for keeping track of customer interactions between you and your staff and also monitoring business activity.
Final Thoughts
Combining Xero accounting software with a CRM will help you meet all your organizational needs and streamline business procedures. It also allows you to keep track of every client and invoice information, minimizing the chance of mistakes or duplications. Teams may maintain consistency in both systems by integrating a CRM with Xero's accounting software. Users may now examine accounting information in account, contact, lead, or deal records using their CRM. You might also want to check the best CRMs for Forex brokers.
Thus, you must now understand which Xero CRM software best suits you from the above information about various CRM for Xero.