7 Best CRM for Sales (2023 Ranked & Reviewed)
A CRM for sales can help analyze, sort, and prioritize your sales to help your sales team to close more leads and provide more accurate answers to customers.
Most businesses use them to streamline their entire sales process. Since order processing and preparing quotes are automated, the system reduces the cost of production and increases revenue. For some cases, CRM tools have been proven to increase sales and productivity by 30%.
Each tool is powerful depending on specific sales and business development operations and industries. They can give your customers the information they need to upsell and cross-sell.
Best sales CRM software
Finding the right software for your company can be a hustle, especially with many available options. We analyzed top-performing tools based on several factors to help you find the most suitable.
Here are the best sales CRM tools we found.
Best For
Top Features
1.
Monday
Managing work apps like Gmail, Slack, Microsoft Teams, and Adobe Creative Cloud
Lead management
Account and contact management
Post-sales management
2.
Zoho
Engaging with customers, converting sales, and growing revenue
Online form builders
Landing page builders
Loyalty and affiliate management
3.
Salesforce
Automating different sales functions in virtually any industry
Lead management
Workforce automation
Advanced reporting and analytics
4.
HubSpot
Managing contacts, automating email marketing campaigns, and viewing sales pipelines in realtime
Email click and open notifications
500+ business app integrations
Predictive lead scoring and sales analytics
5.
Pipedrive
Manage contacts, track leads, and increase sales
Full customization with API access
Sales assistant powered by machine learning
Workflow automation
6.
Zendesk
Bringing all customer interactions into one place
Sales tracking system
Community forums
Public apps and integrations
7.
Snov.io
Engaging leads, scaling your business, and delivering growth
Click and collect email finders
AI conversions generators
Unlimited sender accounts
1. Monday – Best CRM for sales overall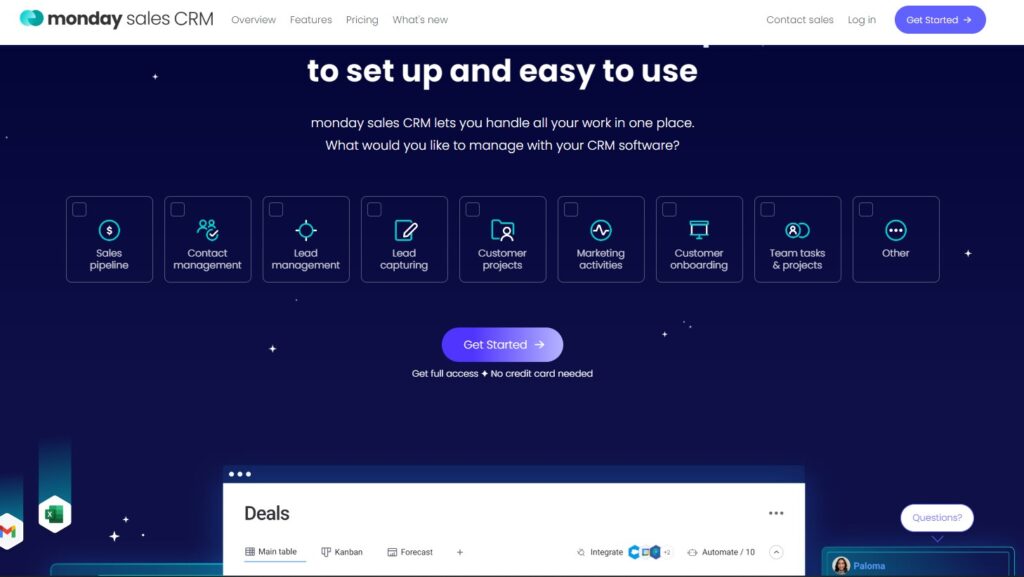 Pricing: Premium
Developer: Roy Mann and Eran Zinman
Monday is a highly-customizable and robust sales platform for collecting and nurturing leads until they are qualified customers. It helps you to streamline your sales activities from marketing to making sales.
It works better than other platforms since it supports a high degree of customization and can adapt to the unique needs of your sales teams and business.
Monday is a no-code platform for building applications, workflows, and integrations; you must create the ideal ERP. It connects your sales, customer support, and marketing through the platform to ensure a personalized customer experience.
Users can use widgets on the platform to oversee their sales processes, track budgets, and estimate their teammate's workload. You can create up to 10 dashboards, but the pro plan supports as many dashboards and widgets as you like.
Pros
Handle all your workforce processes in one location
Collect leads from different sources, but qualify them in one place
Customize your sales pipeline without needing to code
Keep a record of your account and contacts information
Hire salespeople and track collections and client projects
Cons
Per-user pricing models, so adding users incur additional costs
More valuable features are on the higher pricing plans
2. Zoho – Easy to use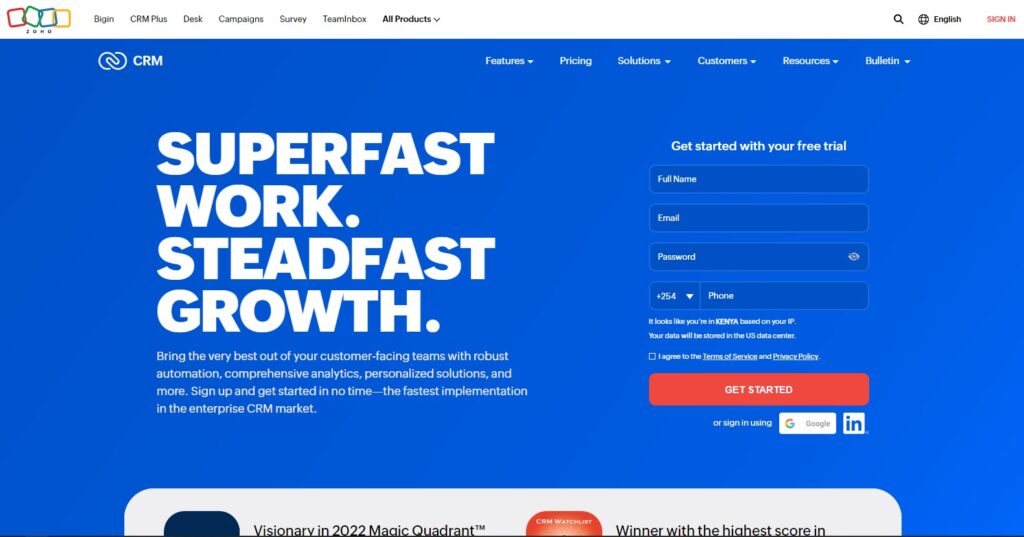 Pricing: Freemium
Developer: Zoho Corporation
Zoho is a sales management software designed to help you manage sales, customer support, and marketing. It helps businesses combine their sales operations, streamlining their sales, processes, and people on one platform.
The platform is ideal for small business owners and startups that need contact and client management, sales forecasting, and marketing automation features.
Many businesses use Zoho to manage all social media interactions in a unified location. You can integrate your company's Twitter, LinkedIn, and Facebook into the CRM to immediately engage and follow up with your customers.
In addition, Zoho People comes with custom modules for adding forms and tabs based on your needs. It offers a free version for up to three users with sales automation tools for leads, calendars, contacts, deals, and accounts.
Pros
Offers the best automation tools for your customer-facing teams
Has integrated personalized solutions
Fast implementation – you can sign up and get started immediately
Engage with customers immediately on the right platform
Ensures maximum productivity with minimal usage
Cons
The workflow tool may need working on as it's not intuitive
Some users have reported poor customer service
3. Salesforce – Excellent CRM for managing customer interactions and tracking sales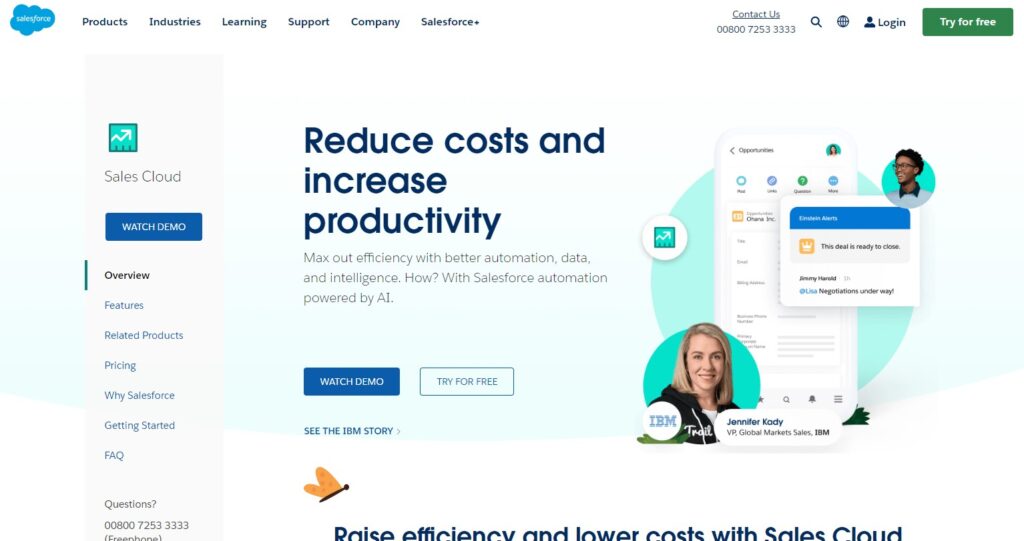 Pricing: Premium
Developer: Salesforce. inc
Salesforce is a leading cloud-based CRM offering innovative and far-reaching solutions to manage customer interactions and track sales.
You can use it to manage leads, contacts, cases, and opportunities. Many prefer it for its advanced features that help automate sales and marketing processes like lead capturing, scoring, and targeting, besides that it can be a great CRM for venture capital management.
Salesforce CRM is well organized, leading to a better understanding of customers. You can use the information to improve your outreach and messaging.
The tool is great for startups as they can scale services as they grow. It scales beyond CRM services, helping businesses build large and complex systems to support different departments.
Pros
Salesforce helps businesses close leads and scale faster
You can provide better and brighter customer support
Get expert advice on lead management
Analyze your customers using intuitive dashboards to boost sales
Receive ideas and updates via email
Cons
You have no control over CRM upgrades and planned downtimes
It's not cheap since you need many addons
4. HubSpot – Comprehensive tool with many software and resources to improve your marketing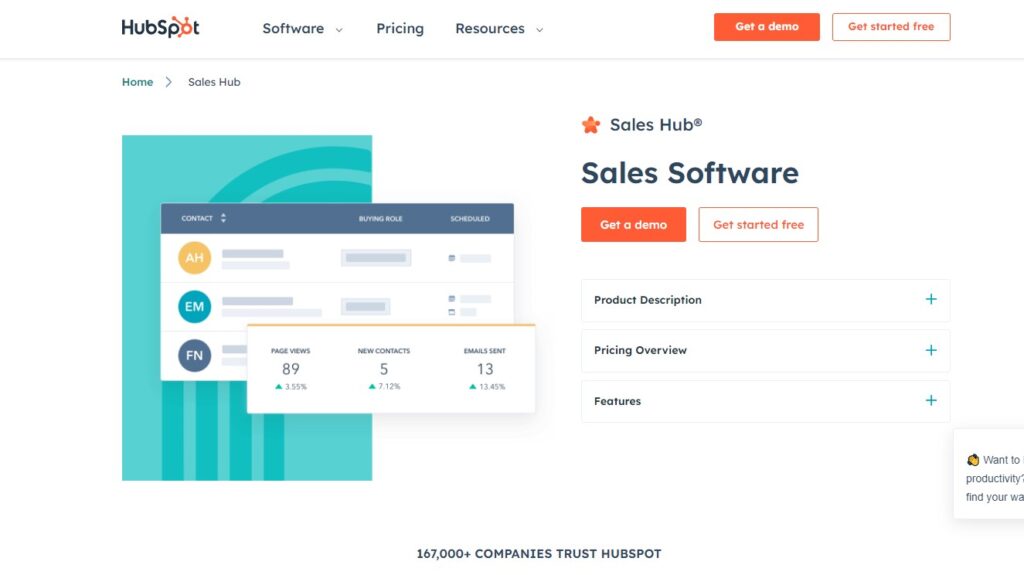 Pricing: Freemium
Developer: HubSpot
HubSpot is a powerful marketing CRM with many software, integrations, and learning resources you need to improve your drip campaigns, sales, and customer service.
Its sales CRM allows sales reps to quickly manage and complete their daily tasks, including booking meetings, making calls, and sending emails to customers.
The platform can monitor your daily tasks, sales pipelines, and meetings. It can also store and update contact details, set reminders, send emails from the dashboard, and streamline your sales inquiries.
HubSpot is best for companies that need help tracking sales and leads and analyzing their business. It has free tools your marketing team might enjoy exploiting.
Pros
Advanced contact, lead, and sales management
Simple automation, excellent tracking, and prompt notifications
You can track leads and tasks at every stage
Share documents and integrate your Gmail and Outlook on one platform
Cons
It's expensive for small business owners
The platform doesn't offer a money-back guarantee
Get started with HubSpot for free
5. Pipedrive – Excellent tool for gaining more leads and scaling your business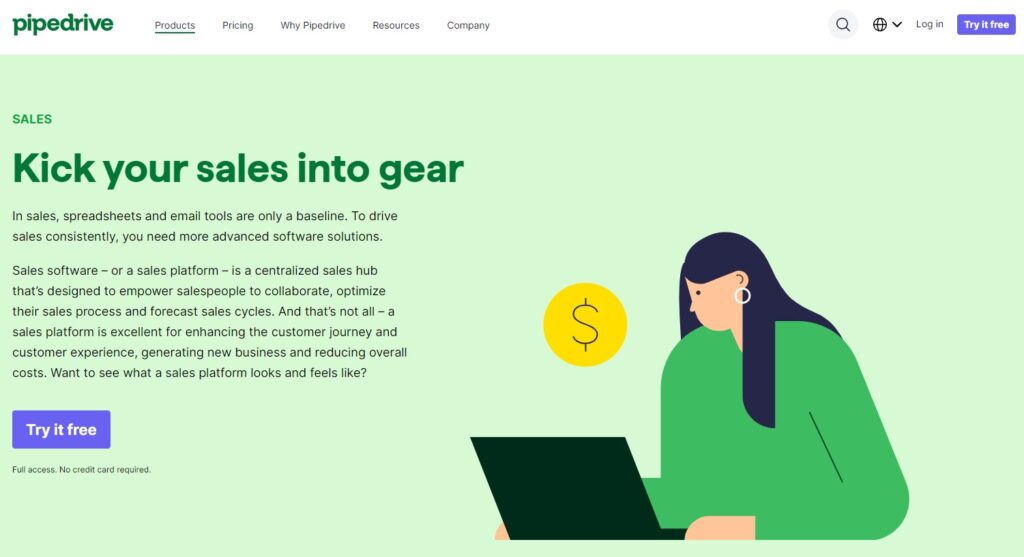 Pricing: Premium
Developer: Pipedrive
Pipedrive is a cloud-based web and mobile application designed to help you get more qualified leads and scale your business. Sales teams use it to manage their contacts, leads, and sales.
The platform lets businesses plan their sales activities and monitor how deals proceed. Its pipeline management solution helps you streamline all actions in converting deals into sales.
Pipedrive has an inbuilt caller feature that lets you record, store, and make calls directly from the web app. However, it doesn't have a desktop app and only works via a web browser.
Pros
Visualize your sales process on your dashboard and advance your leads
Automate your manual tasks to focus on pressing tasks
Excellent email and communication tracking to keep sales teams on track
Create and send invoices to your invoicing tools directly
It integrates well with more than 300 business apps
Cons
It takes more time to implement the software
Some users complained about the customer support
Request a free Pipedrive trial
6. Zendesk – An award-winning SaaS tool for communication, sales, and customer support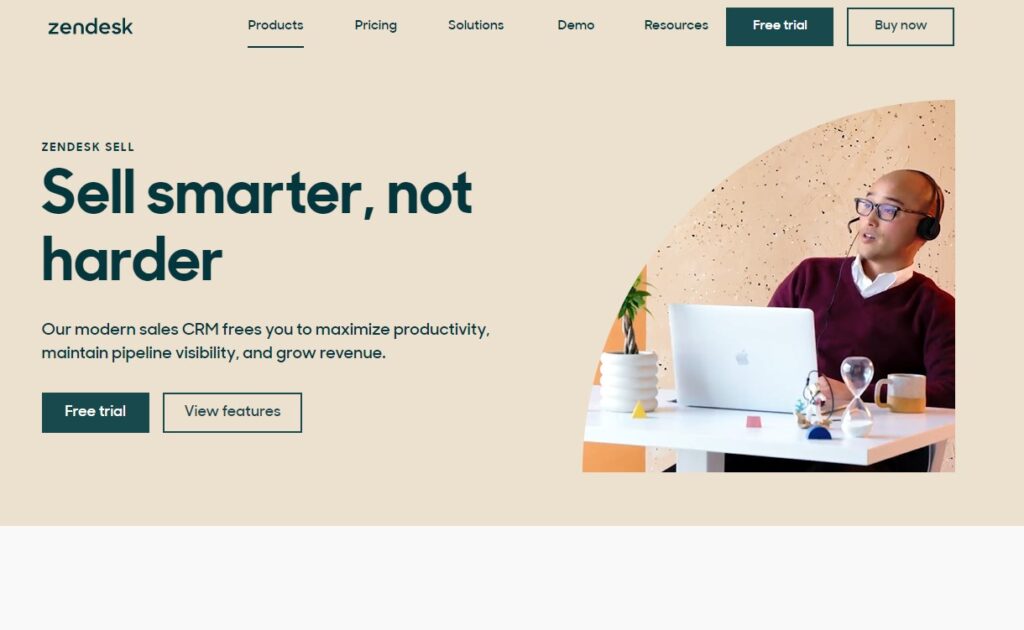 Pricing: Premium
Developer: Zendesk, inc.
Zendesk is an award-winning SaaS customer support, sales, and communications product. It provides an easy-to-use CRM that can scale your business.
The platform lets you stay connected with your customers via different mediums, including calls, live chat, email, and messaging. You can build an integrated help center or community forum, so customers can quickly resolve issues.
Use AI and bots to give users instant answers to save your business time and energy and help your teams focus on pressing matters. It's easy to track, prioritize, and respond to customers quickly.
Pros
Unlock team productivity with data-driven decision-making processes
Zendesk unifies all features on one platform allowing teams to maintain focus
Visualize data and information to deliver more personalized experiences
Accurately forecast and manage your pipelines in real-time
Increase company efficiency with task automation
Cons
Some customers have expressed their disappointment with the customer support
It's quite complex for beginners
7. Snov.io – Excellent tool for streamlining lead generation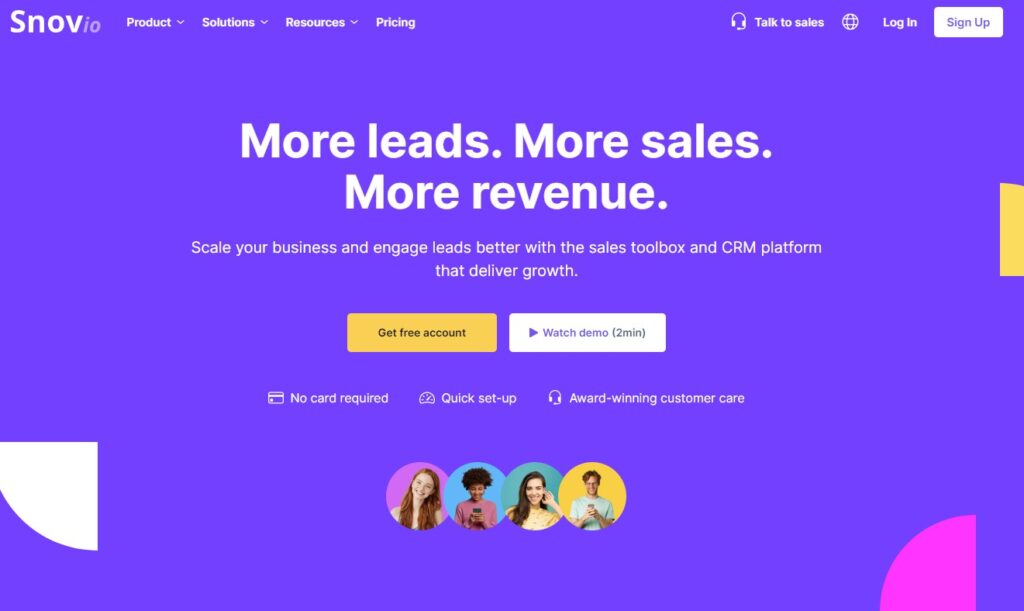 Pricing: Premium
Developer: Snovio
SNOV is a sales automation software that helps businesses streamline lead generation, email marketing, and customer verification to improve outreach.
The platform is designed with tools to help grow revenue, scale your business, and engage leads better. The top features you'll find on the include drip campaigns, an email verifier and finder, and a sales CRM.
SNOV helps improve contact management and cold email outreach. You can use it to find convertible leads, track their progress, and verify contacts.
It supports 5000+ integrations, including teamwork tools, form builders, customer support platforms, and social media apps. It combines with LinkedIn Sales Navigator to send email drip campaigns, delivering great results.
Pros
SNOV allows you to find, manage, and reach out to leads from one place
You can keep your teams on the same page with great collaboration tools
Manage all your tasks in a cohesive calendar to improve workflow
You can visualize your tasks to learn from your loses
It's easy to build pipelines with different stages and notes for your teams
Cons
It has a steep learning curve, especially if you want to run drip campaigns.
Some users have complained about its functionality
Why is CRM useful for sales?
A CRM stores and collects customer data. It can help you sort, analyze, and prioritize sales leads, so you can focus on opportunities that are likely to close, it can be used by freelancers like graphic designers or by businesses like beauty salons to increase revenue.
Wrapping up
The above-mentioned tools provide a centralized location for sales teams to manage customer interactions and activities. You can use them to boost sales and provide better customer support.
What do you think about the above-mentioned list? Do you have more recommendations you'd like us to mention? Share your thoughts in the comments section below.