5 Best CRM for MYOB (2023 Ranked & Reviewed)
We are in an era where customers expect service anywhere, anytime. An efficient customer relationship management (CRM) system can be the difference between your customers sticking to your business or switching to your competitors.
In this article, we take a look at the best CRM for MYOB, a popular tax and accounting software for SMEs.
A CRM with MYOB integration enables advanced inventory management, lets you see your stock levels and quotes instantly, and allows you to access all necessary MYOB data in an all-in-one system.
Similarly, a CRM for Slack will improve communication across teams and improve interoperability between various departments in your organization.
If you are looking for a CRM solution with accounting capabilities, make sure that you read it till the end to make an informed decision.
Also read: Best CRM for Manufacturing Industry
Best CRM software with MYOB integration
Software
Best for
Top Features
Monday.com
Project management
Project and activity management
Sales forecasting
Email sync and templates
SalesForce
Sales automation
Account and contact management
Automated workflow and approvals
Sales performance management
Zoho CRM
Customer and employee data management
Integration with Zoho tools
Analytics and reporting
AI-powered business-generating tools
Hubspot
Marketing automation
Inbound marketing tools
Lead nurturing capabilities
Real-time lead behavior notification
Tall Emu
Integration with MYOB data
Comprehensive activity dashboard
Lead management
Stock and inventory management
1. Monday.com – best CRM for MYOB overall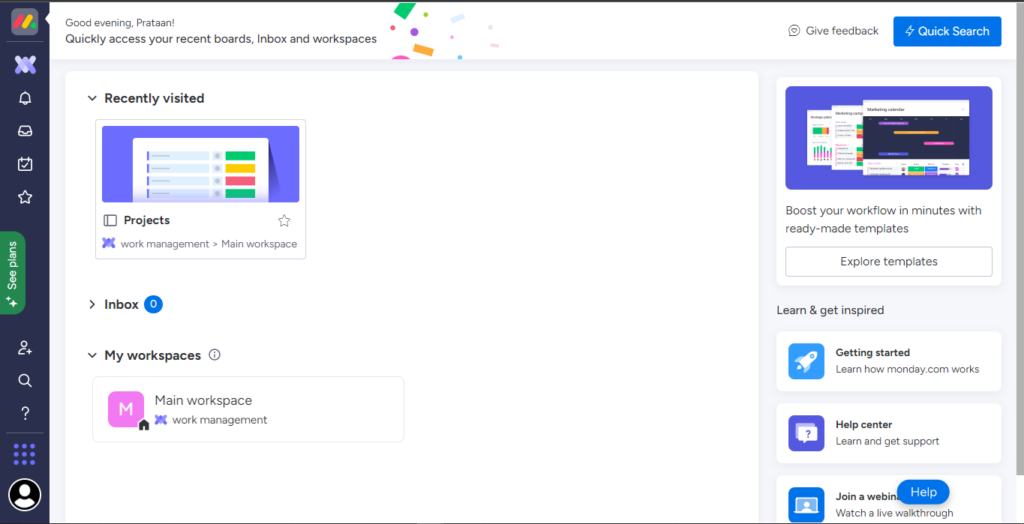 Operating System: Windows, Mac, Android, iOS.
Pricing: Free individual plan available; paid plans start at $0-$10 per month
Developer: Monday.com
Recently, the best project management CRM, Monday.com, has finalized a custom MYOB integration for Monday CRM that will allow businesses to create purchase orders using the CRM data.
The base CRM is one of the most user-friendly software solutions you will ever use. Even novice users can use the platform to maintain customer databases and manage projects. Monday CRM offers a ton of templates and one-click integrations to help you get started with your projects.
Apart from MYOB, CRM also integrates seamlessly with a host of third-party applications like Google Workforce, Slack, and Trello. These integrations allow you to improve the functionality of the software and the operational efficiency of your organization.
With Monday CRM for MYOB, businesses can easily create purchase orders, validate supplier and cost accounts, log tracking data during processing, and access all important information in one platform. You can set up calendars, timelines, and tables to view your most important data quickly.
Pros
One-click integration for MYOB
Create POs and send PDFs
Upload POs to Monday CRM for data extraction
Log tracking data during processing
Readymade templates for every situation
CRM customization with Gantt Charts
Cons
No generic app; "semi-custom" MYOB integration
Per-user plans are not suitable for enterprises.
2. Salesforce – best CRM for sales automation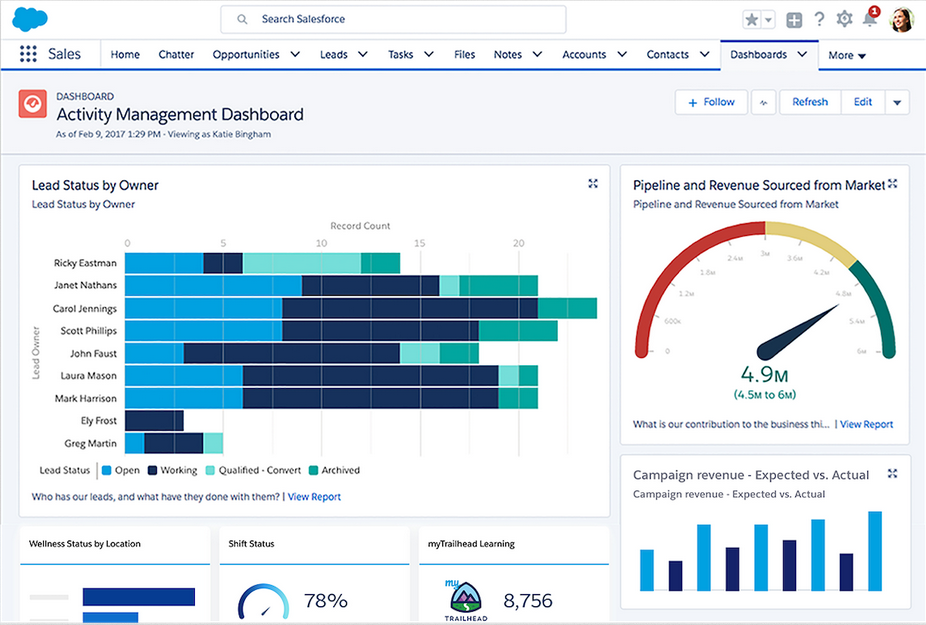 Operating System: Windows, Mac, Android, iOS.
Pricing: Paid plans start at $300 per year
Developer: Salesforce
Salesforce is an excellent customer relationship management software for small and medium-sized businesses and offers one of the largest collections of targeted CRM products.
If you are already using Salesforce, MYOB offers a Salesforce Connector that enables several bi-directional features beneficial for businesses across industries. Users can create, modify, and delete important customer information, like leads and contacts, accounts, inventory items, opportunities, etc.
All your important business information will be synchronized across platforms and available across the organization, enabling all departments to stay up-to-date with the latest updates. Recently, Salesforce has also introduced several AI-powered features like dynamic demand forecasting and chatbot assistants to help you make data-driven decisions.
Pros
Automation and AI to resolve issues quicker
Access to multiple communication platforms
Full insights with reports into customer behavior
Track order history and inventory
Strong integration with third-party platforms
Impressive lead nurturing capabilities
Cons
Yearly commitment for most CRM features
Customizations are paid
3. Zoho CRM – best CRM for data management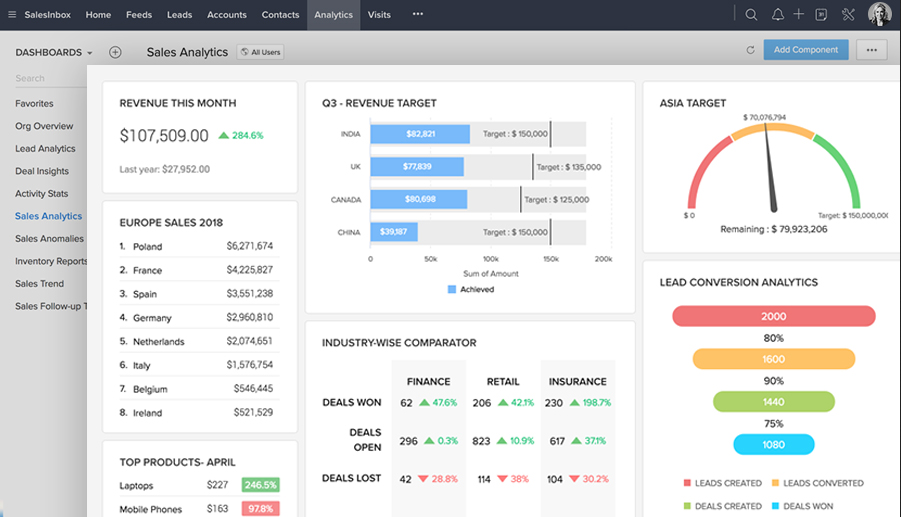 Operating System: Windows, Mac, Android, iOS.
Pricing: Paid
Developer: Zoho Corporation
Zoho is another widely used CRM that offers a wide range of tools and third-party applications for business management.
With Zoho Flow, you can integrate your MYOB AccountRight Live with Zoho CRM without writing code for any of it. It supports a wide range of triggers, including new item sales, new invoices, new bills, new customers, and new suppliers.
Zoho is mainly popular for its automation and integration capabilities and supports a wide range of automated tasks called actions. With MYOB integration, you can automatically create a new supplier, add timesheet entries, generate bills for specific suppliers, create purchase item orders, update customer details, etc.
Pros
Wide range of automation and integrations
Webhook triggers to receive data from a wide range of services
If / then branches to carry out tasks based on conditions
Set time delays between actions
Custom functions
Lead scoring features to streamline nurturing
Cons
Reports are comprehensive
Costly when you integrate other Zoho tools
4. Hubspot – CRM with built-in marketing automation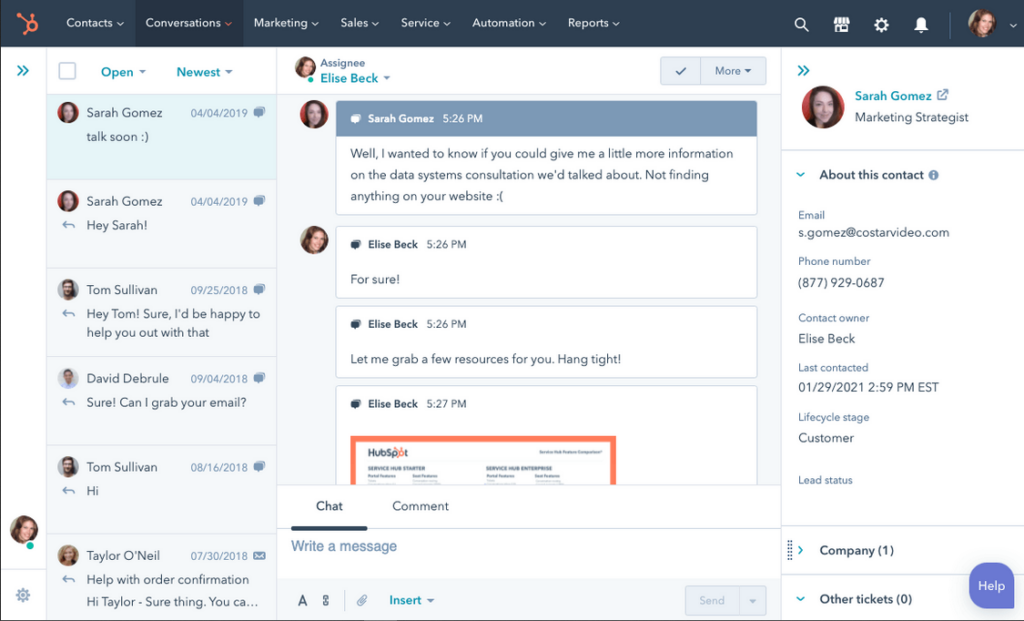 Operating System: Windows, Mac, Android, iOS.
Pricing: Core CRM is free; paid plans start at $20 for two users
Developer: Hubspot
Arguably the most popular CRM for marketing automation, Hubspot is a great tool for managing and automating your marketing campaigns.
Similar to Salesforce Connector, MYOB also has a Hubspot Connector, which provides an out-of-the-box solution to connect the two platforms and share data between them. You can export leads from MYOB to Hubspot, nurture them using the latter's marketing tools, and then import them back to MYOB for further processing.
The core CRM from Hubspot is great for tracking leads from multiple sources and analyze data to make your inbound marketing campaigns more effective. A visual dashboard makes it easy to keep track of the entire sales pipeline and provides a detailed report on your team's activity and customer behavior.
Pros
Free marketing tools and automation
Data sync between MYOB and Hubspot
Supports OAuth protocol and the HubSpot API key for authorization
Real-time lead behavior notification
Detailed statistics and reporting
All-in-one platform with its own CMS
Cons
Per-user plans are expensive for larger organizations
Only 1 sales pipeline and no email automation
5. Tall Emu– best for inventory management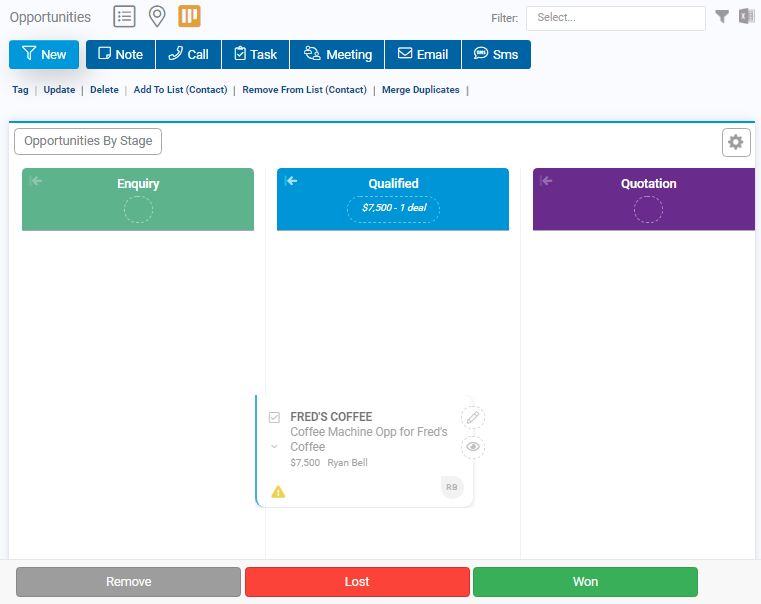 Operating System: Windows, Mac, Android, iOS.
Pricing: Paid plans start at $57 per user per month
Developer: MYOB
Acquired by MYOB in 2022, Tall Emu is a customizable, end-to-end CRM for MYOB specializing in business automation.
Tall Emu does most of the basics of a CRM right. The platform streamlines sales and operations with various tools and integrations, thereby helping you manage your leads, payments, and subscriptions.
Since it is owned by MYOB, it offers real-time inventory management features across multiple departments, like serialized batch tracking, cost calculations, etc. You can create branded invoices from right within the platform. Tall Emu also integrates with various payment platforms, which allows customers to view and pay invoices online.
Pros
Access MYOB data in Tall Emu CRM
Powerful sales and quoting features
Advanced inventory management
Integrates with payment platforms like Stripe, WooCommerce, etc.
Manage leads, sales, and subscriptions
Free customer portal
Cons
Workflow limitations compared to other CRM
Technical support is a hit or miss
Final Thoughts
If you are already using MYOB products for your business, you will be delighted to know that there is a good selection of CRM for MYOB available in the market. Monday CRM is one of the best overall, as it brings advanced project management to the table and works seamlessly with accounting integrations. You might also want to check best CRMs for Xero. However, make sure to go through the entire list, as you might find a solution that better fits your requirements.