CRM for Mortgage Brokers & Loan Officers [5 Best in 2023]
The best CRM for mortgage brokers can assist you in expanding your mortgage business and drawing in new clients in the most organized and effective manner possible if you want to simplify things.
Loan officers may also manage, track, and cultivate connections with all their leads and clients using a mortgage CRM. Top-notch mortgage CRM solutions should help you stay organized, work more efficiently, manage your time more effectively, and also improve your interactions with all your contacts.
Simply said, mortgage CRM solutions further streamline lead handling, enabling you to draw in, develop, and close more business in a shorter amount of time, CRM tools are especially useful given the growing rate of mortgage debt.
The best CRM for mortgage brokers can additionally be linked with your other business operations, from pre-loan to post-closing, utilizing the power of workflows explicitly tailored for the mortgage industry to assist you in drawing in more borrowers while retaining the most excellent conversion rates.
The advantages do not end there, either. Let us review the significant benefits that the top mortgage CRMs can provide to your business.
Best Mortgage CRM Software
Software
Best for
Top Features
Pipedrive
Receiving real-time information and viewing documents
– Several connectors are available, including Calyx, LendingPad, and PropertyRadar.
– Support is now also offered by email and live chat every day of the week.
Zoho CRM
Companies seeking CRM software that is user-friendly for beginners
– Good automation and processes with a single click.
– It has a suitable reporting mechanism.
Salesforce
Involving borrowers in the application process and guiding them
– Web portals here are very user-friendly.
– It also gives a more accurate analysis of customer data.
Whiteboard CRM
Generating reports and analytics
– It provides the Mortgage Playbook, which includes automated chores and email templates.
– Through connections with Facebook Ads, Realtor.com, and Zillow, it provides lead-generating capabilities.
Jungo
Monitoring loan documents and gathering leads
– Act-On, Optimal Blue, and Mortgage Coach integration are all provided.
– Co-branded open house flyers, pricing sheets, and postcards are also created using pre-made CRM templates.
1. Pipedrive – Best for building custom dashboards, pipelines, and reporting

Supported OS: Android, iOS, Windows, Mac, and Linux
Developer: Pipedrive, Inc.
License: Free, Commercial license
Its numerous industry features, like the ability to track loans and integrate with hundreds of financial apps, are made available to it through its financial services platform. Moreover, a customer portal that organizes papers and offers real-time application status updates is part of Pipedrive's client-forward CRM.
Pros
Very user-friendly to navigate with clear views and dashboards.
Customized pipelines are available.
You can further set specific company objectives and monitor your development using the sales reporting function.
It may also be customized and is quite simple to learn.
Numerous financial apps may be linked with it.
Using the workflow automation function, you may carry out intricate operations based on movable triggers and conditions.
Cons
There is no SMS synchronization.
2. Zoho CRM – Best CRM for Mortgage Brokers for quicker deployment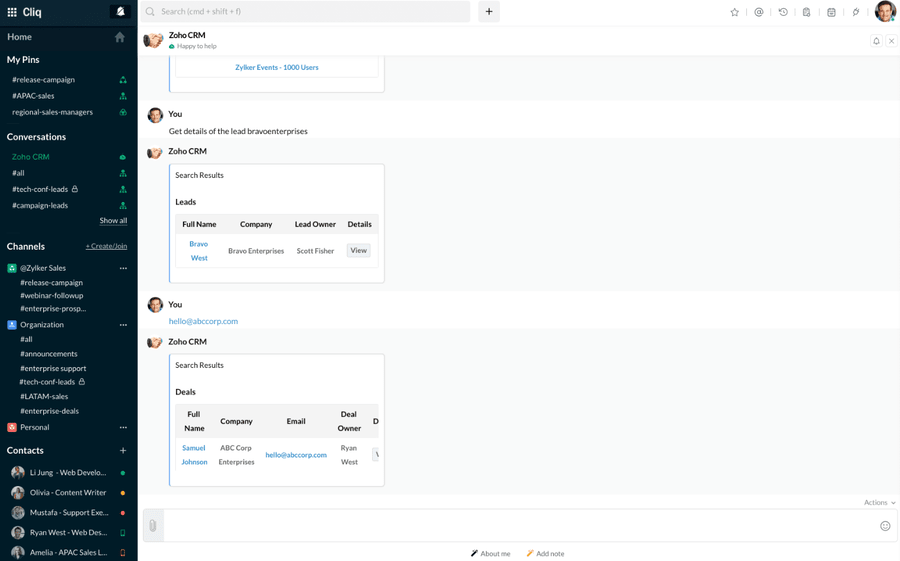 Supported OS: Windows, Mac, iOS, Linux, and Android
Developer: Zoho Corporation Pvt. Ltd.
License: Free (trial version)
This program manages your leads, clients, and deals just like a personal assistant would. So, your time and money spent on finding someone to fill that position are both saved.
Eventually, being one of the best CRM for mortgage brokers, Zoho CRM satisfies all their fundamental CRM requirements for free. Startups and small mortgage enterprises will particularly love utilizing it. Besides that, Zoho is a great CRM for property management, allowing smooth communication with contacts.
Pros
It enables you to identify potential borrowers, rate them according to their likelihood of winning, and contact them to follow up.
You may automate repetitive processes with its workflow management services.
Use its omnichannel to provide real-time contact with clients.
Additionally, you may combine your calls and sales from outside apps.
Moreover, omnichannel delivers call data and missed call notifications.
Cons
There is insufficient documentation, training, or tutorials for all the program features.
3. Salesforce – Best Mortgage CRM for fostering new business growth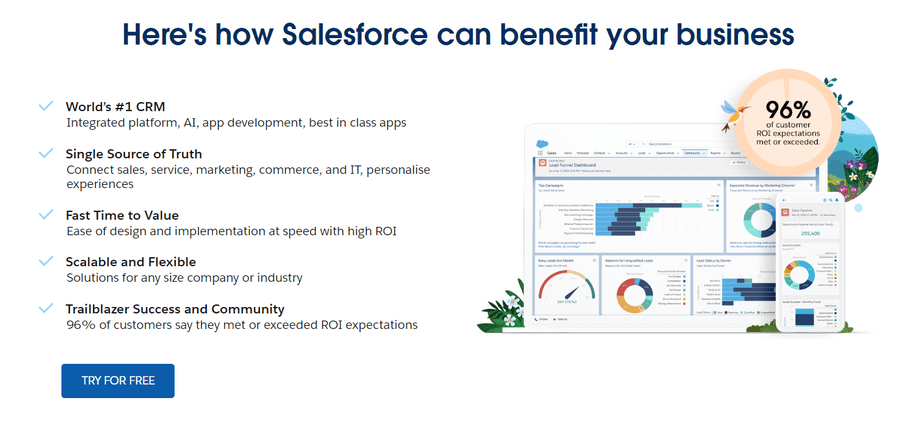 Supported OS: Windows, Mac, iOS, Linux, and Android
Developer: Salesforce, Inc.
License: Free, Commercial license
Using one of the best mortgage CRM solutions (Salesforce), businesses can extend the comprehensive mortgage process from the point of interest through to underwriting and fulfillment, coordinating and linking existing systems and services for a digital and customer-focused borrowing experience.
Pros
By using the customer's preferred communication method, it sends out regular transactional reminders and updates.
Improved customer service is provided.
Cross-sell and upsell insights are provided.
It improves visibility to partners and borrowers while also fostering collaboration.
It showcases creative ideas from clients and staff.
Cons
Setting up and configuring is difficult and time-consuming.
4. Whiteboard CRM – Best for small firms aiming to enhance customer interactions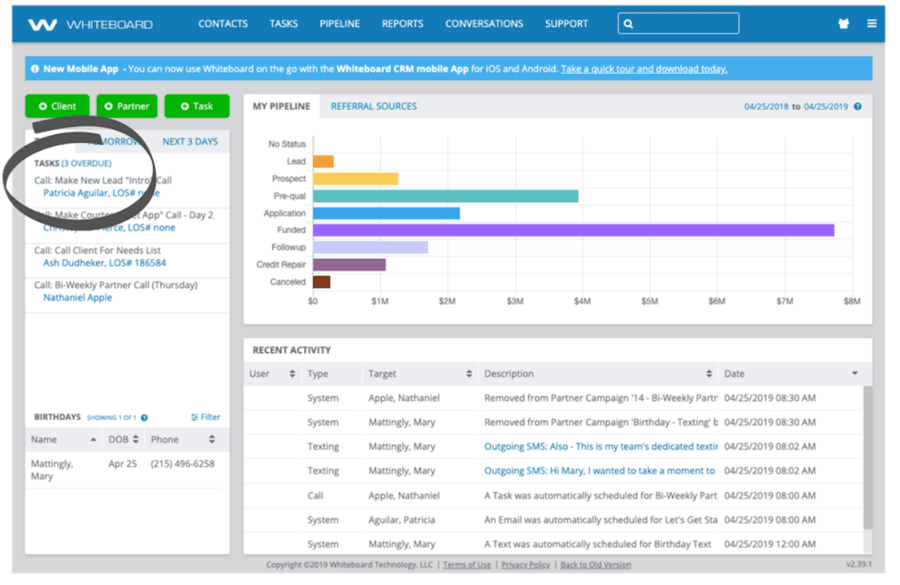 Supported OS: Android, iOS, Linux, Mac, and Windows
Developer: Whiteboard, Inc.
License: Free, Commercial License
One of the best CRM for mortgage brokers is Whiteboard CRM, which is the ideal option for loan officers seeking to direct new leads through the pipeline effectively. This CRM further strives to guarantee you keep in regular touch with prospects. It also helps to cultivate strong connections with capabilities like automatic welcome messages, requests, and updates.
Pros
The reporting and analytics tools on the dashboard keep tabs on various items, including loan applications and top referral sources.
Ties in with well-known loan processing programs like Calyx and Encompass.
An all-inclusive leading tracking CRM solution.
Does a great job of monitoring referrals.
In addition, it offers beneficial texting for teams.
Cons
5. Jungo – Best CRM for Mortgage Brokers to monitor loan referrals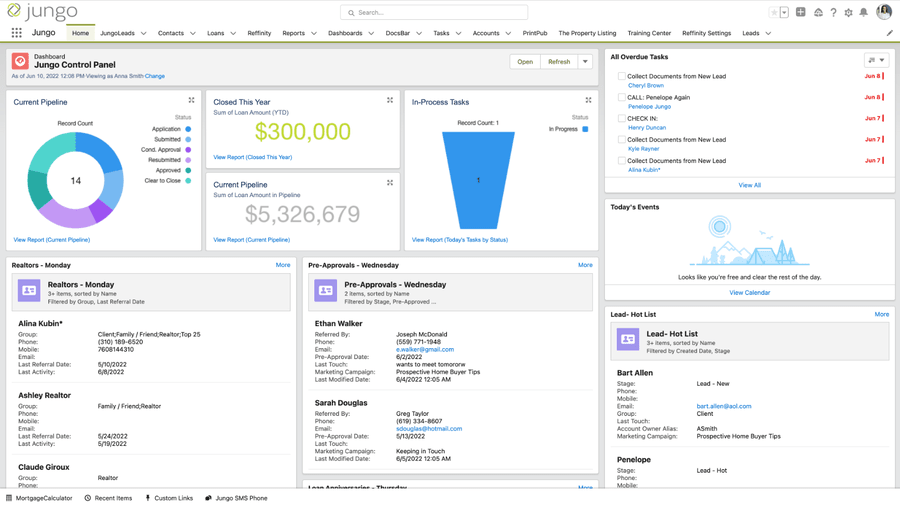 Supported OS: Android and iOS
Developer: Jungo, Inc.
License: Commercial License
Another CRM system with a focus on lending, servicing mortgages, and other finance-related businesses is Jungo. To offer helpful customization procedures that other CRMs do not have, it also has a cloud-based CRM built on the foundation of Salesforce CRM.
Pros
Thorough tracking and organization system are used to manage essential referral partners and automatic contact options.
It is also possible to establish document needs lists and track loan document tracking as well as buyer follow-up.
Process automation, including loan management
Post-closing marketing is given increased importance.
Cons
It is challenging to input the computations and conversions without help.
Do mortgage brokers use CRM?
Yes, many mortgage brokers now use CRM as it serves as the lifeblood through which brokers do their business by enabling businesses to manage connections with their prospects and current clients effectively. Also, strong customer relationships are fostered by the most excellent solutions, which support ongoing sales expansion and exceptional client retention. Even though the CRM industry is vast, only a small number of providers can satisfy every demand, CRM features vary from marketing and sales to private equity management.
How can CRM software help a mortgage broker?
A CRM solution for the mortgage industry usually includes features like automation, pipeline management, regulatory compliance, referral management, and alerts for mortgage events. All of these can be found in a CRM for mortgage brokers and loan officers, which puts all customer information in one location and simplifies contact management. A module in a mortgage CRM may be configured to make sure brokers and lenders adhere to Federal Housing Administration (FHA) regulations.
Final Thoughts
Purchasing the best CRM for mortgage brokers can further help you draw in, manage, and preserve customer connections. Additionally, it will make it much simpler to organize necessary paperwork and follow individual loan procedures. We think that any of the five sales software alternatives mentioned on this list will be helpful for you, regardless of your level of experience in the mortgage sector.