7 Best CRM for Marketing (2023 Ranked & Reviewed)
The best CRM for marketing gathers and stores data about your leads, and by using marketing tools, nurtures them through purchase. Effective marketing strategies require a deep understanding of your customer's needs, preferences, and behaviors. That's where CRM comes in useful, providing businesses with the necessary tools to track, analyze, and improve customer interactions across multiple channels.
It can help streamline drip campaigns, personalize messaging, increase sales, and keep customers engaged. But which is the best solution for marketers, and how can it benefit your marketing efforts?
This post will review different tools for marketers and show how they can transform your business. We also discuss different features related to marketing on top brands.
Best CRM software for marketing
Best For
Top Features
1.
Monday
Collaborating on marketing and creative projects to launch campaigns
Email marketing
Lead management
Marketing automation
2.
Zoho
Building a website, marketing brand, and analyzing data
Campaign analytics
Content management
Conversion tracking
3.
Salesforce
Fostering customer relationships with product awareness, support at scale, and targeted communications
Campaign planning
Campaign analytics
Campaign management
4.
HubSpot
Email marketing, social media posting, and ad campaigns
Email response
Control landing pages/web forms
Reporting/analytics
5.
Zendesk
Building customer service portal, knowledge base, and online communities
Email management
Email tracking
Social media monitoring
6.
Copper
Communicating with employees and managing leads
Communication management
Lead management
Lead generation
7.
Podio
Tracking tasks and projects and managing what teams are doing
Document management
Business process automation
Communication management
1. Monday – Best marketing CRM software overall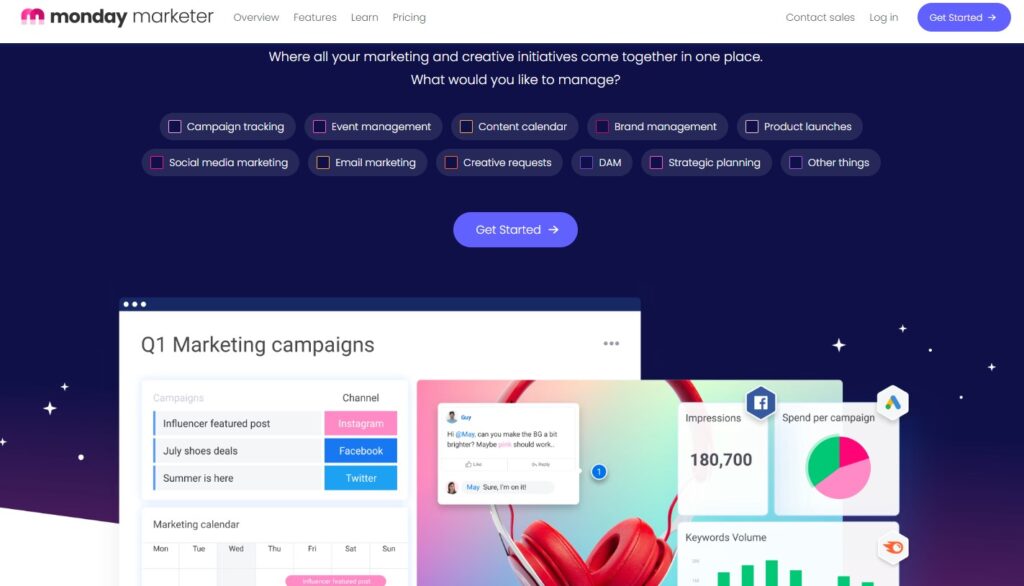 Pricing: Freemium
Developer: Roy Mann and Eran Zinman
Monday is a highly-customizable and no-code CRM software that empowers businesses and marketers to control their entire marketing circle.
From leading generation and pipeline management to after-sales management, such as customer onboarding and client projects, you can run all your marketing campaigns in one centralized system.
Monday allows marketers and businesses to develop no-code automation to reduce repetitive manual work significantly. That gives you more time for essential tasks like analyzing data and optimizing results for better outcomes.
You get the necessary visibility to monitor all campaigns and make strategic decisions for your company. Monday CRM's two-way email integration with Outlook and Gmail lets you send and receive emails directly from the CRM solution.
Pros
Forever free plan available for up to two seats
200-plus templates for creating boards and automation
Excellent customer support
Modern, intuitive, and visual dashboard
Highly customizable
Cons
Must have a Pro account for time tracking
The free trial is only 14 days, whereas most customer relationship management solutions give 30 days
2. Zoho –  Best CRM for building a brand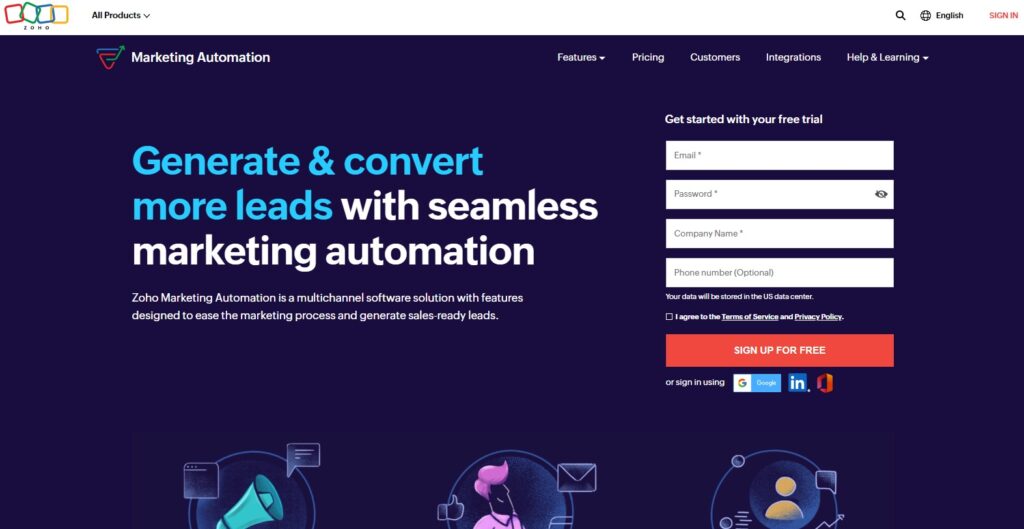 Pricing: Freemium
Developer: Zoho Corporation Pvt. Ltd
Zoho is an omnichannel cloud-based marketing CRM that can help businesses and marketers charge their marketing and build lasting customer relationships.
The software integrates more than 20 of Zoho's products and extends its capacity with over 200 third-party software extensions, including Office 365, G Suite, and Salesforce.
Zoho has seamless marketing automation that helps ease the marketing process and discover anomalies in sales processes before they happen.
The AI-powered sales assistant also recommends the best time to reach a prospect. It can provide every sales representative with custom CRM data, task reminders, and intelligent alerts.
Pros
Free plan available
30- to a 45-day money-back guarantee
Multiple integrations
Automation on all plans
Affordable pricing plans
Cons
No integrations for the free plan
Limited custom fields
3. Salesforce – Great CRM for product awareness and personalized communication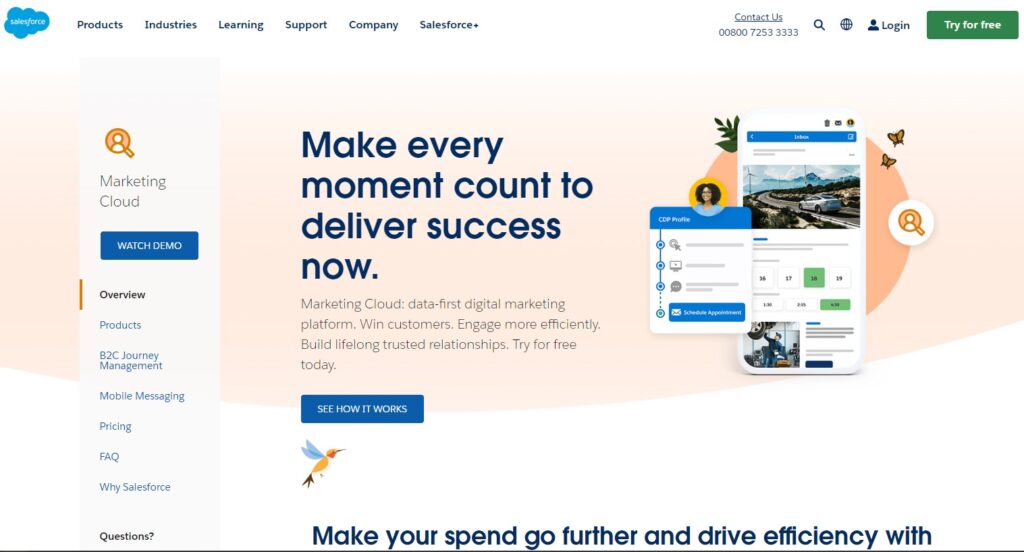 Pricing: Premium
Developer: Salesforce, Inc.
Salesforce is an industry-leading CRM with several marketing automation tools and a data-oriented digital marketing tool. It's best for scaling or large brands seeking a very customizable solution.
Top features on Salesforce include conversion rate optimization, email templates, lead qualification, and data synchronization. These can help you automate engagement, optimize marketing, and personalize moments.
Salesforce offers a marketing tool to automate your customer journey and email marketing campaigns. It has a fully customizable support system.
The platform does not offer a free version. But a 30-day free trial allows you to play around with the software for a month. It does not require you to enter a credit card to get started.
Pros
Extensive customization options
Integrations with over 1,000 other platforms
Powerful reporting
Collaboration across your global organization
Build custom apps and sites
Cons
It takes time to maintain
Expensive
Get started with Salesforce today
4. HubSpot – Rebost Solution For Email Marketing, Content Management, And Social Media Posting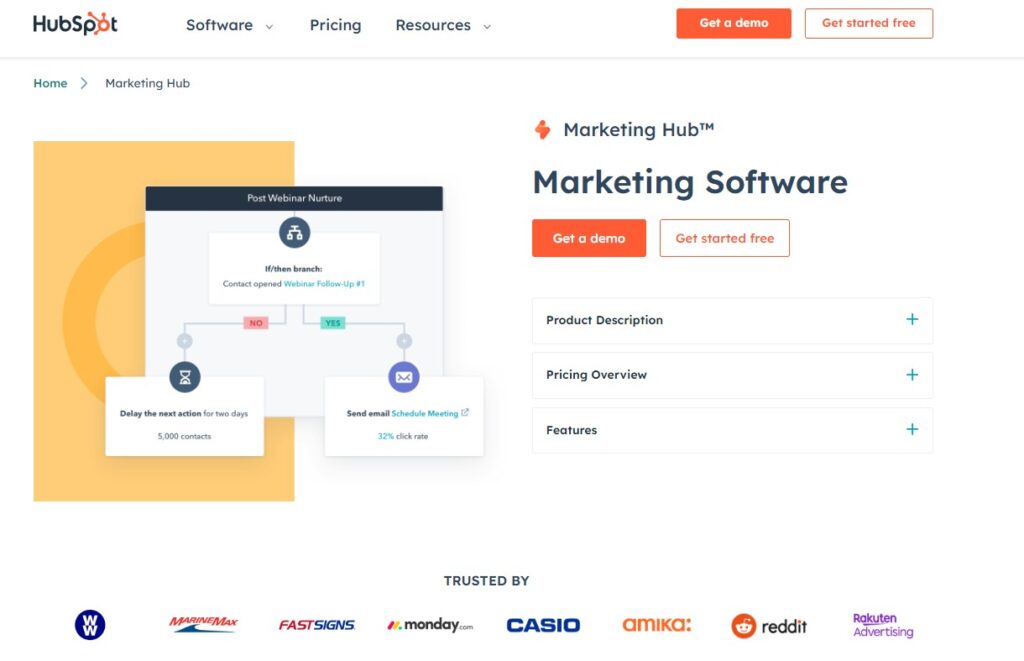 Pricing: Freemium
Developer: HubSpot
HubSpot CRM was designed to eliminate manual tasks in marketing and consolidate your data. It combines marketing channels, silos, and disparate systems.
The platform records calls, logs emails, and manages data. It does this in a very intuitive way, thereby freeing up valuable marketing time in the process.
With the HubSpot CRM solution, you can get an up-to-date view of the whole marketing process on a clean visual dashboard. You can also sort closed and lost deals, track performance against quota, and schedule appointments.
HubSpot helps marketers, and businesses track client interactions on email, social media, and calls. You can sync with Outlook or Gmail and capture all emails, calls, or meetings in real-time.
All interactions with leads are stored in a clean timeline, including meetings, calls, emails, and notes.
Pros
Core CRM software is free
Real-time lead behaviors notification
Integrates with tools you already use
Personalized email sequences for leads as well as existing customers
Organizes every email, note, call, and even website visit into one simple and intuitive view
Cons
Only one email per contact
Per-user plans can get expensive for small businesses
Sign Up for a free account now
5. Zendesk – Excellent customer service and lead management platform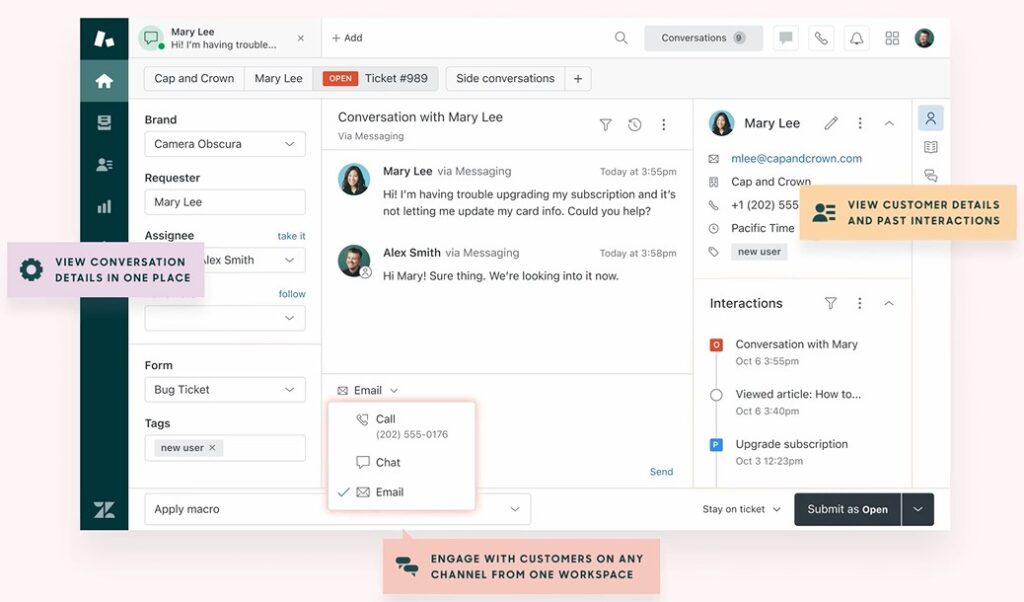 Pricing: Freemium
Developer: Zendesk, Inc.
Zendesk is a CRM solution that empowers marketers and businesses to offer excellent customer experience. The CRM software's customer support service and engagement products are flexible, powerful, and scaled to meet the needs of companies of all sizes.
Zendesk CRM solution serves over 150,000 brands across different industries, providing support and service in over 60 languages.
This tool helps marketers organize and store customer interactions in a single, dynamic interface, using features like a complete customer history, web widgets, and pre-defined ticket responses.
Furthermore, it allows businesses and marketers to manage conversions with clients across all channels in a single consolidated agent workspace.
With the Zendesk automated triggers, you can engage customers when they need support.
Pros
Integrates with over 1,000 apps, including monday.com and JIRA
IVR call routing is available
The interface is intuitive and easy to navigate
Quick and easy adoption
Low TCO and month-to-month payment options
Cons
Some reported call quality issues
Some users found it challenging to get help from customer support
Sign Up for a Zendesk account now
6. Copper – Best for brands on Google Workspace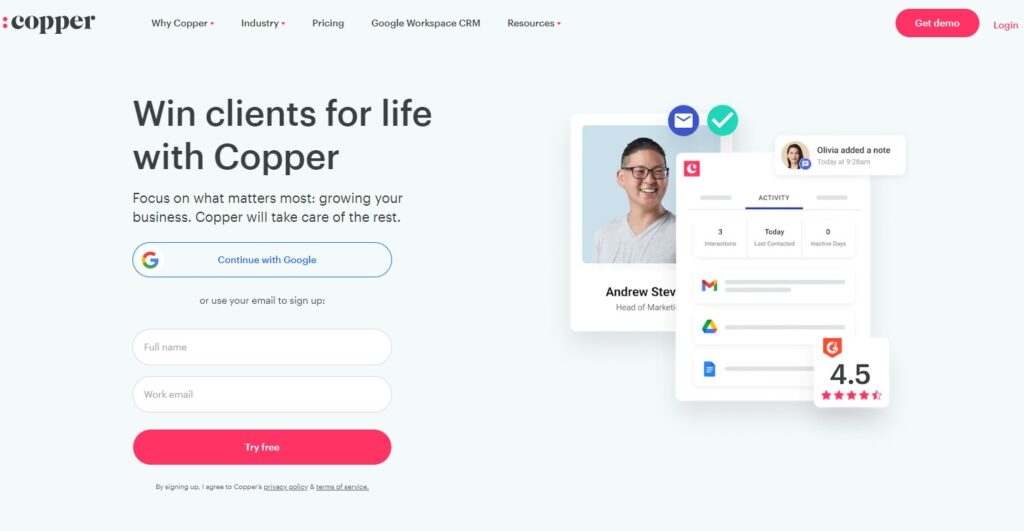 Pricing: Premium
Developer: Copper, Inc.
Copper CRM solution helps marketers communicate with employers, track customer interactions, and manage leads.
It's suitable for marketers that already use Google Workspace, Slack, and other work apps and want a CRM that can integrate with those processes and apps.
With Copper software, marketers can easily bypass tedious administration tasks, data entry, or overly complex processes.
Copper has an excellent interface and perfectly captures and connect all files, project tasks, and calendar in invites, so marketers don't miss any details.
This solution even reminds you to follow up on deals and reach out to leads. Copper serves over 30,000 brands in more than 100 countries worldwide.
Pros
It enables marketers to get everything done from their inbox
Allows marketers to know everything about every deal at all time
Its email templates & bulk email would allow brands to send more emails in less time
It's easy to set up
It allows you to work from anywhere
Cons
No automation of drip email campaigns
Mistakes during data imports cause data problems
7. Podio – Great Tool for Tracking Leads and Organizing Your Team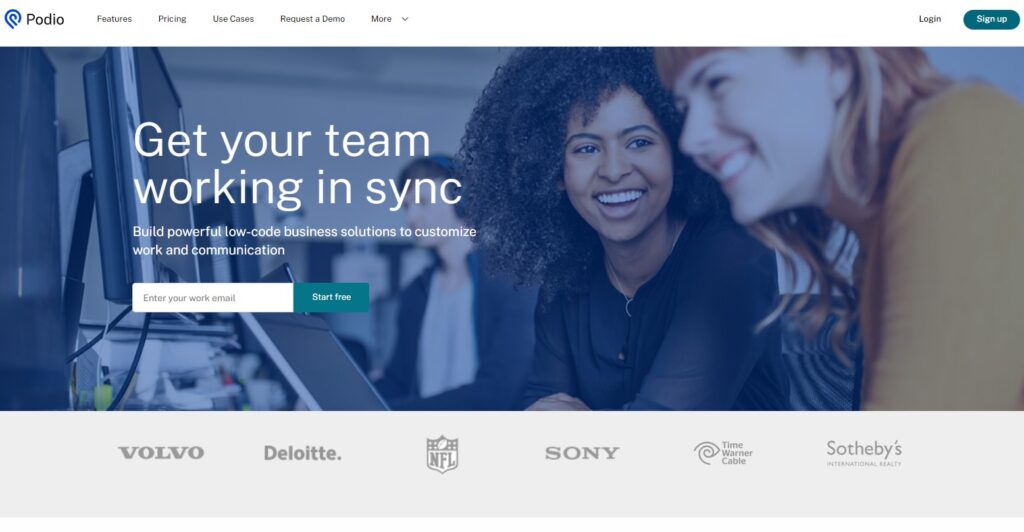 Pricing: Premium
Developer: Cloud Software Group, Inc.
Podio is a customer relationship management solution that helps marketers track customers and leads quickly.
With its integrated web forms, marketers can capture contact information, track who is responsible for each lead, and understand the critical touchpoints, such as when the charge was reached out to last.
Podio supports third-party integration. You can integrate the software with Citrix content collaboration tools to add conversations and context to files.
Furthermore, Podio can also be integrated with third-party file-sharing modules like Evernote, Dropbox, and Google Drive.
Pros
Incredible flexibility
Allows you to create custom folders in an efficient way
It's easy to use
Allows you to create your app as per your need
It has excellent project-sharing abilities
Cons
Lacks robust template library
It would be best if you had the Plus plan to get basic workflow functionality
Sign up for a Podio account now
Bottom Line
Choosing the right CRM for marketing is crucial for your business's success. With so many options, it can be overwhelming to make the right decision.
You can narrow down your options by considering the features, pricing, and integrations and find the perfect fit. In this article, we have highlighted seven great best CRM tools for marketers, each with unique strengths and benefits. You might also might want to check the best CRM tools for Social Media management and marketing.
What do you think about the list? Do you have a favorite tool you feel we should mention above? Share your thoughts in the comment section below.