7 Best CRM for Manufacturing Industry in 2023
The manufacturing industry has evolved a lot in the last decade. Instead of reacting to customer feedback, the industry is becoming more proactive, using business software solutions to predict demands and maintain supply chains.
Every year, manufacturing businesses potentially lose millions of customers for one simple reason – they do not have a proper customer relationship management (CRM) solution. Besides that, a study shows that in recent years, productivity in the manufacturing sector has been slowly decreasing, there is where a CRM comes in handy.
Manufacturing CRM software allows businesses to add value by creating a leaner organization that efficiently meets customer demands. Deploying CRM in this sector can give manufacturers detailed insights about various aspects like order processing, warehousing, inventory management, etc.
You can further improve cross-communication on sales opportunities by integrating CRM for Slack, making it easier to respond to leads, collaborate on tasks, and improve customer service.
If you are serious about improving the sales and ROI of your manufacturing business, here is a list of the best CRM for manufacturing companies that will help you achieve the same.
Best CRM software for the manufacturing industry
Software
Best for
Top Features
PipeDrive
Sales automation
Industry agnostic
Unlimited data storage
Third-party integrations
FreshSales
Personalization
AI-powered chatbots
Visitor intent and contact scoring
Dynamic forecasting
Keap
Automation
Highly customizable
Automated triggers for campaigns
Hundreds of reporting options
Zoho CRM
SMEs
Dynamic demand forecasting
Live website chat function to talk to visitors
Customer insight records
Salesforce
Integrations
Visual sales pipeline
Comprehensive data insights
Easily adaptable modules
NetSuite
Medium and large enterprises
Streamlined view of customer data
Multiple integrations to enhance system capabilities
Consolidated invoicing
HubSpot
Contact management
Core CRM software is free
Real-time lead behavior notification
Real-time deal and prospect tracking
1. PipeDrive – Best CRM for the manufacturing industry overall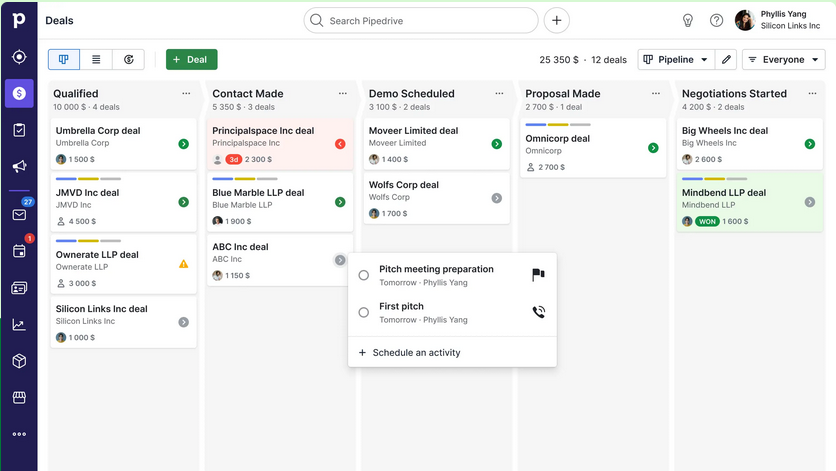 Operating system: Windows, Mac, Android, iOS
Pricing: Multiple premium tiers starting at $12.50 per user per month
Free trial: 14-day free trial
Developer: PipeDrive Inc.
PipeDrive is among the highest-rated CRM for manufacturing available in the market right now. It is industry-agnostic, meaning it helps all businesses, irrespective of the industry, manage customer relations, streamline operations, and optimize collaboration using software solutions.
PipeDrive offers a ton of easy-to-use features and an expansive library of third-party integrations to track your sales pipeline and boost business growth.
With PipeDrive, you can create your own sales funnel stages or start building from an existing template. You can import your lead data from a spreadsheet and visualize the entire sales process at a glance using the intuitive dashboard.
It includes several features: sales automation, detailed reporting and analytics, revenue forecasting, lead segmentation, activity reminders, etc. PipeDrive is designed for team collaboration, irrespective of the business size, and offers various pricing plans to fit the needs of SMEs and enterprises alike.
Pros
Designed for all business sizes
Tools to improve sales pipelines
Various third-party integrations
Unlimited data storage
Client and sales team management
Intuitive visual dashboard
24 / 7 customer support
Cons
Limited custom fields
Phone support limited to higher plans
2. FreshSales – Cloud-based CRM with robust personalization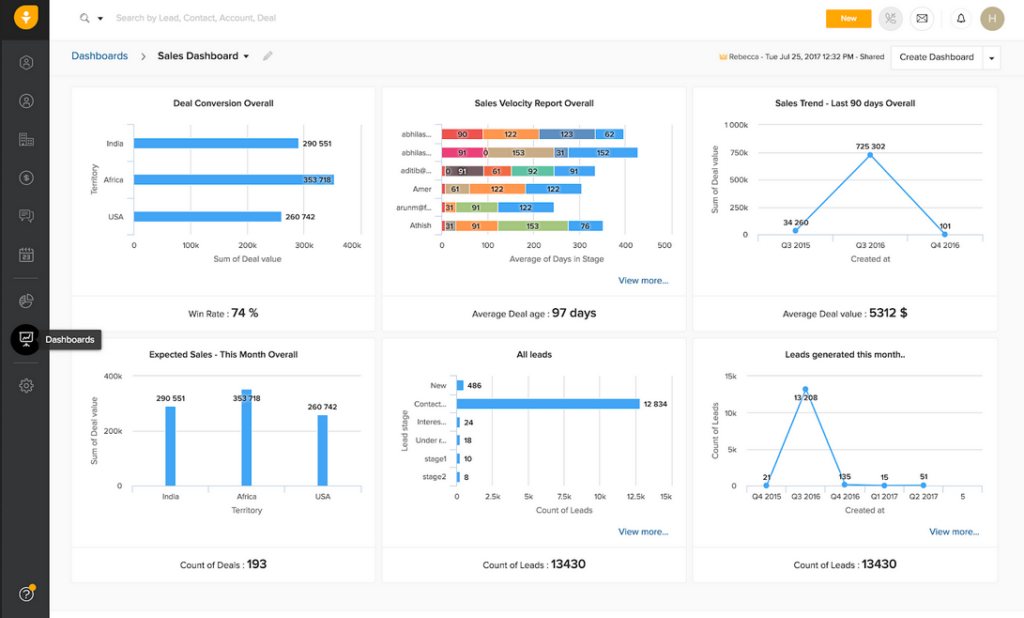 Operating system: Windows, Mac, Android, iOS
Pricing: Free plan available, paid plans starting at $15 per user per month
Free trial: 21-day free trial
Developer: Freshworks
FreshSales is a CRM designed specifically to help your business understand how your clients interact with your firm.
It collects and presents important customer data from multiple sources, enabling manufacturers to personalize consumer engagement and make data-driven decisions. FreshSales is extremely easy to implement and even easier to use for manufacturing businesses.
Since FreshSales is designed with third-party integrations in mind, it fits perfectly with Gmail and Google Calendar. You can easily manage all your consumer interactions in one dashboard without switching to another app or window.
Pros
AI-powered chatbots
Contact scoring
Dynamic forecasting
AI-based deal insights
Freshdesk and Google integrations
Automated sales campaigns
Time-based sales workflows
Cons
Poor export options
Limited accessibility options for collaborators
3. Keap – Best CRM for email marketing and nurturing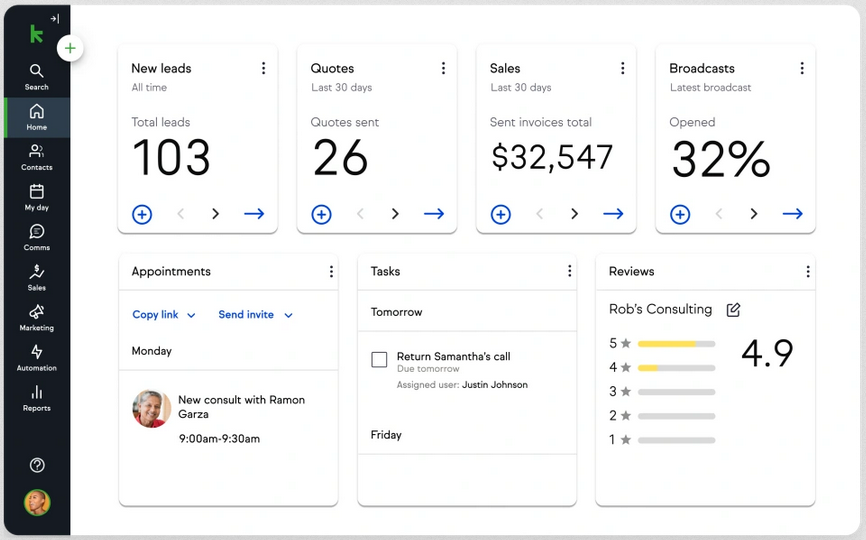 Operating system: Windows, Mac, Android, iOS
Pricing: Premium plans start at $189 per month
Free trial: 14-day free trial
Developer: Infusion Software Inc.
Keap is an email marketing CRM software designed to improve your team productivity by automating time-consuming tasks like lead capture, email nurturing, etc.
This platform is specifically designed for entrepreneurs and allows manufacturers to personalize their prospects' experience. It helps you automatically collect leads from various channels using customizable forms, store all information in one place, and write emails and texts using preloaded templates.
The Sales Pipeline in Keap is one of its most popular features and is integrated into marketing communications and automation. You can see the status of all your deals in one place and take data-driven decisions to boost operational efficiency.
Pros
Multiple automation templates
Customizable forms
Personalized email nurtures
Automated triggers
Visual sales status
Internal forms for new contact data collection
Automated payment reminders
Cons
Complex logic building in campaigns
Some reports cannot be combined with custom search parameters
4. Zoho CRM – Versatile CRM with integrations to boost productivity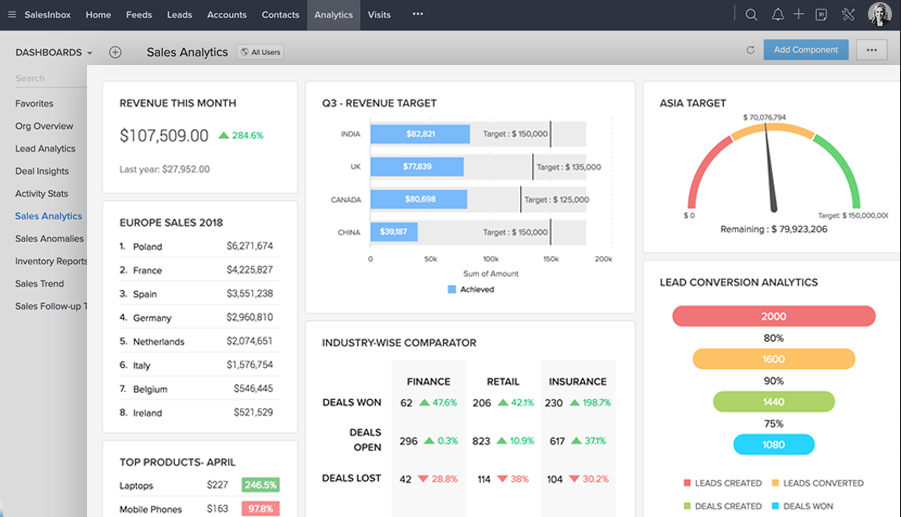 Operating system: Windows, Mac, Android, iOS
Pricing: Premium starts at $15 per user per month
Free trial: 15-day free trial
Developer: Zoho Corporation
Zoho CRM is arguably one of the most popular and versatile CRM automation software available right now. It offers a wide range of automation and integration capabilities that can be customized depending on the size and needs of your business.
Zoho is so popular among businesses because the platform integrates with its own selection of tools and a wide range of third-party applications. You can use the CRM software and its marketing and sales platform to get a complete overview of your operational efforts without switching tools.
It has the simplest interface among all other CRM options on this list. With Zoho CRM, you can identify, nurture, and follow up on potential leads with accurate data collected from across the organization to stay on top of current industry trends.
Pros
Single application suite to manage everything
Lead scoring to streamline lead nurturing process
Dynamic demand forecasting
Live website chat function to talk to visitors
Customer insight records
Multiple sales pipelines to track opportunities
Multiple currency support to work with international vendors
Cons
Costs quickly rise up if you use other Zoho tools
Reporting dashboard is limited
5. Salesforce – Best CRM for enterprises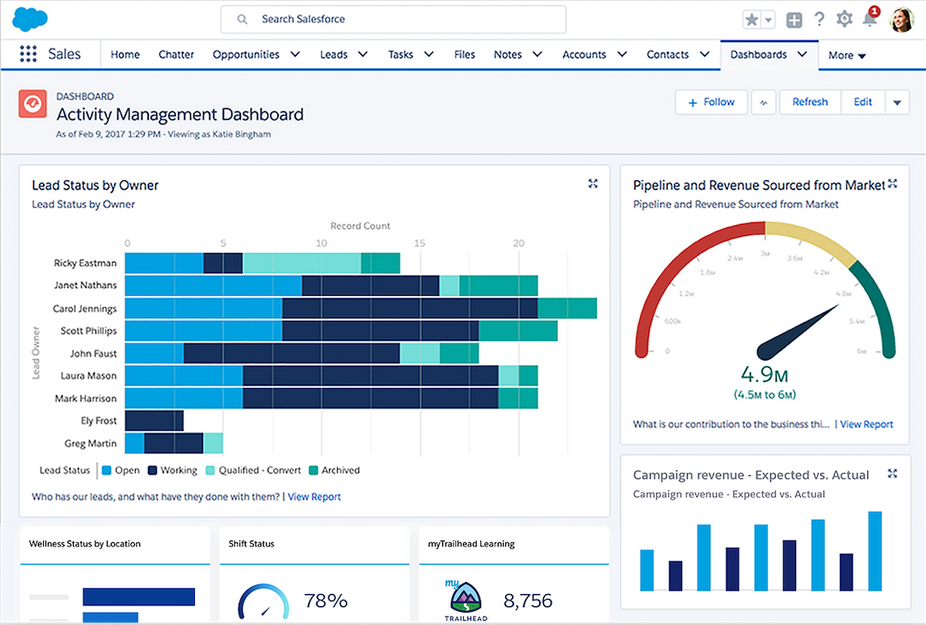 Operating system: Windows, Mac, Android, iOS
Pricing: Only yearly subscriptions start at $300 per user per year
Free trial: 30-day free trial
Developer: Salesforce, Inc.
Salesforce is one of the leading CRM that can be customized to meet the needs of businesses of all sizes. It is primarily designed with larger enterprises in mind and hence offers a wide range of capabilities that are otherwise unavailable on other CRM software.
Manufacturers can deploy this cloud-based CRM solution to manage customer relations across the buying funnel. It offers a wide range of features, including enterprise content management, social media monitoring, email, call, and chat communication.
With Salesforce, you also get access to a wide range of integrations that takes the system's capabilities to the next level, e.g., email marketing, business analytics, interaction management, sales automation, etc.
Pros
Strong historical sales data
Targeted towards scalability
Visual sales pipeline
Comprehensive data insights
Track individual leads and take specific actions related to them
Hundreds of integrations to increase system capability
Easily adaptable modules
Cons
Yearly subscriptions only
Additional users and customization cost more
6. NetSuite – Robust partnership management for enterprises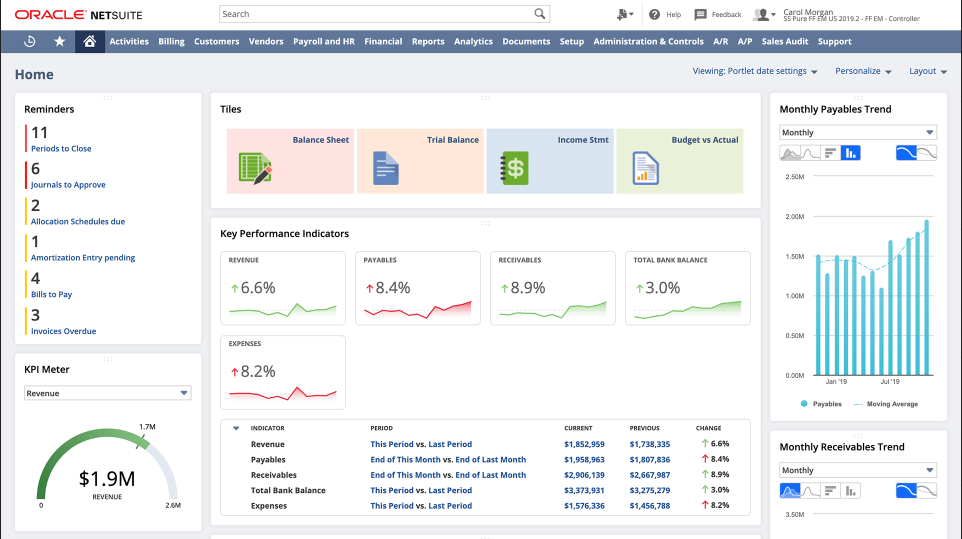 Operating system: Windows, Mac, Android, iOS
Pricing: Custom pricing for all modules
Free trial: 14-day trial
Developer: NetSuite
A dedicated enterprise CRM, NetSuite is one of the best CRM software for manufacturing companies, finance, accounting, and supply chain management firms.
It offers a modern suite of features that enable manufacturing businesses to manage interactions with current and potential customers, vendors, and partners, all in a single place. NetSuite provides all the basic features expected from a traditional CRM solution, including salesforce automation, customer service management, etc.
In addition, with NetSuite, you can create and manage quotes, get multinational sales forecasts, and get detailed insights into the complete customer activity. It also has one of the strongest partner relationship management out of all solutions listed here.
Pros:
Streamlined marketing campaign management
Visibility into sales pipeline
Market demand forecasting
Streamlined view of customer data
Multiple integrations to enhance system capabilities
Consolidated invoicing
Additional reporting specific to the manufacturing industry
Cons
Steep learning curve
Unreliable customer support
7. HubSpot – CRM to boost marketing efforts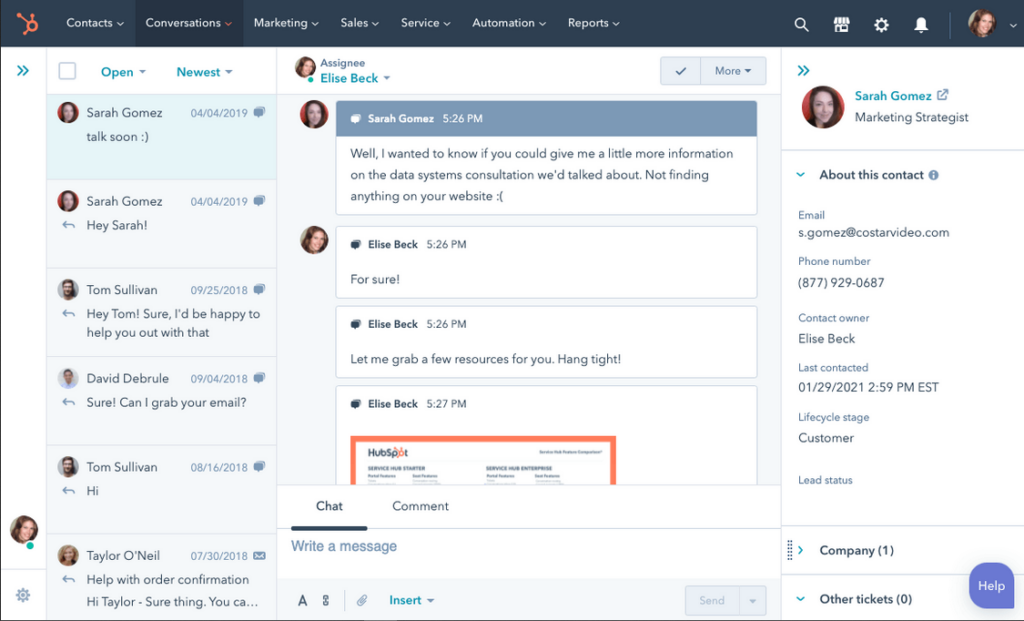 Operating system: Windows, Mac, Android, iOS
Pricing: Freemium / paid plans start at $20 per month for two paid users
Free trial: 14-day free trial
Developer: HubSpot
If you want to combine your business CRM software with your marketing efforts, HubSpot is the tool you need.
HubSpot is popularly used for inbound marketing and offers a core CRM software for free that can be used to track leads, gather and analyze data, and provide a seamless flow of information across the entire customer lifecycle.
The intuitive visual dashboard offers a real-time view of your entire sales pipeline with detailed reports on the sales team and individual productivity. It offers a ton of free features, including but not limited to prospect tracking, email tracking, live chat, and meetings scheduler.
Pros
Core CRM software is free
Free marketing tools and automation
Truly all-in-one platform with its own CMS
Real-time lead behavior notification
Very easy to deploy
Detailed statistics and reporting
Cons
Quickly gets expensive with per-user plans
Hard limit of 1,000 custom fields
How is CRM used for manufacturing?
One of the main features of a customer relationship management software solution is that the tool provides a complete overview of your business customers.
CRMs work towards providing businesses with a holistic view of their customer base, which can then be leveraged to meet their demands quickly and efficiently. CRM is used in the manufacturing industry for the following.
In fast-changing industries like manufacturing, demand forecasting helps businesses stay on top of current market trends and shorten the duration between the concept phase and market delivery. CRM for manufacturing companies allows businesses to adapt faster to consumer demands and gain a competitive edge by bringing products to the market before competitors.
With a CRM solution in place, businesses can collect and analyze data from various sources and find process errors beforehand. Identifying defects before time allows manufacturers to improve product quality and boost customer retention.
CRM in the manufacturing sector simplifies supply chain operations by providing manufacturers with detailed insights about inventory management, operations, warehousing, order processing, etc. Firms can manage production schedules without running out of inventory and achieve quicker time to market.
Enrich customer relations
Customer service is arguably the most important aspect of the manufacturing industry. With CRM software in place, manufacturers can keep track of manufacturing and service issues, inquiries, and other service calls. Safe delivery and after-sales service helps build lasting customer relations that boost retention.
CRM for manufacturing companies also acts as a marketing tool, allowing firms to run campaigns to increase follower counts on multiple distribution channels. Customer support staff can address issues immediately and provide insights on how to improve business operations at a lower cost and higher profit.
Final Thoughts
A fully automated CRM can streamline business processes and enables companies in this sector to deliver unparalleled customer service. With a 360-degree view of your customers, you can generate leads from quotes, boost team productivity, and improve sales management.
To choose the best CRM for your manufacturing business, you need to identify your company's unique needs and what it needs to succeed in the harsh competition. Make sure to go through this list and select a CRM software for your business that will help you stand apart from others.