5 Best CRM for HR [2023 Ranked & Reviewed]
CRM for HR is a digital solution that includes several tools and procedures to manage and optimize everyday HR operations. It also helps in the organization's overall HR targets and business development. Moreover, you can create smooth procedures and save money by using the best HR CRM systems.
If HR systems are equipped with the right technology, then everything from the hiring procedure to employee onboarding can function smoothly. Without it, everyone in the software sector needs to put in extra effort and worry unnecessarily.
It all comes down to the automation feature of human resource management systems. In addition, it has the competitive advantage of making workforce management relatively simple which comes in handy for big associations. A special CRM does it for HR. This is done by being present in a core HR software platform that supports a wide range of manual work and also, administrative tasks, and daily HR tasks, such as document management.
HR CRM software has become essential to any organization, simplifying HR procedures for the HR department and managers.
HR CRM tools aid in the smooth running of processes and increase productivity. It also helps in improving employee experience and performance. They also track employee growth via the employee portal and keep track of performance evaluations.
Best CRM Software for Human Resources
Software
Best for
Top Features
Monday
Meeting your salary and HR needs
– Data visualization with a wide selection of charts.
– Further, schedules employees over their whole working lives.
Salesforce
Increasing performance through AppExchange
– Automates HR operations to reduce human error and speed up procedures.
– Combines all applicant and client data into an easily accessible dashboard that is driven by automation and AI.
Zoho
Having quality candidates and managing
– Creates dashboards and visualizations using all of your data which is up to date.
– Zoho CRM @mentions sends a push notification to keep the team informed.
Bitrix24
Online workspace for HR to work, communicate, and cooperate
– Creates conferences with up to 48 members, records your conversations, and changes the background.
– Manages staff attendance while keeping track of working hours and gathering work reports.
Rippling
Computing automatically, including tax deductions
– Manages your employees' documentation easily and onboard new personnel in only 90 seconds.
– Further, it manages all of your employees' benefits, from your health insurance to your 401k, easily in one location.
1. Monday – Best for tracking applications and onboarding new employees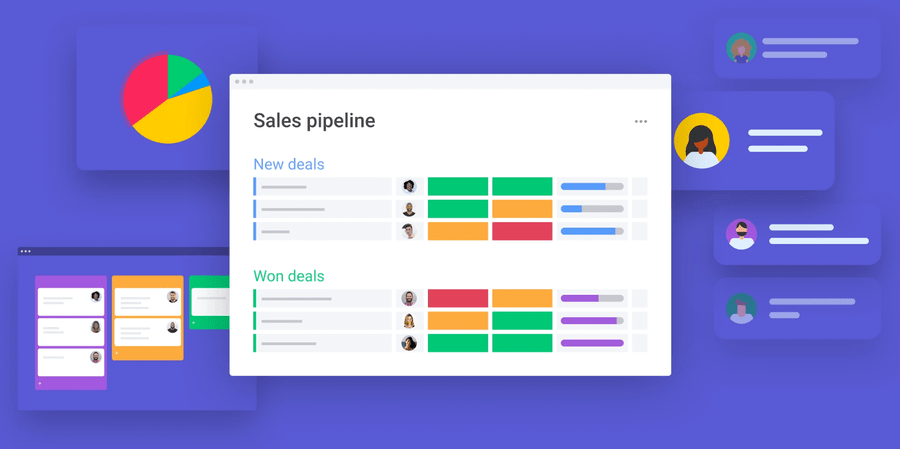 Supported OS: Windows, Mac, Linux, iOS, and Android
Developer: Monday, Inc.
License: Free (trial version), Commercial License
Monday is one of the best HR CRM systems. Also, it is simpler for HR managers to create specialized solutions for the needs of their teams. Since it offers a clear user interface, a straightforward system, and engaging core HR operations, this HR CRM software has received recognition from many HR managers.
Pros
Provides integrations with many payroll programs, which lets you automate a payroll run.
Moreover, it offers the best pay, benefits, time off, and recruiting management.
Using pre-made templates, you may easily monitor the hiring procedure.
In addition, Monday can be effortlessly integrated with Gmail and 50+ other programs to handle all of your operations.
Cons
Sprints in Agile are inconvenient.
2. Salesforce – Best for optimizing the company's recruitment processes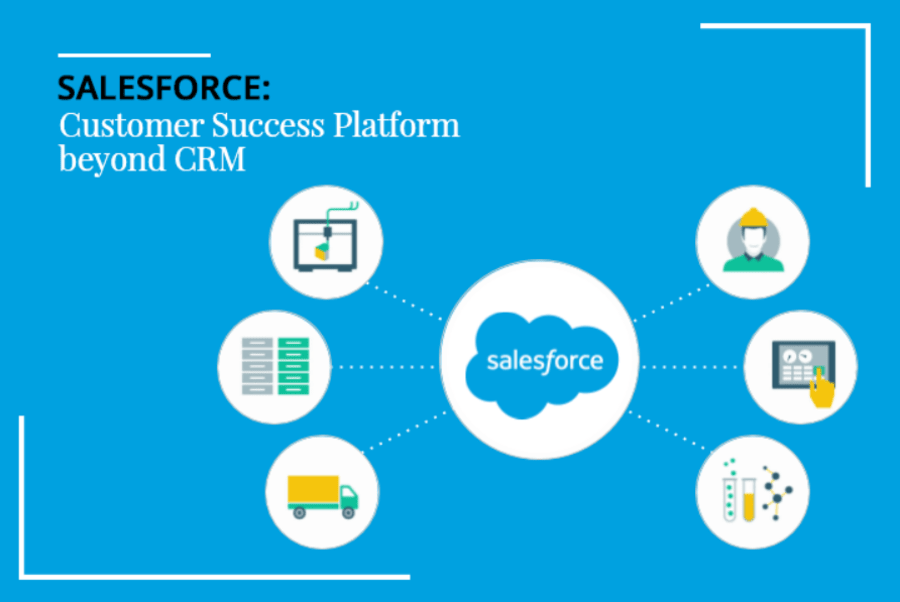 Supported OS: Windows, Mac, iOS, Linux, and Android
Developer: Salesforce, Inc.
License: Free, Commercial license
Prospect management, onboarding, and HR administration can be done easily using this CRM for HR. Moreover, Salesforce equips recruiters with a 360-degree view of both customers and applicants. It also enables them to provide value-added services and go past the conventional sourcing methods that many businesses continue to employ.
Pros
Chatter and Communities tools help exchange information and cooperate logically, whether on the go or working remotely.
Furthermore, high-performing companies are five times more likely to be those that encourage collaborative working.
It also gives your employees digital tools that will enable them to stay productive and solve challenges.
Moreover, provides your help desk workers with all they want to locate solutions swiftly and simply.
Lastly, app-building tools help to experiment, fail quickly, learn from their mistakes, and resolve problems most effectively.
Cons
Navigation and basic activities become much more difficult with a cluttered UI.
3. Zoho – Best for decreasing the time to hire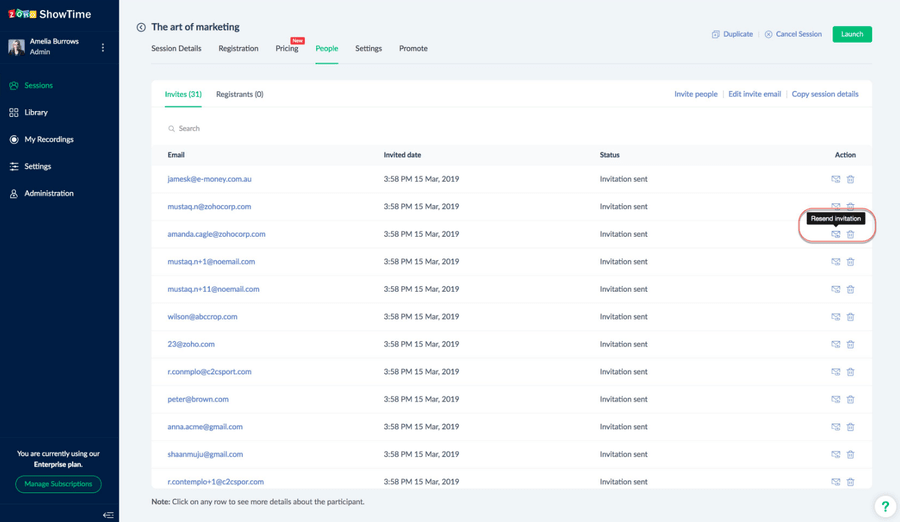 Supported OS: Windows, Mac, iOS, Linux, and Android
Developer: Zoho Corporation Pvt. Ltd.
License: Free (trial version), Commercial License
Naturally, through nurturing campaigns and regular touchpoints, Zoho helps build huge applicant pools and recruit for HR teams. Moreover, it does social sourcing using platforms like LinkedIn and Facebook as one of its candidate listing options. Besides that, it comes with Slack integration which makes it easier to communicate with employees.
Pros
You can utilize the resume management system from Zoho Recruit to efficiently upload, analyze, and search for resumes.
Furthermore, by automating laborious activities, HR may shorten the length of the hiring process.
Also, with the help of this HR CRM software, you may predefine automatic responses, alerts, and notifications, among other things.
Certainly, it establishes an organization's hierarchical structure based on the roles.
Cons
Changeable report options might be difficult to utilize.
4. Bitrix24 – Best for private and group chats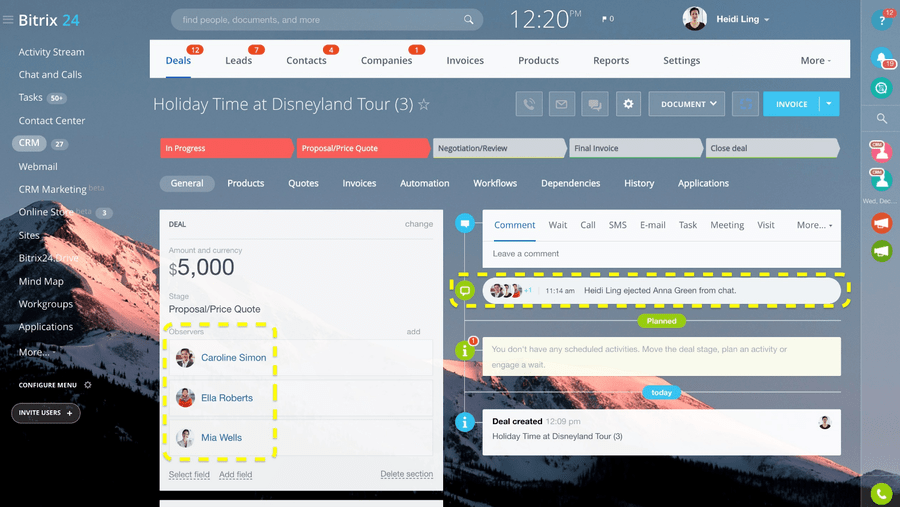 Supported OS: Windows, Mac, Linux, iOS, and Android
Developer: Bitrix, Inc.
License: Free (trial version), Commercial License
Bitrix24 is the only option if you are seeking software with additional free HR management capabilities. Naturally, Bitrix24 has a tonne of HR CRM tools that your HR department will enjoy. Also, it acts as the perfect online collaboration and communication platform.
Pros
Many automation rules and triggers for sales and marketing are available to help you save time and money.
Follow up on project activities, get work reports, and split up the burden more equally.
Furthermore, your call center may be configured with call tracking and intelligent routing.
Provides a quick and simple method to exchange files and debate concepts.
Cons
Difficult to set up and utilize.
5. Rippling – Best HR software solution for global and international teams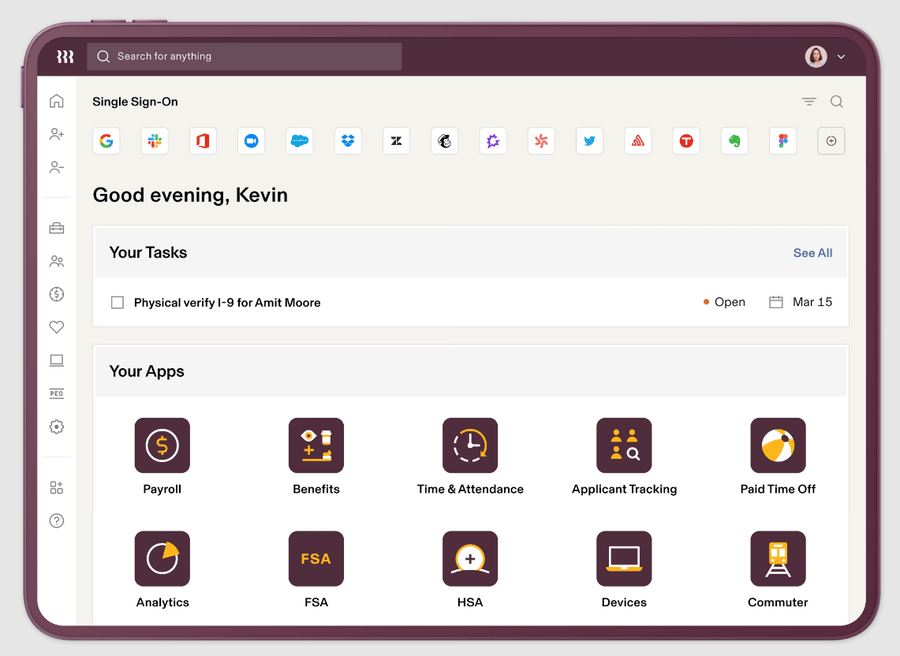 Supported OS: Android, iOS, Mac, and Windows
Developer: Rippling, Inc.
License: Commercial License
Firstly, with the help of this global HR CRM system, you will be able to concentrate on managing the employee experience. Also, gaining actionable insights into the whole employee lifecycle and developing an employee handbook will be helpful to all workers.
Pros
Create appealing reports from any data in Rippling, either from scratch or using one of the pre-made templates.
In addition, from check-in to payday, an employee's hours are automatically tracked.
Additionally, it eliminates the need for manual entry, synchronization problems, or delayed approvals.
Lastly, it automatically manages compliance work and ensures your business is up to date with all applicable paperwork, rules, and laws.
Cons
There is no free trial version available.
How to use CRM in HR?
HR specialists and recruiters utilize CRM software to manage their relationships with applicants. Moreover, using CRM software, recruiters may streamline and automate their communications with potential employees. These CRMs also help promote employee engagement and enhance the applicant experience. Furthermore, once HR understands the HR CRM software, it can be used to its fullest with better efficiency.
Final Thoughts
One of the major advantages of using HR CRM systems is that it saves time on administrative work. Also, HR divisions can concentrate more on other long-term strategic duties. Moreover, a lot of companies, regardless of size and sector, have begun to adopt specialized human resource software solutions. Hence, now you must be able to decide which HR CRM software best suits your needs because there are CRM tools for every niche like CRMs for Venture Capitalists, Graphic Designers, Plumbers, and more.