5 Best CRM for Graphic Designers [2023 Reviewed]
CRM systems aid designers in improving customer service, personalizing communications, and establishing and maintaining relationships with clients.
CRM for graphic designers enables them to stay on top of client data, project specifics, and deadlines, ensuring the prompt and effective delivery of design work. Besides that, CRMs that integrate with Social Media are great for attracting new clients and making a personal brand.
These systems enable designers to improve productivity, client satisfaction, and workflow efficiency. However, for graphic designers, customer interactions, initiatives, and communication are managed and organized using software tools as part of customer relationship management (CRM).
The software provides valuable resources for learning widely used terms in graphic design. Moreover, graphic designers may find it easy to gain the proper knowledge and also expand their business with the right clientele with ease.
With plenty of marketing CRM available in the market, here we are with some of the best CRM for graphic designers to make it easy for you.
Best CRM Software for Graphic Designers
Software
Best for
Top Features
Monday
Managing & organizing marketing campaigns
– Offers customizable templates & user-friendly interface
– Excellent choice for small to moderate firms wishing to optimize their sales because of interfaces with popular technologies
Pipedrive
Streamlining the sales processes of companies
– Includes features like transaction monitoring, contact management, and pipeline management
– Seamlessly interacts with additional apps that increase revenue

Zoho CRM
Managing customer interactions with a few clicks
– Enables businesses to automate workflows
– Programs specifically made for deployment and migration
Salesforce
Being able to address customer support issues quickly
– Perfect for enterprises with complex needs because of its adaptable platform and wide range of integrations
– Provide users with a customized marketing experience that will help them draw in more clients for their businesses
Hubspot
Analyzing & enhancing customer engagement
– Maintain the security of your sensitive data with advanced reporting permissions
– Allow users to track valuable leads and allocate duties to employees in one location
1. Monday – Best CRM for Lead Tracking & Sales Pipeline Management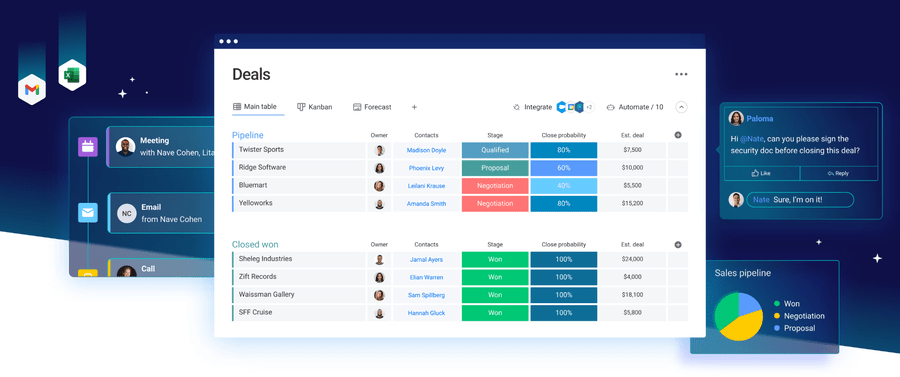 Supported OS: Windows, Mac, iOS, and Android
Developer: Monday.com Ltd
License: Free (Trial version)
Monday provides editable workflows that can be adapted to a business's unique requirements. The platform also interfaces with other third-party programs like Slack, Google Drive, and Zapier.
From managing a sales pipeline and contact management to lead management and customer onboarding, you can do it all from a single place with the help of Monday CRM. Graphic Designers find it really useful for managing multiple clients with ease.
Pros
Platform tools are flexible enough for teams to use as they see fit.
The user interface is easy to understand and use, with the availability of several free features.
All team members' changes are recorded in an easily accessible log for better visibility.
Numerous choices for setting and utilizing different data points as column values.
Cons
Lacks the number of business connectors that other platforms offer.
Expensive professional plan.
2. Pipedrive – Highly Effective CRM for tracking & communicating business deals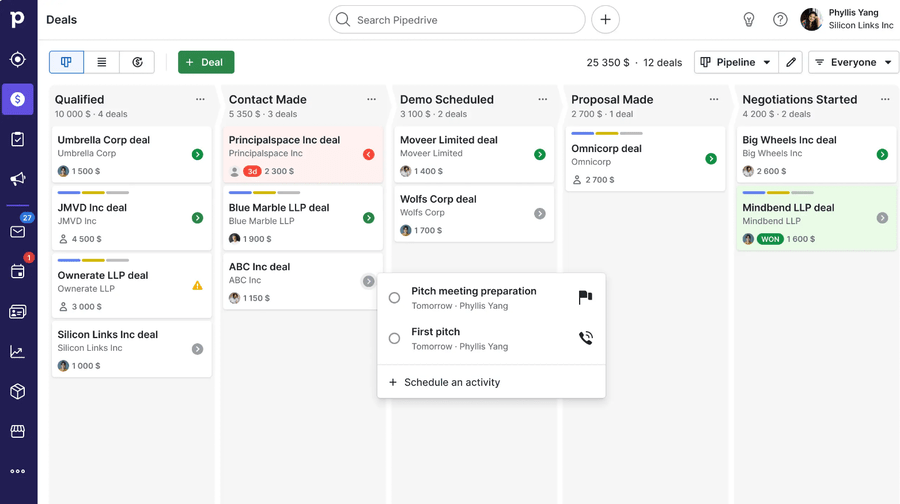 Supported OS: Windows, Mac, Linux, iOS, and Android
Developer: Fit Small Enterprise
License: Free, Commercial License
Pipedrive offers a mobile app for convenient remote access and sales management while on the go. The software has an intuitive interface that is straightforward to use and user-friendly.
Moreover, Pipedrive provides interfaces with various company tools like e-commerce platforms, accounting software, and marketing automation programs. This CRM is also great for attracting leads and closing sales.
Pros
Users can review real-time reports to see if they are on course and have time to change their courses if necessary.
Provide a graphic depiction of the sales cycle and monitor performance like a mentor.
Allows customers to adapt the program to their business functions and may be adjusted to match the unique demands of each organization.
Cons
Some activities could necessitate human input, which is time-consuming and ineffective.
3. Zoho CRM – Best CRM for Automating Workflow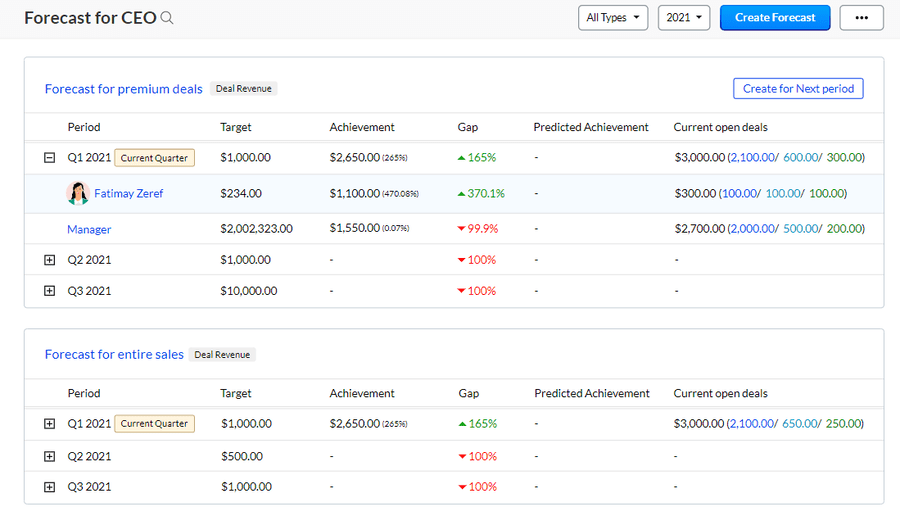 Supported OS: Windows, Mac, Linux, iOS, and Android
Developer: Zoho Corporation Pvt Ltd
License: Free (Trial version)
With the help of Zoho CRM for graphic designers, organizations can manage entire sales operations and client interactions from a centralized platform. This promotes improved productivity and teamwork. The platform also works with various other Zoho programs, including Zoho Campaigns, Zoho Books, and Zoho Inventory.
Pros
Includes a variety of automation tools that can eliminate manual input and save time.
Provides robust & efficient customer support with a user-friendly interface.
Elements that facilitate information sharing and collaboration among team members, boosting output and effectiveness, are also present.
Cons
Can be challenging and overwhelming for novice users, requiring instruction and practice to utilize appropriately.
May turn out to be expensive, especially for individuals or small businesses with restricted financial resources.
4. Salesforce – Excellent CRM Choice for integrating partners, apps, and people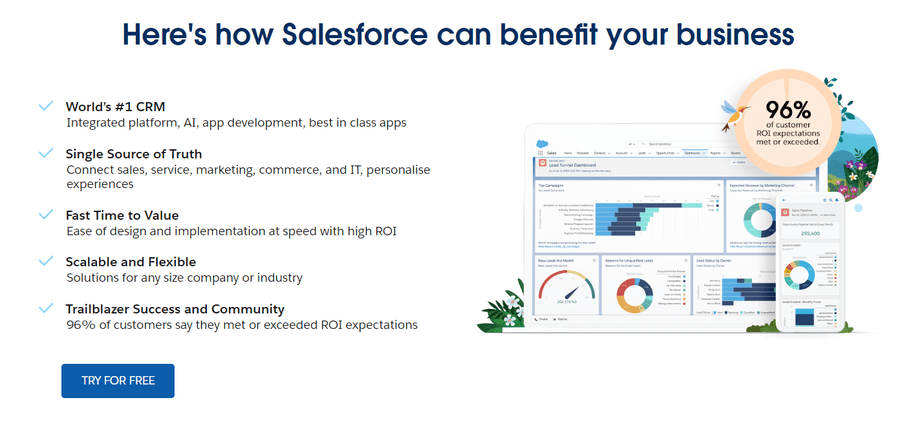 Supported OS: Windows, Mac, Linux, iOS, and Android
Developer: Salesforce, Inc.
License: Free, Commercial License
Salesforce CRM for graphic designers is a cloud-based customer relationship management software that supports sales, marketing, and customer service activities for companies of all kinds.
Additionally, customers can nurture prospects and perform customized email marketing campaigns utilizing these technologies. So, you can expect complete handling from a single place.
Pros
Being able to address customer support issues more quickly and accurately.
Contains processes, reports, and dashboards that are already configured and are specially made for a hybrid work environment.
Delivers comprehensive data on sales activity, enabling companies to monitor performance and spot potential development areas.
Cons
More advanced features are available only with costly paid plans.
5. Hubspot – Best CRM for Graphic Designers to keep sensitive data protected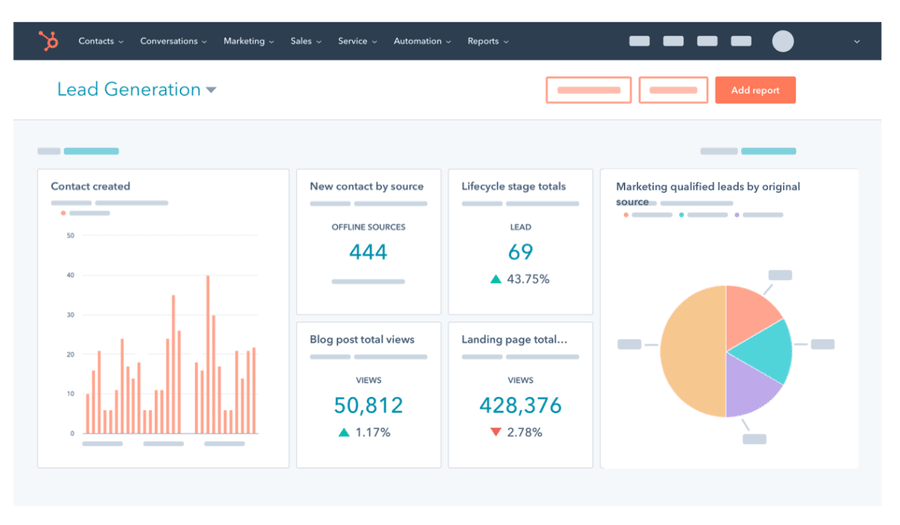 Supported OS: Windows, Mac, Linux, iOS, and Android
Developer: Hubspot, Inc.
License: Free, Commercial License
Features like lead management, contact management, deal monitoring, and analytics are available in Hubspot CRM. It can be used with a wide range of additional HubSpot products, including branding and sales tools, as well as external programs like Salesforce.
Pros
Allow users to track valuable leads and allocate duties to employees in one location.
Provides time-saving solutions to sales teams so they can close more agreements in very little time.
Timely and automated updates of reports, therefore reducing the manual inputs.
Provides top-notch customer service, rapid turnaround times, and valuable resources.
Cons
Only a professional plan can help you access the lead-scoring feature.
Final Thoughts
Choosing the best CRM according to the requirements is a challenging task, especially for less advanced users like plumbers. Referring to the best-shortlisted CRMs above will make your job easy. Using CRM for graphic designers is one efficient strategy to improve customer interactions, monitor and optimize business operations, and ultimately boost revenues. Also, graphic designers experience a significant productivity boost because of CRM solutions, as everything is available in a single place.