5 Best CRM for Business Development [2023 Reviewed]
A CRM for business development helps brands to gain insights into their customers' behavior, optimize for SEO and adjust operations to ensure that clients get the best service, for some cases, productivity levels grow by even 30%.
You can use CRMs to optimize your sales process, improve customer service, and increase your revenue. But which is the best tool for your business development strategy? After in-depth research, we found the best CRM software for business development we think might be useful to you.
Best CRM For Business Development
| | | | |
| --- | --- | --- | --- |
| | | Best For | Top Features |
| 1. | Monday.com | Tracking projects and workflows and visualizing data | Business process automation Employee onboarding Inventory management |
| 2. | Streak | Managing your work from your inbox | Reporting & statistics Sales forecasting Collaboration tools |
| 3. | Zendesk | Capturing and managing customer interactions and sales activities across channels | Appointment management Multi-channel data collection Sales pipeline management |
| 4. | Drip | Marketing automation | Marketing automation workflows Advanced contact management using tags, custom fields, and events Native integrations with popular 3rd-party services |
| 5. | Constant Contact | Creating branded emails, websites, and online stores | Campaign segmentation Data analysis tools Customizable templates |
1. Monday.com – Best CRM for business development overall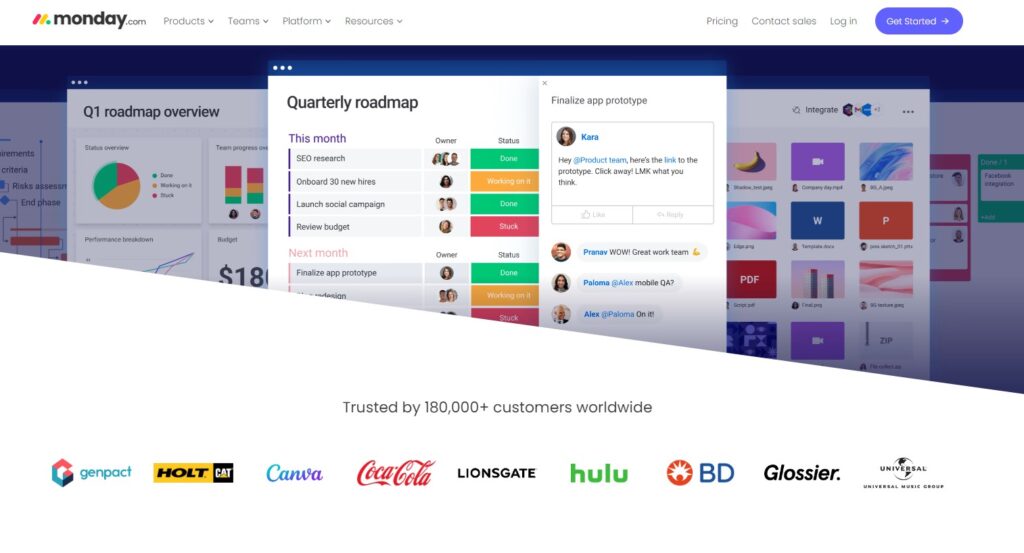 Monday.com is a cloud-based platform for businesses and teams to build workflow applications and run projects, processes, and daily work tasks.
It has many features that cater to all users with unique needs. For instance, it supports custom applications, custom fields, over 200 dashboard templates, and unlimited contacts and users.
Monday.com uses a traffic-light system that groups workflow based on the status of the customer relationship. Orange signifies tasks in progress, green refers to finished tasks, and red is tasks that need immediate attention.
This feature helps businesses to personalize their task statuses for each customer.
Monday.com features dashboards with useful insights, customizable workflow templates to manage tasks, and integration with many other software and tools to streamline processes, which makes it great for in different areas such as Human Resources or Venture Capital.
Pros
It helps you to efficiently manage projects and meet deadlines
Removes the need for any spreadsheets and manual tracking
It's clean, has a beautiful design, easy to use
It's accessible across all devices, mobile, tablet, desktop
The CRM cuts down meetings and emails by 50%
Cons
Its pricing can be relatively high
No built-in time tracking feature
2. Streak – Excellent productivity software for Gmail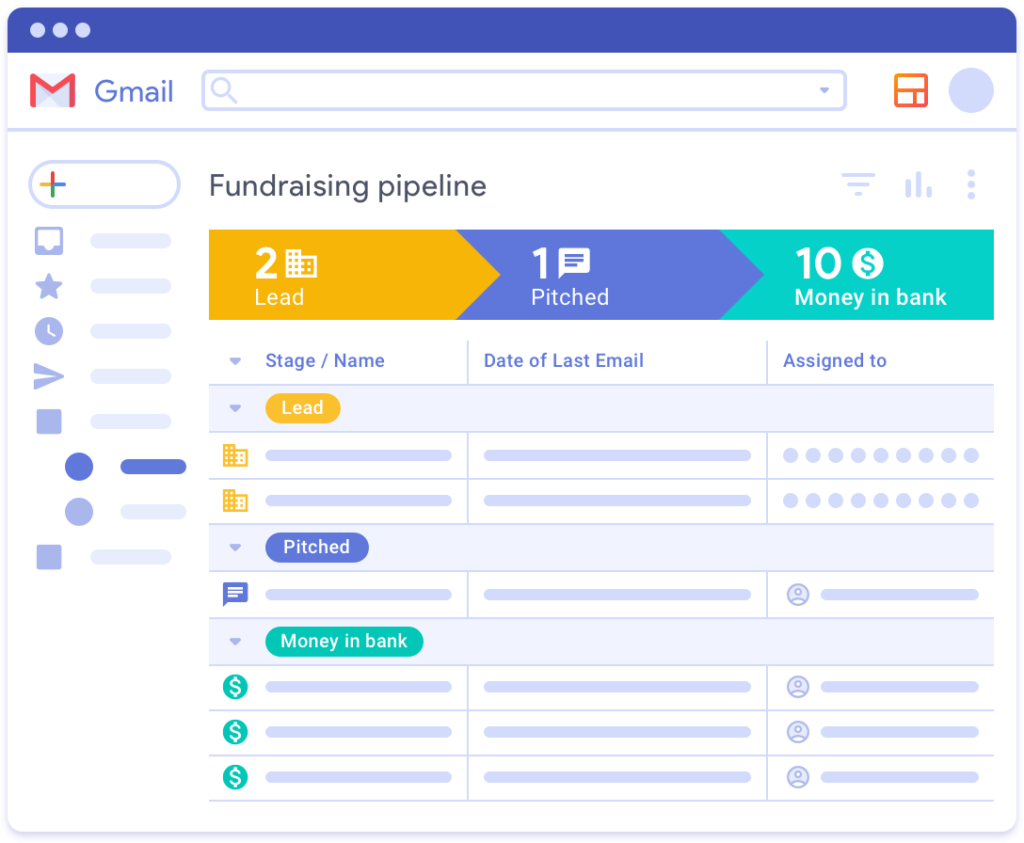 Streak is a completely embedded workflow (CRM) and productivity software in Gmail. It's compatible with several third-party applications, making it easy for small businesses to incorporate the software into their everyday operations.
The platform permits you to work from your inbox and use external tools you are already familiar with, including Sheets, Docs, and Drive.
This will help you keep all your messages and essential documents in one place. In addition, Streak serves as an add-on feature to several external tools, which makes managing contacts, monitoring sales funnels, and tracking client emails simpler.
You can also use Streak to capture leads from existing contacts or import from external data.
Pros
Eliminates the back-and-forth between Gmail and your CRM
CRM administration is as simple as configuring a spreadsheet
Lets you track when an email is opened
Allows you to send personalized bulk emails from Gmail
It alerts you about newly added leads
Cons
No territory management
The interface of the pipelines view can be improved
3. Zendesk – Great CRM for improving customer support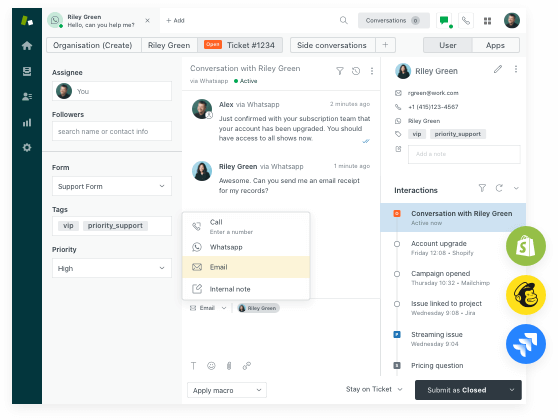 Zendesk is a powerful CRM software that offers SaaS tools related to customer support, sales, and communications. It's divided into Zendesk for Services and Zendesk for Sales to help small businesses through different operations.
Zendesk for Sales assists in tracking sales and generating leads while Zendesk for Services features a customer helpdesk that helps examine your performance and recommend areas that need improvement.
Furthermore, Zendesk has a ticking mechanism that permits all team members to track and arrange all customer queries. Other support tools are also available to users depending on their payment plan.
These tools can help enhance business capabilities by offering onboarding materials, on-demanding tutorials, data analytics, and project management. Zendesk users can also benefit from its 24-hour phone and email customer support service.
Pros
It's user-friendly to use and easy to manage tasks
Can be integrated with big social media platforms like Twitter and Facebook
Seamless integration with existing business systems and software using its open API
Fast and straightforward adoption, no training required
Improves support team morale and productivity
Cons
Phone support needs to be improved
Zendesk does not offer international numbers
4. Drip – Great tool for managing different buyer personas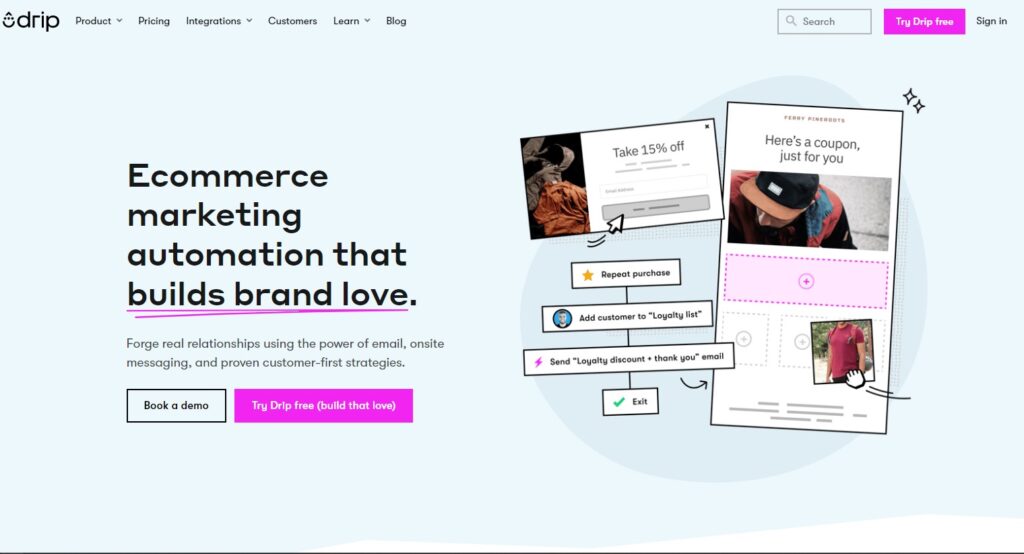 Drip is a direct-to-people platform that empowers businesses to oversee every stage of their customer's journey, from first-time visitors to subscribers to buyers and brand advocates.
All within a simple but robust and fully-unified dashboard. This CRM software makes building email drip campaigns and automation workflow pretty easy. You have the option to create your email with either a text builder or a visual builder.
Drip CRM also offers easy conversion tracking, list segmentation, purchase intent marketing, and content customization.
With custom fields, events, and tags, you can track and learn everything you want about your customers' stories. This Drip is an excellent database CRM software that helps businesses manage their contacts in a profitable way.
In general, Drip is built to increase brands' bottom line and help them bring in leads, manage contacts, and convert them into lifelong customers.
Pros
Allows you to A/B test your best-performing email and optimize it to boast conversion over time
Offers 14-day free trial no credit card required
Up to 100 days cash back guarantee
You can save time by switching to their free migration service
Allows you to send free emails irrespective of your plan
Cons
The CRM solution can be overwhelming
Reporting needs to be improved
5. Constant Contact – Great tool for email marketing for small businesses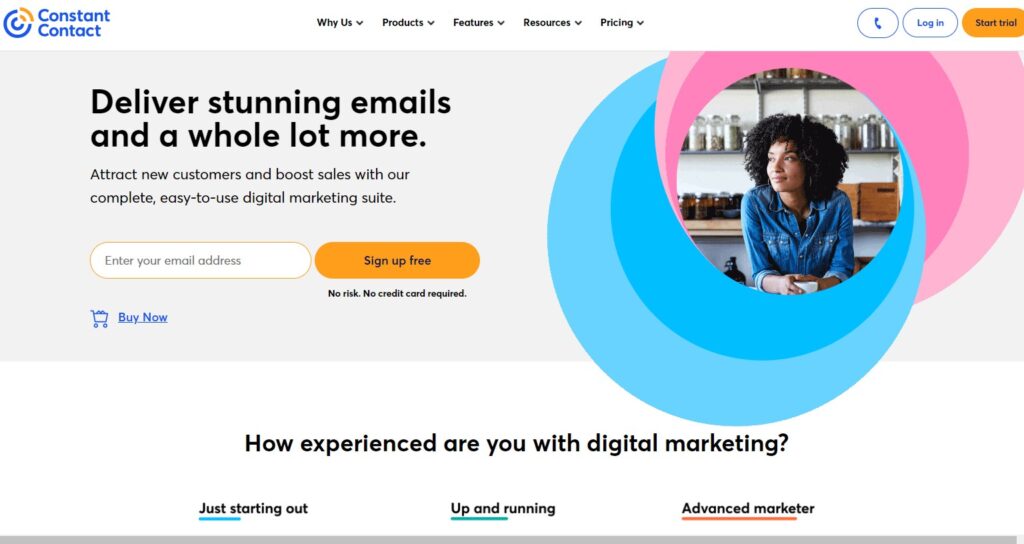 Constant Contact is a popular email marketing tool perfect for small businesses. It offers a simple dashboard, sales funnels, marketing automation, reporting, and a drag-and-drop tool for building emails.
Constant Contact is a marketing CRM that allows you to manage contacts, customer data, and third-party integrations, including eCommerce integrations from Constant Contact's vast marketplace. The wide range of available integrations makes it easy to consolidate your data into one place.
You can use Constant Contact to create an effective marketing campaign and grow your business significantly. Talk with their marketing advisors to discuss your marketing strategies and review marketing campaigns.
Pros
Contact metrics are easy to manage
It is an excellent alternative for database administration
Easy to sign up and enter your payment information
You can run Facebook, Google, and Instagram ads from your Constant Content account
You can set up an online store with just a few clicks and start selling beauty products
Cons
Sometimes the monitoring parameters are not the simplest
It would be great if multiple people could work on a document at one time
Bottom Line
Using a CRM is important for business, especially in highly competitive sectors such as the manufacturing industry which heavily relies on productivity and sales, features that good CRMs encapsulate.
These are the best CRM for business development. Each CRM solution reviewed in this article has its own unique features and pricing plans, so it's important to choose the one that best fits your business's needs and budget. You might want to also check the best CRM for developers, done properly, it can scale a business to new heights.
With the right CRM software solution, your business can improve customer relationships, increase sales revenue, and grow more effectively.