How to Create a System Image Backup in Windows 7
Restoring a Windows System Image
If your system has become unstable or won't boot, it may be time to restore a previously created system image. Like the Backup process, there are a few ways to restore back your computer using the backup image that you created.
Method #1
From one of the icon views in Control Panel, select Recovery. Click Advanced Recovery methods and select the first option that says "Use a system image you created earlier to recover your computer".
Because the system image restore will delete ALL files currently on the system, you will be given the chance to backup any files that weren't in the original system image. If you have files to backup, then click Back up now and do so, otherwise click Skip. Click the Restart button which will reboot your computer. Then simply enter your keyboard language.
Method #2
This is the next best option if Windows cannot start up. Turn on your computer and start tapping F8 key to get to the Advanced Boot options screen, then select Repair your computer. Not all systems will have this option, so if you don't and method 1 isn't working you will need to go to method 3.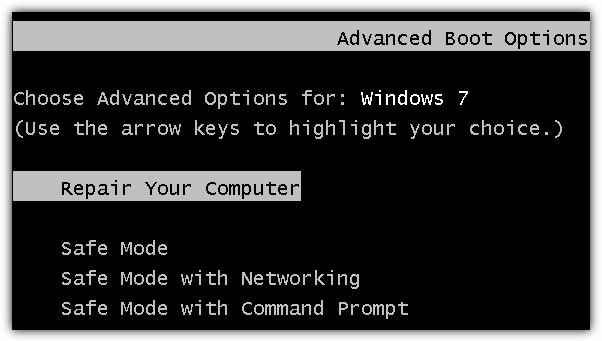 Wait for the recovery mode to load, then select a keyboard layout and choose a username with a user's password if there is one. Finally, on the System Recovery Options menu, click on System Image Recovery.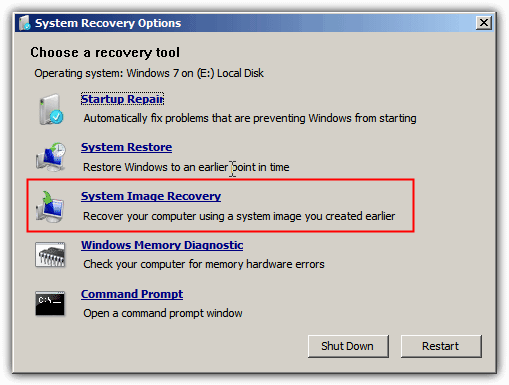 Method #3
It is also possible that the hard drive's boot sector or master boot record has become corrupted and you can't even get to the F8 Advanced Boot Options menu. In this case you will need to start the computer with a Windows 7 system repair disc created from within Windows or a Windows install DVD which you may already have or can download and burn the ISO image. After pressing any key to boot, choose your language and keyboard layout, click Next and then click Repair your computer at the bottom.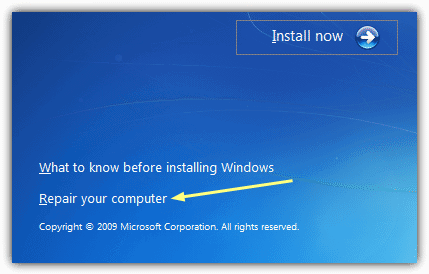 After the Windows install is searched for and detected (it doesn't matter if it isn't found), click on "Restore your computer using a system image that you created earlier", then Next.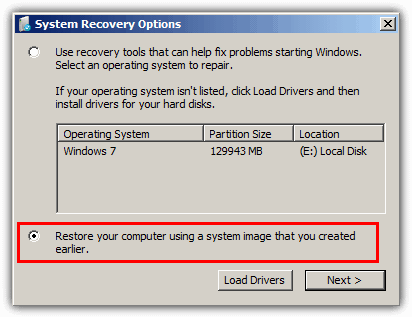 Whichever method above was used, you will finally end up at the Select a system image backup screen. If you saved the image to another hard drive, it will be automatically selected for restore and you can simply click Next to begin. Use the Select a system image option and follow the instructions to look for a DVD backup or a network location if needed.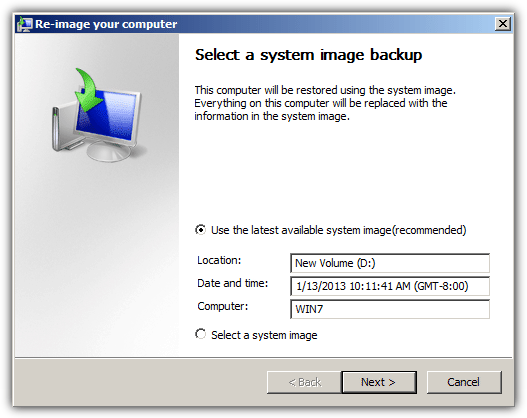 If you've changed the partition structure on the drives since the backup, you won't be able to use methods 1 or 2 and need to use method 3. This will give the option to reformat the drives to match the layout in the backup image. Obviously an option to use with care. After a few confirmation screens the process will begin and will eventually auto reboot the computer where you should be back into a working Windows.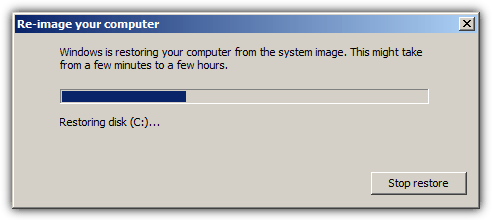 Tip: When saving a backup to another hard drive, the System Imaging tool will always try to overwrite any previous backup and can't by itself perform another one leaving the previous backup in place. There is a simple trick to get around this which is to rename the folder of the current backup from WindowsImageBackup to another name such as WindowsImageBackup_2013_Jan. A renamed folder WILL have to be renamed back though for the System Image tool to recognize it for a restore.