Browser Backup Tool: 5 Best in 2023 [Chrome, Firefox, Opera]
Web browsers are still a very popular area of the Windows software market and it seems brand new browsers are coming out almost every other week. Looking at the usage statistics though, there are still three main players who are head and shoulders above everyone else; Mozilla Firefox, Google Chrome and of course Internet Explorer, with perhaps Opera in a distant fourth. You will find that most of the other less popular browsers are all based on the rendering engine from those three main browsers (Blink, Trident or Gecko).
With so many browsers around it's not unusual for users to have two, three, four or even more installed at once to test out and see if one is preferred to another. The problem is with every browser comes a new user profile where all of your favorites, page/search histories, addons, cookies, preferences and other settings are stored. If you want to try other browsers, backup your settings or transfer them from one computer to another, you want to be able to backup all the data that matters so it can be restored later.
Here we show you five software tools that can backup and restore the user data for a number of different web browsers, meaning you needn't lose any of your important data.
1.
FavBackup
FavBackup is getting a little long in the tooth nowadays because it hasn't been updated since 2011, but it shouldn't matter a great deal because browsers don't generally change the locations where all the personal data such as favorites and history is stored. It is a portable tool and supports over 15 browser components to backup and restore. Six browsers are supported although we're not sure how many people use Safari or Flock these days, but the main four the majority of us use are there.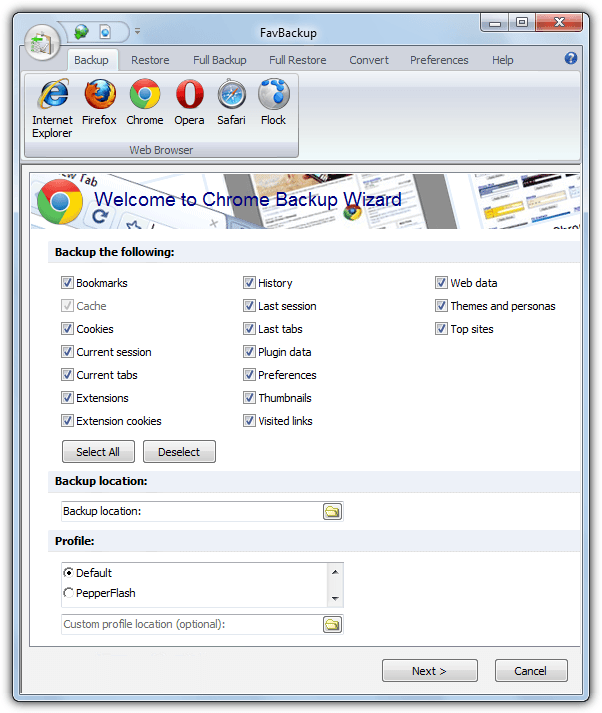 FavBackup can backup individual browser components, simply select the browser icon, tick the options to include, add the backup location and choose the profile or browse for a custom profile. Click Next and the backup will be created. The Full Backup tab will include all the browser profiles by default, all you have to do there is select a backup location and click the button. Restoration is just the opposite of backing up. The website's list of supported browser versions is outdated but it seems to work fine on the latest browsers at the time of writing.
---
2. Hekasoft Backup and Restore
One impressive feature of Hekasoft Backup and Restore is the large number of different web browsers it supports for backup and restoration. Besides the most popular, it also includes Avant, Comodo Dragon/Ice Dragon, Maxthon, Midori, Pale Moon, SRWare Iron, Waterfox and several others. Another bonus is support for a few none browser programs like FileZilla, Mozilla Thunderbird/Seamonkey/Sunbird, Skype and uTorrent.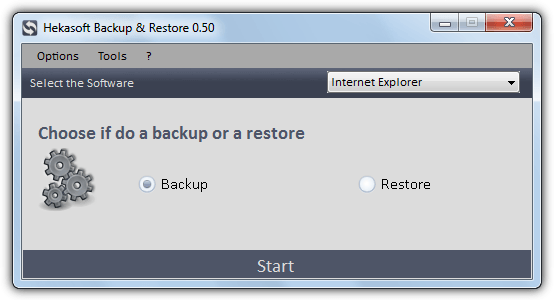 The program is easy to use, just select the browser from the drop down menu, choose to backup or restore and click Start. A file browser will ask where to save the backup or where the backup file is located. Other features are; Optimize to clean junk data from various browsers, Migration to migrate settings from one browser to another with the same engine, and also to add your own browser if it's not supported. Go to Options > Settings > Modules and press "Select installed software" to only populate the drop down with installed browsers.
Download Hekasoft Backup and Restore (A non adware "Lite" version is also available, currently hosted at Uploaded.net)
---
3. KLS Mail Backup
Despite the name, KLS Mail Backup can actually backup data from a number of web browsers although it's at a slight disadvantage because it can't handle backing up Google Chrome. That obviously won't matter if you don't use Chrome because KLS can recognize Internet Explorer, Firefox and Opera profiles. This program becomes even more useful if you want to backup emails as well because all the most popular clients are supported.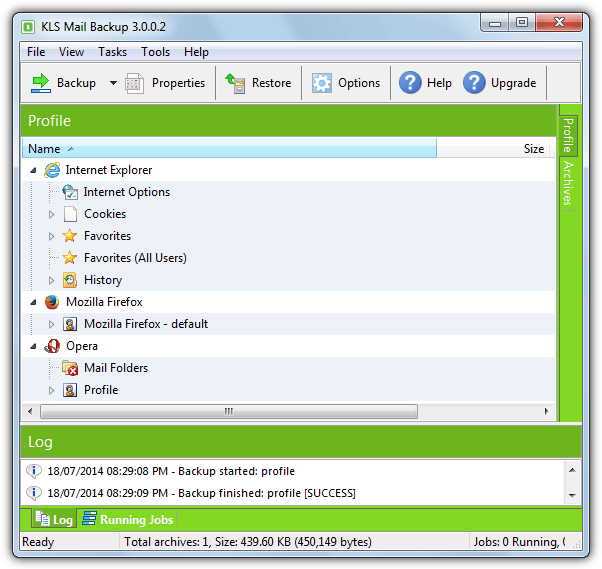 After installation and on launch you'll be asked to select which profiles are to be backed up, simply "Add" the browser profile(s) you want, then click Close. The options for backup are similar to traditional backup software, you can for instance, backup to local drives, LAN, FTP or even WebDAV Server. Backups can be compressed by Zip/7-Zip and you can also choose to run Full or Incremental backups, useful for very large browser profiles. If you want restore a single profile after selecting several for backup, choose it during the restore process.
---
4. BrowserBackup Professional
BrowserBackup Pro used to be a shareware application but was released as freeware in 2012. Sadly also dropped from the freeware version was backup to the cloud due to lack of support. Weirdly, Internet Explorer isn't supported at all although the good news for Opera fans is both the old (Presto) and new (Blink) versions can be backed up and restored. Chrome, Chromium and Firefox are the other supported browsers.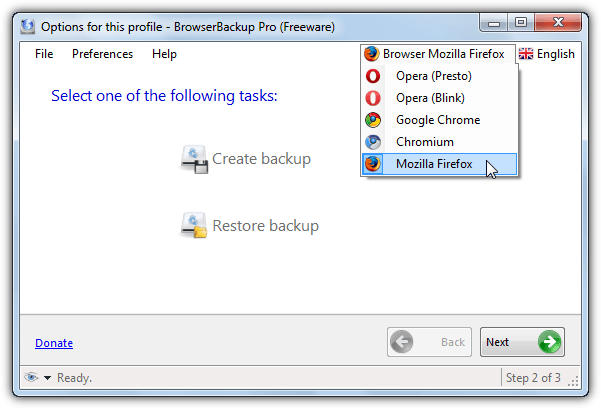 Backing up is like going through a wizard; select the browser from the drop down, choose the profile or find a custom profile if you have a portable browser for example, choose what components to backup with the tick boxes, finally browse for the target folder and click Finish. BrowserBackup Pro can define a password for the backup if you wish and there's also 4 different methods of 7-Zip compression, ranging from none at all to maximum (slowest). As usual, the method of restoring a profile is a simple reversal of backing up.
---
5. FBackup
Although FBackup is a traditional file and folder backup software, like it's shareware big brother Backup4All, FBackup does run with a plugin system that also includes backing up and restoring several web browser profiles. After install go to File > Tools > Plugins and click "Download plugin list". Internet Explorer, Chrome and Firefox are installed by default, another five or six browser plugins can be installed by highlighting each one and pressing Install.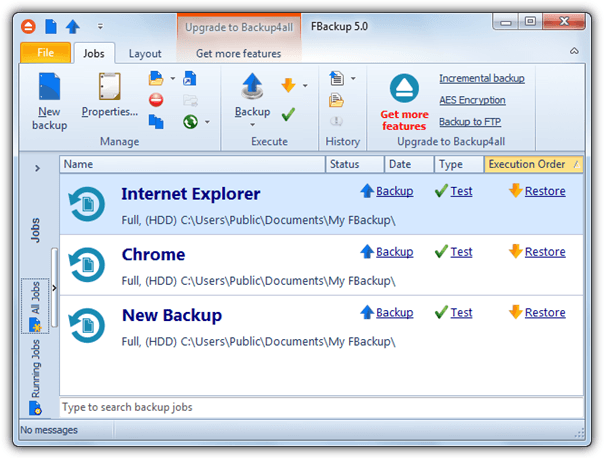 Because it's a full blown backup software, setting up a profile for you browser is a tiny bit more complicated although still not too difficult. Click New Backup and give it a name, then select the target of local or a network location to store the backup. The next window will allow you to select the plugin for your browser from the drop down, the screen after is for optionally encrypting the backup. A bonus of using a full backup program is you can schedule the backup to run at specified intervals meaning you don't have to backup manually.
Note: Although the software above is aimed at covering as many browsers as possible so you don't need to run multiple separate tools for different browsers, there are some dedicated backup programs which might be enough if you only use a single browser. MozBackup can backup Firefox profiles and well as other Mozilla software, while Internet Explorer Backup can unsurprisingly backup and restore only Internet Explorer data.