13 Free Online Services and Software for Converting PDF to Word Compatible Format
The Portable Document Format (PDF) was introduced by Adobe in the 90's and as the name implies, PDF is simply meant to be a type of self contained document that you can distribute easily. It doesn't matter what operating system or software you have installed, as long as you have a reader to view it, the document will always look the same. Unlike a simple text file, a PDF document can contain many elements including text, images, hyperlinks, tables, fillable forms and etc.
Windows 8 has built in support for viewing PDFs and most web browsers can also view and save PDF documents. There's plenty of free third party tools like Foxit Reader, Nitro Reader, SumatraPDF or even Adobe's own reader. If you want to edit a PDF file, a popular way of doing so is converting the document into Microsoft Word format, that way just about anybody can then edit it without the need for specialized PDF editing software. If needed, you can later convert the Word document back to PDF.
Some products such as Microsoft Office itself, Google Docs and even Libreoffice can convert or allow you to edit a PDF but the results are often less than satisfactory. Here we list a number of free software or online PDF to Word format converters that can help you get a good result.
Because results can vary wildly, we also run some tests to see which converters might be best for your particular documents.
Online PDF to Word Converters
There are probably hundreds of converters online that offer to convert PDF files to RTF, DOC or DOCX, but there's also a massive difference in the quality of results. Here we look at what we think are some of the better performers.
1. PDFOnline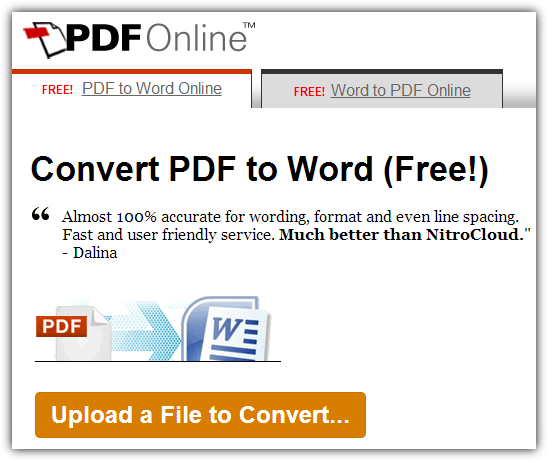 After uploading and processing your document, a preview window will display how well the conversion has gone, the window also reassures you that your document is private. Pressing Download will give three options; download as a zipped HTML page, re-download the PDF file, or download as a Word document. The output file is not DOCX or DOC though but rather a Rich Text file (RTF). In addition to converting from PDF to Word format, there's also a tab for the opposite of Word to PDF.
---
2. EasyPDFCloud
EasyPDFCloud is a beta product from the same people as PDFOnline above and aims to also be a cloud storage solution for your documents. A free account gets you 50MB of storage and optional Dropbox integration. It can also monitor Dropbox folders and automatically convert uploaded PDF files.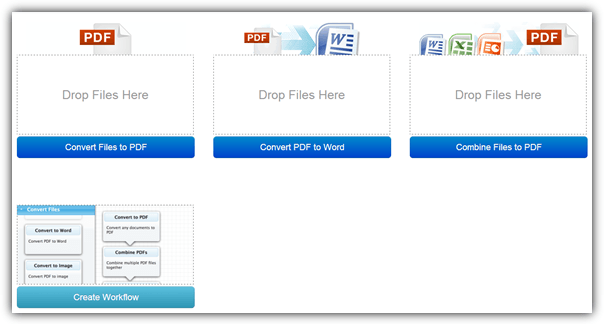 An account also gives you other things such as being able to upload 10 files simultaneously instead of just 1, and the option to create workflows which basically means chaining operations together. The service can also create PDFs from other formats, while the Word convert outputs DOC files. These can be kept in your cloud storage or downloaded immediately. The maximum PDF size allowable for this service and also PDFOnline is 5MB.
---
Something that could be useful here is the option to use OCR (optical character recognition) to convert a scanned document to DOC, DOCX and RTF, although it is very restrictive only converting 2 pages.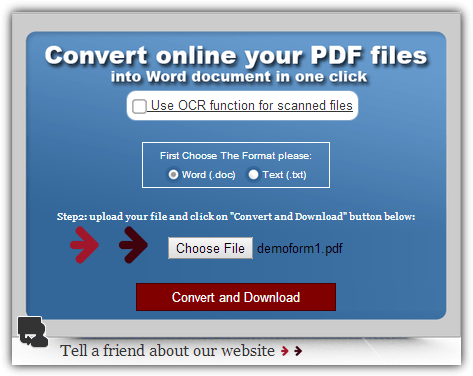 The PDF conversion to Word is simple and offers to output the file as either a .TXT Text file or Word 2003 .DOC document. There seems to be no obvious file size or page limit and we managed to convert a 13.2MB PDF successfully, so the limit is reasonably generous and somewhere above that. Be aware that a converted file has a randomized filename.
---
4. Zamzar
Zamzar is more of an all in one converter supporting around 1200 different file types, including audio, video, ebooks, documents and etc. Another plus is the option to add up to 10 files at once or alternatively upload a file from another url.
After choosing the PDF file(s) you want to upload, there are nearly 30 formats which you can convert to, including compatible Word formats of DOC, DOCX and RTF. Then supply an email address and wait for each file to upload, be converted and the email sent to you with the download link. One drawback is each conversion will be emailed to you separately, even if you upload 10 files at once.
---
This is another general file converter handling many formats from video and audio, to archives, images, ebooks and documents. A generous size limit of 250MB covers all but the most enormous files.

Apart from being able to directly upload from your computer or download a file from the internet, you can convert to Word 2003 .DOC or a few other formats, mainly ebook related (sending via email is optional). Convert.Files also has a few other PDF related services which could prove useful. OCROnline is a dedicated optical character recognition service and Crack My PDF aims to help remove passwords or restrictions inside PDF files.
---
This online service has several different 'convert xx to xx' modules to process a large number of different formats, including separate PDF to TXT, PDF to JPG and a selection of formats to PDF. The maximum PDF file size accepted is 30MB.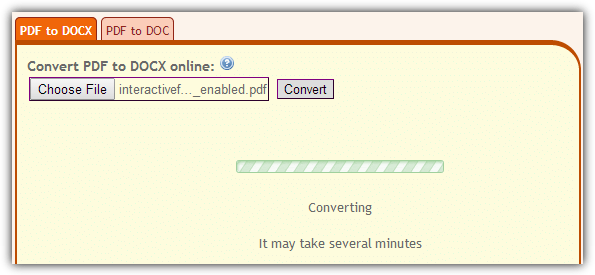 ConvertOnlineFree can produce conversions of both DOCX and the older DOC formats, you simply need to select the appropriate tab and then browse for the file to convert. Once the conversion is complete the Word document will download in your browser. An extra server from Germany is available if you are having difficulties, which we did find was a lot faster for conversions.
---
As a big name in PDF software, we felt we had to try this even though it only offers 5 PDF to DOC conversions a month. Thankfully conversions are tied to an email, so simply use a temporary email address to get another 5. A free account will get you 5 more conversions and the option to connect Nitro cloud to Dropbox, Google Drive or OneDrive, sign/share PDFs and etc. The limit is 50 pages and a PDF under 5MB.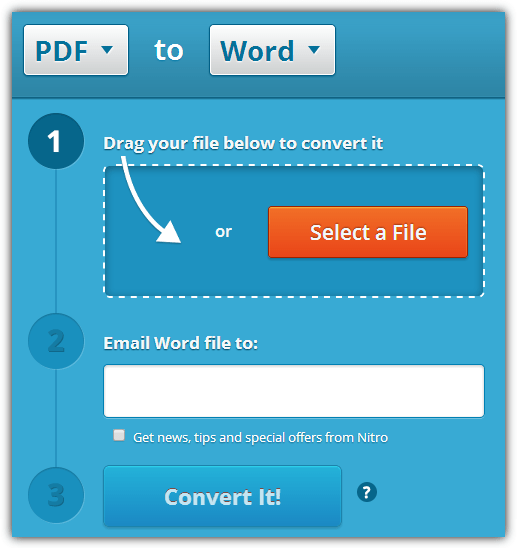 The PDF converter can accept Word, Powerpoint or Excel files as well, it can also output to any one of those four formats. It does only accept a single file at a time and the resulting Word document (.DOC) will be sent to the email address you supply. The commercial Nitro Pro software trial version can also be used to perform PDF to DOC conversions if you have some larger conversions to do.
---
8. SautinSoft PDF to Word Online Free
We found this quite a fast service, after uploading it usually only took a few seconds before the document was being downloaded. Sautinsoft have more than one of these services spread across their websites, at Sautinsoft.net it ony has a 2MB limit, on the FirstPDF webpage it has a 5MB limit.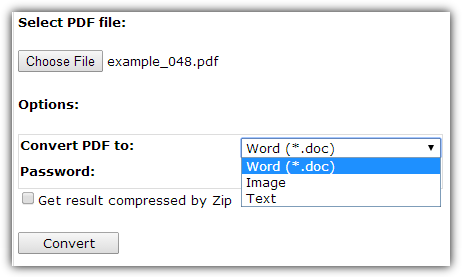 In terms of options, it's quite basic and there aren't many things to configure apart from choosing the conversion format, an optional password and whether to compress the file into a Zip before download. In addition to Word format (.DOC), you can also save to image (PNG, JPG, BMP, TIFF) with manual DPI options, and plain text (.TXT) format.
---
9. Wondershare Free PDF to Word Online Converter
WonderShare make a ton of different shareware applications, from YouTube converters to Photo Recovery software. Something this service displays clearly that other don't always tell you, is there's a maximum PDF size limit of 10MB.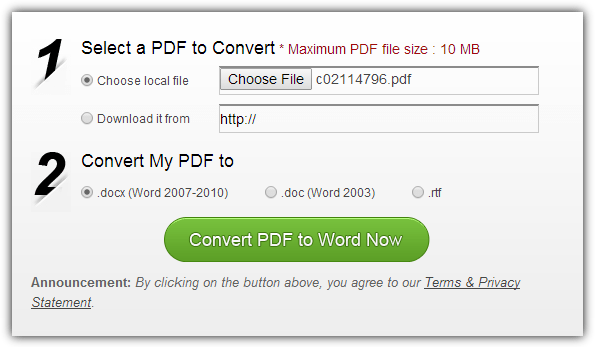 In addition to uploading from your computer there's also the option to upload from elsewhere on the internet. It also concentrates solely on Word conversion and allows you to convert the PDF file to DOC, DOCX or RTF. Conversion time isn't the quickest and we noticed a slowdown at certain times of the day, but you should get your link to download the Word file within a minute or two at most.
Not Tested Online PDF Converters
Online PDF converters are ten a penny and there are tons out there to choose from. We did try out many others, here's some we left out for various reasons.
VeryPDF – Produced terrible conversions, none of the table borders were drawn. Seems to convert to plain text without any formatting.
PDFWord – Always said there'll be a wait of around 30 minutes, it could have taken up to 7 hours just for it to convert our test files.
Convertii.com – Only 3 free conversions per month as a guest, then another 3 per month if you signup for an account, changing IP works but is too much hassle.
PDFtoWord.org – Always gets stuck at converting and won't go any further.
Soda PDF Converter – You must register for a free account and even then you can only convert 1 file every 30 minutes.
CometDocs – Although it has an online converter and apps for Windows/Android/iOS, you're still restricted to only 5 conversions a week. This can be increased through referrals but extra conversions need a paid subscription.
On page 2 we'll look at some free software PDF to Word converters and find out which converters overall produce the best results.
PDF to Word Converter Software
Being able to convert the PDF file locally obviously has advantages such as not requiring the internet and faster conversions. Here's four tools we're looking at.
1. UniPDF
The installer actually includes a 4.2MB piece of adware called 7-Data Recovery which you need to opt out of in the very first install window. The setup installer can be extracted with 7-Zip to make the program portable, which is quite useful.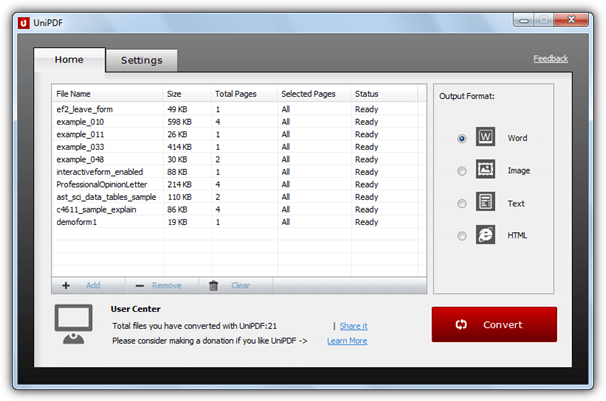 The UniPDF program itself is nice and easy to use with not much in the way of options to configure, just drag and drop the files to convert onto the window or add them manually. In addition to saving as Word compatible formats of DOC and RTF (it defaults to RTF which you can change in Settings), you can also output to Image (JPG, BMP, TIF, PNG, GIF, PCX and TGA), plain text (TXT) and an HTML web page.
---
The installer is a pretty sizeable 35MB and also contains adware so be aware. One valuable feature it does have is the ability to perform Optical Character Recognition (OCR) on a PDF where the pages have been scanned. Currently it recognises English characters only.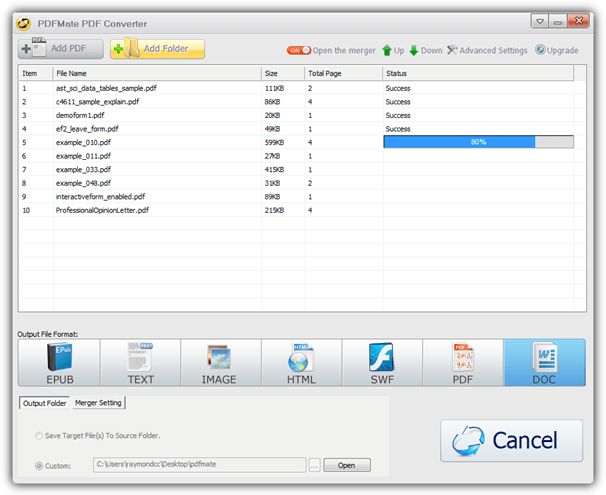 In addition to the standard output formats of Word DOCX (DOC is only available in the paid version), text, HTML and image, PDFMate also outputs to the EPUB format, can create a new PDF document while shrinking multiple pages onto a single page, and rather oddly it can output to the Shockwave Flash (SWF) format. The Advanced settings window is where you can turn on OCR for the document.
---
3. Smartsoft Free PDF to Word Converter
In terms of an easy to use program, they really don't come any more simplistic than this. If you're looking for a bit more control or configuration, it probably isn't for you though.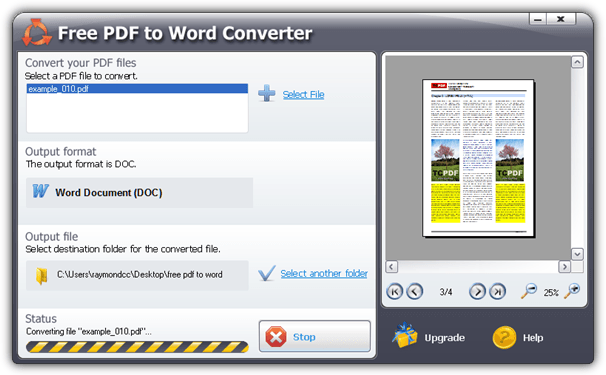 Sadly you can't do anything like multiselect files for conversion or convert to anything other than the Office 2003 DOC format, but you do get a preview window which allows you to scroll through the pages of the selected PDF and zoom in/out. A minor thing to note is the Help button doesn't work, the manual found in Program Files is also not actually for this program.
---
Nuance is a strange tool because you need to install the PDF reader although the conversions are done entirely online, the reader simply uploads the PDF. You also have to enter an email and password to start the process, the link to retrieve the file will then be emailed.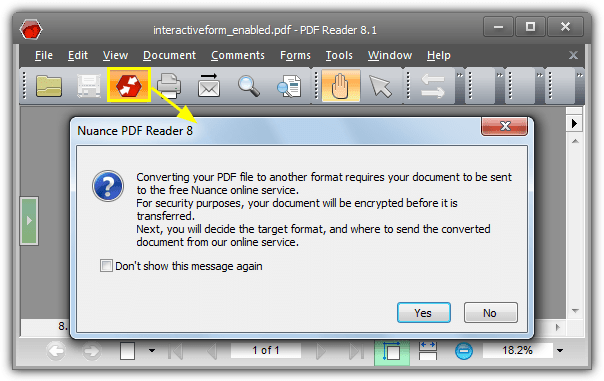 Leaving the Nuance Reader itself to one side, once the file has been uploaded and the unique webpage generated, you can then choose to convert the PDF to DOCX Word format, Excel (XLSX), Rich Text (RTF) or Wordperfect (WPD). The Advanced drop down gives the option to adjust the quality of any converted images.
Not Tested Free PDF Conversion Software
Free PDF conversion software is less common than online converters, but there are still a few around, here's some we left out.
Free PDF to Word Converter – Crashed every time when adding any PDF file.
FM Free PDF to Word Converter – Does not convert anything graphical. The "Include Images" tick box makes no difference meaning it's very limited.
Free PDF Solutions Free PDF to Word – Has at least five adware windows during install, the interface is buggy and the website has a very poor security rating in WOT.
FlipPDF to Word (aka Boxoft PDF to Word) – Although it has some useful features, conversion quality was poor, everything was misaligned and badly drawn. Below is a typical example of the type of problems we encountered.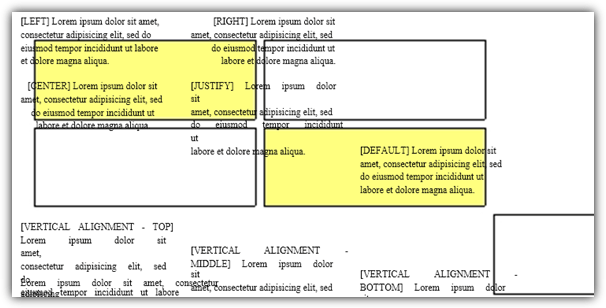 Hello PDF Free PDf to Word Doc Converter – After a few conversions you are required to visit the website and answer a maths question to get a free registration code for every subsequent conversion.
Free Easy PDF to Word Converter – The export to Word function requires Microsoft Word itself to be installed, Office Starter Edition doesn't work either. Conversions were also poor quality producing plain text documents.
OfficeConvert.com PDF converters – Officeconvert have 3 or 4 free products, sadly they popup nags to buy the full version at almost every opportunity.
Testing PDF Documents and Summary
To test a few different types of content you might find inside the average PDF, we're going to try converting 14 small personal PDFs. For example, we have:
– Two documents to test tables, one is a simple table PDF, the other uses different HTML tables with varying borders and layouts.
– Two interactive PDF forms, one is a partially filled in text form, the other is a form laced with graphical elements.
– A document with different font types and a simple pie chart PDF.
– Four PDFs with varying cell, column and box layouts to see how they are drawn along with how the text is drawn in and around them. We also use a document to test text stretching and spacing.
– Three documents with a general mixture of tables, text, images, columns and fonts.
To keep things simple, we're going to summarize the conversion results in a table so you can easily see how each software/service performs. We're going to look at how well tables are converted, how well forms convert, whether text is laid out and formatted correctly, and if images and fonts are correctly converted. Each will be given a score out of 5, and then given a final score out of 20.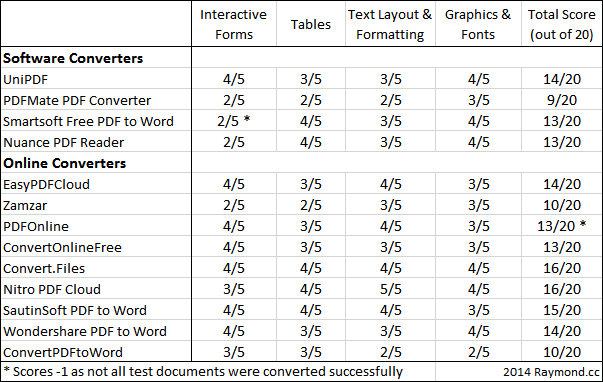 Summary
Perhaps not a surprise to many is the fact Nitro PDF Cloud was the overall joint winner. Handling of text, fonts and images was pretty much spot on, it was only really the poor drawing of one of the interactive forms and the inability to correctly draw some of the tables properly (see pic below) that kept the score down.
The other joint winner, Convert.Files, made a much better job of the interactive form that Nitro had trouble with, but also wasn't quite as good at justifying and positioning the text inside multiple cells. One advantage is you are not restricted in the number/size of conversions so much.
UniPDF was just about the best software thanks to its better handling of forms, Smartsoft did match it in all other areas but refused to open a test PDF containing a form, claiming it was corrupt.
Smartsoft Free PDF to Word is worth a special mention though because it was the only tool tested that faithfully reproduced some HTML tables with a double border, nothing else came as close. It did let itself down slightly by not accurately drawing a couple of simpler tables.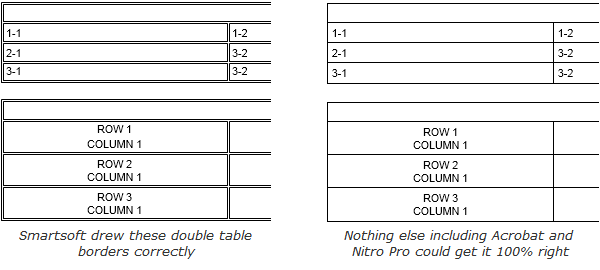 PDFMate, Zamzar and ConvertPDFtoWord were clearly the worst performers and didn't really do anything particularly well, from poor text formatting and layout, to badly drawn forms and tables.
Nuance PDF Reader is a useful tool because it can both read and convert PDFs. Sadly its form conversion wasn't good and some multicell text PDFs were quite inaccurate, although it should suffice for simple conversions.
Although PDFOnline and EasyPDFCloud are from the same company, PDFOnline refused to process a simple PDF that all the others opened OK. They performed almost exactly the same for everything else so EasyPDFCloud is recommended over PDFOnline because it has more features and is less picky about PDF files.
Most of the time we found that online converters produced better results than software converters although you are usually restricted by either file size, page count or time limited, and of course it also depends on your internet connection. If you need to use free software, both UniPDF and Smartsoft were pretty much equal best, although UniPDF is not so good with tables, Smartsoft tripped over a PDF form.
Overall we'd say there isn't really one clear winner because nothing truly excels at converting every PDF document we looked at. That being said, even big hitters like Adobe Acrobat and Nitro PDF Pro aren't perfect either. Nitro PDF Cloud is great at handling general documents as long as they contain nothing more than basic tables or forms. Convert.Files is better for those things Nitro isn't so good at but isn't quite so accurate in general text formatting and layout, but it's far less restrictive than Nitro in PDF size, pages and has no time limits.
At the end of the day this test, although quite simple, does show that using just one PDF to Word converter maybe isn't going to get you the best results, and depending on what type of PDF document you have, 2 or even 3 options might need trying to find the highest conversion accuracy. Hopefully these results and this article have helped point you in the right direction…