Comprehensive List of Free AntiVirus 2013
11. UnThreat Free Antivirus
UnThreat is a new player on the antivirus industry that started in 2011. They offer a free edition, and two paid versions which is the PRO and Internet Security. The free version of UnThreat has real time protection against computer viruses, automatic updates, email protection, scheduler, exclusions and suspicious behavior detection. After installation, only the Scan tab is accessible while others such as Firewall, RoadWarrior and Web Guard are grayed out. Do not be fooled by the small 10MB installer because after installation the updater will download 3 definition files totaling 90MB in size.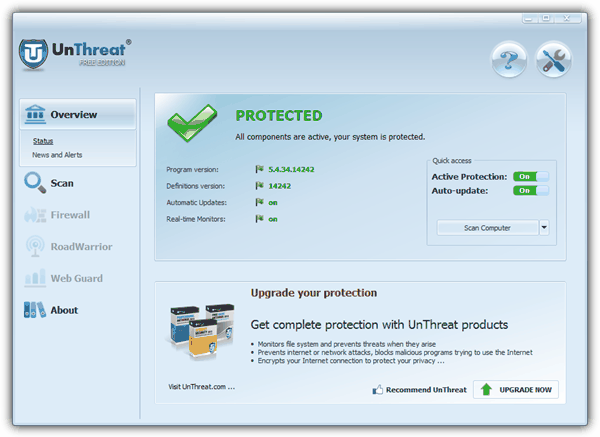 The first information that most people would look for is the engine being used whether it is an in-house or licensed from another antivirus company. From what we have discovered, there are quite a few DLL files in the program's folder that is signed and belonged to GFI, the maker of VIPRE antivirus. The GUI is also very familiar because the button locations are very similar to Avast! and AVG. There is a popup being shown at the bottom right of the screen for a few seconds asking you to upgrade whenever the program checks for an update.
Download UnThreat Free Antivirus
---
12. Comodo Antivirus
The free Comodo Antivirus is one of the very few that is allowed to be used at any place including commercial, educational and enterprise, unlike most of them are only allowed as personal use at home. It comes with 2 main modules which is the antivirus and Defense+. Basically the antivirus module allows you to run a scan, submit suspicious files to Comodo for manual analysis, real time protection, scheduled scanning and etc. As for the Defense+, it is an additional protection to further protect your computer against unknown threats by running programs in sandbox, heuristic and behavior analysis, cloud scanning and etc. You can also turn on the game mode from the tray icon and protect the settings with a password.
Pay extra attention during installation because by default it makes a lot of changes to your system. The setup modifies your DNS server settings to COMODO SecureDNS, enable submission of unrecognized programs to Comodo, changing your IE, Firefox and Chrome's homepage and search engine to Yahoo! At customize installation, you will see that it installs GeekBuddy for live support, and Dragon, a secure web browser by Comodo based on Chromium. Make sure you uncheck whatever that you don't need. The installer itself is already nearly 100MB and the first time update will download a main definition file that's nearly 100MB in size as well.
---
13. NANO AntiVirus
NANO AntiVirus is made in Russia using its own engine with their own antivirus laboratory for analysis, testing and development. They have real time protection, file guard and web guard. Currently it is in beta and is available for free which we are unsure if it will remain free when the final stable version is release. NANO AntiVirus is very easy to use and understand because you can only find very little options and settings.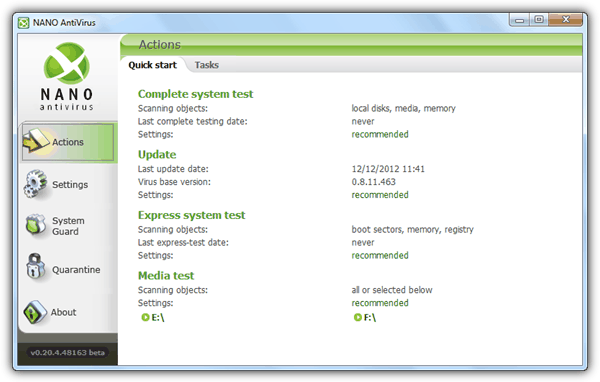 Although the support team in their forum claims that the current beta version of NANO AntiVirus is stable, it is a general rule not to use testing (alpha/beta) versions of security software on production computers.
---
14. Outpost Security Suite Free
Outpost Security Suite uses VirusBuster's antivirus engine and VirusBuster has been acquired by Agnitum for exclusive rights. Although there are both free and paid versions of Outpost Security Suite, the free version still felt like a full featured security suite as it comes with a firewall, anti-malware, anti-spam and anti-leak but without technical support, priority updates and ID theft prevention.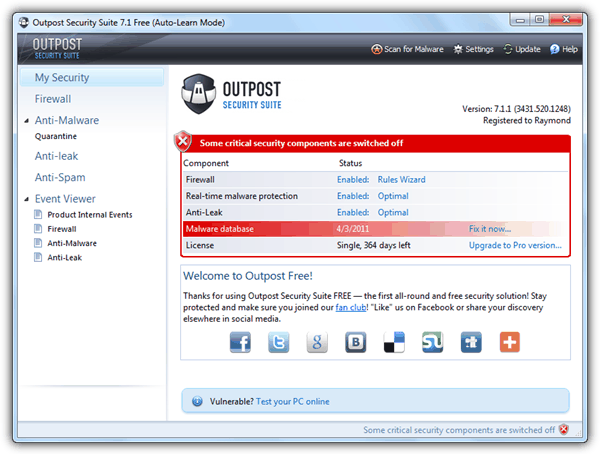 We were surprised to find out that there are 4 other free antivirus program (listed below between number 15-18) that uses Agnitum's engine. In fact all of them have the same graphical user interface and features other than using a different color and icon/images. In fact we believe that UtilTool and digital-defender are from the same company because their website are hosted on the same subnet.
Download Outpost Security Suite Free
---
15. Preventon Antivirus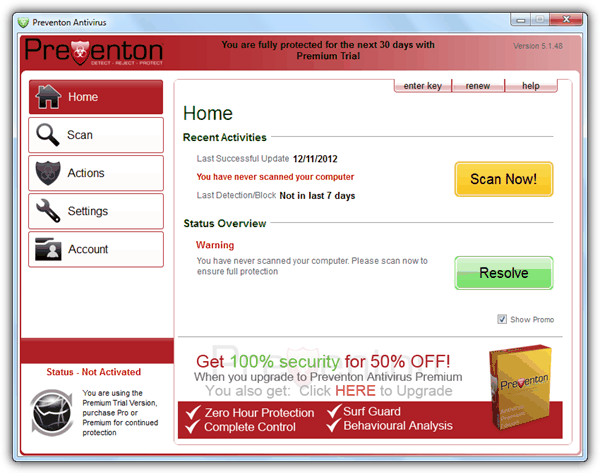 If you would like to use Agnitum's engine but don't want their firewall, Preventon would be a better choice compared to ones below that are also using Agnitum's engine.
---
16. Clearsight Lite Antivirus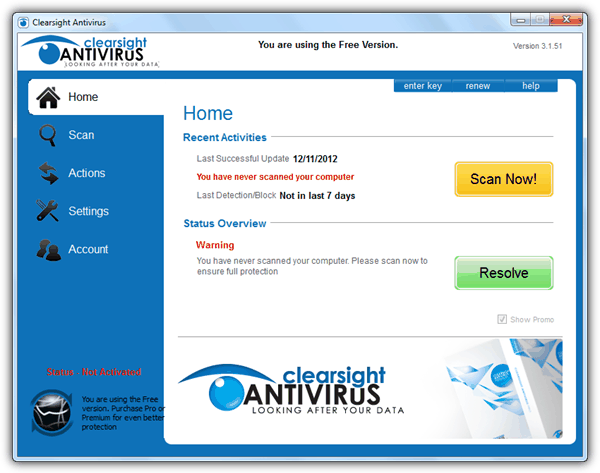 Clearsight Antivirus is currently for sale. The existence of this company in future is unknown.
Download Clearsight Lite Antivirus
---
17. digital-defender Antivirus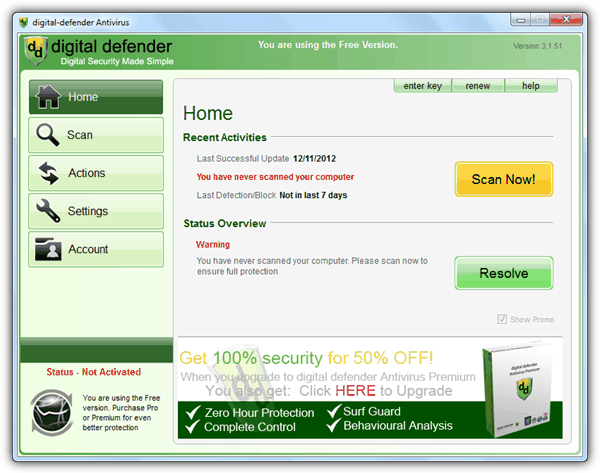 Although digital-defender and UtilTool uses legitimate antivirus engine, we would stay away from them mainly because of their business tactics. They seemed to be from the same owner/company and merely re-branded both the same software into different name.
Download digital-defender Antivirus
---
18. UtilTool Antivirus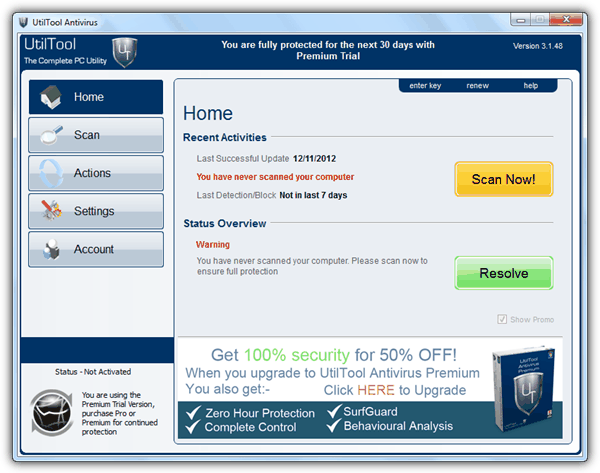 ---
19. PC Tools AntiVirus Free
PC Tools is well known for their Spyware Doctor product and their company has been acquired by Symantec. The free antivirus version offers limited security with only 2 out of 9 "IntelliGuard" functions enabled to provide real time protection on file access and email attachments. A lot of other small enhancements such as game mode, cloud scanning, scan for hidden files, MBR threats detection, power save mode and etc are also disabled.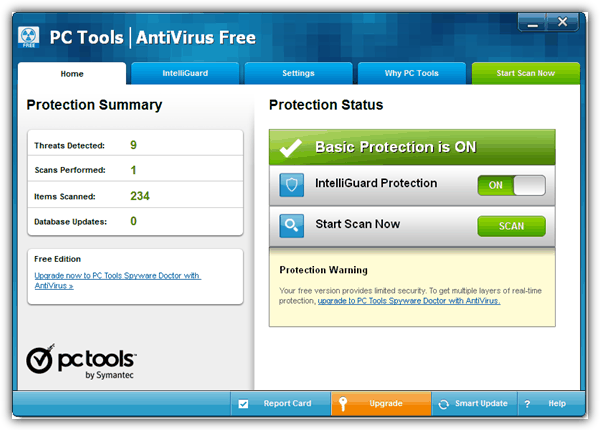 PC Tools AntiVirus has a unique feature where you can select the antivirus database size which is either Comprehensive or Compact. By default Compact is selected and it is a smaller definition that contains only signature for current malware threats, making the scanning process much faster. As for the Comprehensive database, it is the full definition that includes really old viruses that are no longer widespread. We can confirm that PC Tools AntiVirus uses virus definition files from Norton but the engine that powers the product seems to originate from VirusBuster as we found a few references from the DLL files located at the avengine folder.
Download PC Tools AntiVirus Free
---
20. ClamWin
ClamWin is an on-demand front-end scanner of the free and open source ClamAV but without the real time protection. You can install another open source application called Clam Sentinel to enable real time monitoring of the disk drive for file access and then automatically scanning them with ClamWin. ClamWin has integration with explorer and Outlook. The preferences window allows you to add scheduled scanning, automated updates, filters, limitations and etc.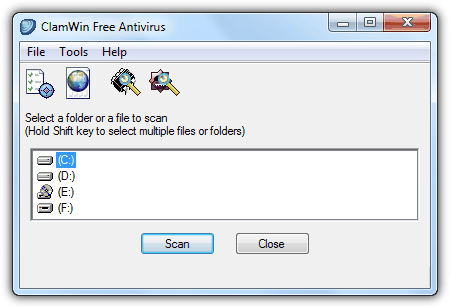 Although ClamWin is community-based, but the detection isn't that good when compared to the popular ones such as Avast!, Avira, AVG…