12 Free Anti-Malware to Scan and Remove Malwares
Many years ago there were many antispyware software available to use when malwares wasn't so sophisticated. Scanning the infected computer from safe mode with Spybot and Ad-Aware is usually enough to remove most if not all of the spyware infection. Spyware is just one type of a malware that self installs on a computer and spies on what you do on your computer. You don't find a lot of spyware nowadays which is why some of the well known antispyware programs such as a-squared Anti-Malware, AVG Anti-Spyware, Lavasoft Ad-Aware and Webroot Spy Sweeper which has turned into a full anti-virus software or some have renamed to anti-malware.
Most of the malwares today are a combination of different malware categories so that it is powerful enough to achieve a high infection rate and stays installed for a longer time without being detected or discovered by security software. If you suspect a malware infection on your computer, don't be too quick to install as many antivirus software you can because it may create more problems and conflicts. Antivirus programs are heavy that comes with over a hundred megabytes plus some malwares are capable of bypassing antivirus detection. Instead, you can try out some of the free anti malware programs listed below which are much lighter and doesn't conflict with an antivirus software.

Malwarebytes Anti-Malware, short for MBAM is one of the most popular antimalware software available today. They offer a free version without real-time protection and automatic updates where you can use it on any home computer to scan and remove any found malware. After installation, make sure you run an update check because the free version does not come with an auto-update feature.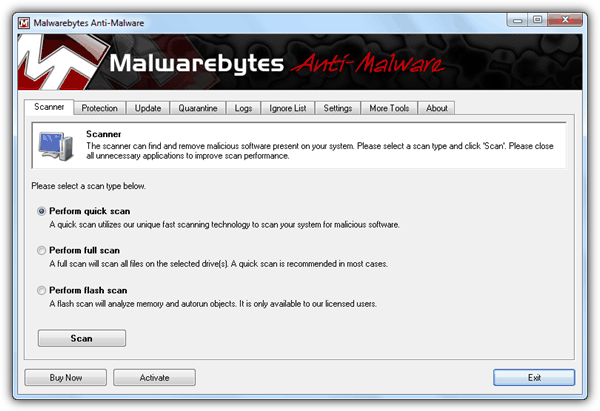 There are three scan modes but only two options (quick and full scan) are available to free users. Quick scan only scans the common areas where malware normally resides on the computer while the full scan takes much longer to finish because every file will be checked. Malwarebytes Anti-Malware by default scans the memory, startup, registry, files and additional times against heuristic. The heuristic is an advanced optio to analyze the files for suspicious code rather than just depending on their definition for detection.
Download Malwarebytes Anti-Malware
---
This free malware scanner checks your computer device to detect any malware that has affected the system. Unlike many other scanners on the market, the free version of Avast offers real-time anti-malware protection against current and future malware attacks. With Avast, users can easily customize their scans and determine which parameters are the most important to them.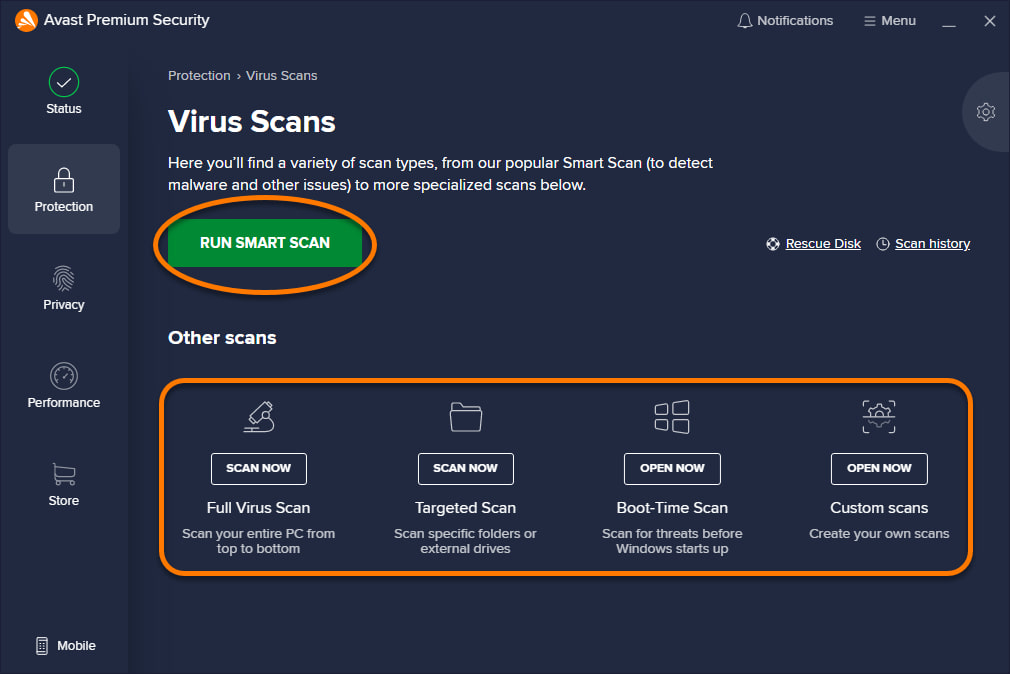 More so, Avast is a lightweight tool that combines the power of machine learning and a large threat-detection network to scan and remove security threats. Furthermore, you can isolate harmful files from the rest of your computer to improve its security and reliability.
The application also offers various scans that users can apply, depending on their requirements. For example, users can conduct a smart scan, full virus scan, targeted scan, boot-time scan, custom scan, and explorer scan. The Avast application is available on Android, iOS, Mac, and Windows devices. With a friendly interface, users can easily protect their computers without requiring technical knowledge. There is also additional protection against phishing attacks, malicious websites, spyware, and viruses.
Download Avast Premium Security
---
3. AVG
Another popular malware scanner is the free AVG anti-virus scanner. This tool doesn't take up much space and resources as it scans the device in the background. Additionally, AVG has an intuitive, compact interface that allows users to get rid of malware with just a few clicks easily. Once the application detects any malware, it quarantines the infected files and alerts the user via a pop-up.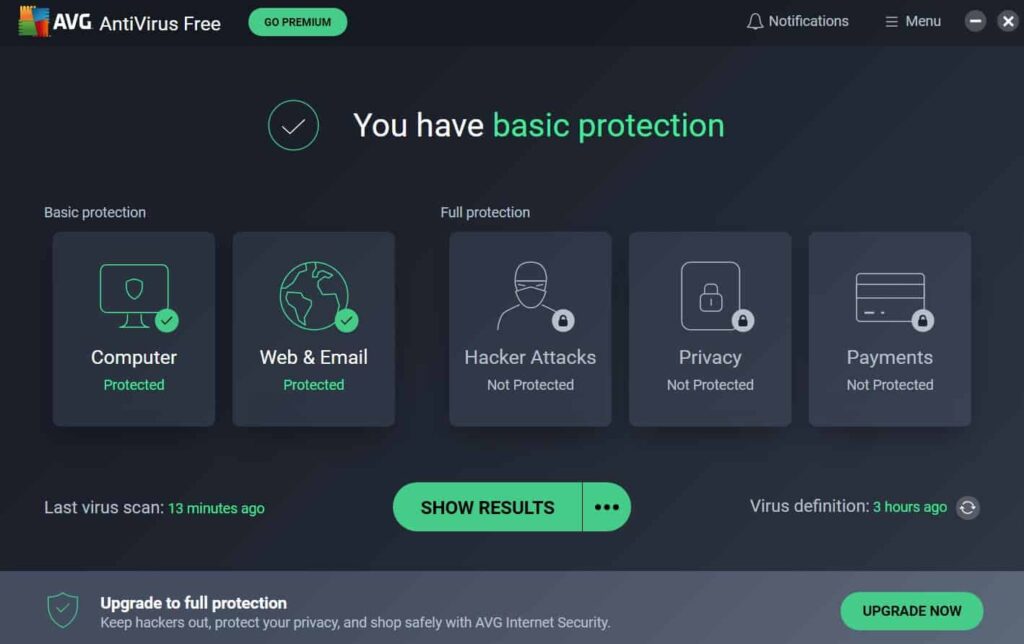 With the free plan, users get access to real-time security updates and are able to block unsafe email attachments, links, and downloads. Although the application does not offer parental control, it does come with useful secondary features. For example, the application has a file shredder that permanently wipes corrupt files and a custom scan control.
---
4. SUPERAntiSpyware
One thing that we and most computer technicians like about SUPERAntiSpyware is the portability. This allows us to run the program directly from a USB flash drive to scan it on any computer without require to install it first which might be a problem on some heavily infected systems. Other than that, downloading the latest version from the official website has the latest definition which saves us the trouble and time to run an update.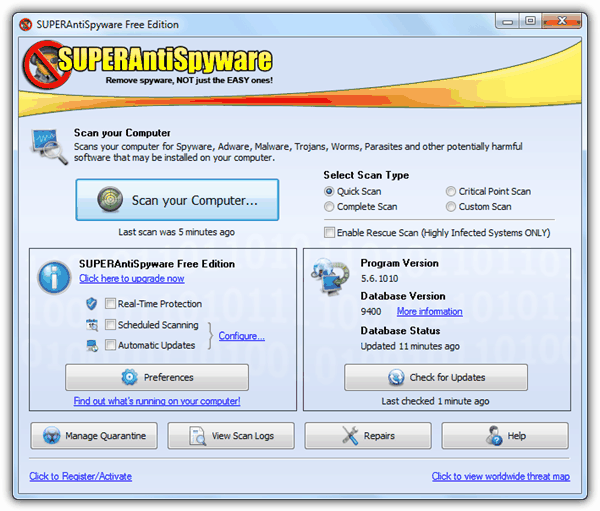 The free version does not include real time protection, automated schedule scanning and updates. It comes with more scan options compared to MBAM which is quick scan, critical point scan, complete and custom scan. Basically critical point scan is the fastest that scans less areas, followed by quick and then complete scan. The enable rescue scan option is to be used when the computer is very slow due to a buggy malware consuming all the available resources.
---
5. IObit Malware Fighter
IObit, a company that specializes in system cleaning and boosting software named Advanced SystemCare joins the security community by offering IObit Malware Fighter to help combat malware infection. It uses cloud technology and heuristic analysis to detect malware. Just like most of the anti malware software, the free version does not offer automatic updates and scheduled scanning but it comes with 5 out of 8 real time protection modules where the remaining 3 will only be enabled on the PRO version.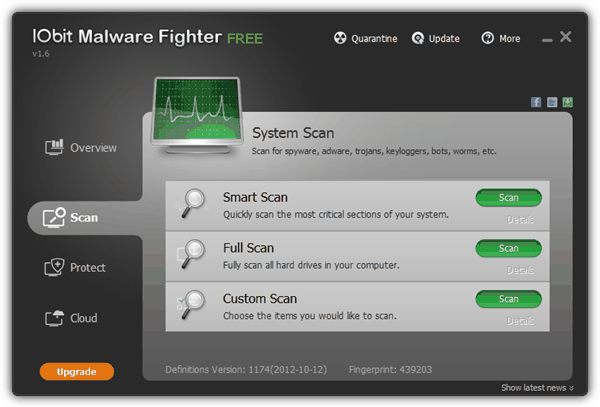 There are 3 scanning options which is the smart scan that scans critical sections of your system, full scan and custom scan.
Download IObit Malware Fighter
---
6. EMCO Malware Destroyer
EMCO Malware Destroyer is more like a scanning management tool to batch scan multiple computers for malwares on network without real time protection. However the free version allows to scan single local and remote computer. There is only 1 scanning mode and it is quite fast because it only checks the infection based on the targeted definitions.

Download EMCO Malware Destroyer
---
7. Spybot – Search & Destroy
As previously mentioned, Spybot used to be one of the must use tool for scanning and removing spyware but then it started to get bloated and the technology being used is a bit outdated. Fortunately a major update 2.0 is in the works and they have a release candidate version out which means the final version should be out soon.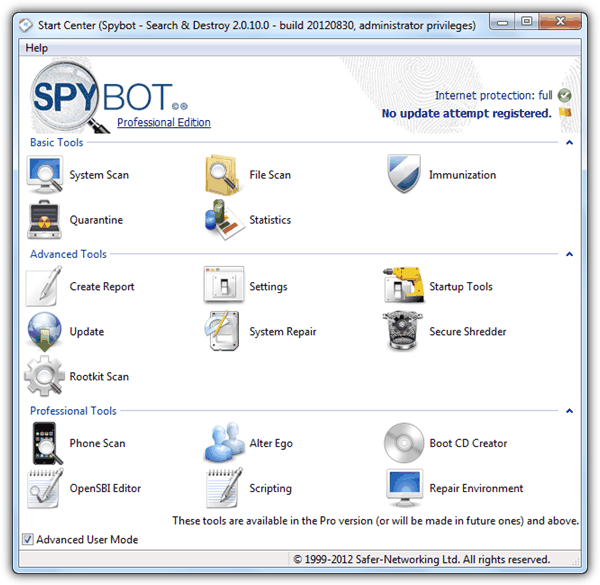 All the features in Spybot 2.0 found in 1.6.2 such as scanning, fixing, immunization, startup tool and shredding will still be there for free, except the paid Professional version will come with additional features that are not normally used by average users such as support for networked environments, boot CD creation and etc.
Download Spybot – Search & Destroy
---
8. NoVirusThanks Malware Remover
NoVirusThanks is a security company from Italy and one of their well known service provided for free is the multi-engine antivirus scanner. A lot of security software has been released by them and one of it is the Malware Remover. It used to have both freeware and paid version but currently only the free version is available.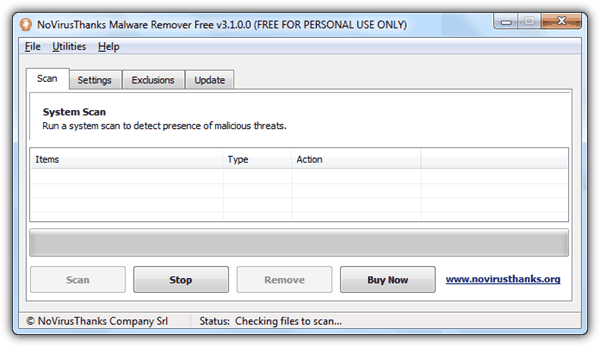 A really nice feature found in NoVirusThanks Malware Remover is the behavioral analysis where it can tell if a program is performing malicious activities on your computer. This is different from heuristic scan because heuristic scan method checks the code but not the behavior of the program.
Download NoVirusThanks Malware Remover
---
9. Comodo Cleaning Essentials
The Comodo Cleaning Essentials allows you to scan your computer for threats using their definition file. Some of the really great features found in the Cleaning Essentials are MBR scanning, KillSwitch, Autorun Analyzer and portability for any computer techs to carry along with them. Do take note that it will download a huge 90MB definition file if you want to scan using the latest virus signature.
Download Comodo Cleaning Essentials
---
10. The Cleaner
The Cleaner is the oldest malware cleaning tool that is still being maintained until today. It started off as a really good trojan detector and cleaner but has evolved into a really powerful anti malware tool that uses signatures, behavioral analysis and heuristics to detect malicious software.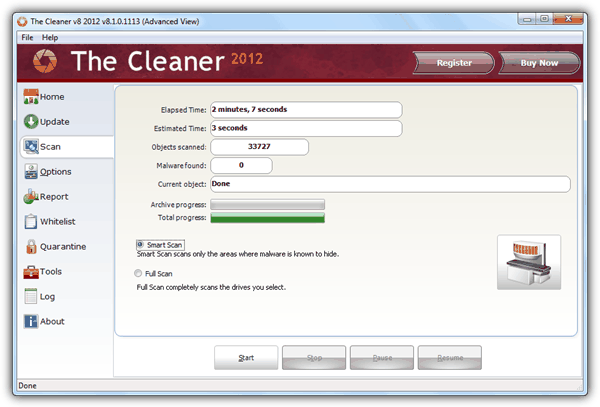 One important note on The Cleaner is the installer file size is really huge at 600MB which may take a while to download from the web installer. The Cleaner is not free, but the 30 days trial allows you to scan and remove any found malware.
---
11. SpyDLLRemover
SpyDLLRemover is unlike most of the antimalware tools listed here because it is meant for advanced users although basic users can still click a button to reveal any detected malwares installed on the system. The Spy Scanner tab shows any found spyware and even rootkits DLL on the system. Not all detected process or DLL are dangerous because the yellow colored ones requires further analysis to determine if they are malicious.

The red colored ones means that the process is detected as dangerous and is most likely a spyware or rootkit that can be killed or scan it on VirusTotal or ThreatExpert and search for more information about it at ProcessLibrary or Google through the right click context menu.
---
12. Spyware Terminator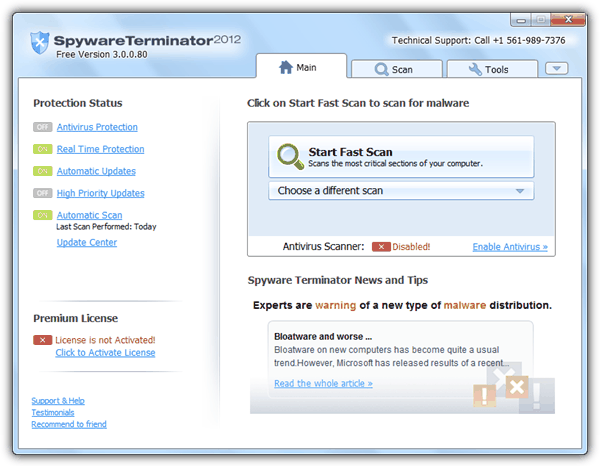 Spyware Terminator has been around for quite a while but oddly some users claims that it is a rogueware. If it is a rogueware, this program wouldn't survive till today and even managed to be an official OEM partner of F-Prot which their premium version offers an integrated F-Prot protection. The free version offers scanning, cleaning and real time protection against spyware with automatic updates and HIPS that is normally not included in other free versions of antimalware software.